Hello my friends and welcome to a new chapter of my Football Manager 2009 story! After preparing for my first season with the Blyth Spartans in Blue Square Premier I was quite confident that my squad could do well this season. The only problem that I saw was that the team would need some time to gel, as I signed many new players and let go some of the ones that achieved promotion from Blue Square North last season.
The first games of the new season showed just that: we needed more time to gel. The team was making too many mistakes, both in defence and upfront, so the results were not too good. But they were not too bad either: we got 2 wins and two draws from the first 6 games, a decent achievment for a newly promoted team, but I definitely wanted more.
In September things were beginning to look better for us, we only lost one of the five games that we played and we managed to get three straight wins to finish the month in 12th place in Blue Square Premier, right in the middle of the table. The team was beginning to play better, closer to the way I wanted them to behave on the pitch.

October was quite a busy month for us as we had to play two cup games, in the Conference League Cup and in the FA Cup. Fortunately for us we won both games and qualified for the next round. We were still  in the middle of the Blue Square Premier table because two of our games were re-arranged due to… international call-ups! That's right, international call-ups! Six of my young players are regularly called to represent their nations at under 19 and under 21 levels, and that makes me hope that this team's future can be bright. But let's get back to the league. After the three straight wins that we grabbed in September we manages to get another 5 wins in a row in October, a remarkable achievement for a newly promoted team! We ended the month with a 0-0 away draw and finished in 5th place in Blue Square Premier, but with 2 games in hand!

The remarkable run brought me the first award this season, October Manager of the Month!


The great run in the last two months might have made my players think that they were unbeatable. Kettering brought them with their feet back on the ground immediately: they inflicted us a heavy 4-0 home defeat in the Conference League Cup :( In the next game we qualified easily for the 2nd round of the FA Cup and in Blue Square Premier we won 2 games and suffered another defeat. We remained in 5th place, still with 2 games in hand. In the 2nd Round of the FA Cup we played away at League Two side Yeovil and we snatched a 1-1 draw, so the game was going to be replayed at our own stadium, Croft Park.

However, the most important game in November was the league match against Blue Square Premier leaders, Histon. We dominated the start of the game and we were lucky to convert that into two goals. In the second half we defended our lead and we won the game with a confortable 2-0 scoreline. This game had a major psychological impact: if we were able to beat the leader, than we can beat any team in the league, we just have to stay focused and give our best in every match.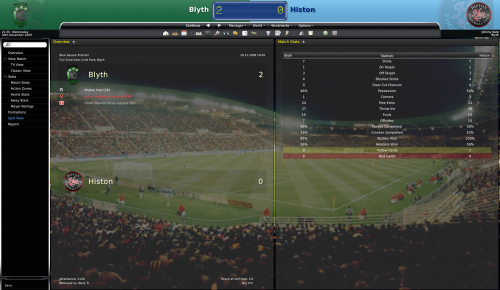 In December our league form had a slight setback, we only won two out of the six games and we lost the last game of the year quite heavily, 4-1. The lads were beginning to show signs of fatigue…

Undoubtedly the most important game in December was the replay of the FA Cup battle against Yeovil. The draw for the 3rd round was already made, the winner was going to meet Newcastle United! My lads were highly motivated by having the chance to play against Newcastle, so they gave their best and we won the game convincingly and by playing better than our opponents. We were going to meet Newcastle in the first week of January at home, on our own Croft Park!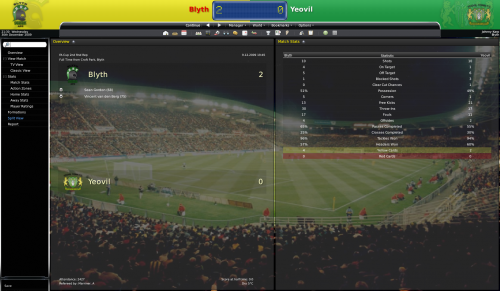 We finished the year in 5th place in Blue Square Premier, the last playoff place. We definitely have a chance to fight for promotion and I hope the lads will understand that we have to fight to the death for every point from now on.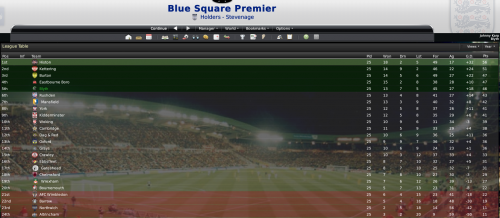 The best player in my squad in the first half of the season was a surprise for me too. Ryan Carolan, 20 years old Irish defender, was not supposed to be a first team regular at the start of the season. I signed him for free after Crystal Palace released him and I thought of him as a player for the future and a backup for the first team squad. One of my regular centre backs suffered an injury in the last friendly game so Ryan had a chance to play and he proved me that he was ready for first team football, I never took him out of the first eleven since then! He finished the year with a very good average rating, 7.06 and with two goals to his name!

Our top goalscorer was Dutch right winger Vincent van den Berg, singned for free last summer after he was released by Arsenal! He scored 10 goals in 31 games for us and he is becoming the star of the team.

But only 10 goals for a top goalscorer is quite lame, and that was our main problem, our strikers were not producing enough. The strikers that I employed last year in Blue Square North just couldn't cope with the superior defenders in Blue Square Premier and the new striker that I brought last summer, Sean Gordon, did not play as well as I wanted him to. He was released by Sheffield United and I signed him because I had faith in his ability, my scout recommended him to me with a very enthusiastic report. He was unlucky to suffer a heavy knee injury at the start of the season but after coming back on the pitch he scored only 5 goals in 16 games… Unfortunately there don't seem to be any better free strikers on the market, so I'll have to figure out a way to make Gordon score more often.

That's about it folks, I'm preparing the great game against Newcastle United in the FA Cup, it will be a great day for our fans regardless of the result of the match. We'll probably lose that game but our relatives will get to see us on national TV :)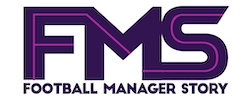 Subscribe to our Newsletter