Hello my friends, we're coming closer to the decisive phase of this season, the fourth season in my Blyth Spartans Football Manager 2009 story. We were in 3rd place in League One at the end of February with a good chance to fight for automatic promotion to Coca-Cola Championship. We have another 11 games to play, 6 in March and another 5 in April and I'm sure that each and every one of this games will be quite tough as we can't afford to lose too many points from now on.
The first game of the month was a difficult one, at home against 6th placed Southend. With all the injury problems I had no choice but to switch back to the lone striker tactic on a regular basis, so my squad will have to adapt again to the old system. We were quite unlucky against Southend as they scored an early goal and my lads lost their heads a little bit. My right winger, Will Buckley, kicked an opponent right before the break so we played the whole second half with only 10 men. Despite that we dominated the game but we only got a draw at the end of it.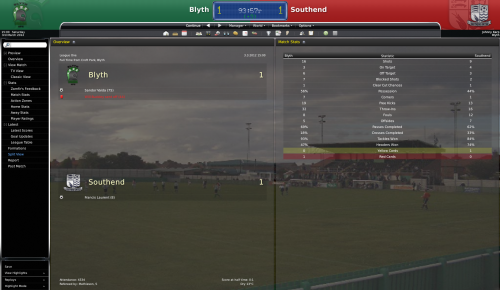 We had a good chance to regain some morale in the next game, away at relegation threatened Cheltenham. They were in 23rd place before the game and their chances to avoid relegation were quite slim. I was expecting an easy win but somehow we nearly lost the damn game! We scored a late equalizer from a penalty kick and I guess we could blame the bad luck but this was a game that we should have won, with luck or without. We lost 2 important points but we had to carry on, we were still there with a chance.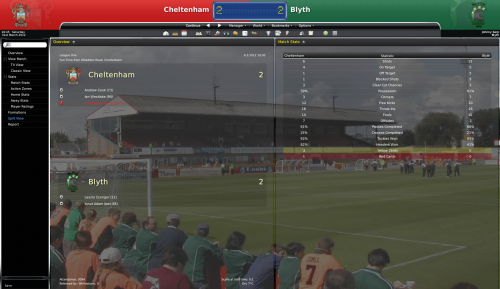 The next game was at home against 8th placed Shrewsbury, a difficult opponent. We absolutely had to win this one, otherwise our automatic promotion dreams could have turned into a nightmare. The pressure was high and we didn't play particularly well but our captain and most experienced player, Oswaldo Chaurant, took care of things by scoring two fine goals. You know what they say, when the going gets tough the tough get going…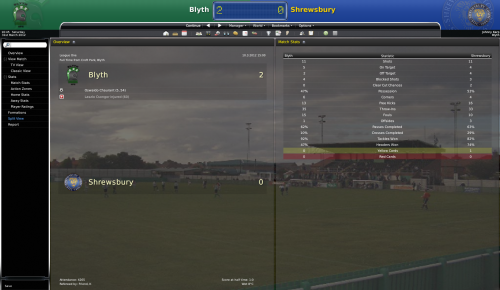 Next up, an easy home game against 18th placed Barnsley. I just couldn't imagine not winning this one and it seems that my players thought the same way too. We were 4-0 up in the 17th minute! The rest of the game was just an official training, there was no more pressure and sometimes no more concentration either. With this result we climbed up to 2nd place, 3 points behind League One leaders Leeds United.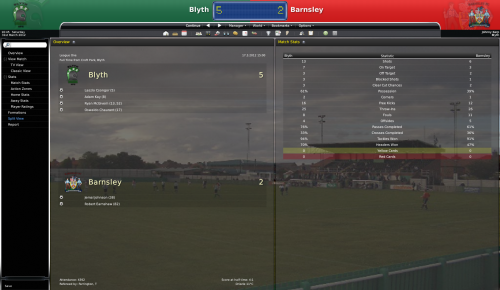 And the next game was against the 3rd placed team, Sheffield United. They had the same number of points as us, 77 points, but we had a better goal difference. Unfortunately for us I couldn't send in the best players in my team for this match: I had 4 injured players and as if that wasn't enough we were also missing another 4 players that were away on international duty with their national teams! I barely had 16 players to bring to this match, so in these conditions I thought at the beginning of the game that a draw would me more than satisfying. We were 1-0 up after Laszlo Csongor scored again but we were not able to keep the lead at least until half time. We fought for every ball and kept the scoreline to 1-1 in the second half, it was a good thing that we managed to get out of this game unbeaten.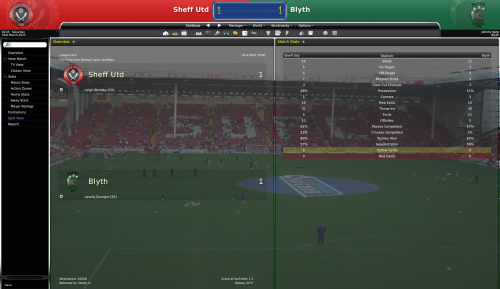 The last game of the month was another tough one, away at 8th placed Colchester, a strong team with very good wingers and strikers. It seemed that the first half would end with no goals scored but in the last minute the referee awarded them a penalty kick :( They defended their lead in the second half but we managed to score the equalizer and get an important point out of this match as I was really afraid that we were going to lose it.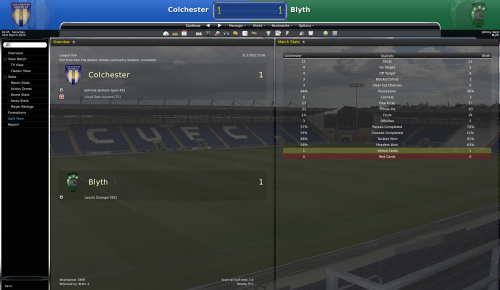 Just take look at the League One table and you'll understand the toughness of the battle we're fighting! We were in 3rd place but any of the first four could claim the 1st place at the end of the season. I guess that a playoff place is already in the bag but it would be a shame to miss the automatic promotion…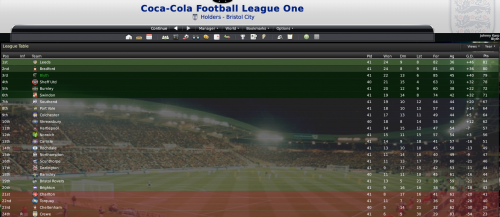 We have 5 more games to play and I'm going to list them for you. Here we go:
– at home with Swindon (6th place)
– away at Torquay (22nd place)
– at home with Northampton (15th place)
– away at Crewe (24th place)
– away at Leeds (1st place)
I hope that if we will win the first four games the last game against Leeds might now matter anymore. Anyway, each one of these 5 games is crucial for our promotion battle so we have to be 100% focused, even against Crewe. After all, we almost lost at Cheltenham and they are just slightly better than Crewe… What do you think about our chances, can we make it?

Subscribe to our Newsletter