I guess that you're quite curious to fond out what happened with my Blyth Spartans in April 2015, ain't you? :) I was curious to see what we could do too, I was quite impatient to play the games and get it over with as soon as possible. :) So here goes…
We were in 2nd place at the end of March, one point behind Manchester United but with a game in hand. The first match in April was the Premier League game with 13th placed Crystal Palace. They had a great start this season but lost their tempo along the way. We had a thrilling match with them in November, we won it 4-3! I expected a difficult game but it was quite easy, we were in control throughout the match. Right back Damien Grange fired in another free kick from 30 yards out but my strikers were missing too much, I was a bit concerned about that.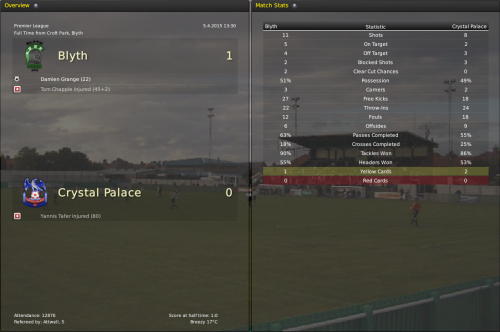 The good news came after the game, Manchester United lost 2-0 at Arsenal, so we were back on top with one game in hand!

The game that everybody in England was expecting finally game, Blyth Spartans versus AS Roma, an unlikely encounter a few years ago. :) I expected a very difficult game and I hoped for a narrow win but it wasn't like that at all. Roma's defenders had a miserable day, centre backs Mexes and Ponzio looked like Dumb & Dumber out there! :)
We took advantage of their errors but played very well overall, Roma couldn't hurt us at all. not even in the last half hour when we played with only 10 men! The away leg would be difficult but I was confident, we couldn't lose it 4-0, no way!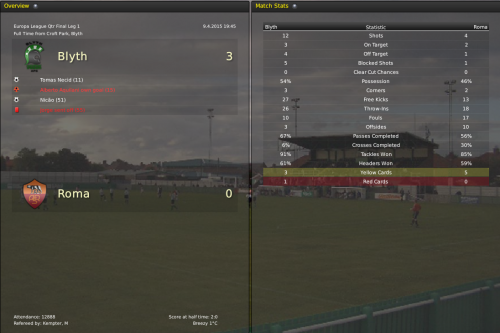 It was hard to motivate my players after such a great win, they were enthusiastic! We had to be concentrated though, we had a difficult away game at Newcastle, the 11th placed squad in the Premier League. We defeated them 2-1 at home back in November but they had a very good record at St. James' Park. We started the game pretty well, created a few chances but they cleared a few off the line. One of those went in eventually, we were 1-0 up at the break. Newcastle looked better in the second half and finally got the equaliser from a penalty kick. It looked like we were heading for a draw but Nicao showed another moment of fantastic football and saved us again with a solo effort.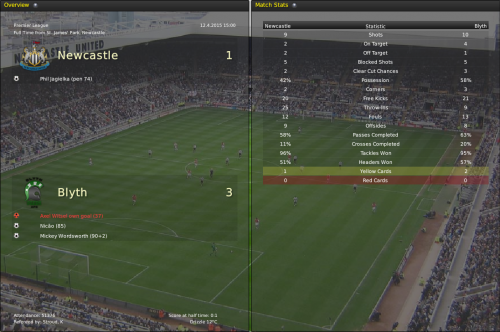 Next up, away at Roma… We had to be careful, despite the 3 goal lead that we took in the home leg, I was sure that if we would manage to keep the scoreline tight until half time the game would be ours. We did better than that, kept possession of the ball and even scored one right before the break! We couldn't lose it anymore, that was sure. We kept cool in the second half and scored another one to win it 2-1, a great result! It came at a price though, midfielder Mickey Wordsworth got injured and was going to be out for two weeks :(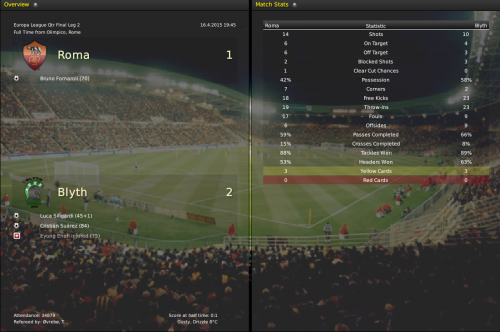 Hamburger SV defeated Rangers on away goals, so we'll have another trip to Germany ahead. We have a slight advantage, the first leg will be away… Shakhtar Donetsk and Valencia will play in the other semi final.

Back to the Premier League… We had only two more games to play, another one of our matches was postponed due to the European games that we had to play. But let's take a look at those games on by one. First up, at home with 5th placed Aston Villa. A very good team, we snatched a 2-2 draw at Villa Park in November. All my worries were gone by half time though, my lads were playing beautifully. We were quite unlucky to concede two goals but it doesn't really matter anymore… What does matter is that another one of my central midfielders got injured, Linas Urbsys will be out for 3 weeks! That's not the right time for an injury crisis, not at all :(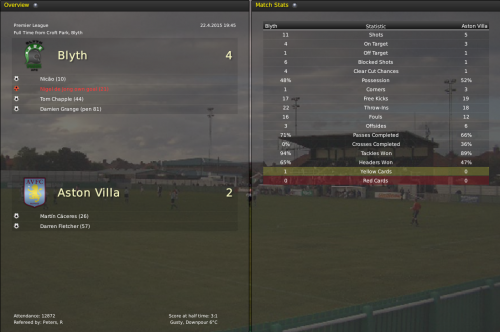 At that point we were two games behind the pack but we were still in 1st place, two points ahead of Arsenal!

The last league game of the month was a tough one, away at 10th placed Tottenham. We won the home game 2-1 in November but Tottenham knocked us out of the FA Cup in January after two thrilling games, on penalties! We got off to a good start, Tomas Necid scored in the 6th minute! Tottenham made it all square after the break and despite playing well we couldn't get another one in. Fortunately Nicao was in the mood for miracles again, he took the ball and didn't stop until it reached the net! He's brilliant, our hero!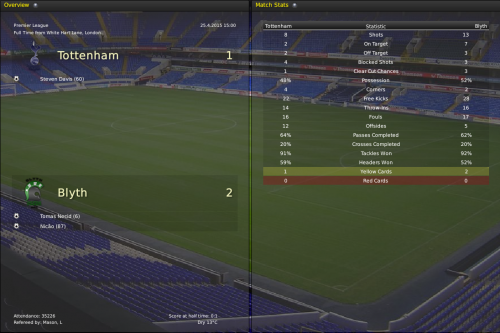 We were still unbeaten, only two defeats so far, both of them in October! The Champions League place that we were dreaming of at the start of the season was almost ours now but we had a huge chance to challenge for the title! Unbelievable, I didn't such a big surprise from my players. They look like real champions out there, a real team! Only 5 more games to play, it's going to be tough but wonderful!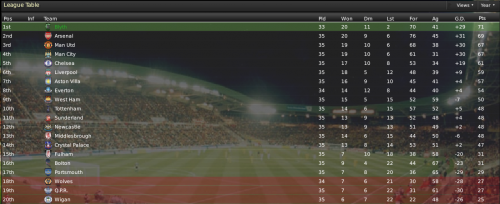 Until then we had to travel to Germany for the first leg of the Europa League semi final. HSV came from the Champions League, they finished third in the group stage behind Inter and PSV. After that they knocked out very good teams, Marseille, Porto and Rangers. The game started badly, centre back Alex Silva scored with a great header from an indirect free kick. Our fabulous right back, Damien Grange, was suspended for that game, so I had to bring in Christos Karakatsanis to replace him. The Greek was happy to get the opportunity and he expressed that on the pitch, he fired in a great curling shot and it went straight in the back of the net! We continued to defend well, heroic at times, and we snatched a good 1-1 draw, a good result that gives us a good chance to fight for the final at home!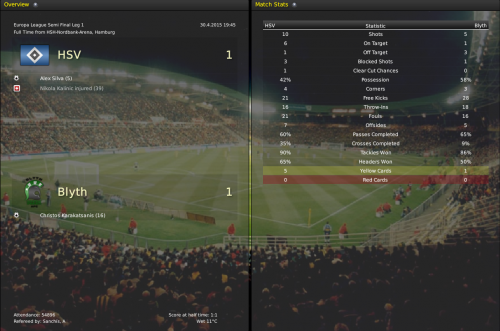 Take a look at the May fixtures, it's going to be a massacre! We'll start with a crucial game at Old Trafford and then we'll have 5 games in 10 days! I guess I'll need all the players that I have, form the last 17 year old to Pavlyuchenko, our 33 year old veteran!

That's how it was, stay tuned to find out how it's going to be in May, the final dash towards eternal glory!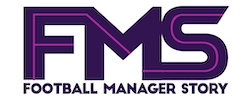 Subscribe to our Newsletter