After a difficult first month of the season we were in 12th place in League One and out of two cup competitions, the Carling Cup and the Johnstone's Trophy. Hello my friends and welcome to a new episode of my Football Manager 2009 story. I had high hopes for the month of September, I believed that my squad would finally begin to gel and to produce the kind of games that I knew they were capable of.
And right from the first game of the month my lads showed that they were keen to prove that they deserved more than the 12th place. We produced a wonderful display of attacking football at home against Hartlepool and we won the game 3-0. Our Romanian striker, Laszlo Csongor, showed that he was in good form by scoring twice.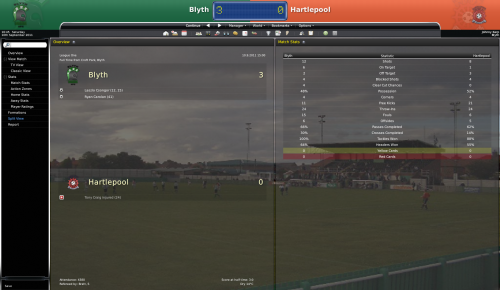 The next game was against our rivals from last year's League Two season, Bristol Rovers. Last year they defeated us 1-0 at The Memorial Stadium and I hoped that we could finally beat them this time. And we went pretty close but I can say we were a bit unlucky because we hit the crossbar no less than four times during the game! (I'm surprised that those are not considered as shots on goal in the match statistics though)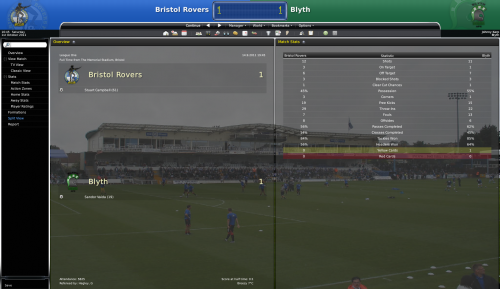 We had another away game coming up, a tough one at Darlington. I had a weird sensation about the game, it looked like both sides were afraid of winning it. What came out was a pretty ugly game that ended 0-0. We were unbeaten in the last 5 league games and that was the most important thing.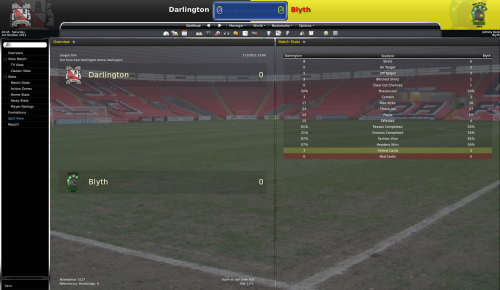 But we couldn't get too far with draws, we badly needed a win. The home game against Scunthorpe was the perfect opportunity to finally get 3 points but we managed to miss it. Both teams made countless errors and although we totally dominated the second half we only scored once and missed several chances. Another draw…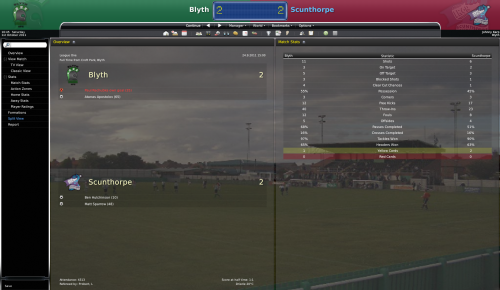 Not losing is the first step toward winning, but with only 1 win in September we finished the month were we started it, in 12th place in the League One table. We were only 2 points away from the playoff places, so things might start to get better if we could get some wins in a row.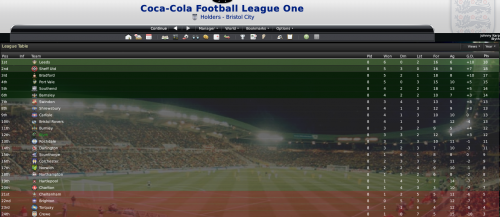 There's an important thing I have to tell you. I noticed that we were giving our opponents too much space on the wings because our wingers come back to support the defenders quite rarely so I decided to test a new tactic, a 4-4-2 system that could give us more balance. So far I've tried it in the last three games, one half per game, and it seems to be quite reliable defensively compared to the 4-2-3-1 I was using until now. I know it's risky to change the tactical setup in the middle of the season but I feel that we could achieve more with a better balanced tactic.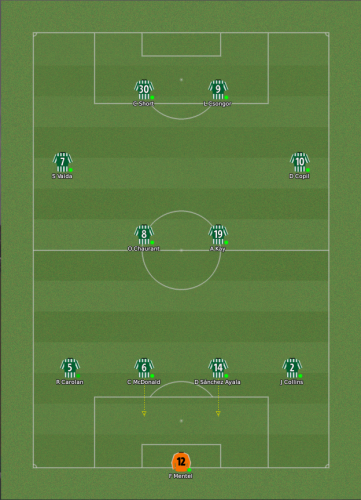 That's about it, I'm preparing for the tough month ahead of us, we'll have several games in League One and I hope to continue the unbeaten run with some wins to climb up the table.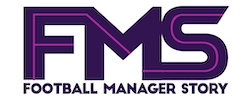 Subscribe to our Newsletter