Still unbeaten in the Premier League at the end of November, who would have imagined such a performance from a small club like my Blyth Spartans… We also had good displays in the Carling Cup, we were through to the quarter final but we beat only Championship sides in the first two rounds.
In the quarter final we had a much more difficult opponent, the surprising 2nd placed team in the Premier League, Sunderland. I expected a tough game but it was quite easy, we created and missed a lot but finally grabbed a well deserved 2-0 win. We were through to the Carling Cup semi final for the first time in the club's history!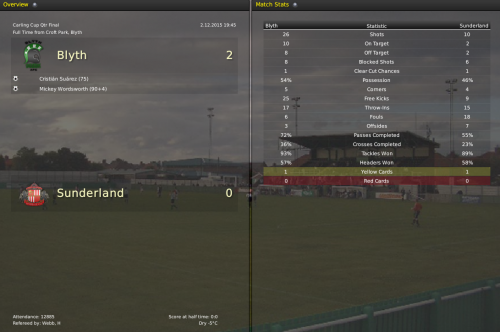 Next up, a difficult league game, at home with 7th placed Crystal Palace. My lads played a perfect first half, we were 3-0 up at the break. We kept the game under control in the second half without too many problems, a solid performance. Unfortunately striker Daniel Aquino picked up a knock and he was going to be out for three weeks. Tomas Necid was already injured and was expected to be back in training in two weeks, so we had quite a big problem upfront.
We had the last Champions League group match ahead, at home with Swedish side Helsingborg. They picked up 5 straight defeats up to that point, so everybody expected an easy game for my Spartans. We had to win to qualify for the first knockout round and we had absolutely no problem with the poor Swedes, they had no chance of getting away from Croft Park in one piece. Nicao scored his 50th goal for the club, Axel Witsel scored his first goal ever for Blyth and young striker Pablo netted his first goal of the season, it was a good training game :)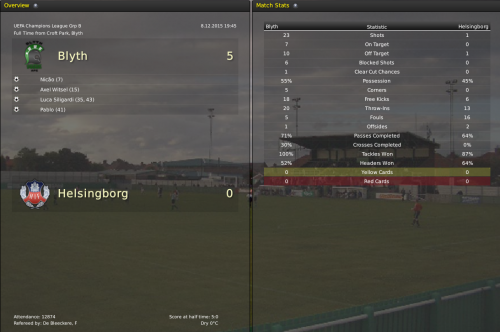 We were top of the group, ahead mighty Real Madrid and AC Milan!

Back to the Premier League, we had to play against Sunderland again, away from home this time. It was an even game and we were pretty unconvincing upfront without two of my best strikers, Necid and Aquino. But our defense was still solid, so we grabbed a goalless draw, the second league draw of the season.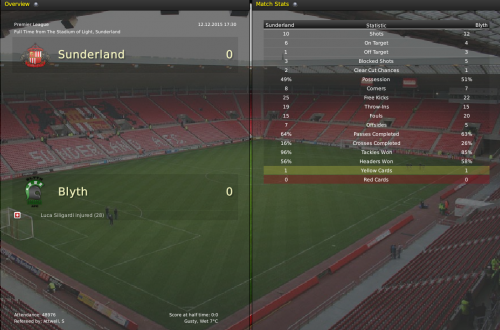 Right after the game we were wishing for some luck in the Champions League first knockout round draw and it came out quite alright, we are going to play against AS Roma. If you remember, we defeated them last season in the Europa League quarter finals, 3-0 at Croft Park and 2-1 at Olimpico, so I'm pretty confident that we can do that again.

There's a long way to go until then though, we had to keep up the pace in the Premier League. We had Manchester United coming at Croft Park, they were in 5th place. We played well overall but Nicao was absolutely sensational, he scored two great goals. United's defenders must have had their heads spinning because of Nicao's runs so they produced a very funny own goal in the second half, take a look at the video :)
One down, another tough one to go, away at Liverpool. They have been quite disappointing until then, they were in 11th place! But they still had Torres upfront, so we had to be careful. We played a great defensive game and terrorized Liverpool's defense with our quick counter attacks. We won it 2-0, a good display with two goals from two youngsters: striker Pablo (Spanish) and right winger Chilufya (English).
We had another difficult one coming up, at home with 9th placed Aston Villa. It was a difficult game but there was one man that had a great day at the office, centre back Tiberiu Radulescu. He scored the first hat-trick of his career, two headers from corner kicks and another one from a free kick! And he made an error in defense that allowed Aston Villa to score their only goal but I guess I'll forgive him :)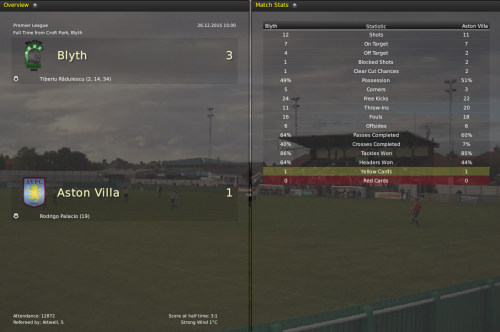 The last game of the month was at home against poor Bolton, they were coming from three straight defeats. We gave them the fourth one easily but we should have scored a lot more, my strikers were missing their chances with smiles on their faces…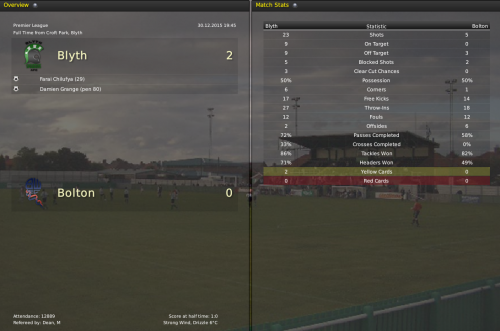 Well, take a look at the table and then ask somebody to pinch you :) Eighteen wins and two draws and only seven goals conceded in 20 games! Fifteen points above second placed Manchester City! It would be a disaster to lose the title from this position!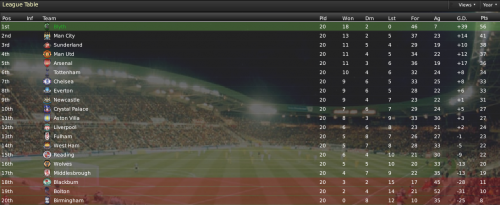 Here are my players' stats so far, our defenders were absolutely sensational… I expected my strikers to score a bit more though, I hope that will change in the second part of the season. I also have a quick mention to make, during the last week of December I sold midfielder Simon Vukcevic (7.5 mil) and right winger Joaquin (1 mil) because they have been disappointing and even more, they started complaining about getting more first team football. I got both of them for free last summer, so at least I made a good piece of financial business.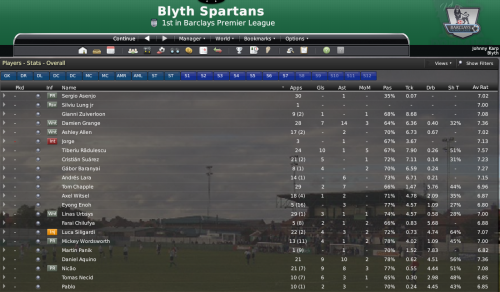 With that money I plan to sign a right winger, I already have my eyes on a few players, I'll see what can be done. We'll have a nice start in 2016, an FA Cup game against League One side Nottingham Forest. We'll also have the Carling Cup semi final against Tottenham and a league game with Arsenal, it should be a beautiful and entertaining month :)

I don't know what to say after such a great first half of the season… Maybe the story is getting a bit boring now with my Spartans winning almost every game, what do you think? :)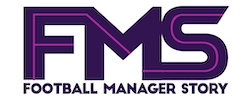 Subscribe to our Newsletter