Hello my friends, sorry for the long interruption. I was very busy lately and I didn't have any spare time to dedicate to my favorite game. We had the Premier League title already in the bag at the end of March, a great achievement that gave me the opportunity to focus on the other two competitions that we wanted to win, the FA Cup and the Champions League.
The first game of the month was at home with Sunderland in the Premier League and I chose to send in only backup players, I wanted all my first team regulars to be in top condition before the Champions League game with Barcelona. The game was quite boring as a result of that choice, Sunderland defended well and grabbed a good draw for them.
Next up, mighty Barcelona… Their best player, Lionel Messi, was injured but they still had tremendous strength in their team. Their two French wingers, Ribery and Obertan, were the main threats to our defense.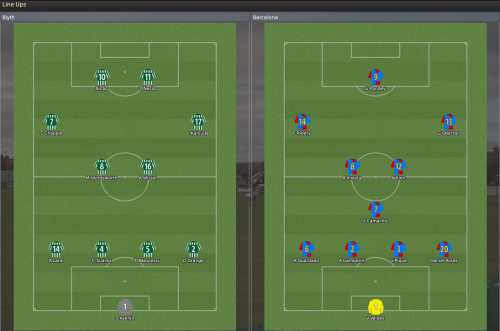 We played well in the first half and with a bit of luck on our side we were leading 2-0 at the break! Their defensive midfielder, Ignacio Camacho, deflected two ball right into his own net! After the break Nicao tricked Pique and scored with a placed shot, thing were looking good! Unfortunately we couldn't withstand the pressure in the last 20 minutes and we conceded a goal that gave Barca a great deal of hope for the second leg.
I prepared a mix of first team guys and backup players for the next league game so we came home with a win from Reading, but nobody cared about it, we were set for the second leg of the Barcelona clash.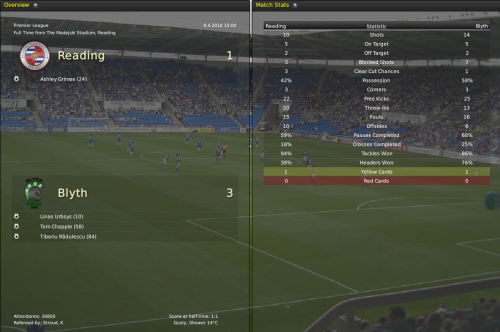 Messi was back in good health, we had to be careful with him…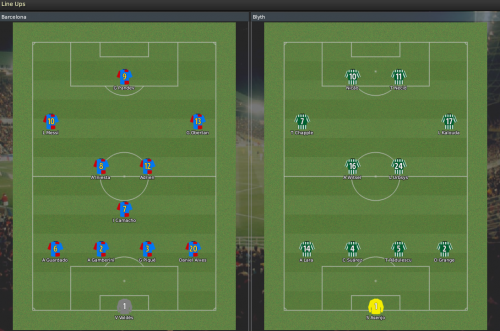 … but my players just couldn't stop him in the first half. Barcelona were looking like extra terrestrials, they were leading 3-0 at the break at things were looking gloomy for us. I tried to motivate my players at half time and they reacted well, they played a superb second half but could only convert one chance. It was enough to get to extra time though and Barcelona's players were looking a bit tired. My lads produced a delightful performance in extra time, scored three incredible goals to give us a qualification that seemed lost at half time!
I didn't want to get Real Madrid in the semi final but luck wasn't on my side…

Next up, the FA Cup semi final game against Sunderland at Wembley Stadium. My boys were determined to get to the final but Sunderland defended extremely well, their goal was to try to keep a clean sheet and maybe strike on a counter attack. The game went down to the penalty shootout lottery and fortunately my lads kept cool and won the game… I expected an easier game to be honest. Anyway, we were going to meet Tottenham in the FA Cup final, they defeated Arsenal 2-1 in the other semi final.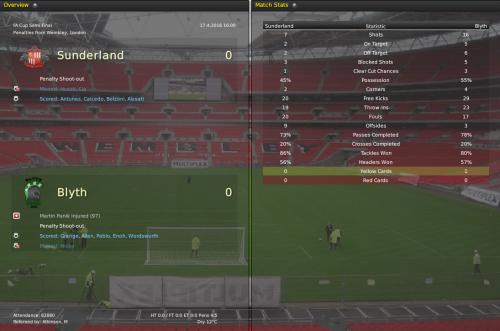 We had two more Premier League games before the clash with Real Madrid and I decided not to fight for keeping the unbeaten record anymore. I send in only backup and reserve players in the two games, I didn't want to risk any injuries to the 11 players that I wanted to use against Real Madrid. Our unbeaten run was stopped, Crystal Palace and Manchester United took advantage of the circumstances.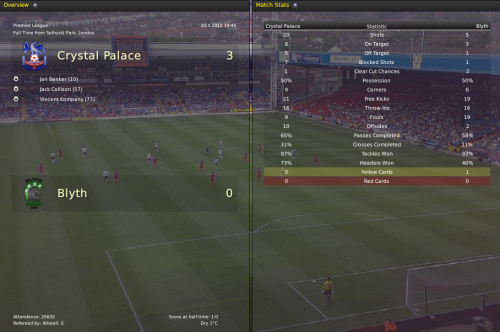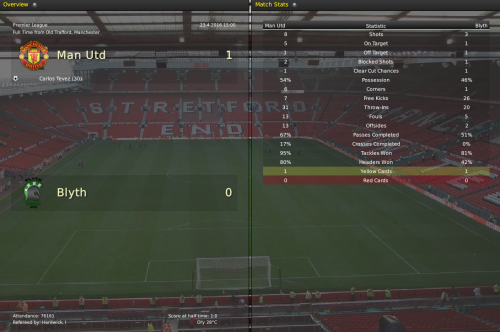 Finally, the last game of the month, the home battle with Real Madrid in the Champions League. We played against them in the group stage too, we clinched a 2-1 win at home back then. All their important players were available for this game while I had only one player missing, left back Andres Lara was suspended after picking up a yellow card at Barcelona.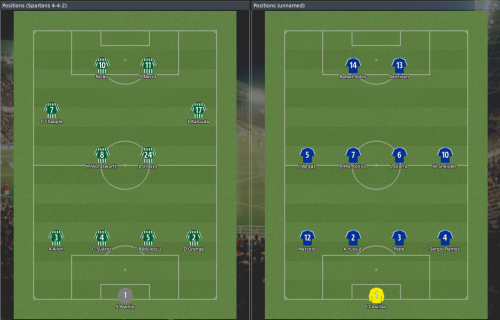 My players did a lot better this time, the first half was absolutely perfect. With Nicao in fabulous shape we went 4-0 up in the 77th minute. Unfortunately we got a bit carried away and gave Real Madrid a good chance after a quick counter attack and they clawed one back… We'll have a good lead to defend at Santiago Bernabeu and a great chance to get to the final!
We'll have a tough last month of the season ahead of us with the FA Cup final and hopefully the Champions League final on the 21st of May :)

I'll be doing my best to protect my important players in the league games, I'd be happy to lose all four of them and win the two cups!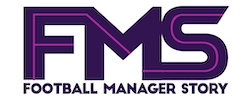 Subscribe to our Newsletter