Hello my friends, here we are at the start of 2012 with my Blyth Spartans lying in 5th place in League One, quite alright for a newly promoted team. We definitely have high hopes for the second half of the season although the club is in a difficult financial position. You already know that Bolton Wanderers are my new parent club. I wanted to get a couple of players from the on loan but, as it happened before with Middlesbrough, the club agreed but the players didn't. :( With no transfer money left and with around 250K already over the annual wage budget I had to rely on the current players in my squad for the rest of the season. There is one new player though, he agreed to sign in July, the Japanese regen striker Kunihiro Yoneyama. His contract in Japan expired now, so he joined my squad on the 1st of January. Since my top goalscorer, Laszlo Csongor, is still injured (broken ribs) the young Japanese will get the chance to play very soon, hopefully he'll be worth it.
In the first game of the year we had a tough battle ahead of us, away at 6th placed Burnley. Fortunately for us my right winger, William Buckley, scored a fabulous early goal that gave us more confidence for the rest of the match. Buckley signed last summer, he came on a free transfer from Reading and he normally isnt' a first team regular but due to some injuries he plays more often lately. Take a look at the video, it really is a gem.
We controlled the game after scoring the goal, not allowing our opponents to create chances. It was an important victory against a direct rival for promotion.
Next up, the postponed home game against Leeds United. Leeds were in 3rd place but they have been leading the table for a few months in the beginning of the season. Despite the 3-1 scoreline it was a very difficult game. I can say that without the two individual efforts by our Venezuelan midfielder Oswaldo Chaurant a win could have been unlikely. With this victory we climbed up to the 4th place in the League One table, it looked quite promising.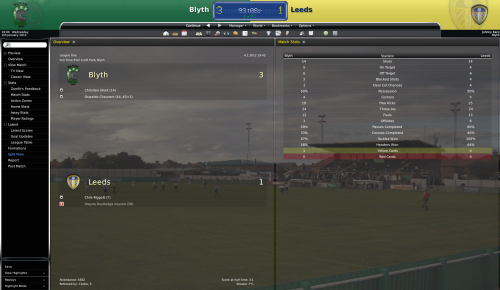 After winning the tough game against Leeds we had another very difficult one ahead of us, at home against 6th placed Port Vale. It all looked pretty well at the start, Yoneyama netted his first goal for Blyth and we were playing quite well. Port Vale got the equalizer before the break and the second half was an absolute nightmare. Between the 65th and the 75th minute we missed three huge chances by hitting the crossbar, three times in 10 minutes! A couple of minutes after the caught us on a quick counter attack and they scored :( It was one of the most frustrating games that I've ever experienced but that's why football is so beautiful…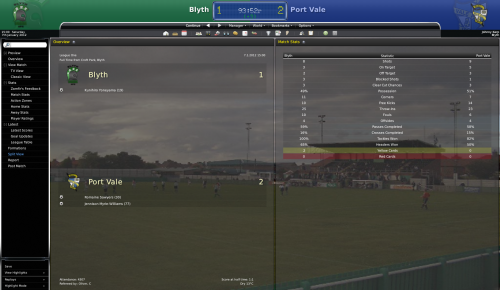 After the disappointing defeat we had to get prepared for the FA Cup 3rd round game, away at fellow League One side Burnely. We managed to beat them 1-0 in the first game of the year but now they played a lot better and got the draw, so we'll get to play them again…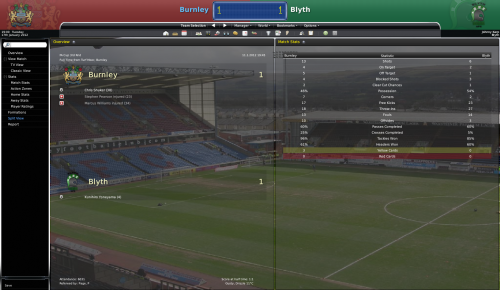 The third game against Burnley in a single month, I already knew their first eleven by heart :) Now we had the fans on our side and we couldn't miss, we won the game without too many problems. We were through to the fourth round and that was very good for the club's financial balance.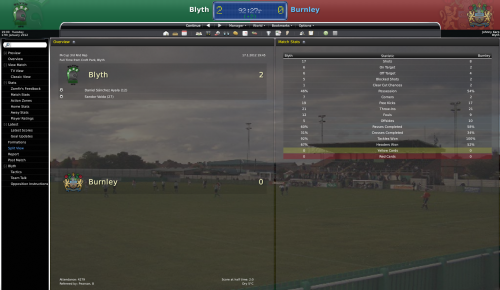 Unfortunately in the fourth round of the FA Cup we were up against a way better team, Southampton FC. They were in 4th place in Coca-Cola Championship, with good chances of getting promoted to the Premier League. We scored an early goal and everybody was hoping that we could withstand the pressure and get a great result. Their left winger, Andrew Surman, proved that he's a great player and turned the game around all by himself. In the second half we managed to create a few chances but we were denied by their goalkeeper, he pulled off some absolutely fantastic saves. That was it, our FA Cup run was over, it was nice while it lasted…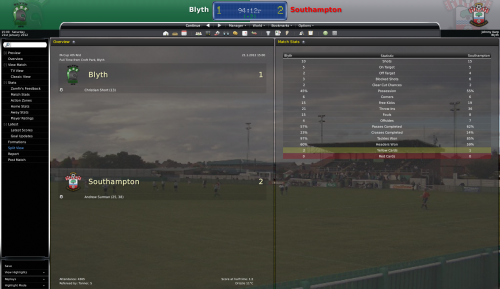 We could focus on the League One campaign, we still had to face very difficult games each week. And the most difficult was… the next one, against Bradford, the League One leaders. Fortunately our little Japanese striker scored again and played very well over all, so we got an important win which consolidated us in 4th place.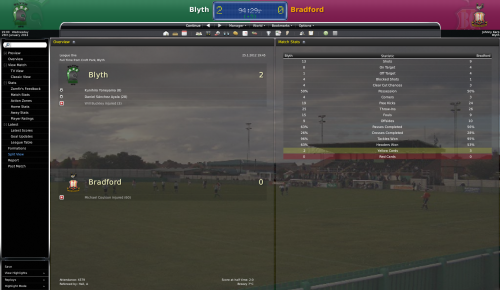 Next up Hartlepool. They were in 17th place, so it was a game that we had to win, we couldn't afford to lose points to the weaker teams of the league. It wasn't easy but my young strikers banged in another two goals to secure the victory!
The last game of this very long month was at home against 18th placed Darlington, another opportunity that we couldn't afford to miss. We won the game with ease, 3-0, but unfortunately my young regen Irish striker, Christian Short, got himself injured and will be out for two months!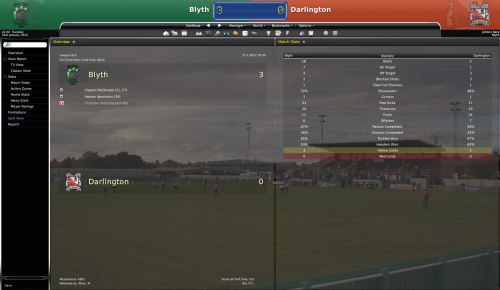 Thank God this month is over, it was the most difficult so far… We were in 4th place at the end of it, 7 points behind the 2nd placed team but with two games in hand! If we could win those two games next month (away at Brighton and at home against Bristol Rovers) we'd have a chance to fight for automatic promotion!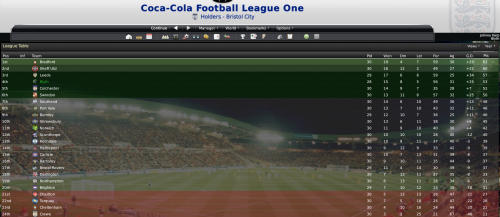 No distractions allowed from now on, we have to be focused and get the most out of each and every game if we want to get another fabulous promotion. I'm quite confident because the team is playing well, my only worry is related to the injuries that might strike. We already have a few players out and if a couple more would get injured I'd be in a very tight spot. Hopefully that won't happen… :)

Subscribe to our Newsletter