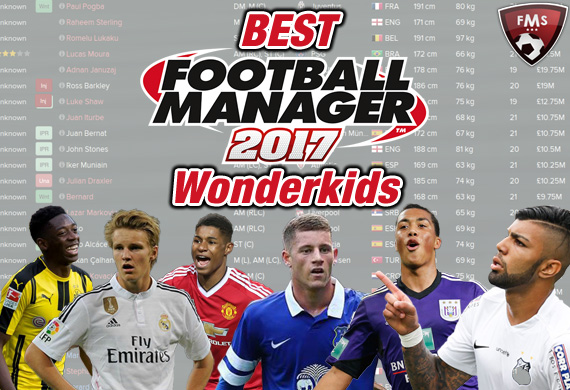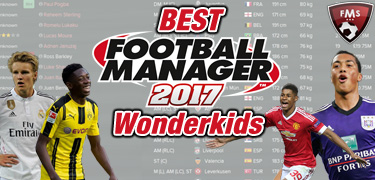 Hi guys and welcome to our best FM 2017 wonderkids shortlist. We have spent a fair few hours researching Football Manager 2017 and can finally bring you the best FM 2017 wonderkids, 217 players to be precise.
The list below is interactive, you can sort it by age, potential and value etc, or use the search bar to find the exact player you want for any position. Just type in the letters that represents your desired position and the table will do the rest. These FM17 wonderkids have been rated on their potential alone, we haven't taken into account current ability, this list is to help you buy better for the future after all. The 'potential' is a numerical rating out of 10.
Scroll to the bottom of the list and you can download all these best FM 2017 wonderkids in a shortlist. You can then upload it to your game and have all this talent at your fingertips, just waiting to receive an offer. Look for the star icon, this represents real value for money and we will add more as and when we find them.
Not enough detail? You need our Scouting Network then, there you can find in depth profiles on the games top talents.
---
 If you are looking for the FM 2018 best wonderkids shortlist , you can find it by clicking here. :)
If you are looking for the FM 2019 best wonderkids shortlist , you can find it by clicking here. :)
---
FMS Value For Money Favourites: 

Approach to sign (Youth contract): 

The only way to see every FM17 wonderkid below is to load a large database with England, France, Italy, Spain, Argentina and Brazil loaded as playable.
Best FM 2017 Wonderkids (217 players)
[table "45" not found /]
Download the FM 2017 wonderkids shortlist by clicking the download button below:


Please note: If you want to share this download on your website you will have to link back to this page, hosting the file elsewhere or posting the direct download link is not allowed!
For all the best Football Manager 2023 wonderkids click here, from cheap bargains to worldclass prospects.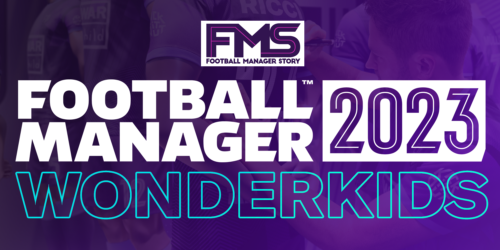 How to install the best FM 2017 wonderkids shortlist
1. Put the downloaded file in this folder: Documents/Sports Interactive/Football Manager 2017/shortlists. If the "shortlists" folder doesn't exist you will have to create it.
2. Start your game and go to shortlists.
3. In game click 'scouting' on the sidebar, then 'shortlist' within the top tabs. Click 'shortlist' at the bottom left of the your screen.
4. Select "load shortlist" from the menu and then select the respective file
That's about it, enjoy!
If you find this useful, please share it with your friends on the social networks.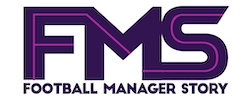 Subscribe to our Newsletter