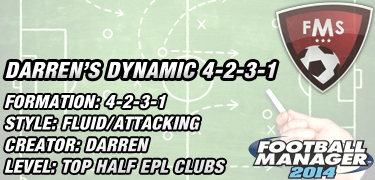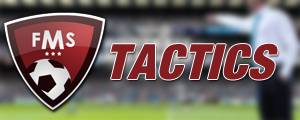 Updated 24/03/14 to suit patch 14.3 – This post has not been changed, but the changelist for the updated tactic can be found near the bottom of this post, just before the download link. Minor tweaks and enhancements have been made so this will be just as effective with the new patch.
Hey guys and welcome back to our series of best FM 2014 tactics. Its been a while since I could update you with something new, mainly due to this years tactics and match engine been so tough to master. However, after many hours of testing I think we've found one of my best FM 2014 tactics yet, at least I hope so. :)
For some time now you've been asking us to create a 4-2-3-1 tactic for Football Manager 2014. Well now we have, the holy grail of FM 2014 formations has been unlocked. I call it Darren's dynamic 4-2-3-1, Darren because of my name, dynamic because its fast paced and well you get the rest. :) Enough of the jokes, lets jump into it as there's a lot to explain.
Let me begin by saying this is tested for patch 14.2.2 and I can't say if it will work beyond that patch. Also, if you are struggling with this tactic and haven't read the full post before using, then don't complain, its your own fault. Below should explain all you need to know in order to use this properly.
This tactic is suitable for almost any team in the top flight or second tier of almost any country. However, bare in mind you must have the correct personnel for all the best FM 2014 tactics to work, if you don't this tactic will be an epic fail. I tested it with Swansea to great effect and a friend did so with Chelsea, West Brom and Atletico Madrid. That should give you an idea of the sorts of teams that are primed and ready to play. I recently tried it in Italy, not as effective there due to its fluidity but with patience and good signings it should work.
Best FM 2014 Tactics: 4-2-3-1 formation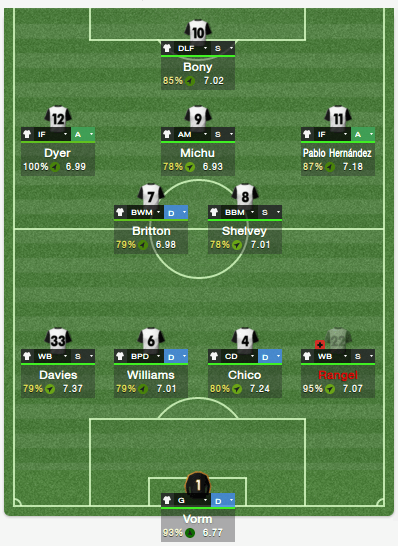 Important! The philosophy is very fluid and must stay that way, the strategy should vary on who you are. As a guideline, when playing with Swansea I used counter for every single match bar the incredibly easy ones. My friend Dan used control strategy for every single match when playing with Chelsea, bar the very difficult away games to the likes of Man Utd and City etc. Basically if you are not a top top side then stick with the counter strategy, but you'll have to gauge yourself where your strategy should lye.
I actually created this tactic while watching Chelsea beat Manchester United. All I did was examine every role Jose played and how they moved, hassled and all their general play, then tried to replicate the roles and instructions in FM. So if you are considering who to sign, just consider Chelsea's starting XI and use them as inspiration for the types of players you will need. Again, this will work with underdogs, but you do need to make sure the squad is suitable and its worth noting that speed is quite important but we'll cover that later.
Best FM 2014 Tactics: 4-2-3-1 Team Instructions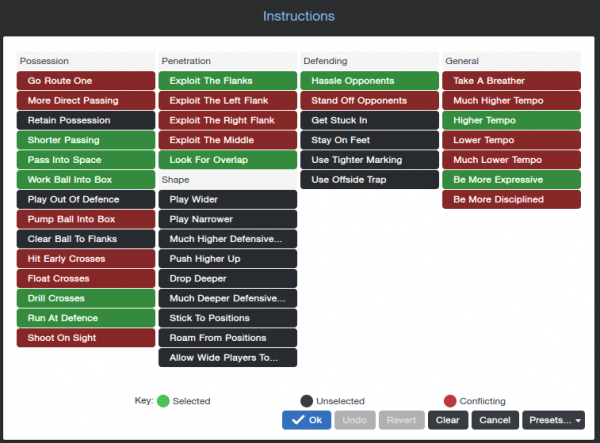 The instructions are designed again to try and emulate Chelsea's game. I noted in the United victory that they seemed very expressive, closed the opposition down fast and most of the play was at a high tempo (note AMC is instructed to hold up ball as to try and be more calculated with his passing options.) Due to their superior wingers they exploited Hazard and co on the flanks and the full backs liked to overlap as did the box to box MC.
I also noted that most of the passing was short as they tried to work an angle into the box and they liked to run at the opposition with the ball as well as drill their crosses in. The only instruction that doesn't resemble their general style is the pass into space, but that is just to try and combat the difficult match engine.
This tactic does feature a number of player instructions, of which I won't go into detail. But none effect the roles or general duties you'd expect the players to fulfill…they just enhance what the players are already asked to do like the inside forwards are told to dribble more for instance.
Best FM 2014 Tactics: 4-2-3-1 Roles
GK: goalkeeper – defend – Nothing special required, sometimes your keeper may be left a little stranded with long balls over the top, so one on ones and running out may be a bonus but not a necessity.
DR/DL: wing back – support – Very important players, they give the inside forwards support and overlap going forward. Speed is very important, stamina too and the obvious defensive attributes. But the better these guys are at crossing and dribbling the more chances you will create.
DC: ball playing defender – defend – You should look for all the usual defensive attributes, but also passing, composure and acceleration are very important. If the pace and acceleration are below 12 for top flight teams this guy may cause problems. The faster the better.
DC: central defender – defend – Same as above, he will be vulnerable to balls over the top so needs speed to avoid being caught out. Don't worry about the passing for this guy though as he isn't expected to play out of defence. Look more for someone good in the air with jumping and heading.
MC: ball winning midfielder – defend – This guy will need to hunt down possession and then lay it off to a team mate. Good physicals are a bonus, work rate and tackling are very important alongside the usual attributes for this role.
MC: box to box midfielder – support – We want someone with acceleration, dribbling and great work rate for this role. He will run up and down the pitch, good shooting ability will be a bonus too.
AMR/AML: inside forward – attack – Very important players, they will get the goals when your forward can't. We must have flair, plenty of pace and acceleration and the better they are in front of goal the more they'll score. Most importantly we need good dribblers. These two will transform you from average to great if picked correctly.
AMC: attacking midfielder – support – The AMC is your link, he should connect everything together so great technical ability is a must. Also the better his mentals in general the better he'll perform, teamwork and work rate could be a real bonus but look for creativity and try to avoid slow players.
ST: deep lying forward – support – This guy needs to be a bit of an all rounder, the best example for this role would be Bony. But don't pick someone slow as they will not work. Try for a minimum of 12 in pace and acceleration, again more is better.
General player tips: I can't stress how important speed is in this tactic, namely out wide and at centre back, slow defenders will be caught out due to the fluidity and number of players in attacking positions.
Best FM 2014 Tactics: 4-2-3-1 In Action
With the right players as I have laid out above, this tactic should play fairly solid at the back and very dangerous upfront. When the opposition press against you as opposed to counter, your back four should stay compact while the two MC's, AMC and all other attacking players press and hassle, making it difficult for the opposition to break through.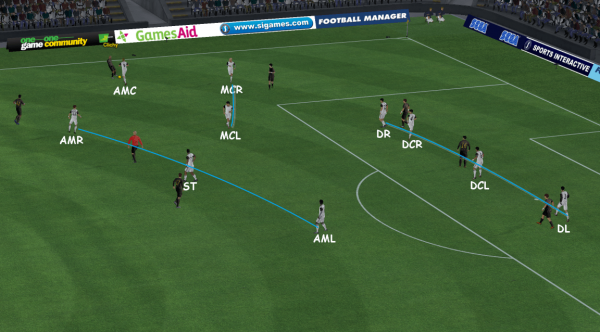 When against lesser opposition who would rather sit back and play on the counter, the team will press much higher up as shown below. The pressure is great, but this is why you need fast wing backs and centre backs as they can be drawn out of position and that is when the long ball over the top will hurt you most and lead to annoying losses to lesser sides.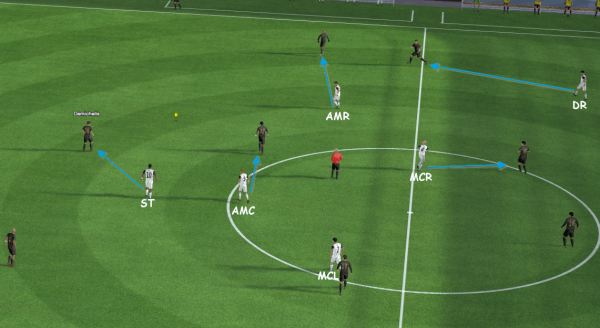 The build up play can see every one of your players involved. The screenshot below is from a counter attack against Man City that lead to a penalty. The ball winning midfielder picks up possession and finds the marauding wing back who plays a quick threaded pass to the left sided inside forward, Dyer speeds away and is brought down. As you can see there are a lot of attacking options.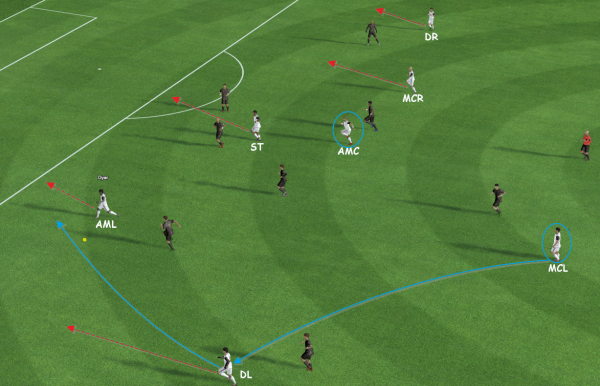 The AMC is set to hold up play and pass more direct, this is to further enhance his playmaking options, while the box to box midfielder tends to get up alongside him offering a flat passing option, this helps open play and further passing options. Meanwhile the ST, AMR and AML pry around the opposition defence in search of an opening.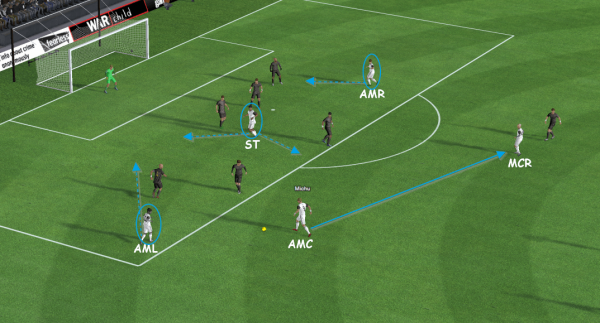 Below are some highlights from my Swansea save which show how clinical this can be with the right players. Please watch in 1080HD for the best viewing.
Results with Swansea
Europa League – We enjoyed a good run in Europe, but were unfortunate to lose against French side Marseille in the semi-final. We had more chances but they took the few they created over both legs.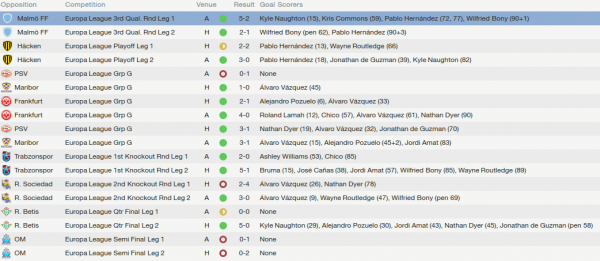 Premier League – While we suffered early exits in the domestic cups we did incredibly well in the league. Missing out on the title thanks to a last minute Baines fee-kick in the last game of the season!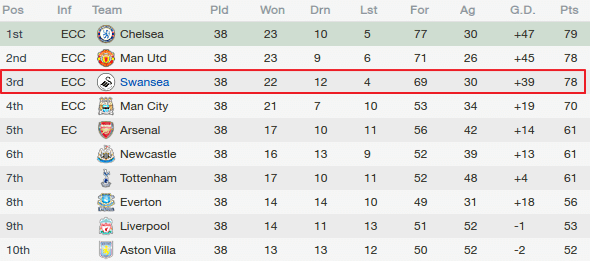 Squad ratings – Bony was key with 25 goals, so were the wingers. Hernandez and Dyer chipped in with 22 goals between them and 18 assists. You'll notice the defence had high ratings, they were superb while Michu wasn't always on form but he always linked up play well and scored 11 goals to boot.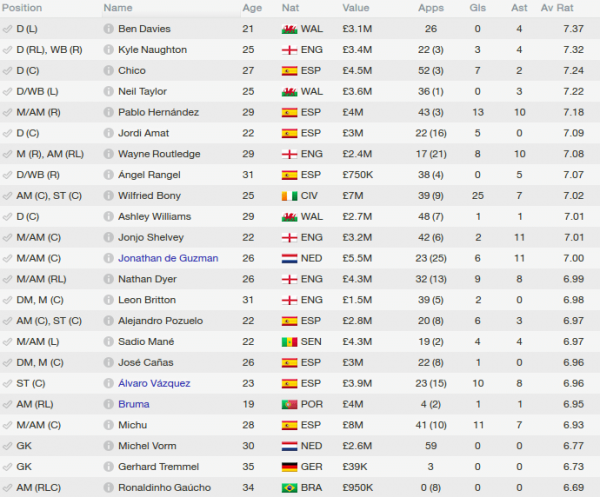 Dan's results with Chelsea
League Cup – While I tested with Swansea, my friend Dan Davidson tested with Chelsea to great success. He won the League Cup beating United, Liverpool and City on the way.

FA Cup

Premier League – Dan won the Premier League, unfortunately he deleted the save before sending me the screenshot of the table but below are all the results.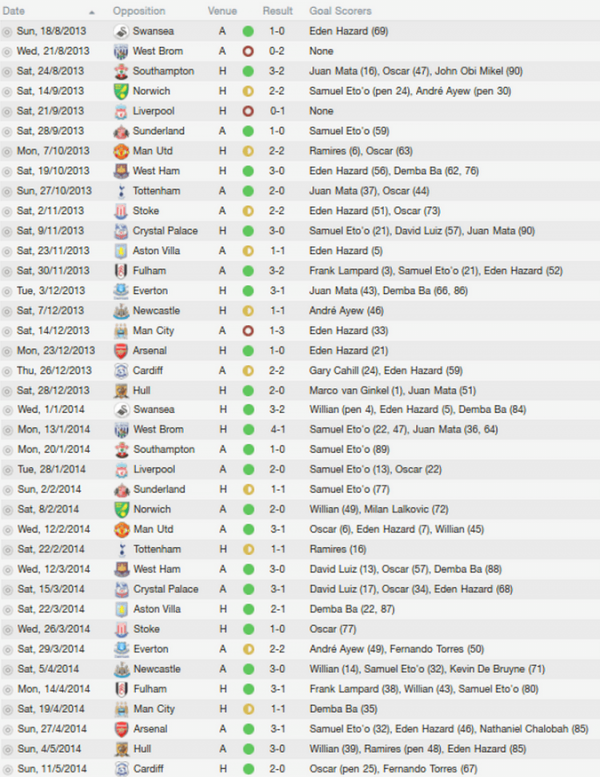 Champions League – The quadruple was wrapped up with a win against Juventus in the final of Europe's elite competition.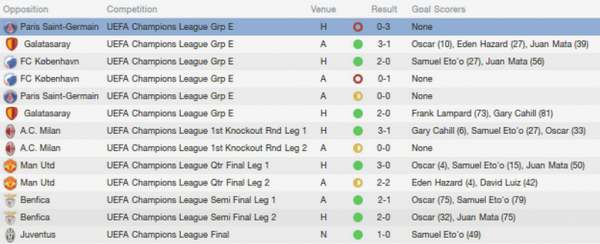 Dan also played with West Brom and finished 7th in the Premier League and won the League Cup, showing this can work with the underdog providing you have the right type of players.
Important notes
I prepared this tactic through pre-season. I had training set to team cohesion and high intensity throughout pre-season and the match prep as tactics only. Through the season I changed to average intensity and balanced training. The match prep should change based on your next opponent and what may have been a problem in the last match.
Give this tactic time, it will not start working perfectly straight away. I am currently testing with Napoli and only after about 8 games do the team start looking like they can make the tactic work. There's lots of fluidity and freedom, which can take longer to adapt to. Just see Dan's first few results for evidence of this.
You must sign suitable players for this tactic, or it will not work. Remember the faster your side the better they'll play.
When two goals up against tough opposition or desperately trying to hang onto a lead at the end of a match, it may be best to switch to my 4-5-1. This tactic will be more stable defensively and help close out the match, you can download it from here.
For opposition instructions just ask your assistant manager to set them every match, he tends to know best. Your AM won't always be right, but unless you know what to look for in his errors, leave the instructions to him. Without these instructions been done properly the tactic won't work.
There are no specific pitch dimensions I'd recommend.
This tactic has been tested in patch 14.2.2 and I can't guarantee it working in later patches.
14.3 Tactic Changelist
As mentioned at the top of this post, I have adjusted and tweaked this tactic to suit the most recent patch, 14.3. Below are all the changes made to suit the new patch, while almost all the information above still applies in using this tactic, just note that the control strategy is best to use in general.
Strategy – always use control
Team instructions – Added instruction 'much deeper defensive line'.
DCL changed from ball playing defender to central defender.
MCR changed from box to box midfielder role to central midfielder with support duty.
MCL changed from ball winning midfielder role to central midfielder with defend duty.
AMC changed from attacking midfielder to advanced playmaker with support duty.
The download below is for the new revised tactic.
Best FM 2014 Tactics: 4-2-3-1 Download for patch 14.3 and beyond
If you like what you see, then just click the download image below and download the file from mediafire. Then follow the instructions.


Once download is complete, move the file to the following folder documents>sports interactive>football manager 2014>tactics
Now load the game as normal and enter the tactics screen.
Click the button to add a tactic and look in 'archived tactics', then select 'Darren's Dynamic 4-2-3-1 v2'.
Well that is my best FM 2014 tactic to date. Thanks for reading and please do share this post on Facebook and Twitter…sharing our site will help us grow and I'd really appreciate it. For those trying this out I hope it works as well for you as it did for me and Dan.

Subscribe to our Newsletter