Hi everyone. :)
So after a really hectic past few days am back with another update! My brother had flown over from Italy for the first time since his horrific car accident and our whole family sat round to watch the semi final and saw Spain make it to the final.
That's the main reason I haven't been around for the past week or so, but I did finish this season before he arrived and now I have some free time to type it up and bring it you now.
Last time around we finished in a club high eighth in the Belorussian first division and with high hopes of once again avoiding relegation.
So lets see how my fourth season went.
———————————

So the season began with a contract extension as I signed up for another year onto my existing one as my project seems to backed by my chairman. :)
Last Year's Team of the Year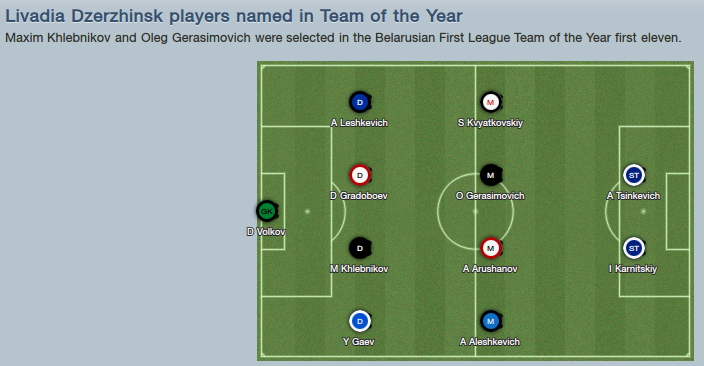 So we had two players make it our star center back Maxim Khlebnikov and central midfielder Oleg Gerasimovich or Mr Set plays as he is known!
Club Information and Club Finances Start of the Season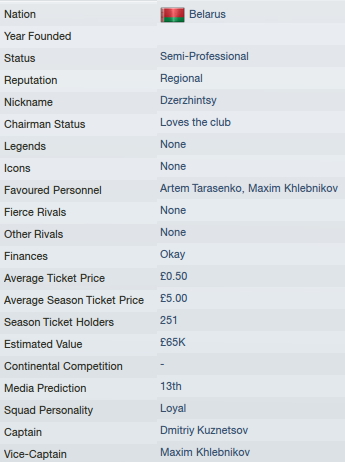 So for the first time we are not predicted to finish bottom!
No surprise too see Khlebnikov be amongst the clubs favoured personal list as he had a fantastic season last year and we did gain a massive three new ticket holders. ;)
Club value remains the same and I wasted no time in promoting Khlebnikov to our vice captain which was seen as a very popular choice amongst the players.
Transfers In and Out – First Window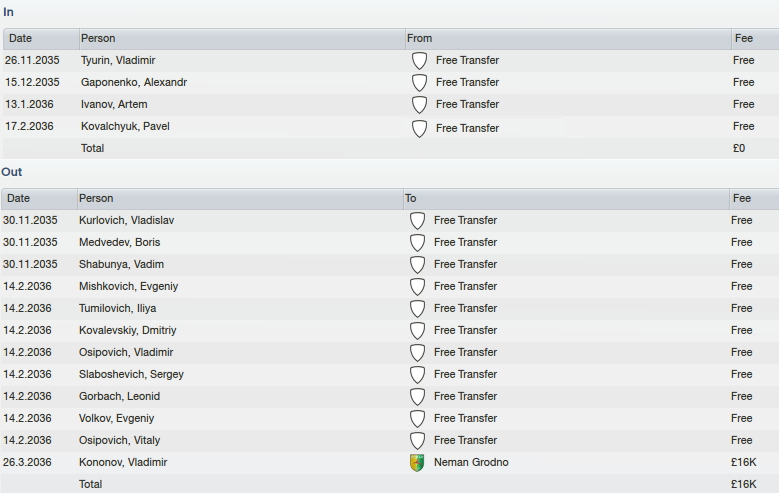 So four new faces and I was really pleased with the new players, I did release a lot of players due to them being far from good enough and even sold Kononov a team in the top division for £16k pounds which is a really huge amount!
I would have liked a few more players in truth but due to them not wanting to sign I just settled for what I could get so here are the new players.
Vladimir Tyurin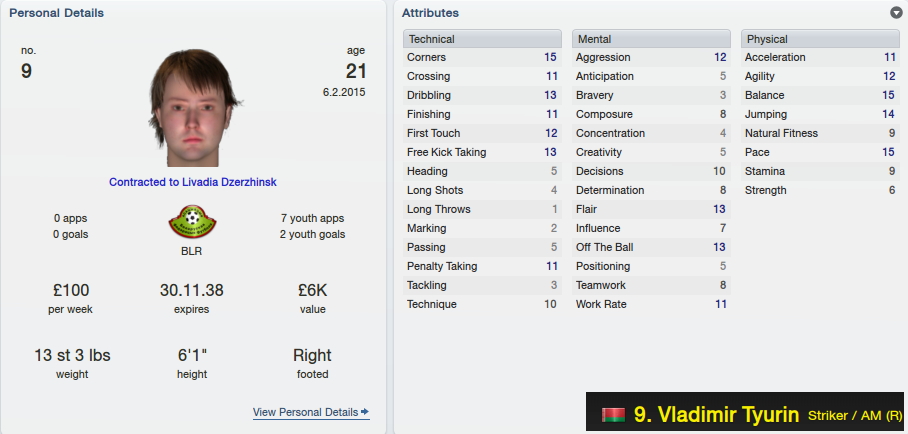 Alexander Gaponenko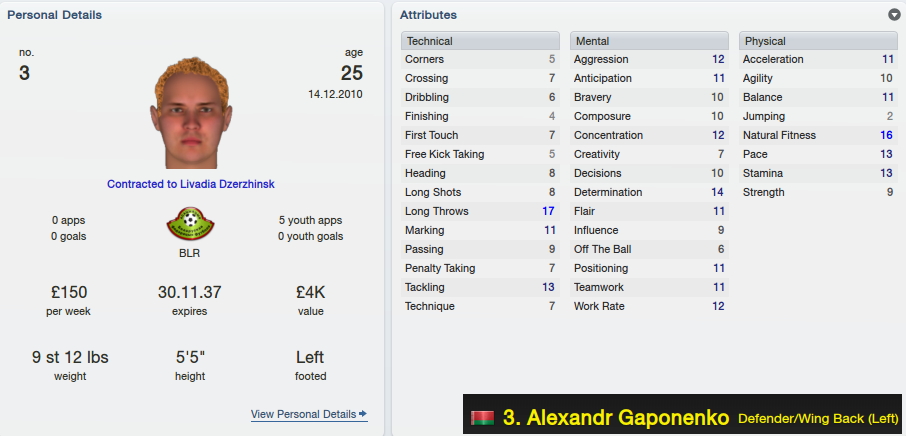 Artem Ivanov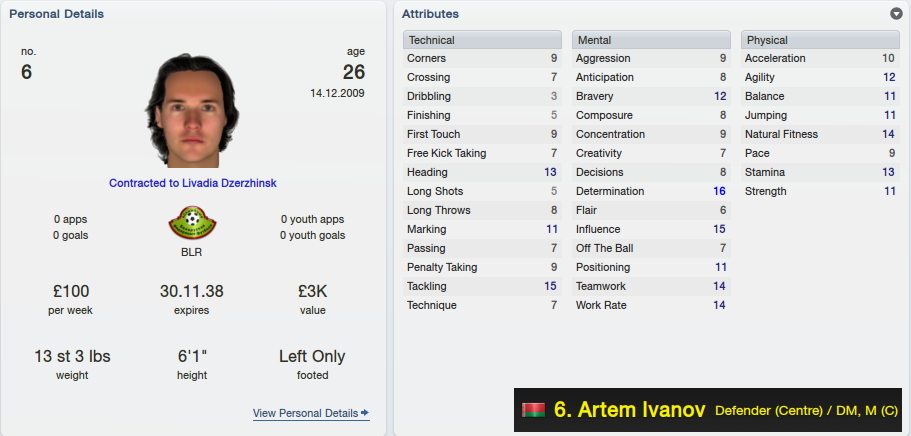 Pavel Kovalchyuk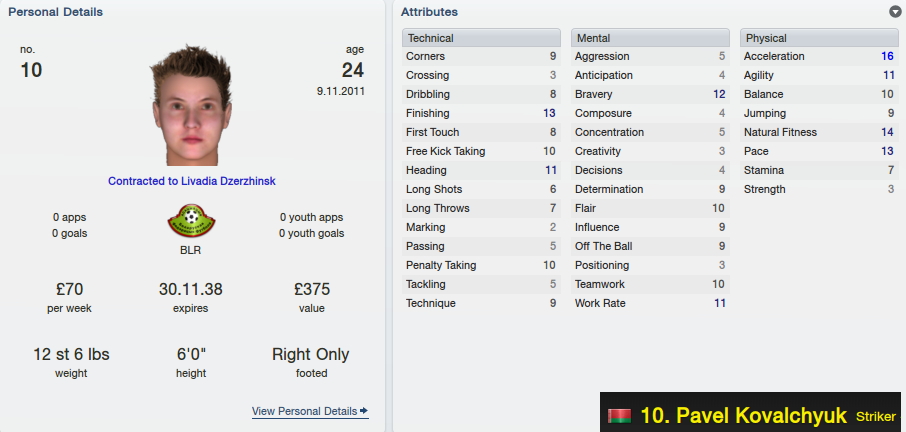 Wow!
Finally a good standard of player and that wanted to join Livadia, Tyurin is twice the player of the departed Kononov and with better finishing and Gaponenko is a really good left back.
Ivanov will play in defense or midfield haven't decided yet, where ever we are weakest I guess and Kovalchyuk will be a super sub of sorts with his pace.
Formation For the New Season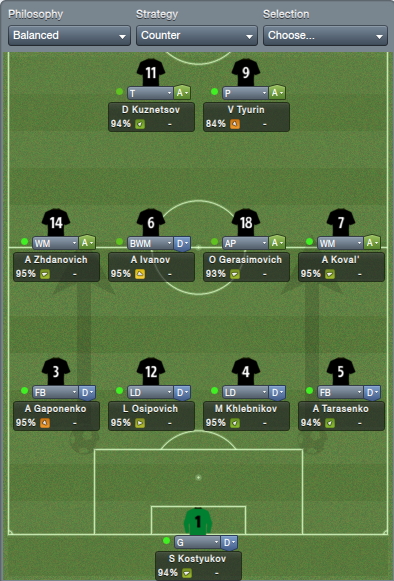 So that's it a 4-4-2 and one I will be sticking with for now and the future, it worked last year at Cheonam and FCAK and a few other places so have decided to incorporate it into this game in Belarus.
Am so much happier with the team this year as we are far better than last year so am hoping for a good season this time around.
Results and Table – First Half of the Season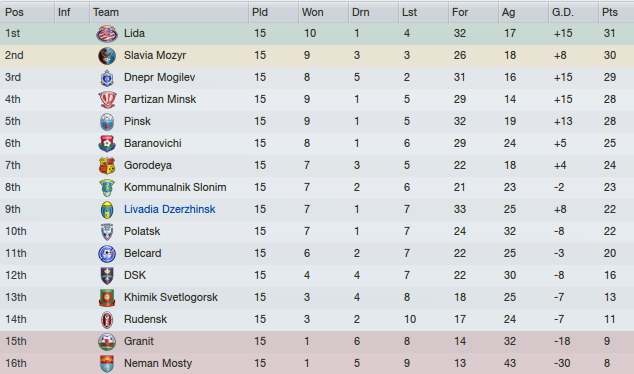 Seven wins seven defeats says it all really but am pleased.
We are still far too inconsistent and that horrible run of defeats seems to haunt us a bit but all in all am encouraged  as we are sitting in ninth place and thirteen points clear of relegation, so barring a disaster which should be safe at least this season.
I hope. :)
Transfers In – Second Window
Sergey Hleb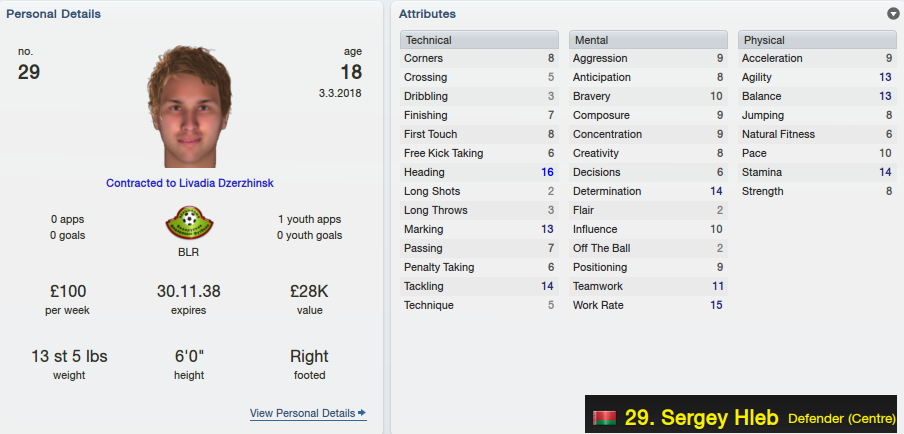 Artem Platonov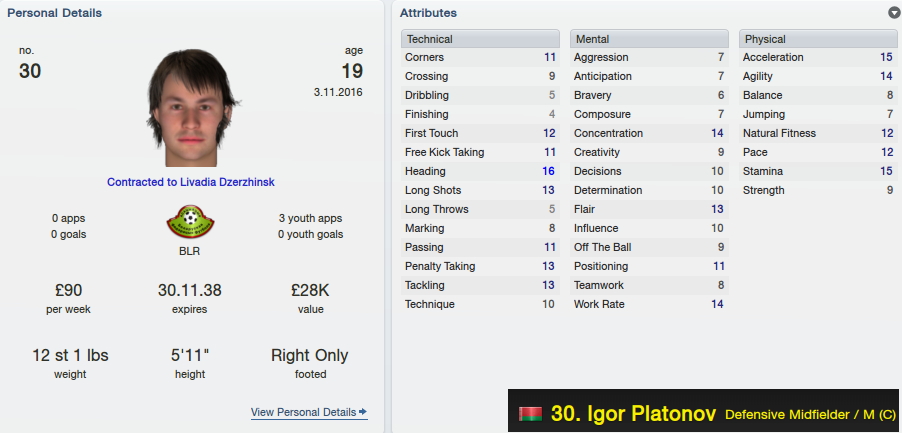 So am starting to plan for the future and I couldn't really say no to either of these players Hleb was bought first and will start alongside Khlebnikov in the Livadia defense.
Platonov will be a squad player and will probably replace Mr set plays in the heart of the midfield as he just a much better player in all departments (except set pieces of course!).
League Table and Results End of Season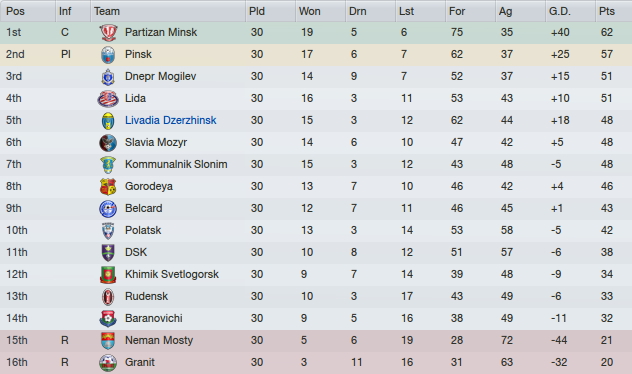 So fifth it is!
We managed to beat or record ever finish by three places and we would have been knocking on the playoff door had we ended the season a little better.
These run of defeats happen and it seems very hard to stop them! But at least we had a great season and ended with a positive goal difference and my team seemed to like the new 4-4-2 so much more as they really settled into well.
My 100 game at Livadia was one to remember as we beat Partizan Minsk 5-1. :)
Final Player Ratings of the Season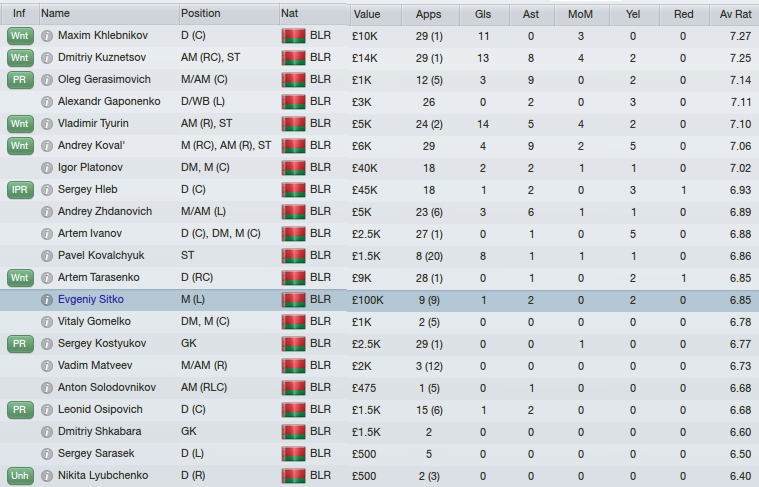 So no real surprise too see Khlebnikov lead the way as once again he had an amazing season, Kuznetsov and Tyurin formed a decent partnership with 27 goals between them and Koval really settled into the team as my record signing.
All in all I was very happy with all the players and can not be happier with the best finish in the clubs history!
Star Man of the Season – Maxim Khlebnikov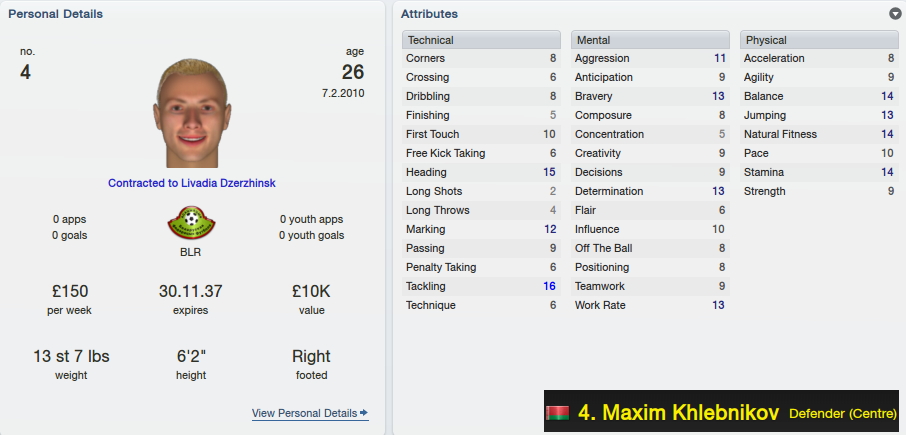 End of Season Finances and Team + Player Records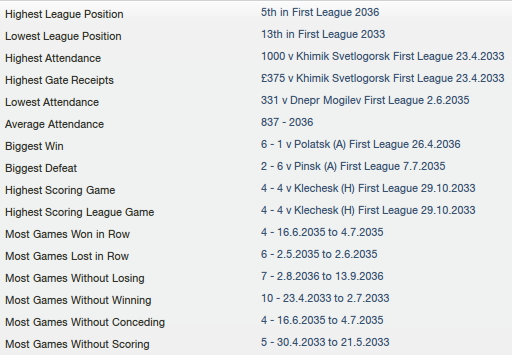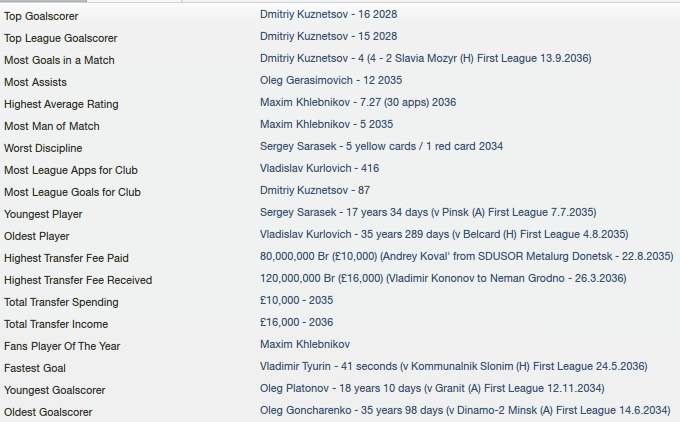 So financially things still look very good despite losing a little money but nothing major as of yet.
We recorded our highest ever finish and our biggest ever win whilst Khlebnikov took Zhukuv's record of our highest average rated player.
End of Season Round-Up
And thats that as they say. :)
I am very happy with how things went and we are starting to build for the future with a few pretty talented younger players matched with some experience which is vital I think.
We still can get in these terrible run of defeats which is hard to take and difficult to keep the players motivated but when we do play well we look a pretty good side.
The squad is improving each season and with each good finish we are able to sign some slightly better players so I feel now we are no longer a relegation threatened team and am hoping to maybe improve our fifth place and maybe push the leaders.
I feel its do-able if we can get out of the habit of these losing streaks as we were not too far from second and with Khlebnikov and co at the back and players who look like they can score goals the future is looking bright at least.
Thanks once again for reading my story and as always I look forward to your comments and thoughts so far!
I will bring you my next update as soon as its played, so until then goodbye for now. :)

Subscribe to our Newsletter