Hi everyone!
So once again I am back with another completed season is my pentagon challenge. So far things are going ok at the Black Aces as we had our best ever finish in our history last season of 6th.
A title push may be  a little to ambitious so am aiming for a top four place, so lets have a look at how the season went. :)
Managerial C.V
– Black Aces (June 2011 – Present)
First Division : 2012
—————————————

I tried, don't hate me!
Laugh at is a bit harsh in my opinion considering we only finished a point behind them and took four points of them out of six. Throw in the fact that we have a fraction of the quality they have and a lot less money I think it was a harsh reaction.
But makes me even more determined to succeed at the Black Aces now, Orlando Pirates picked the wrong person to laugh at. :)

Free money? yes please! :)
I took another parent club earning another £+40k per year so we are getting over a 100K a year now in parent clubs.

So I managed to win manager of the season so I guess I am not doing too badly at the moment, last season was the best in our clubs history of 6th and we did overachieve so was pretty pleased in all.
Transfers In And Out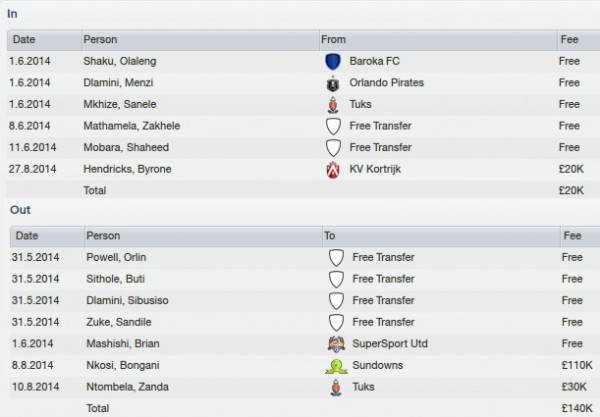 So made a few new addition as you would expect, nothing to special but a few talented younger players to help improve our squad a little.
I sold a few fringe players to bring in some extra money but not a very busy transfer window.
Byrone Hendricks
Menzi Dlamini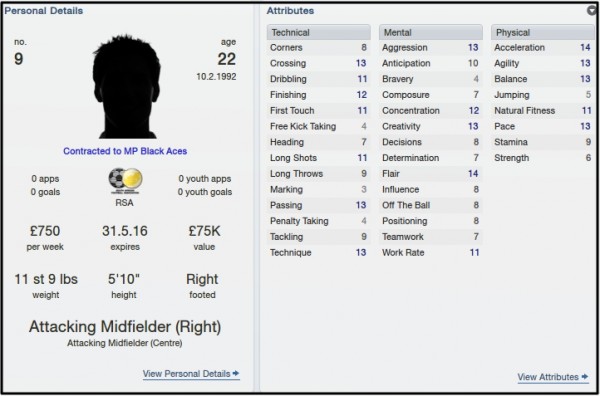 So Hendricks was bought as cover for my right side in defence and Dlamini is a highly rated wide man who will play AMR in my side.
Finances and Club Information

So we look pretty good financially speaking making another profit last season and already turning over a good amount of revenue.
I know we will lose money every month but I feel we have made enough to cover that already so am delighted with the bank balance.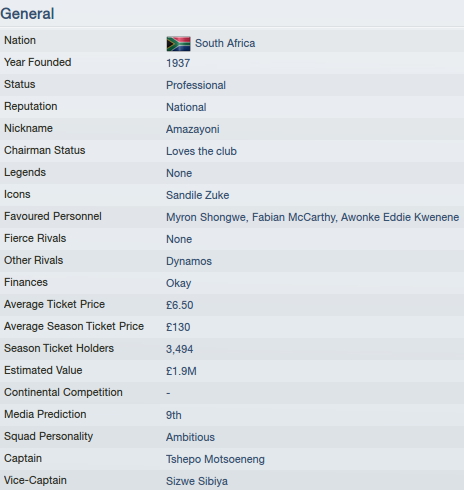 So Kwenene joined the favoured personnel  list but no place for me yet. :(
We are predicted to finish 9th so we are definatly improving as the clubs value is at almost £2 million, with over 3,000 season ticket holders.
Results and Table Halfway Point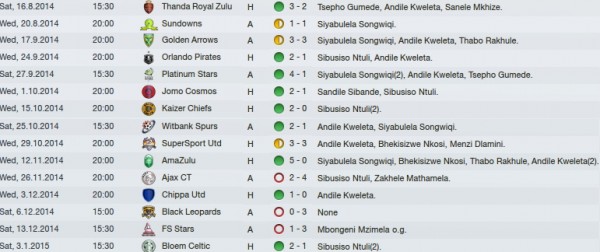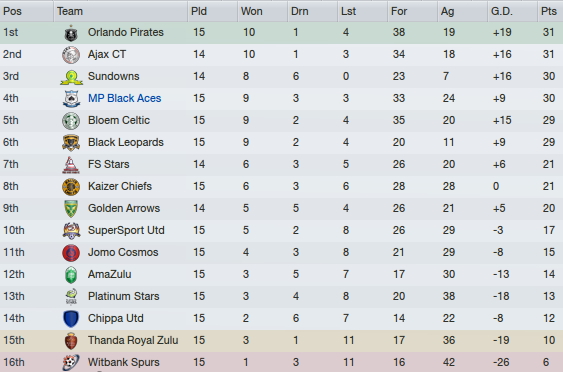 So a really good first half of the season and we are involved in a title race!
That said all the teams are still very close as you would expect at the halfway stage a few away defeats which I half expected but we beat Orlando Pirates again, not too bad for a manger laughed out of their office. :)
Results Final Half of The Season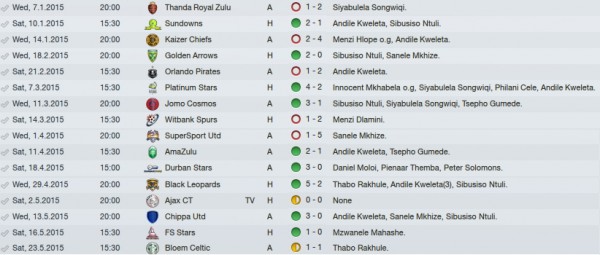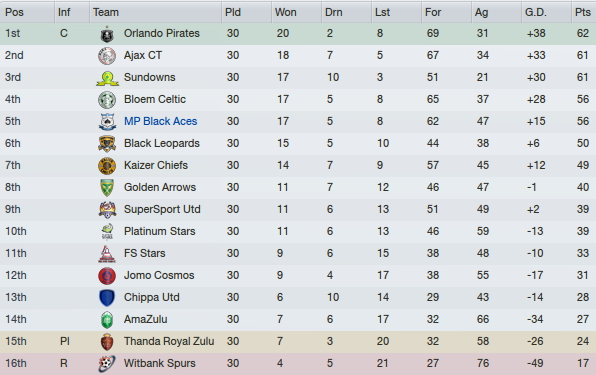 Fifth!
Not too bad I guess I expected a top six finish so cant be too disappointed with a fifth place, we lost too many games to push for the title but we are closing the gap each season only six points away from the eventual winners.
We still have the worse defence in the top six but we do score goals so I am happy, Supersport avenged our 7-1 victory over them last season by beating us 5-1 away.
But we reacted very well going unbeaten in seven games and winning five.
Final Player Ratings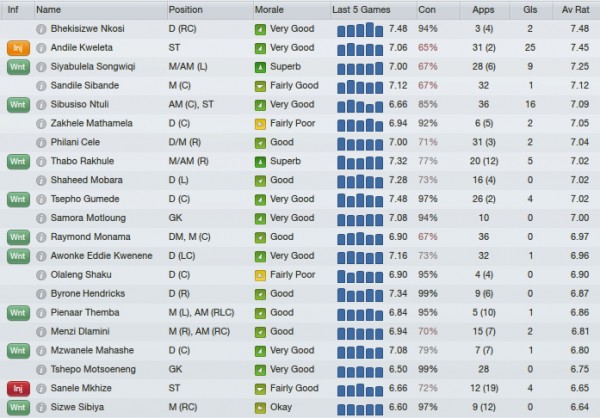 Kwelete had an outstanding season scoring 25 in 33 games, whilst Ntuli his strike partner grabbed 16 goals.
Songwiqi is quickly becoming my favourite player on this years game as he continues to impress every season, despite not having amazing stats.
Sibande had another great season in the heart of my midfield but my star player of the season goes too….
Star Player Of The Season – Andile Kwelete
Had to be my best centre forward with his 18 league goals in 27 starts. He was just clinical this season and alongside Ntuli we have good pace and a good finisher , not amazing stats and my assistant doesnt rate him too highly but he was a key member of my squad this season.
Save Game Status and Finances

So we didnt make a massive profit this season only a £100k better of but at least its better than a mountain of debt!
Its hard to make huge profits without any form of TV rights/money and our attendances arent exactly full to the brim, with only an average of around 5,000 in our 30,000 rented stadium.
Our money comes from the cup competitions, I only post them if I reach the semi-finals or higher but I do focus on the league more still the extra money is nice.

Season Round-Up
So season four has just passed and I must admit I am really pleased with the progress we are making.
We were involved in the title race up until we lost a few games against the sides around us and losing at home to the bottom club. :(
We are improving each season and I have a good sense of optimism going into season five, will we win the league?
The answer is I dont know, but at least we look like we can compete which is very encouraging but I will need some new recruits to take this team to the next level.
I have decided to stay at the Black Aces for the foreseeable future, in honestly I really like this team and I really like South Africa most people tell me that its the worst place to manage and to get out as quickly as possible but I am the opposite!
I really like it and how competitive it is, how every season a few teams can challenge for the title and its not dominated by one team, how money doesnt play a massive factor and how foreign owners never come to simply buy their titles.
On any day you can beat any side in the league or as I have showed against Witbank Spurs losing games you think are routine wins and how you can only buy South African players. Its a challenge but one I enjoy, I loved my time managing in South Africa last time and am so glad that I am enjoying it again it could be my favourite league to manage in. :)
Next season may be a season when we could challenge for the title, signings are needed but I dont feel we are a million miles away. Squad is good, there are plenty of talented young players and our finances are very healthy.
I will bring that season too you as soon as its finished so I look forward to hearing from you, and goodbye until then.

Subscribe to our Newsletter