Reporter: Hello and welcome back to our coverage of the World Cup 2018 in Russia. We have seen all the favourites survive so far, but this is where the competition gets really heated, in the quarter-finals stage. Before we reveal who will play who, here is a link for anyone that has missed the group stages and second round.
With the likes of Argentina, Spain, France, Italy, Brazil and Holland still in the competition, we're destined to find at least one tasty tie. As you all know the World Cup is unique in that every country can see its path through the tournament and therefore predict which opponents they may face. Well, for those of you who don't know, lets see who will play who in the quarter-finals.
Eric Cantona: Looking at the nations left over, I can't see any easy games. Having said that, Argentina are probably the one nation I'd rather miss. Its going to be a tough quarter-final, full of flair and attacking intent, with France walking away victorious of course!
Reporter: There you have it, the quarter-final draw. Within those eight nations lies the 2018 World Cup champions. Chile and Holland will be counting their blessings having been drawn against each other. While I see an interesting tie in Italy versus Spain. Scotland must surely see their dream end against Brazil, but the Argentina versus France game is very tough to call. After dispatching England in the second round, Smith certainly hasn't enjoyed much luck with his quarter-final draw.
World Cup quarter-final – Argentina vs France
Darren Smith's team talk: Right lads, we have one foot through the door. Beating England was a big success and should really boost your confidence. However, France are a slightly different opponent, you can't go into this match thinking its won already. We'll be sticking with the 4-5-1 that has seen us unbeaten so far. Everyone is fit so lets start with the usual line up. Messi, I want some magic from you today and the same goes for you Becerra. The wings will be our danger point so get it out wide fast, don't be afraid to hit the ball long either as we hold an advantage in pace. We're getting so close to final boys, 'do it for the fans'.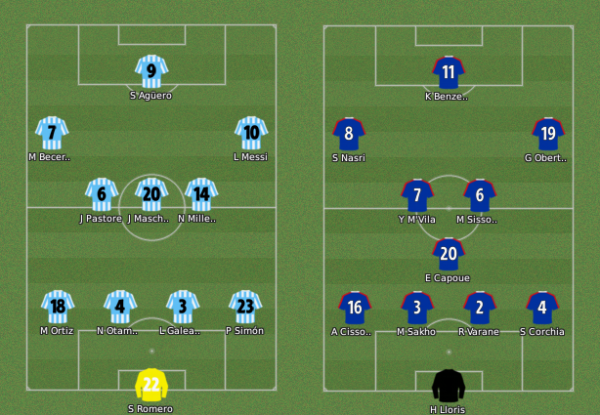 Argentina line up (click name to view profile) GK: Romero – DR: Simon, DL: Ortiz, DC: Galeano, DC: Otamendi – CM: Mascherano, CM: Millemaggi, CM: Pastore – RW: Messi, LW: Becerra – ST: Aguero
Reporter: What an amazing match this promises to be. With world class players like Messi, Aguero and Benzema this match should provide some fancy football. Both nations line up with a similar formation, but Argentina do seem a little more attacking. This quarter-final tie could come down to a moment of brilliance. Look above for an interactive look at the Argentina starting XI and after the break kick-off!!

Reporter: France really didn't turn up today, they looked like the losing side from the first whistle. Having said that, you have to admire Argentina. Darren's team are playing some amazing football, just summed up by the first goal. This is all down to pure technique, every pass is made with precision and leads to some fast, flowing football. While the match stats show an even game, reality showed France missing chances Argentina finished.

Darren Smith's post match comments: The lads were outstanding today! We passed the ball well and had France hanging by their puppet strings. The first goal was stunning and the second showed off our diversity from set pieces. The semi-final is the worst possible round to be eliminated, so I'm trying to keep the squad grounded. I was shocked to see Spain lose their quarter-final tie against Italy and can't bare the thought of an upset happening to us. The rest of this rounds ties went as expected. I could see Holland and Brazil making it to the semi's. Besides, I am desperate to meet Brazil in the final and thrash them for a fourth game running!
Semi-final draw live: The World Cup is really down to its business end now. We have four nations left and probably the strongest line up for decades. The only real upset so far is the favourites Spain, exiting to an ageing Italian side. The semi-final has produced an interesting draw. An unpredictable Holland will play the flair of Argentina. While the shock winners in this years quarter-final, Italy, will face another stern test in Brazil.
World Cup semi-final – Argentina vs Holland
Reporter: Holland and Argentina have only met once in the last four years. A friendly match finished 2-1 to the European nation, but both sides have changed a lot since then. Holland have a solid back four that leaks very few goals and they hold the best right back around in Van Hintum. While Argentina boast the best attacking players of all time. Holland are yet to concede in this years competition but have only scored 7. While Argentina have conceded 3 but scored an impressive 13 goals. The question still remains, who will be victorious.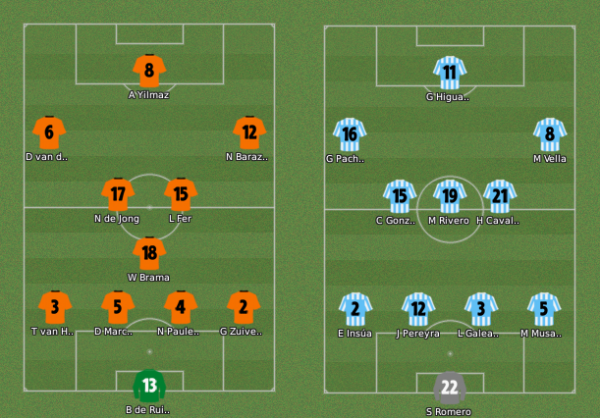 .Argentina line up (click the names to view player profiles) GK: Romero – DR: Musacchio, DL: Insua, DC: Galeano, DC: Pereyra – MC: Rivero, MC: Cavallo, MC: Gonzalez – RW: Vella, LW: Pacheco – ST: Higuain
Darren Smith's pre-match team talk: OK lads, I need you to have complete faith in me today. We are against a strong Dutch side but they don't hold much of a threat upfront. Therefore, I am taking a risk to give us the best possible chance should we make the final. A lot of you are shattered after our quarter-final tie with France, that is why I'm making some massive changes. Today, Pereyra, Insua, Musacchio, Rivero, Cavallo, Gonzalez, Pacheco, Vella and Higuain will make the starting XI. I prefer a fit squad to a tired one and also hold the utmost confidence in all of you. Please don't let me down and 'do it for the fans'.
Darren Smith's post match comments: That was a tough test and on another day we may have lost. I did take a big risk by resting a lot of key players, but I think the gamble paid off. The lads defended valiantly and our extra fitness came in to play during extra-time. While its upsetting to lose Cavallo, Rivero's injury doesn't look too serious. The only negative came in bringing Messi on just to get injured. He will be touch and go for the final.

Reporter: After three weeks in Russia, we finally know who has made the World Cup final. Smith's men faced their toughest test yet against Holland, but fitness played apart as the South American nation qualified. In the other semi-final we were all hoping for a Brazil victory to set up the dream final. But Italy created another upset by winning 2-1. The European giants have now dispatched the hosts Russia, the favourites in Spain and a fearful Brazil. While Argentina have beaten the European Champions England, France and a resilient Holland. One things for sure, this years final opponents have had a tough run to get here.
World Cup final – Argentina vs Italy
Reporter: The World Cup final is upon us, the greatest show on earth has reached its climax as two of the best nations compete for glory. This is the first time Argentina and Italy have clashed in over eight years. The European nation have a very experienced squad averaging an age of 29. While Argentina boast some exciting talent and have an average age of 26. Darren Smith is looking for a clean sweep after winning the Confederations Cup and Copa America prior to this competition. Though you have to go as far back as the 2006 World Cup for Italy's last success.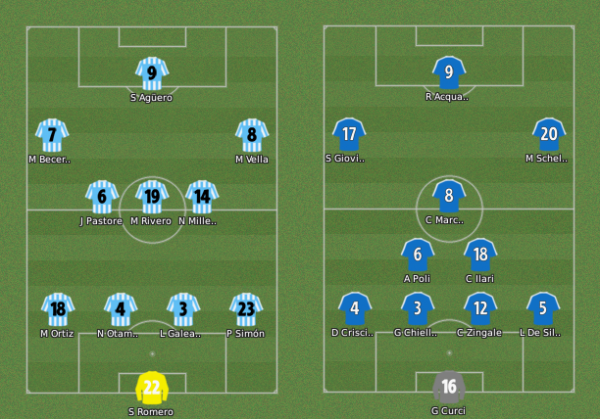 Argentina line up (click players names to view profile) GK: Romero – DR: Simon, DL: Ortiz, DC: Galeano, DC: Otamendi – CM: Rivero, CM: Millemaggi, CM: Pastore – RW: Vella, LW: Becerra – ST: Aguero
Reporter: After a quick glance at the formations and starting line ups, it is obvious which nation prefers defence to attack. The Italians like to get bodies behind the ball and could prove difficult to break down. Kick-off is almost upon us and the World Cup final venue is packed out. Lokomotiv's stadium holds less than 30000, but the atmosphere is incredible. Argentina seem to have brought the biggest support and are drowning out the Italian chants. Songs for their hero's echo around the stadium as the players emerge from the tunnel. We have managed to place a microphone near Darren Smith's dugout and are hoping to broadcast his reaction as the game goes on. Click the below link to here the man himself rather than our commentary team. The referee has blown for kick-off and the World Cup is just a few hours away from its conclusion.
World Cup 2018 final – Argentina vs Italy_part1 (Podcast)
World Cup 2018 final – Argentina vs Italy_part2 (Podcast)
Reporter: What a result and an amazing match to go with. Despite going down to ten men, Argentina still added a further three goals. Winning the World Cup 6-1 against a nation that has defeated both Spain and Brazil is just incredible. The fact Argentina have done the clean sweep too probably makes them the best squad of all time. Smith set his side out to defend deep and counter the Italians. This seemed to draw them forward and leave gaps to exploit at the back. The Argentine's incredible pace and technique proved too much on the break and Italy just fell to pieces. Vella picks up man of the match and deserves it with 3 goals and an assist.

Darren Smith's post-match reaction: I am over the moon, the lads were simply sensational and executed my instructions perfectly today. After seeing Ortiz red carded at 3-1, I wondered how the lads might react. Then they go and score three more goals, what a day, probably the happiest moment of my life. I am now just left with one question, should I bow out of international management on a high? I am not sure, so will leave this in the hands of my followers.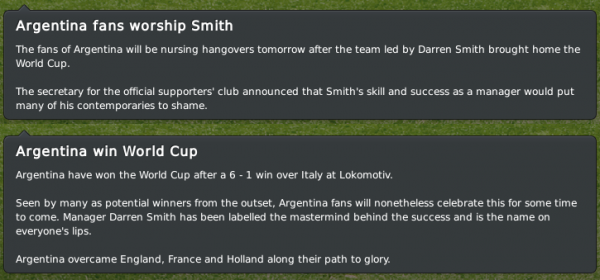 OK I am back guys, no more third person. :) I hope you enjoyed my first post after merging with Football Manager Story. I'd just like to take this opportunity to say thanks for all the kind messages we've been receiving and also thanks to Johnny for making this move possible. We both have lots of plans and hopefully will provide you guys with a much better FM experience. On a parting note, do you think I should carry on as Argentina coach or resign and concentrate on my club career with Chelsea and the Ultimate European Challenge? Bye for now and thanks for reading. ;)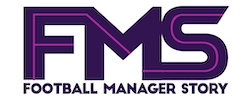 Subscribe to our Newsletter