Hello dear friends! I am sorry for the slight delay in this update. This past season has been quite a tough one! I have about one month left, so about 4 seasons, before FM 13 debuts, so hopefully I can conquer England in that time!  Let's jump right in!
Pre-Season


So after last season, relegation is still a distinct possibility, but hopefully I can escape the bottom of table scrap. I was also pretty happy by the transfer budget for such a low finish and I used a lot of it since I performed a near total squad overhaul. Take a look: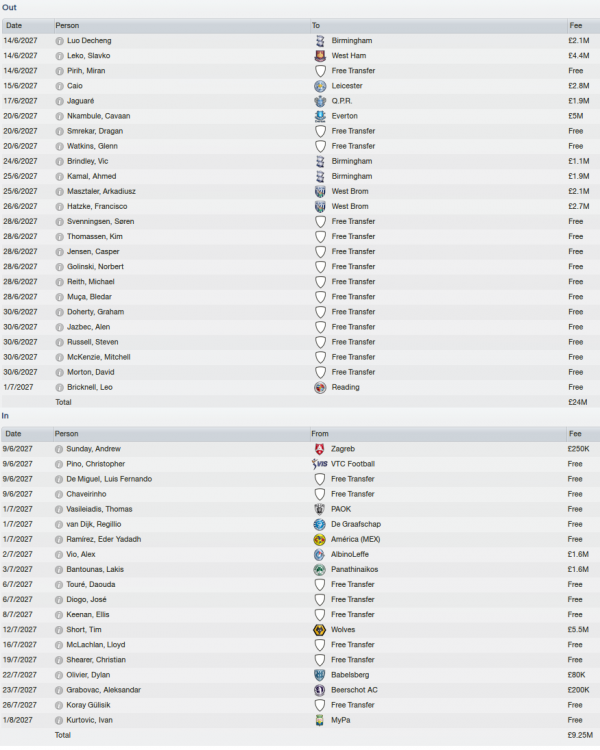 I focused on buying players who are 25 and under. Here is my final squad with comments:
GK: Chaveirinho and Alex Vio
The Brazilian will be my starter. He is a solid keeper and was a free agent. Alex Vio is a young Italian who may become world class, so he will likely leave us in a couple of years :P
CD: Andrew Sunday, Lloyd McLachlan, Mark Crawford, and Thomas Vasileiadis
Vasileiadis and McLachlan will be my starters. The Englishman was pursued by quite a few other teams and I was quite pleased to have captured him. Sunday will be my main back-up and Crawford is one of the few remaining players from the old roster.
DR: Dave Dawson and Regillio van Dijk
van Dijk is a temporary acquisition who will likely start. Dave Dawson is another remnant of the old team.
DL: Eder Yadadh Ramirez and Luis Fernando De Miguel
Ramirez is my starter and quite a steal, especially for free and De Miguel will be the back-up.
DM: Callum Kenwright, Daouda Toure, Jose Diogo, and Lakis Bantounas
Bantounas and Diogo are my starters. The Portuguese was quite a coup. Kenwright is my main back-up, captain, and from the old roster. He was one of the best members of the old team. Toure will be at the bottom of the pecking order.
AMC: Ellis Keenan and Koray Gulisik
Keenan is my highest earner and quite a coup as well. Gulisik will obviously serve as back-up.
AMR: Tim Short and Dylan Olivier
Tim Short will hopefully do a great job on the right wing – he could be a phenomenal signing (though not on the level of my all-time great, Xaropinho). Olivier is another wonderful player but I will probably sell him because he is earning quite a bit.
AML: Aleksandar Grabovac and Ivan Kurtovic
Grabovac is my starter and Kurtovic will play back-up. The Croats are poised to break into the national team so this should be an indication of the quality of the Croatian National Team. I will definitely be keeping an eye out on that country!
ST: Christopher Pino and Christian Shearer
Pino is going to be my starter. I was quite surprised to see that he was available for free. Shearer is a former Liverpool player (I don't think he is related to Alan!) and will be Pino's understudy.
So there's the team and now the season!
July – August 

Uneventful pre-season tour. Overall, I can't come up with any good takeaways apart from we are giving the teams in our same rank level or even slightly above (Getafe) quite a fight.
Our season opener was a tough loss to Blackburn. We could have potentially gotten a draw from a penalty but for a dodgy call from the referee at the 79th minute. For those wondering, Steve Kean is Balckburn's manager :P. Next we got out first point of the season from Lverpool, who are managed by Laurent Blanc (after Daglish retired, Steve McClaren took over. After his retirement came Didier Deschamps, who left to manage Marseille again, opening the door for Blanc). I guess karma evened out as Liverpool were turned down a penalty. After that we played our first League (Carling) Cup and got the first win of the real season over League 1 Dons and ended the transfer window and summer with an awesome win over QPR, managed by Jordan Henderson who retired from playing two seasons ago, during which my Croatian winger, Grabovac shined. At this early stage, we are 9th place in the league.
September – October

We started this month with a tough trip to Old Trafford and hope against all hope we escaped with a point. Man United went two goals up by the 24th minute and had a goal on the 39th minute ruled off-side. The second half saw us pull off some incredibly lucky stuff as we had a deflection into the goal from a United player and at the 80th minute, Gulisik scored an easy goal thanks to just errors in the box from the opposition. We actually had a shot to win at the 69th when we managed to get behind their defense but Pinho botched the one-on-one. In the end, our luck gave us the draw but statistically we were far inferior. Not complaining, though! Our next game saw us bow out of the Carling Cup to a so far undefeated Bolton side. I was pretty frustrated because we were given a penalty that Bantounas botched. September concluded with us cruising past West Brom and leaving us at 6th place. October was an incredible month where we won all our games! Big wins were against Tottenham and formerly top of the league Bolton. At the end of October, we sit at the top of the table with 23 points. In addition, we swept through the awards for Player of the Month (Crawford), Young Player of the Month (Pino), Goal of the Month (Pino for a strike against Bolton), and Manager of the Month (for me!). The highlight of this period has definitely been Pino.
November – December

Our streak came to a sad end at the hands of Everton. Pino picked up a small knock that forced him to sit out for the second half so we were without his genius. After that, we had hard-fought and maybe just a little lucky draws against Chelsea and Man City (Both their managers were sacked after each of our games). Tim Short and Pino are proving to be extremely potent players and I hope I can hold onto them! November saw us slide from the top of the table to 5th place. Pino won the Young Player of the Month award again. December started with a crazy win over Arsenal. It was such a crazy and improbably victory. The Gunners carved us open so many times and there was one time when Chaveirinho went for a save and had the ball bounce away to an opposing player, who then botched the shot! In the end, it was Tim Short who intercepted a pass from their keeper and put the ball into the back of the net to give us a victory at the Emirates, our fans will surely remember for a while. After that came a hard fought draw against Wolves at the Molyneux and an easy win over Swansea. If we are going to be contenders then obviously both these games need to be wins. We proceeded to finish December unbeaten with wins over Aston Villa, Norwich, and West Ham, the latter two being somewhat fortuitous. At the season's halfway point, Wigan sit as unlikely leaders of the Premier League!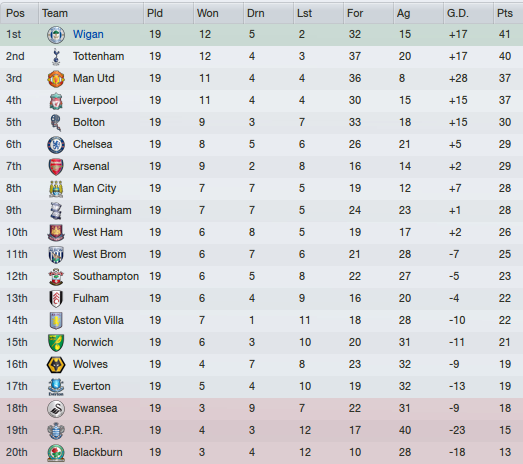 Obviously I know that this can change in an instant, so when the board asked me to choose a new goal for the season:

I decided to be pretty conservative and promise a top-half finish, especially since the money they were willing to give me wasn't all that much for the higher finishes.
In addition, I won another Manager of the Month award while Pino won another Young Player of the Month. Xaropinho, who is still at Cagliari, captured his fifth consecutive  Ballon d"Or and FIFA World Player of the Year awards.
And to wrap up this update, player ratings!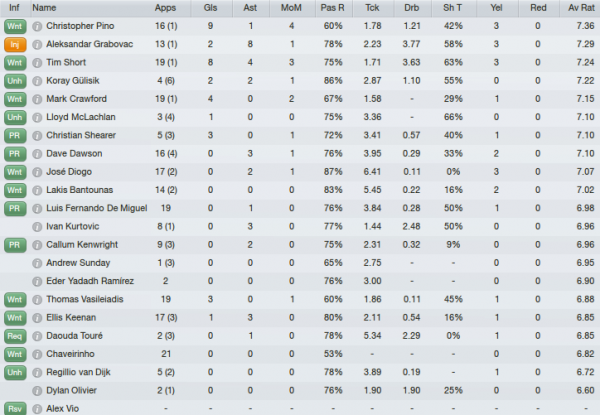 Only 10 players have ratings of 7 and higher. Pino unsurprisingly leads the way and is our top goalscorer, with Tim Short coming in a close second in that department. Croat Grabovac is the assist leader.
This squad will likely change because several players want first-team football, are having trouble adjusting to England, or have garnered interest from other teams. Hopefully I can keep most of it intact for the second half of the campaign.
That's it for this update, keep an eye out tomorrow or the day after for the conclusion!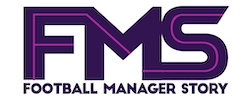 Subscribe to our Newsletter