Hello my friends! Here is the conclusion of my second season with Wigan. We find ourselves at the top of the table, a point ahead of second place Spurs. Can we h0ld on till the end of the season? Well, let's find out!
January – February

We had an easy FA Cup tie against semi-pro Tiverton Town who play in the 7th tier of English football. The 4 – 0 win allowed some of my back-ups a run out. We repeated the scoreline against last place Blackburn and our next game was a challenging encounter against Liverpool. Grabovac made a return from a short injury and impressed before our fans with a goal and two assists. An easy away win against QPR and our streak came to an untimely end at the hands of Pep Guardiola and Manchester United. The 1 – 0 loss was a little undeserved. We were somewhat the better team but Man Utd's specialty is after all, pulling off the unlikely wins. The first month of the new year ended with us getting crushed by Leicester City, the first place team in the Championship. They easily cruised past us, knocking us out of the FA Cup in the process. On the bright side, we are still at the top of the table. February started less than ideally with a loss against Tottenham. We briefly lost the top spot but back-to-back wins against West Brom and Birmingham helped us regain it, although we are nowhere close to comfortable at the summit of the table especially after a lucky draw against Southampton.
March – April 

March had been an unfortunate month. Heavy losses against Fulham and Bolton plus a draw against Everton mean that we have fallen to 4th! We stopped the downturn in form with an easy win over Chelsea to close the month. Bantounis won the Young Player award. We beat Man City in the April opener but Wolves handed us the same scoreline :( We rebounded against Aresenal and Aston Villa but as usual a loss had to follow this time from Swansea. At the end of April with 2 games to go we have 70 points and are in 4th. 3rd place is Liverpool with 71, 2nd is Tottenham with 72, and in 1st with 73 are Manchester United.
May

The last month. Two games to go, could we do it? First we hosted Norwich and easily smashed them. That catapulted us to second place as Tottenham and Liverpool failed to win their games. Sadly, United won their game and claimed yet another Premier League Title :( Even if we won our last game and they lost theirs, they would have won on a superior goal difference. So for our final game it was about retaining second place and to do that all we needed was a draw. Against West Ham we did just that and secured the club's highest ever finish.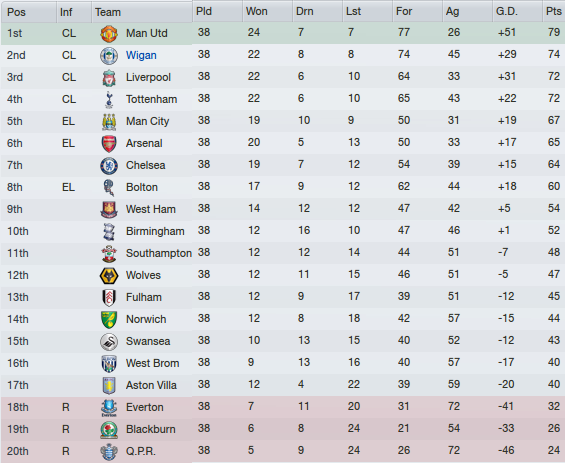 Our good performance has earned Pino the PFA Young Player of the Year award, Grabovac a spot in the Team of the Season, while Short made it to the bench, we have been bought by a local businessman so hopefully that means more money, we are upgrading our training facilities, increasing our junior coaching budget, and Wigan moved up 117 spaces to 134th in European club rankings (Valencia are the top team). Also, we were the overachievers of the season :D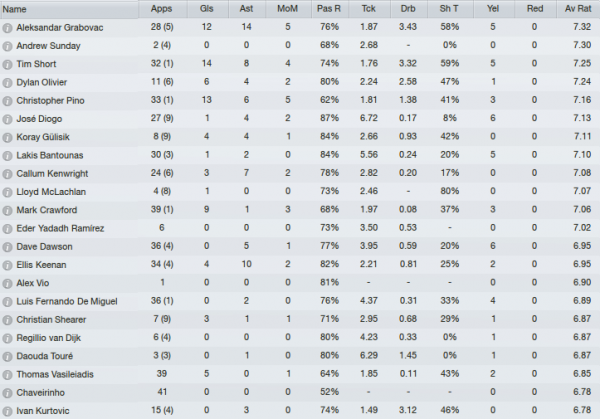 12 players broke the 7 mark, with Grabovac leading the way. Our top 3 scorers were Short (14), Pino (13), and Grabovac (12). Our top goal creators were Grabovac (14) and Keenan (10).
Sadly, I must say that this will be the end of my challenge and I must declare it failed :( FM13 will be coming out in 3 days I believe (for those who pre-ordered it) and with it the changes to the website. I doubt I will continue this challenge in the forums either because I will be too pre-occupied playing 13! And so my FM12 journey ends. I am 16th on the list of the greatest managers and it's a nice way to cap my career, having won 19 trophies. Thank you all for your continued support and I look forward to our future adventures!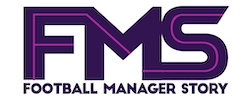 Subscribe to our Newsletter