Hello friends and welcome back to my Football Manager Story and my 5th season in charge of the Vancouver Whitecaps of Major League soccer. Last season was our best yet securing not only the MLS Cup but also for the first time the Supporters Shield leading the overall standings of both conferences. The year had finished off with the dramatic trade of club captain Edinho to rival Toronto FC for potential superstar striker David DiPlacido.
Our finances were looking pretty dismal thanks to the building of the new 28,000 seat Vancouver Stadium which was completed at the end of 2014, though a cash injection and a new sponsorship deal somewhat off-set the bad financial news.
Also we qualified for the quarter-finals of the Champions League and here's a reminder of the draw with the matches due to take place in February.

Transfers & Trades
In the MLS the winter time is all about re-building for the coming season and with some of our players having to leave due to squad registration rules this season more than ever would be a transitory one.
A quick reminder of who left Vancouver: Sinclair, Edinho, Kramer, Draper, Rochat and Sylvestre before then end of 2014.
Early in the New Year AMC / ST Mustapha Jarju joined Danish side OB and after days of turmoil D R/L Sheannon Williams joined Apoel for $1.6 million of which I only ended up with $650,000 to spend on new players. The league as always took thier cut for selling overseas but as for the remainder who knows?
Moneyball:
The only player coming in through the Moneyball system was Rafael Arboleda from Colombian side Millionarios and will be the direct replacement for Edinho. Although the aging Edinho could still cover some ground we really liked the passing stats of Arboleda.

Here's a look at his profile: Rafael Arboleda 
MLS Superdraft:
The annual draft takes place each January and as usual our status as defending champions meant were last to pick. As in previous seasons our potential 1st Round targets were quickly snapped up by other clubs but then we had a stroke of luck as right back Jake Jackson went unnoticed and so we signed the 19 year old as a developmental player. With the departure of Draper and Williams from the right back role we definitely needed a youngster.
Here's a look at his profile: Jake Jackson
Jackson would be are only pick from the Superdraft and the subsequent Supplemental Draft the rest of the newcomers arriving either on a free except for Stuart Barrett, a promising full back who we paid FC Dallas $275,000.00 for and was signed as a developmental player. Let's take a look at Barrett's and the remainder of new arrivals at Vancouver Stadium.
** Click on names to see their profiles
Goalkeeper: Graham Brandt  Will act as back up behind Edson and Karius
Left Back: Vladimir Jakubicka  &  Stuart Barrett
Slovakian youngster Jaubicka will most definitely start in this role but will face stiff competition from Barrett. Both these players will most likely force out Bret Melia who was in this role last season.
Defensive Midfielder: Conor Shanosky
I felt the need for a spare player in this position who could cover injuries both here and in central midfield and this former DC United player seemed to fit the bill nicely.
Vancouver Whitecaps: 2015
| | | | | |
| --- | --- | --- | --- | --- |
| Position | Starting Eleven | Rotational | Position | Reserve |
| Goalkeeper | Edson | Karius | GK | Brandt |
| Right Back | Sarkodi | Jackson | DL | Melia |
| Left Back |  Jakubicka | Barrett | DMC | Shanosky |
| Central Defender | Cuesta*Captain | Rodriguez | ST | Hernandez |
| Central Defender | Opara | Henry | ST | Hudson |
| Anchor Man | Koffie | Ostoloza | | |
| Central Midfielder | Hernandez | Arboleda | | |
| Adv. Playmaker | Galloway | Villalobes | | |
| Left Winger | Traore | Pelosi | | |
| Right Winger | Nagbe | Pablo | | |
| Centre Forward | Tardelly | DiPlacido | | |
Fixtures:
We opened the newly built Vancouver Stadium with our first pre-season game against the LA Galaxy that we won by a single goal thanks to the head of Marc Pelosi. The following two games went pretty much as expected and acted as warm ups for our NACL Quarter-Final match in New York.

NACL Quarter-Final 1st Leg
We got off to a terrible start as we encountered New York's version of Scott Sinclair – Andy Najar whose speed and dribbling allowed him to score within two minutes of the start. The home side kept us under intense pressure and we rarely got past our half way line. A way ward pass by DiPlacido to Najar made it 2-0 before half time and we were in trouble.
A very heated half time talk paid off immediately as DiPlacido took the ball from the re-start, beat three players and drove it home into the centre of the net to get us back in the game. New York were reduced to 10 men to help our cause further but the speed of Najar created a penalty and his hat-trick and all seemed lost. But Vancouver know how to fight back and Cuesta made it 3-2 with a smashing header from a free kick and DiPlacido tied the game up with a low drive from outside the box to set up an interesting second leg in British Columbia.

After a comfortable 3-0 over the Vancouver Prospects it was on to the highly anticipated 2nd leg of the NACL Quarter-Final with New York.
NACL Quarter-Final 2nd Leg:
The first half was a tense affair with so much on the line and it was a defensive area by Cuesta off a set piece that allowed his opposite number to tap the ball in at the end of the first half giving advantage to New York. Another assertive half time talk lit a fire under the team and we equalized 9 minutes in as Nagbe chipped the NY keeper to finish off a counter attacking move. Eight minutes later a floating cross into the box by young right back Jake Jackson met the head of Traore and we were in the lead. Rookie Rafeal Arboleda sent us into the semi's with a powerful shot from outside the box as The Red Bulls capitulated under pressure. This was a thrilling win as I felt after the first leg New York had the measure of us but the lads proved me wrong again.

The semi-final draw will see us play the first leg in Honduras against Motagua whom we have never met before and our Cascadia Cup rival Seattle is in the other semi-final against Toluca.

Following our quarter-final success we were brought back down to earth with a 1-1 draw away to Minnesota in a pre-season game but rebounded nicely at home thrashing the Reggae boys 6-0 to round out our warm-up games. 

We had one more match to play before the start of the MLS season and that was away to Motagua in the NACL Semi-Final. The home side never really gave us any trouble until the last 10 minutes of the game by which time we had secured a comfortable 2-0 lead to take back to Canada for the second leg. A sublime free kick by Hernandez and a poacher's effort by DiPlacido put us 90 minutes away from the final.

 The victory brought with it some bad news at DMC Santiago Ostoloza will be out for up to 3 months with a torn hamstring joining Josh Galloway who is 6 weeks away from recovery of the same injury.
Finances:
As mentioned in the introduction our new stadium was completed at the end of 2014 with the focus very much on the youth training facilities. Signing decent youth though is very difficult especially when you are 18th position in the draft procedure each time. We've increased our capacity by over 7,000 people and hopefully we can maximize that when we play at home.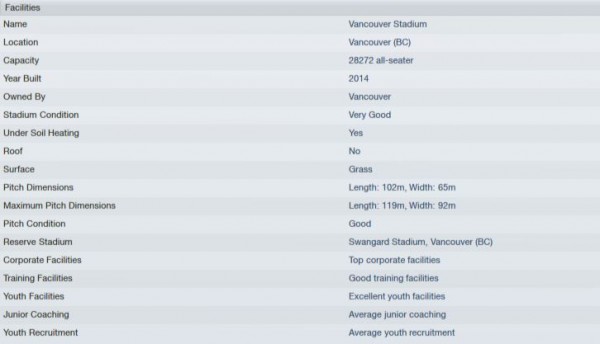 After four season's in charge I still haven't figured out how the money flows in and out of the club but no complaints from me as we are now back in the black, currently with a $6,000,000 profit.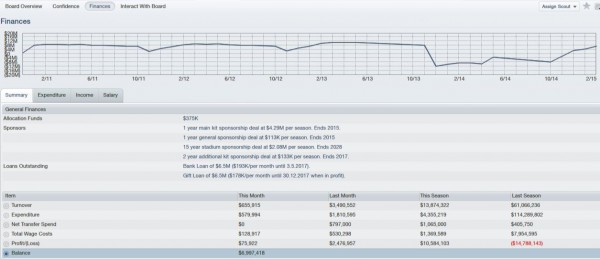 So that completes the pre-season report which has seen some changes throughout the club, as apart from players we lost some of our coaching staff as well at the beginning of January. Still, we seem to be in good shape for another season of MLS action which will begin away to the New York Red Bulls.
Thanks for taking the time to read this and I look forward to your comments.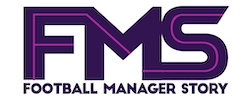 Subscribe to our Newsletter