The Fall 2015
Hello friends and welcome back to my final installment of the 2015 season. Last time we finished up with Vancouver in the middle of some sporadic form coupled with my own intermittent attempts to find a home elsewhere after being rejected by the Canadian Soccer Association and laughed at by DC United. Can the turmoil be put behind us as we challenge for a record breaking 5th MLS Cup? Can we qualify for the NACL Quarter-Finals?
September 2015
If there had been mayhem it was quickly forgotten about in our first game of the month as skipper Yamith Cuesta headed us in front from a corner after just 12 minutes. Winger Marc Pelosi produced two fabulous runs down the left flank and both crosses ended in goals for Nagbe who slid along the ground to meet the ball on both occasions. Striker Joaquin Hernandez was brought down in the box just before half time with allowed Nagbe to complete his hat-trick from the spot. Cuesta would also complete his hat-trick.. Just the start we needed.

We stayed at home for the following game where pressure from Galloway forced an own goal putting Columbus behind after just 9 minutes. A brilliant effort from long range made it 2-0 as Arboleda imposed his presence on the game. After the interval a give and go between Pelosi and Hernandez made it 3-0 with the visitors pulling a goal back late in the game.

Match Day Three of the NACL provided stiffer opposition as we were once again at Vancouver Stadium for the visit of Costa Rican side Saprissa. After intense pressure in the opening thirty minutes we finally got the breakthrough when Nagbe drove the ball hard and low into the six yard box and Joaquin Hernadez turned it into the net. Goal number two came in similar fashion in the 57th minute with Pelosi the provider and Nagbe the finisher. We ended up the game with 10 men after a wild tackle by Galloway but we collected a vital three points to put us back in the running for the next round.

Our great start to September came to an end in Texas as we went down 2-1 away to Dallas but back in British Columbia we held the visiting Pumas to a 1-1 draw in Match Day Four of the NACL thanks to a smashing equalizing goal by Nagbe.

Group D Snapshot

Next, we travelled across the country to take on Canadian rivals Toronto FC where we snatched all three points deep into added time thanks to the efforts of Nagbe and Pelosi. We didn't deserve this at all as Toronto has hit the woodwork no less than three times.

Match Day Five was critical that we win it and we finally did with a burst of energy late in the second half with three quick goals that puts us right back into contention for a quarter-final spot.

October 2015
The final month of the regular season was very kind to us as we had three games in a row at home of which we took full advantage. We started off by cruising past Colorado and then unleashed Darlington Nagbe against his former club Portland in a Cascadia Cup match in which he set up all three goals. Finally a stunning performance by David DiPlacido** made sure we handed DC United yet another stunning defeat after the previous 7-0 win over them.

** Authors Note
Thanks to Ziggy's story here as I picked up on him sending a failing striker to the reserves for a while to improve his form. I did that with DiPlacido and the results speak for themselves scoring 5 in the last three games.
NACL Match Day 6
Our final group game required a crucial trip to Costa Rica where we had to win to ensure a place in the Champions League quarter-finals. Here's how the table looked with 5 game played.
| | | |
| --- | --- | --- |
| 1 | Saprissa | 9 |
| 2 | Pumas | 8 |
| 3 | Vancouver | 8 |
| 4 | Chivas   UA | 2 |
We got off to a dream start with a shot from DiPlacido rebounding off a Saprissa defender to put us in front after 3 minutes. From there the home side stamped their mark on the game pinning us back for the entire first half and scoring 2 goals. Left back Bret Melia who was having a horrible game scored an own goal before I could get him off but we managed to pull another goal back through Villalobos. In a wild final twenty minutes Saprissa made it 4-2 but we never gave up scoring 2 more ourselves to tie the game up.

It was always on the cards that we would need to win our last game and having failed to do so we were eliminated from the competition coming in third place in our group.

The final game of the MLS regular season required just one point to retain the Western Title as we crossed the border to take on Seattle in a Cascadia Cup match. After taking the lead through Joaquin Hernandez, Seattle pinned us back for most of the game and it was only through the goalkeeping exploits of Edson that we managed to hold on to the draw.

Western Conference:

Supporters Shield:
New York who had been leading the standings all season long fell by the wayside as we did enough to win the overall title for a second season in a row and ensure Champions League play next season.

Landing in first place also meant I could rest players for a while and with injuries to AML Pelosi and Tardelly as well as central defender Jackovic the break was much needed and hopefully one or more will be back for the play-offs.
The Play-Offs
Western Conference Semi-Final 1St Leg
Our run for a 5th MLS Cup began away to Colorado where two counter attacking goals finished off by Nagbe and Arboleda sent us into the interval with a comfortable 2-0 lead. Some poor marking allowed Colorado back into the game early in the second half but we never let them near our goal afterwards and when club captain Cuesta headed in our third the result was beyond any doubt.

Western Conference Semi-Final 2nd Leg
With a two goal advantage we sat back too much in the second leg and Colorado took the lead early in the second half from a set piece. The introduction of Marc Pelosi spiced things up for our attack and it was his assist that eventually brought around the equalizer with Nagbe finishing off the move. That proved to be enough to send us through to the final against the LA Galaxy.

Western Conference Final
A full house was on hand for the final against LA and as usual against the Galaxy the opening 30 minutes was a really tight affair. We took the lead 11 minutes before half time when Joaquin Hernandez hit a powerful shot that was only partially saved by the LA keeper who pushed the ball onto his own defender and it rebounded into the net. That goal totally demoralized LA and we dominated the rest of the game scoring two further goals in the second half and enjoying 67% of the possession to send us through to the MLS Final

MLS Cup Final
In a repeat of last season's final we once again faced Toronto FC this time at Toyota Park in Chicago. The first 45 minutes produced very little action aside from former Toronto player DiPlacido missing a golden opportunity from 7 yards out just before half time.
With several players not performing to their best of their abilities some individual talks were required during the interval and within two minutes of the restart those words produced results. Marc Pelosi broke free down the left flank and his cross from the byline found the DiPlacido who side footed the ball into the net for the opening goal. Two minutes later Edson produced a dramatic save as Toronto went searching for the equalizer. The back four tightened up, our midfield took over and Nagbe tormented down the right producing a sending off in the 67th minute.
Our Canadian rivals were down to 10 men and not long after we took advantage of that as DiPlacido scored an identical goal to the first with Pelosi the supplier once more. With seven minutes remaining a shot from distance by DMC Ostolaza put the game in the bag though Toronto came up with a consolation goal as we sat back for the last few minutes.

We had done it!!! A record breaking 5th MLS Cup, surpassing that of DC United's 4 championships and the very team who laughed off my job application. Who's laughing now?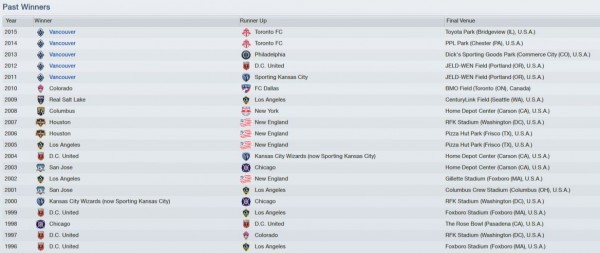 Financially we ended the season in strong position with over $8million in the bank and with no concerns over future debts.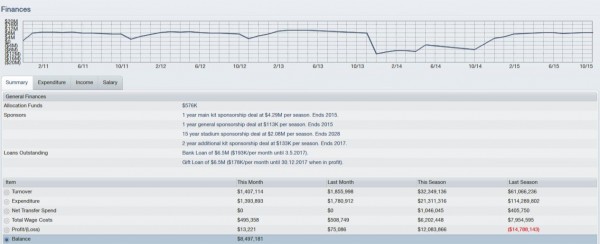 *** Authors Note
Vancouver has been an amazing team to manage and always seem to drag themselves out of trouble and turn on the style when it really matters. My 4-1-2-3 tactic (Balanced / Attacking) has held up extremely well over 5 seasons and I'd like to think my Moneyball /Sabermetrics approach to acquiring players has actually worked. We won this seasons title with one of the lowest salary budgets in the league and that's what the system is all about.

Links to Moneyball and Sabermetrics
http://en.wikipedia.org/wiki/Moneyball
http://en.wikipedia.org/wiki/Sabermetrics
We landed at Vancouver International Airport to a hero's welcome and 24 hours later following a small parade and reception I was back at the airport after resigning from the Whitecaps as my work was done. At the airport I boarded Air Canada Flight  heading on a very long journey south with a connecting flight on another National Carrier Airline…

Thanks for taking the time to read this update and for your support all season long. As always I look forward to your comments.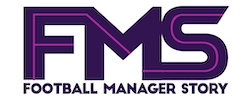 Subscribe to our Newsletter