Hi everyone and welcome back to a brand new update of my Football Manager Story. We left off last time with Vancouver losing the NACL Final in front of its home fans but bouncing back to go on an eight game win streak. Before we see how far that streak would go here's a quick update on the Republic of Ireland whom I'm currently managing also.
Ireland: Year to Date
Not a very impressive set of results so far in 2015 with the only win not surprisingly against Luxembourg.

In the Euro 2016 standings we find ourselves in second place behind Croatia who look to be on course to win the group.

Now get set for a wild ride with more twists and turns than a Formula One race track…..
June 2015
The month began with a trade which saw young Canadian striker Tony Hudson leave for Philadelphia in exchange for a 2016 1st Round Super-draft pick. Hudson never quite fitted in to the tactic and this season was left on the sidelines for the most part.
June was also Gold Cup month so as we faced Salt Lake away from home our line-up was more unusual than of late. This resulted in a very lack lustre performance as we drew 0-0 ending our 8 game winning streak. We were far more decisive in our Cascadia Cup match at home to Seattle thumping the visitors 3-1 with the best goal coming from Arboleda who delicately chipped the keeper to kill the game off. We slipped up again at home to Toronto getting booed off the field after another uninspiring effort

With a three game road trip on the horizon we gave the fans a departing gift as Galloway opened the scoring from close range after Nagbe left his marker for dust before supplying the killer cross. Dejan Jakovic got his first goal for the club being left totally unmarked on the far side of the penalty area to head home a floating free kick. San Jose pulled one back early in the second half but Nagbe put the game beyond their reach with a powerful shot under the keeper to ensure all three points.

Canada's fortunes at the Gold Cup took a turn for the worse as they were thumped by the USA 4-1 in the semi-final and so I felt this could be perhaps an opportunity to take over as Head Coach of Canada. If you remember I had an ultimate goal in mind when starting at Vancouver….
"My objectives are two-fold for Vancouver. First and most foremost is foundational, that is to build the team up over the next couple of seasons or so, and secondly mount a serious challenge for the play-offs and perhaps a shot at the MLS Cup. Champions League action would hopefully be a bi-product of any success.
In real life I have dual citizenship so I've selected myself as Canadian for this story which hopefully will lead to my ultimate goal that being appointed as Canadian National Coach and taking Team Canada to the World Cup. Note I said take and not win The World Cup."
Gold Cup Results:
**Jamaica would go on to beat USA by a score of 1-0 in the final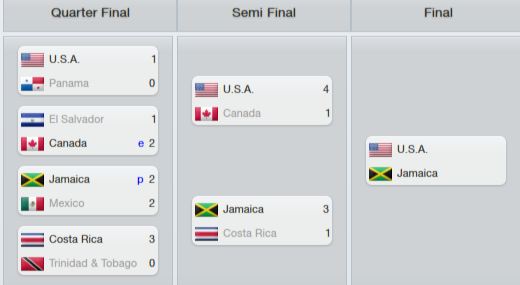 On seeing this result I took a huge gamble and quit the Republic of Ireland so I'd be readily available for a call up to lead Canada. The gamble didn't pay off. What happened next at least in my mind was a total slap in the face by the Canadian Soccer Association as they immediately appointed Nick DiSantis of the Montreal Impact as new Canadian Head Coach. I was absolutely livid as I didn't even get the chance to apply for the job. Talk about being given the finger!

Well here's my track record since 2011 which I think proves my capabilities
4 = MLS Cups
4 = Canadian Championships
1 = Supporters Shield
1 = North American Champions League (1 x Runner-up)
Nick DiSantis track record
1= Canadian Championship
Right now I'm ready to walk away from Vancouver and Canada as my success obviously counts for nothing in the eyes of the CSA so I'm looking for opportunities south of the border or perhaps beyond. This situation has just really ticked me off and that's putting it mildly!
The month ended up with the start of our road trip where the first stop was a top of the table clash with Colorado. After a very mixed opening, Josh Galloway started to pull the strings in midfield and his passing led to the opening goal just before half time from Joaquin Hernandez who hit a scorcher from distance. Into stoppage time and Galloway spotted Nagbe unmarked on the far side and he had no problem doubling our lead in the shadow of the Rocky Mountains. Nagbe poached his second of the game just before the hour mark and from there we strolled to the full time whistle to take the lead in the Western Conference.

July 2015
On the heels of the Gold Cup came the Copa America which the US were taking part in and that meant some of my North and South America players were unavailable as well a few players recovering from injury. The effect of this was evident in back to back defeats and an especially crushing one away to Columbus.

We just managed to stop making it three defeats in a row with a lucky win back at Vancouver Stadium with Santiago Ostoloza converting from the spot

Jose Villalobes spared our blushes with an equalizing goal from 35 yards as we struggled against the worst team in the league – Kansas City, who had only managed 7 points all season. We were set on course for three points on the shores of Lake Michigan until skipper Yamith Cuesta got sent off which allowed Chicago to fight back into the game and inevitably secure a point.

I was delighted to see the Copa America come to its conclusion (so I'd get players back) with Uruguay being crowned champions after two stunning performances in the semi's and the final.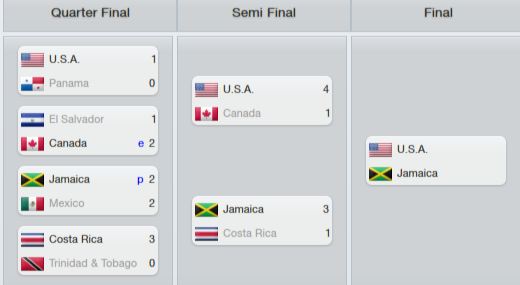 Following the tournament the usual firings of international managers began including that of the USA which I immediately applied for and got turned down in favor of the manager from Sporting Kansas City – yes the worst team in the league who last won the MLS Cup FIFTEEN years ago. Excuse my language but WTF!!

If that wasn't bad enough I took another slap in the face the following day… brutal!!!


NACL: Qualifying Round 1st Leg
Thankfully the final game of the month provided an opportunity to get away from it all with a trip to the beautiful island of Martinique as we began this seasons campaign against Case-Pilote. I expected the lads to come up with a win and sure enough they did setting a new record with a crushing 8-0 victory. No real surprise with the win though the 5 goals by Joaquin Hernandez earned him a perfect 10 rating**

** Never seen a perfect rating before in any version of CM or FM that I've played.
In the MLS West standings we were leading the conference but had really failed to take full advantage of the games in hand we had back at the end of May with our rivals L.A. poised to snatch top spot.

Transfer & Trades
So along with Tony Hudson who was mentioned earlier we also sold Jordi Pablo who wanted away from the club and goalkeeper Loris Karius who I'm made the scapegoat for the disastrous NACL Final result.


August 2015
We started the month off with yet another draw in the MLS this time at home to Houston where having established a comfortable 2-0 lead gave the game away through reckless defending. The similarities to the NACL were astonishing. We were lucky not to lose this one.

NACL: Qualifying Round 1st Leg
No such problems in the second leg at home to Case-Pilote and we easily disposed of the side from Martinque. Croatian youngster Dominik Glavina whom we picked up on a free last month scored four of the seven which will be a huge confidence boost for him.

Glavina will back up Darlington Nagbe in the AMR role following the departure of Jordi Pablo.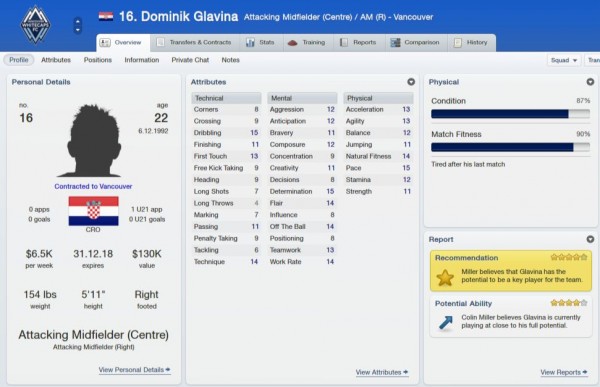 The group stage draw for the NACL placed us in Group D alongside MLS club Chivas and Mexico's Pumas which will be a difficult team to play I feel.

Our next game was at home to Philadelphia where all the talk was about their new signing Markus Rosenburg who got on the score sheet 3 minutes after Nagbe had given us the lead. However it was Joaquin Hernandez who stole the headlines with a brilliant winning goal, chipping the Philly keeper from just outside the box with a deftly touch.

Following that victory DC United came crawling back for my services but this time I wasn't in so much of a hurry to take a new job and decided to wait a week before making a decision

In typical football irony we then traveled to Washington to take on DC United where an opening 10 minutes stunned the home fans and shell shocked the team as Glavina bagged a brace finishing off cross balls from Traore. The young Croatian is looking decent already. Galloway hit a magnificent strike that must have been almost 40 yards out to send DC reeling. They never recovered as DC Jankovic headed in before half time with Galloway adding another after half time. Two counter attacking moves created goals number six and seven to complete a stellar performance against the four time champions.

North American Champions League: Match Day 1
After handing out a spanking to DC we took one of our own in the opening game of the group stage in Mexico. The Pumas were far superior in their speed and passing scoring two goals in two minutes mid-way through the first half. Once we had conceded a third the game was over though we did manage a consolation goal for our efforts.

The last three games of the month saw us go without a win which now makes four in a row and is certainly setting off alarm bells in the dressing room. The final game saw us throw away a two goal lead which is a seemingly a common theme this season.

Standings:
In the west we somehow remain in first place despite all this inconsistency on the field but we have to pull our socks up in the final two months of the season as there are least 5 teams in contention for the Western title.

In the Supporters Shield New York top the table and again there are five or six teams still in contention.

Fixtures:
We've got a very good schedule to begin with so hopefully we can get back to winning ways and finish the season strongly.

Finances:
No major concerns here with over $8 million in the bank.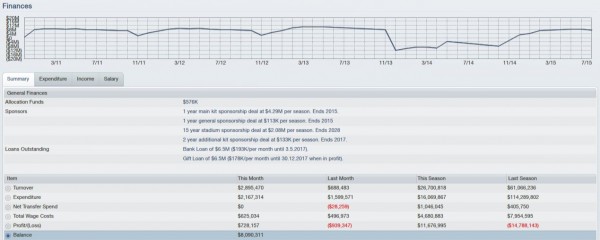 So what about that DC United job? Well, in the end I turned it down even though I went on a rant about leaving Vancouver / Canada. The Whitecaps need just one more MLS Cup to break DC's record four titles so I guess in the end I wanted that record more badly than leaving.
Still, I have Chile, Uruguay and Australia leagues now loaded into this save so who knows come the end of the MLS season. Remember my talk a few months back about Gold Coast United….
Thanks for taking the time to read this long update and I look forward to your comments.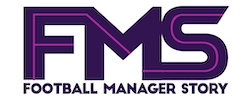 Subscribe to our Newsletter