Hello friends and a warm welcome back to a fresh episode of my Vancouver Whitecaps story. Last time we finished up with a good set of pre-season results, so let's see if the lads could carry that into the regular season.
March 2014
The opening game of the season meant a long flight to New York with the home team putting us on the back foot which resulted in an own goal by Koffie after 23 minutes. Our effort was sluggish to say the least until just after the hour mark when on the counter attack Sinclair picked up the ball on the half way line beat three defenders for pace before striking home, 1-1. That motivated us offensively and a precision pass by right back Steve Draper in added time found substitute Jarju who rounded the keeper for the winning goal on his debut as a forward.

We hosted Sporting Kansas City in our home opener which saw a brilliant first half by Edinho who got on the score-sheet with a beautifully struck free kick after just 2 minutes. This was followed by a pair of "guided missile" passes to Nagbe and Jarju that sent us into the break with a dominating three goal lead. Sloppy defending made it 3-1 and cruel deflection brought KC back into the game which set things up for a tense finish but we held on to the lead for the three points.

Following this game Russ Tiebert was traded to Houston for a 2015 draft pick valued at $220,000, though I should have sold him overseas when he was worth a lot more.
April 2014
We stayed at home where a superb effort by Dallas goalkeeper Brian Shuttleworth ensured our 60% possession and 13 shots counted for nothing with a rare attack by Dallas early in the second half snatching the three points.

On the road we had a bounce back victory over San Jose which started off with a cracking shot by Galloway that struck the underside of the bar from 25 yards out before crossing the line for the opening goal. Back in BC we had our usual titanic tussle with Los Angeles but took maximum points with a bullet of a header from Cuesta.

It was back to the East Coast for our next game as we faced New England. Due to some fitness issues I threw young striker Tony Hudson out on the right flank and to my surprise he played his best game for the club grabbing a brace along with Galloway who put in a magical 90 minutes and is now looking indispensable to the club. Scott Sinclair, who resembled an express train down the left flank, was instrumental in three of the goals before getting one himself just after half time. The sending off of Hernandez did allow for 2 late goals for our hosts, but the fate of the game was game was already sealed by then.

We capped off the month in Texas with a visit to Houston who had a good selection of former Vancouver players in their line-up. We opened the scoring early on with Galloway feeding off a through ball by Kramer which he struck low and hard into the corner of the net after 5 minutes. Houston though didn't capitulate in the same manner as New England, standing their ground and fighting for every inch of the field. Thirteen minutes from time we finally broke them down with a long searching ball by RB Sarkodie which Castillejos pounced on and drove home for goal number two.

May 2014
We started off with an away game to Philadelphia whom we had beaten in last season's MLS Cup Final and who were also topping the Eastern Conference. Despite having splashed the cash in pre-season they were still no match for us and we came away with a tidy 3-0 win.
Returning to BC it was an experimental side that took the field against the Chicago Fire and after an early set back the youngster's fought back for an encouraging 3-2 win

The final game of the month was our first Cascadia Cup match of the season across the border in Portland. Twenty-year old Canadian Michael Rodriguez was the star of the show with two powerful headers that forced own goals within the opening 30 minutes. Jesus Hernandez added a third goal early in the second half with a shot from just outside the box.

So just the one defeat so far this season but things are very tight in this conference with the possibility of the lead changing at any moment.

Canadian Championship
This season we opened up with a 1st leg away game to Edmonton. I sent out a full strength side knowing that success in this tournament was our only way into the Champions League. It was a disappointing effort that resulted in a 0-0 draw but in the return leg at home Castillejos scored a brilliant hat-trick to send us through to the final against Toronto.

The first leg of the final was in Toronto where a single goal divided the two teams but with home field advantage in the second leg we felt confident of over-turning that lead.
A capacity crowd was on hand for the second leg in anticipation of a home win and we poured on the pressure in the opening twenty minutes that eventually led to a goal thanks to a brilliant run by Sinclair whose cross found the head of Jarju which he glanced the ball into the net. We kept up the domination but couldn't break down the Toronto defence again and so a place in the NACL rested on a penalty shoot – out….

…which we won with a perfect set! It was desperate game to win and so we are now back in the all-important North American Champions League.

We were given $150,000 in transfer funds for qualifying for the NACL but it appears the board are going to use that money elsewhere.

Finances
The building of a new stadium has put us into financial trouble with the board having to take a loan to meet operating costs and other financial debts. Aside from the NACL allocation money our transfer funds of over $400,000.00 from the start of the season has also been used elsewhere though we do have $4,000.00 available for salaries.

Overall, things look very grim right now so I don't expect much in the way of transfer activity and I may have to trade off a player to make room for Mali youngster Traore whose joining us in July. The likely candidate to go is DC Alain Rochat.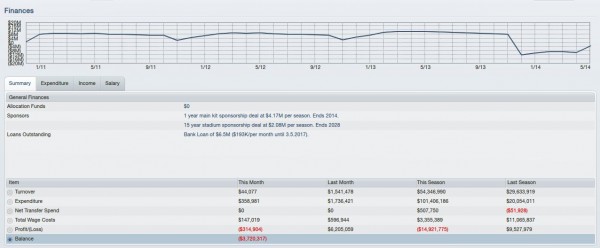 Fixtures
We start off with what should be an easy game at home to San Jose before our top of the table clash with Real Salt Lake.

Republic of Ireland
Just one game to report on in which we were completely over-run in the African heat after going down to 10 men early on. The pace of the Mali players was just too much to cope with as they made the most of their attacking opportunities.

Thanks a lot for reading this slightly longer post and I look forward to your comments.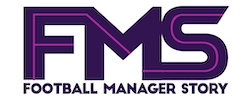 Subscribe to our Newsletter