Hello friends and welcome back to a special post season report as Vancouver participate in the World Club Championship scheduled for mid – December 2013. Of course as I like to do my updates chronologically any Vancouver activities related to the MLS will also be added as well. Helps me remember what's going on too!
Financials
We ended the domestic season with roughly $8,000,000 in the bank which is not bad at all despite the investments in both training facilities and a new stadium – which I still don't get?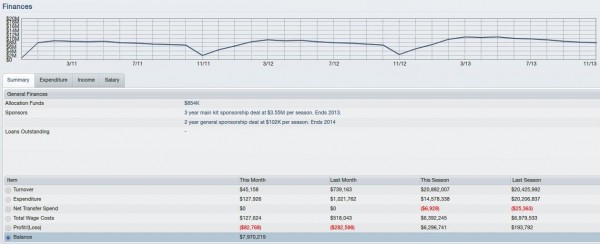 Moneyball
Even though the season is not quite over for us we got together to review the team stats (before they are wiped out) from this past season to give us an early indication of where we can possible improve.
Defensively things hadn't changed much since the summer other than I hadn't released CB Esnal whom I should have done as he hadn't played much. Heath Pearce I felt was time for him to move on as at 29 his value would quickly diminish. He was sold to FC Midtylland for $825,000 which the MLS will snag 33% but with his book price being $525,000 I felt that was a good deal.
The full back situation still remained solid so any new player would have to be better than 4.2 in tackling and probably + 30 in passing – though for now I'm not looking.
My plan for the CB's are is to sell off Esnal and give Rodriguez who is younger more playing time. At the DMC slot Canadian Tyler Hemming may be a casualty of post season activity but I haven't quite made my mind up yet. My scouts have an eye on a replacement for him.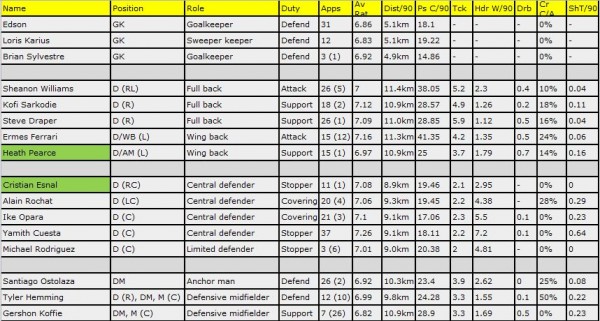 On the offense side of things the crossing ability of both Teibert, who is valued at $1.2million and Salinas is looking very suspect especially when compared to the strikers who filled their roles. I do have one left winger on the way in and currently negotiating with a new AMR (ST).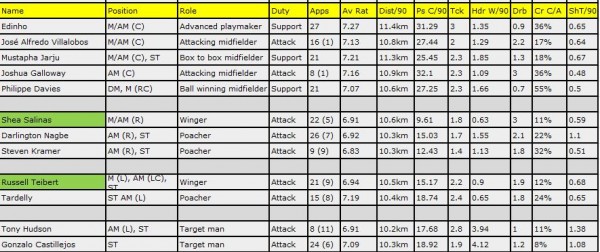 The scouting team had brought to my attention 20 year old Doneil Henry in the Toronto reserve team who when compared to Esnal was showing some great potential in defensive stats. We offered a part exchange and Toronto accepted the deal.
We also gazumped Toronto for another defender Giuliano Sacco whose been showing great promise with Thunder Bay which is located in Northern Ontario.

Doneil Henry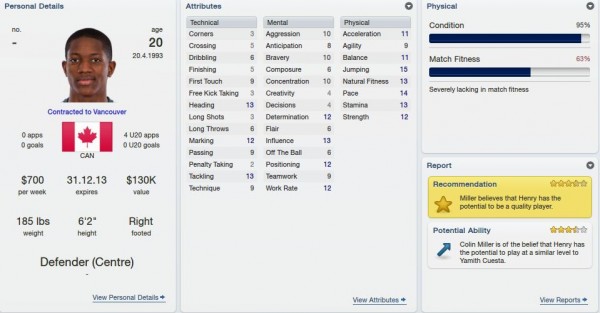 Giuliano Sacco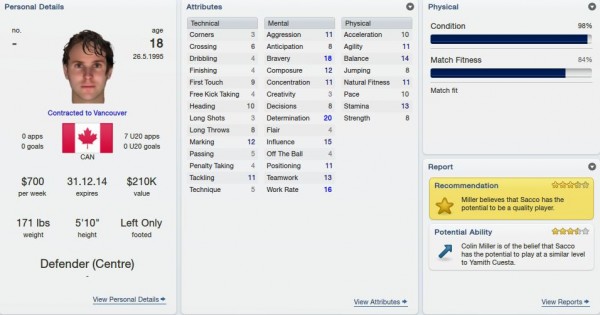 Club World Championship: Quarter –Final
We flew half way around the world to Rabat, Morocco for our debut in this tournament where we got off to a brilliant start against Saudi side Al-Hilal with Tardelly opening the scoring, smashing the ball home off a cheeky flick on by Castillejos.
Al-Hilal tied things up very quickly with a rare insurgence into our half but in the second period we laid down the gauntlet with Darlington Nagbe pressuring the Al-Hilal defenders into an own goal and Josh Galloway neatly tucked away a penalty kick to round things off.

Club World Championship: Semi –Final
A few days later we face Argentinian power-house River Plate in a gruelling encounter that was highlighted by brilliant performances by both keepers that took the game to 90 minutes and beyond. Although fatigue set in we somehow were the better side in extra-time but were unable to break the deadlock and to my surprise we took River to a penalty shoot and we won!!!!!!!!
**Authors note
To be honest I couldn't watch it and went and at on my patio for 5 minutes until it was all over :)


 Finally we get some freaking prize money as there seems to have been none for winning the MLS or the NACL – well at least from what I can see.

Club World Championship: Final
On a mild December evening we took on Inter Milan at the Stade du Prince Moulay Abdallah in Rabat. Thirteen minutes in and my heart skipped a beat as Inter were reduced to 10 men after a crunching tackle on Galloway who thankfully wasn't injured. I thought we now had a chance but the Italians could play just as well with 10 men and took the lead just before half time with a rocket of a shot by Wesley Sneijder.
Inter put us under intense pressure for most of the second half which led to the sending off of RB Steve Draper but surprisingly we finished the stronger of the two teams but couldn't quite do enough to penetrate the Inter defence and cause another upset.

Hey, not bad a pay-out for coming second…

Before the end of the year the board finally made an announcement about the new stadium as well as a new sponsorship deal.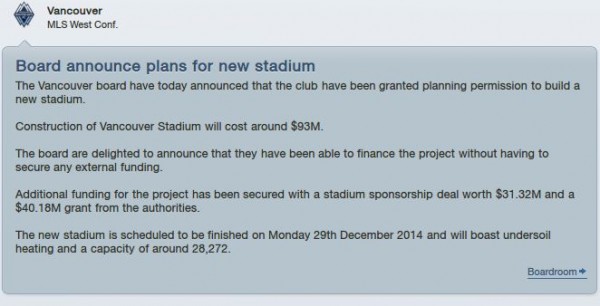 However, our finances now make very grim reading as we've amounted some massive debt with this capital project underway.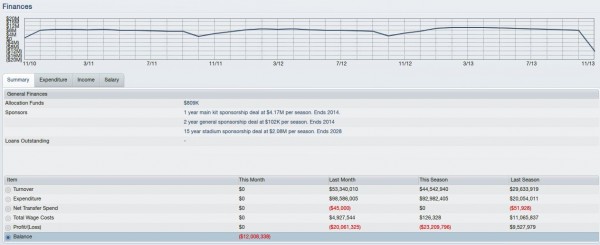 Who would have thought back in pre-season that we would end the year in the North Africa playing Inter Milan in the Club World Championship Final? It's been a remarkable season and I'm very proud of what the team has accomplished.
Thanks a lot for following along and taking the time to read this special report. See you all next season!!
Have a great weekend.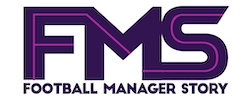 Subscribe to our Newsletter