Hello everyone and welcome back to a fresh update of my Football Manager Story featuring the Vancouver Whitecaps. We are now going into a busy summer period with international competitions which could have an impact on my squad and therefore results….
July 2013
The Conacaf Gold Cup was almost upon us, which meant we lost three players to international duty, Heath Pearce, Russ Tiebert and Tyler Hemming. Effectively going into our Cascadia Cup game with Portland we had no left wingers so I stuck youngster Villalobes (AMC) out there to see what would happen. Worked pretty good as we over-ran Portland with Villalobes setting up the opening goal for Nagbe who in the second half was brought down in the box for Edhino to score the second from the spot.

We stayed at home to take on San Jose where the BC Place crowd were entertained by a thrilling performance by midfielder Mustapha Jarju who bagged himself a stunning hat-trick the best of the three being the opening goal from 25 yards out. San Jose were simply no match for us as we piled on the shots and probably should have had at least a couple of more goals.

The international transfer window opened on July 15th and I eagerly awaited my new signing Traore from Mali but where was he? I'd made an incredible mistake in not reading the fine print of the contract and he won't be joining us until July 2014! 
We faced a two game road trip again with no left wingers which started out at Columbus where we pulled off a 2-0 win over the home side. A rare start by DMC Gershon Koffie set up both goals with two through balls finished off by strikers Castellijos and Hudson who I shoved out on that left flank.

 In New Jersey it was like a battlefield as we fought to a 1-1 draw with New York in a game that featured 9 yellow cards and two sending offs. Nagbe opened the scoring off a well -placed pass from Davies but the home side soon equalized from a "training ground" set piece. From there the game deteriorated into a scrappy match.

Returning to BC we were ineffectual in front of goal despite having 60% possession over Dallas and ended up playing to 1-1 draw with Darlington Nagbe getting the goal for us. At the Home Depot Centre in Carson, California it was a completely different story as the return of Shea Salinas seemed to inspire the team as he set up two goals after the half hour mark. The first a diving header by Nagbe and the second by Villalobes with a glancing header who I was delighted to see finally get the ball in the back of the net. Header number three and goal number three came early in the second half with Cuesta hitting he mark after weeks of the ball going over the bar.

2013 Gold Cup
Meanwhile in the Gold Cup Canada easily qualified from Group A after their initial loss to Mexico which was very much expected and brushed past Panama in the quarter-finals. A dramatic penalty shoot-out against Jamaica completed their path to the final where they fought bravely against the Mexicans who ended up winning by a single goal at the Rose Bowl in Pasadena.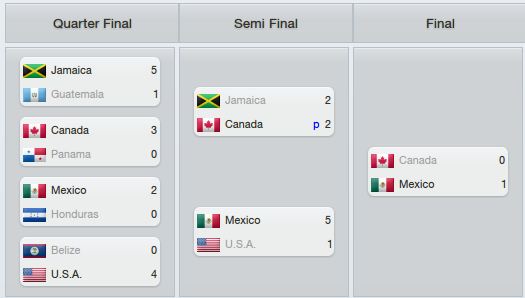 August 2014
With the Gold Cup over and my prospects of becoming Canadian manager diminished once more thanks to The Canucks reaching the final I drew my attention to the Moneyball program that had been instilled into the club.
Defensively we were looking quite solid with perhaps the exception of Esnal whose heading stats weren't quite up to the rest of his colleagues. To replace him would mean looking for a player with stats better than 3 and around 5 if affordable.

The first game of the month was at BC Place and after a very mundane opening 45 minutes two cross balls by right back Kofi Sarkodie were finished off perfectly by the left foot of Russ Tiebert who was returning from Gold Cup duty. The third came 15 minutes from time as Edhino played an inch perfect pass to Nagbe who struck it first time under the body of the sprawling Philly keeper to wrap up the game with time to spare.

Following the game we made an immediate bid for youngster AMC Joshua Galloway whom my scouts had found in the Dallas reserve team. What we liked about him was his pass completion ratio and also some good heading ability when compared to other midfielders. Dallas accepted a trade deal of our 2014 2nd and 3rd round draft picks.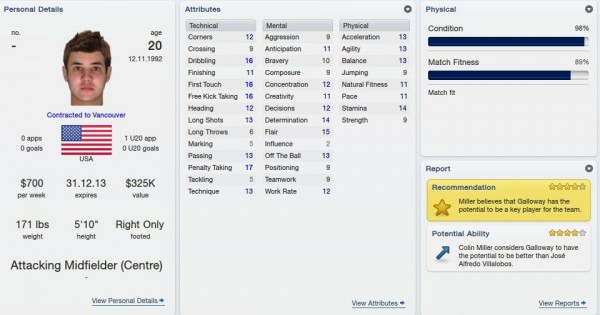 Our next game was in California as we took on rivals Los Angeles Galaxy. Gonzalo Castillejos made his first start in some time and muscled his way onto the score-sheet after just 10 minutes brushing aside the Galaxy defender before striking the ball into the corner of the net. It didn't take too long for LA to get back into the game but we soon restored our lead as Castillejos headed in off a delicate chipped cross by Steve Kramer. Just after the interval Jarju showed some masterful trickery before beating the keeper to make it 3-1 but lack of concentration allowed veteran Robbie Keane to pull the Galaxy back into the game. Not enough though to save the game and we came away with all three points.

 After three exciting wins in a row we hit a slump, failing to win either of our following two games at home leaving the Whitecaps supporters well and truly upset especially after this seasons NACL draw had recently been made without us in the competition.

 Next up was away to Eastern Conference leaders Kansas City but again were missing our scoring boots and had to rely on substitute Darlington Nagbe who got the equalizer with just a minute remaining of normal time.

Despite the lack of good form over the last three games we had qualified for the play-offs with eight games to spare.

The final game of the month and of the summer saw us cross the border for a Cascadia Cup encounter with Seattle. The home side applied the pressure early and kept Edson busy between the sticks but we took the lead thanks to a brilliantly executed free kick that resulted in a cracking shot by Edhino from 25 yards out. Seattle immediately searched for the equalizer but Salinas broke free on the counter and his low driven cross was finished off by Tardelly to make it 2-0 with 23 minutes gone. Seattle clawed their way back into the game with a goal after the break and kept us on the back foot for most of the second half but we did enough for the win and finally break this mini slump we had gone through.

The victory over Seattle left us clear of our rivals at the top of the Western Conference standings with a 17 point lead over Los Angeles.

As the play off table shows the Eastern Conference appears to be far more stronger this season and everything points to a showdown with Sporting Kansas City if we can reach the MLS Final for a third time.

Although we are in the process of building a new stadium it was decided to upgrade our first team training facilities once more in order to keep up with our rivals. The upgrades will be finished at the start of next season whereas the stadium is at least another 2 years away from completion.

 Fixtures:
Just seven games remain of the regular season, four of which are away from home including two difficult ones in Texas and Washington DC. We will finish up the season at home to Toronto.

 There we have it. That completes this 3rd Quarter update with the Whitecaps very much on course to reach another MLS Final. My next update will wrap up the season. Thanks a lot for reading this and have yourselves a great weekend!!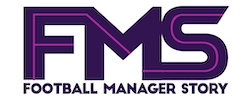 Subscribe to our Newsletter