Hi friends! Thank you for joining me for another update from the Mestalla! This update will be shorter (whew!) but hopefully I can still keep it entertaining?
Last season we won La Liga by 2 points, won the Club World Championship, won the European Super Cup in a penalty shoot-out against my former team, Cagliari, lost for the second time in a row the final of the Copa del Rey to Real Madrid, and got beaten in the first knock-stage of the Champions League by Olympic Marseille. This season my priority is definitely getting my hands on the Copa del Rey!
Pre-Season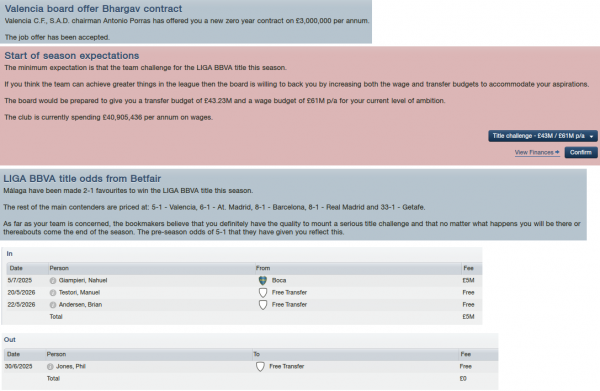 So I signed my final contract — just a year, although the game seems to say zero . . . The media think we have a great shot of defending our title and I told the board as much. Don't let the quietness of the transfer window fool you because we made a crucial move. First I brought in 2 youth players (I hope to leave Valencia as title contenders well into the future) and I let go of Phil Jones. The 33 year old, who will turn 34, can still certainly kick it at the highest level. He had over 35 appearances the two seasons he spent with me and had a seasonal average rating above 7.00, but I sense a decline. He was no where near as sharp this past season, although he was still a fearsome talent. The bigger reason I let him go is his insane wage demand. I could not afford him so I bought Argentinian wonderkid Nahuel Giampieri. He is young and hungry and extremely talented and I fought 16 teams for his signature. He is about as good as my remaining center backs but he will improve. I will certainly be giving him many starts! So my team is the same from the previous season, except Giampieri replaces Jones in the back and Rafael Santiago makes his return from his thigh fracture (Hossain is unhappily back in Russia, poor guy). Hopefully the winning combination stays!
Spanish Super Cup
We were drawn against Real Madrid, who beat us in the Copa del Rey, while we captured La Liga.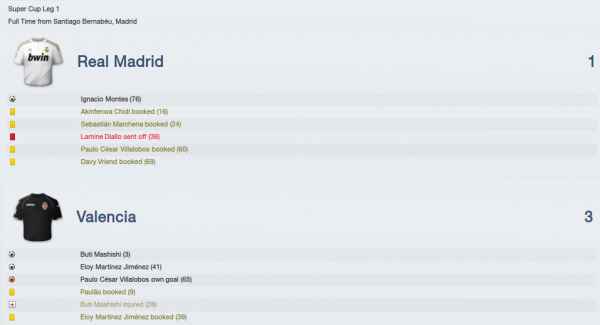 We earned a great victory in the Bernabeu thanks to on of their players getting himself dismissed in the first half itself. That saw us control the game and easily win.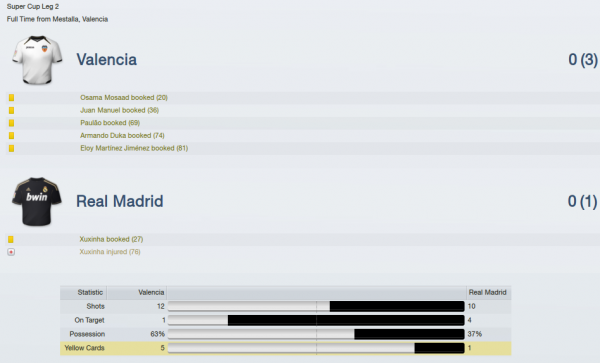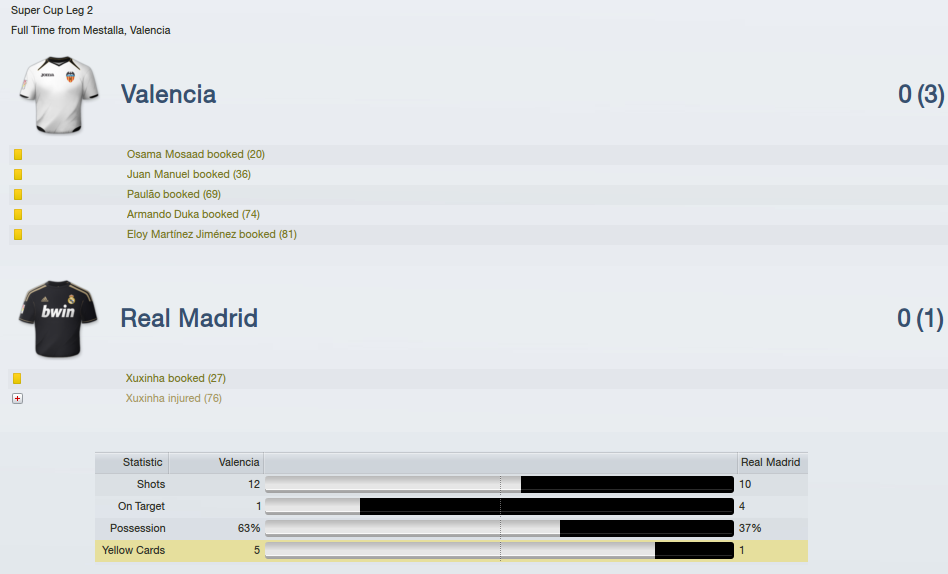 If Real were hoping for a shock come-from-behind triumph, this wasn't their day. Funnily enough, the possession stats were nearly identical over the two games, although with Real having all 11 men on the field this time, we couldn't quite find the goals. No matter, because Valencia have just WON THE SPANISH SUPER CUP! This is the third time Los Che have raised the trophy. Now the Copa del Rey is truly the only piece of silverware in Spain that is still not in my grasp.
Champions League
Will we ever recapture La Orejona (Spanish nickname for the trophy; translates to "big ears")? Well, I can only try.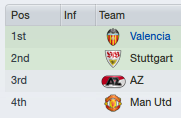 The group stage draw could have been a little kinder . . . United are the reigning English double champions, having won their second successive Premier League and FA Cup with Mourinho at the helm. The Special One arrived at Old Trafford 2 seasons ago after Alex McLeish retired, having taken the position in 2013 when Sir Alex retired. The game doesn't know of McLeish's dismal Villa record :P
Stuttgart are also a tough team, as the runners-up of the Bundesliga, while AZ, clearly the weakest of the group, are nonetheless Dutch champions.

Please, don't be alarmed by the loss against AZ; we captured the qualification spot by then and I was letting the back-ups have a go.

The loss against United and Stuttgart beating AZ guaranteed that we qualified but United would top the group. And who are we facing in the first knockout round? Olympic Marseille, off-course! We will be facing the French team in 3 consecutive Champions League seasons. The first time we met, two seasons ago in the final, we triumphed in emphatic fashion. Last season, we met at the first knockout stage as well and they narrowly stole passage into the next round. This time I mean to win the encounter.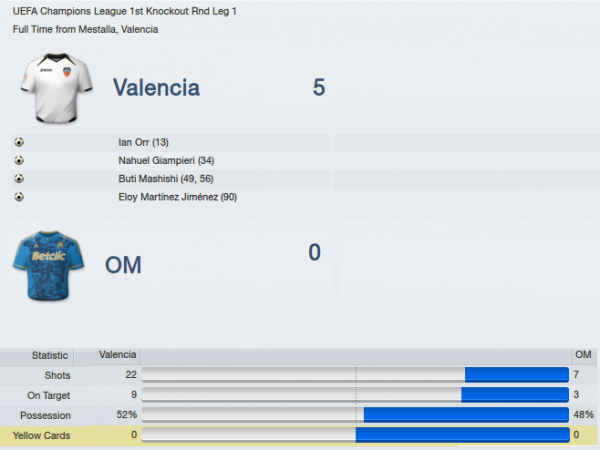 We absolutely crushed them in the first half. We were just raining hell upon their goal and justly took the win. OM just seemed confused that we were coming at them so hard. They never adapted to more defensive play.

I don't care that we lost the second leg because as that bauble indicates we are through to the quarter finals where we must face Atletico Madrid.

Well, there ends our Champions League season. The first match was almost perfectly even. Atletico should have had a penalty but the ref didn't award it. I guess karma smiled upon them, however, and during stoppage time they stole a painful winner. The return leg was painful. My boys fought, they really did. We had 26 shots to their 4 and 59% possession. But in the end the team became too demoralized after Atletico got a surprise goal on the break and the game groaned to its conclusion and the end of our campaign.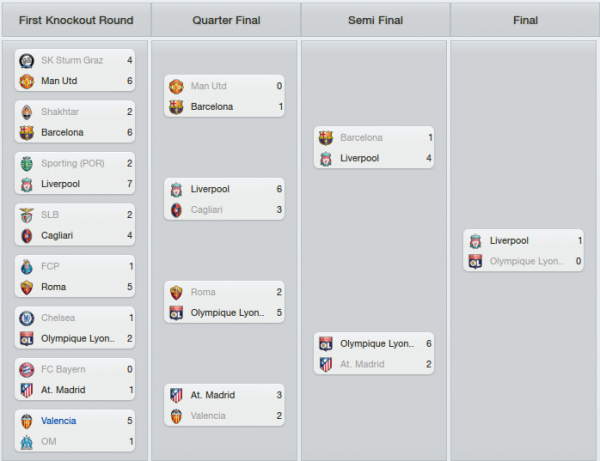 Interesting conclusion, I must say. Kabek Valeev, one of my stars during my Cagliari days pushed Liverpool all the way to the top. Man, I knew how to pick them while at Cagliari :P
La Liga
Here we go for the title defense!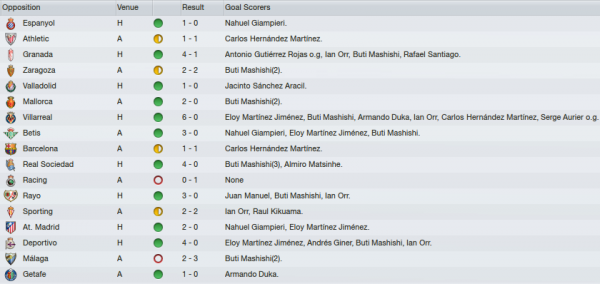 I am somewhat annoyed. Sure we are doing fine, but we are not displaying the dominance from last season. The results are not flowing as freely. At this point, Mashishi is my best performer. Take a look at the New Year's Awards:

Who knows how much longer Mashishi will stay at the Mestalla with these accolades? Also, I included Xaropinho just to demonstrate his absolute dominance. 3 consecutive Ballon d'Or and FIFA World Player of the Year awards. I doubt I will ever buy him, however, since he is now 30 years old.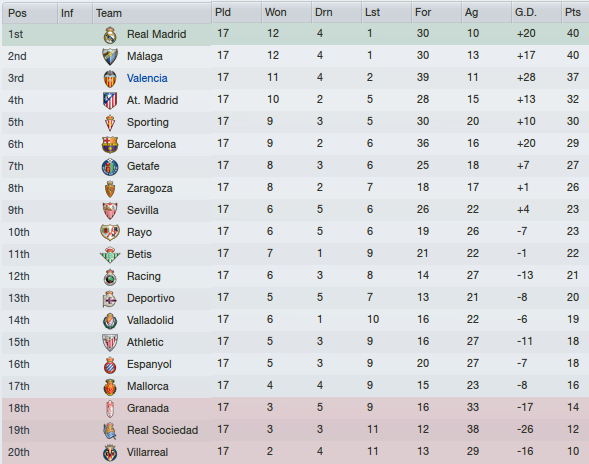 It's a close race at the top. We just need to make sure to minimize our slip-ups . . .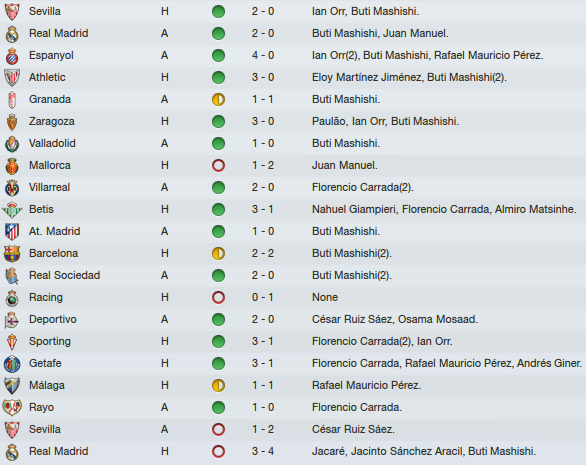 Well, we couldn't quite minimize the slip-ups as hoped . . .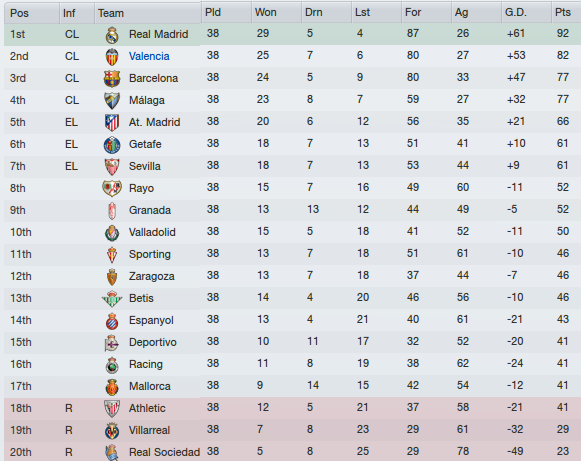 Second place isn't the worst thing in the world . . . Once Real got onto a tear of form they were absolutely unstoppable. Up until the Racing loss we were neck and neck with them. Malaga had dropped off a bit. After the loss, however, we never caught up. The draw against Malaga sealed it. After the Rayo game, it didn't matter because Real triumphed for the 35th time with 2 games in hand. Well, at least I already won La Liga and we did quite well in the end of season awards:

You know, it might just be me that steals away Mashishi ;)
Cope del Rey

Man, we could have hardly gotten a more difficult draw. Luckily it seems that teams give the Cup less importance, so apart from the scrape-up against Atletico, we barreled our way into the finals where we face . . . Real Madrid! I can't be too surprised facing our fellow finalists from last season. But now they are looking for a double! I plan to deny them and inflict my revenge. Valencia are not going to lose 3 straight Copa del Rey finals!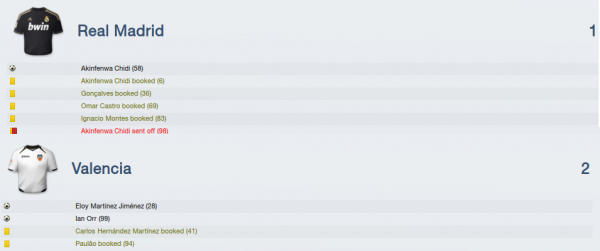 WE DID IT! VALENCIA HAVE WON THE COPA DEL REY! Wow, that was nerve-wracking. We took the lead thanks Martinez Jimenez but Chidi, who played opposite from him equalized. It was a decent game and we ended regular time deadlocked. I was dreading the penalty shoot since that's how we lost last season's cup. But luck was on my sad, as Chidi, who had been harassing Martinez Jimenez finally god shown the red card and seconds later Orr put it into the back of the net, with an assist from Martinez Jimenez. For my achievement: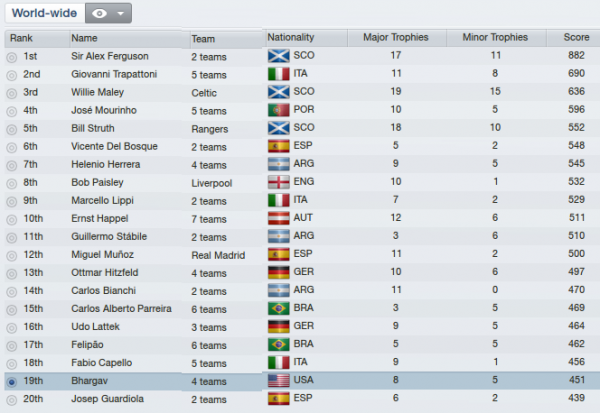 Sir Alex better watch out ;)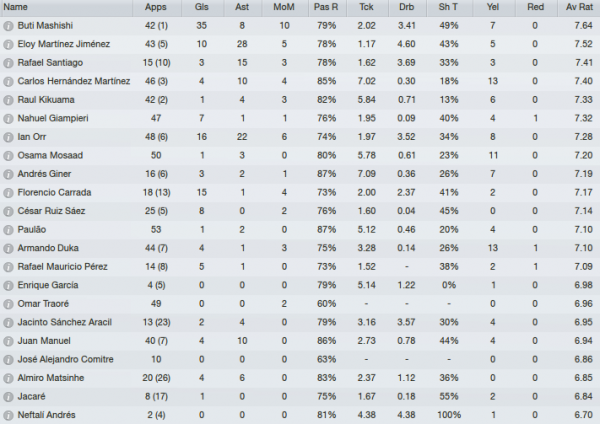 Mashishi was again the best player. 14 players broke 7.00, 2 less than last season. Mashishi again led the scoring charts with a Valencia record of 35, 28 of them coming in league play — enough for the Pichichi. Orr, Carrada, and Martinez Jimenez contributed 16, 15, and 10 respectively. Martinez Jimenez led the team and league in assists once more, this time with 28 and 21 of them in the league. Orr, Santiago, and Hernandez Martinez contributed 22, 15, and 10 respectively, with Orr having the second highest number of assists in the league. Mashishi also had the highest rating in the league with a 7.78 and 8 MoM awards (10 in total). Martinez Jimenez was the second while Hernandez Martinez came in 5th. Hernandez Martinez led the league in tackles per game, as well.
So concludes another leg of my journey. I really enjoyed battling in Spain and I can safely say that it was the hardest place thus far. I look forward to all your comments and feedback and I sincerely hope you found Spain as entertaining as I did. And now, on to the Premier League!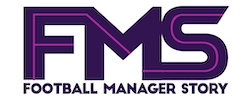 FM 2022 Latest
Welcome to this Football Manager lower league tactic guide. Intro: Hi, I've been playing...

Hi, welcome to a new episode of my save managing Gateshead from Vanarama National...

After the great first three seasons of the Gateshead to Glory story, now it's...

After the great first and second seasons of Gateshead to Glory, in which we...

Welcome to a new series, where Andrew goes Head-to-Head in a Tactics Test. This...

Here at FMS we will be testing and creating the best FM22 tactics throughout...
Subscribe to our Newsletter