Hello my friends! I am here to bring you the conclusion of my 4th season with Valencia! But before I do that, I wanted to take a moment and say thank you to everyone who has been supporting me by reading my story, commenting, and giving me advice. Seriously, you guys are the best. First of all, I would like to thank Johnny and Darren for teaching me how to play the game. I didn't pick up the series till FM 2010 and as many of you know, our beloved game has a fairly steep learning curve. Even now I constantly unearth new things. But a huge thank you to Johnny and Darren for teaching me how to play, giving me a goal to strive for while playing, and off-course giving me an opportunity to post on the website. Secondly, I'd like to thank Kevin for helping me improve as a scout. Kevin's Moneyball system is a fantastic way of quantitatively justifying purchases and is especially useful when trying to figure out return on investment. And lastly but certainly not least, I'd like to thank everyone who read, commented, and advised me throughout this journey. Ana, Ziggy, Laxeyman, Lye, CsAtlantis, Vaibhav, Sears, Saltwater and everyone else, thank you so, so, so much! You guys make me want to play the game even more! Like I said, you guys are the best. Thank you so much for staying with me through all my ramblings and absences. I hope I can repay with some entertainment.
So currently, I am in the January transfer window. My team is sitting at the top of the table with 38 points and 2 games in hand over second place Malaga, who are level on points. We are in the 5th round of the Copa del Rey and just squeaked into the knock-out stages of the Champions League, where we must face Olympic Marseille. We also completed a double of sorts, winning the European Super Cup and the Club World Cup.
Before I get into results, here are a few pieces of January news:




Now these are NOT multiple posts of the same image. I actually received ALL of these messages one by one over the course the month. For those of you who forgot, we ALREADY had improvements in the works for both training facilities! So I guess we are triple upgrading our regular facilities and double upgrading our youth facilities? This was probably a glitch on the game's part and it looks like they haven't deducted cash from our balance, so yay?
No all news is quite so happy, however . . .

Life is just not meant to be perfect. Orr has been hugely influential and we will deeply miss him. I hope Neftali Andres is ready for the run of first team ball he has been whining for . . . Perhaps against better judgement I did not bring anyone in during the January window. I felt that we had a winning combination I was hesitant to throw off the mojo. Besides I have some youngsters who I could play if I get desperate. Now it's results time :P
Champions League
So we are the defending champions and we have to face last year's runner-up. I am not relishing this match, to be honest.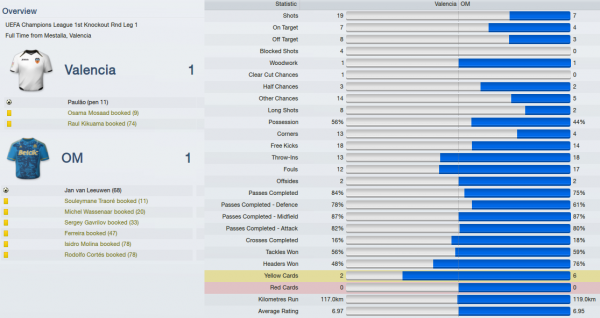 OM's defensive tactics saved them today. As you can see, we were clearly the dominant team. I can't help thinking that maybe if we had Orr . . .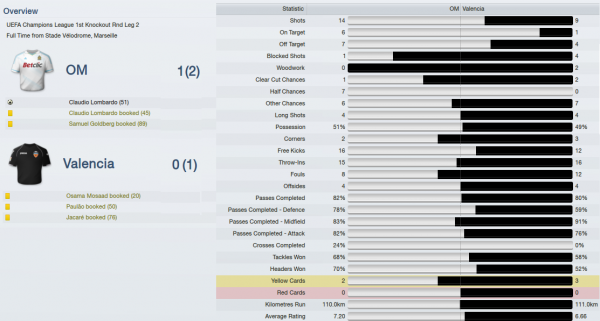 Well, OM have gotten their revenge :( Back in at the Stade Velodrome they were able to bully us around somewhat, although we had a chance that in all rights we should have put away. Martinez Jiminez sent one of his trademark beautiful crosses from the left side. It sailed to the far post where Juan Manuel was waiting. The Spaniard thunked the ball with his head and I was getting ready to fist-pump, but sadly it slammed the corner and was cleared to the side-lines by one of the opposition. In the end, the assist for the goal came from Jan van Leeuwen, who was one of mine during my days in Cagliari (I sure know how to pick 'em :P). He joined OM a season after I came to the Mestalla for a whopping £22mil! In contrast, I bought him from Getafe for £9mil. It seems like he has repaid OM and at our expense :/ Well, this just means fewer games to play and fewer chances to be injured, now that we're out of the CL. If we continue our stellar league form we will be right back into the competition next season so I hope the boys don't get too down on themselves!
For those wondering, here is how the competition played out: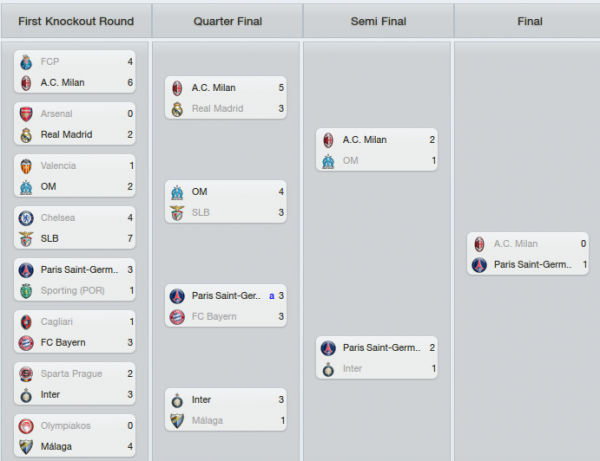 This is PSG's first Champions League. The winning goal in the final was scored by Yaya Sanogo, a name familiar to everyone who has used the scouting network on the site. He was also my star man at my very first club, Evian.
Copa del Rey
We're into the 5th round of this tournament, having trounced lower tier Real Oviedo 5 — 0. Our opponents in the round of 16 are Real Sporting, currently in 11th place in La Liga.

Having beaten Sporting 4 — 0 earlier in the season, I would have been surprised if they gave us too much trouble.
The quarter-finals proved to be a challenge, however, as we had to face Malaga.

Most surprisingly, the perennial contenders were hardly able to stop us. The away leg was most surprising as I fielded a hodgepodge starting XI due to injuries and internationals. Still, I was able to overcome them and fairly easily too!
In the semis we had to face Deportivo. Luckily not as tough, but they did not make it to the semi-finals on luck alone.

They gave us quite an battle at the Riazor but once we were back in the cauldron that is the Mestalla, my boys tore through them in front of our 64,500 fans. For the final, we have to face the second most successful team of the competition: Real Madrid.
Real are always tough and dangerous and this was not going to be any different.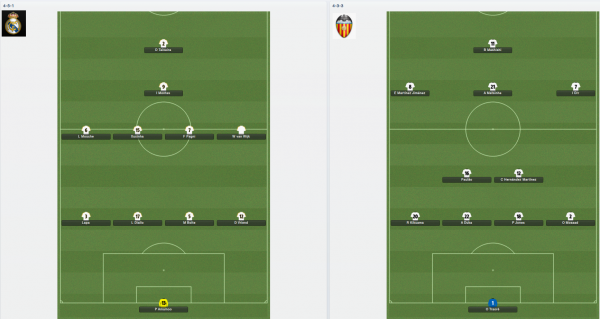 We both sent out basically our strongest squads. For me, only Juan Manuel is missing from injury but Mozambican international, Matsinhe, has been doing a splendid for these 6 weeks that the captain has been recuperating. For Madrid, the danger men are their striker, Teixeira, and left winger, Leonel Mouche. In the fashion of Cristiano Ronaldo, the Argentinian captain won the Pichichi 3 seasons ago, despite playing on the wing. He really is a sort of CR7 and Messi hybrid, although he is not quite the world beater as either of them. That belongs to my Xaropinho, my greatest ever player who is still with Cagliari. He is currently the reigning Ballon d'Or and FIFA World Player of the Year, for the second straight season (in my game the awards are still separate). But enough of background and on the game: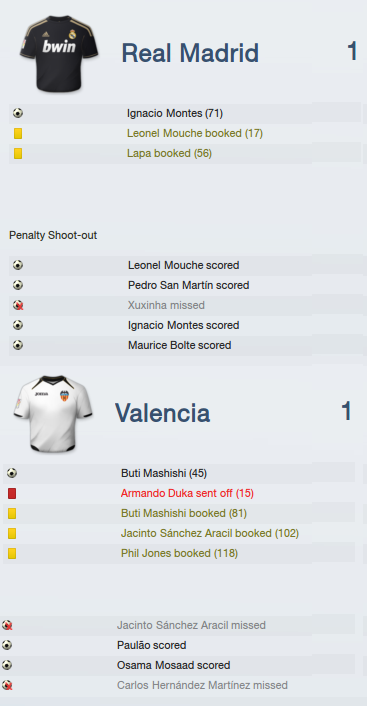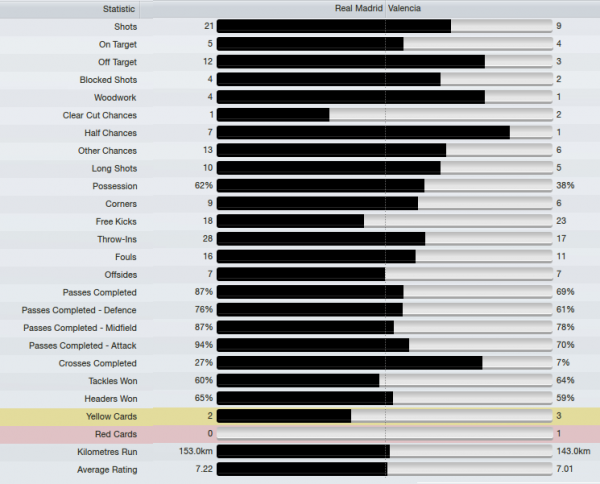 Well, if you guys were hoping for some magic, I'm truly sorry to disappoint. It looks like I'll be staying in Spain for another season :P
Real dominated the opening 15 minutes. In fact, they almost went one up through Teixeira. I guess Duka was getting frustrated and he elbowed an opposing player and earned himself an early bath. I didn't even know such things were possible in the game! I mean, it wasn't quite a deliberate sort of thing, but he still slammed an opponent in the face while marking them . . .
After that, Real were just running riot on my half. They were camped outside the box and raining balls in. Luckily, Traore, Jones, Jacare, Kikuama, Mosaad, Paulo, and Hernandez Martinez were defending with their lives. In the end, Real only had 2 real chances. Right before the half, however, they started to smell blood and they were really piling on the pressure. A clearance landed to Mashishi who was chilling near the halfway line. With only one defender in front of him, Mashishi blazed across the field, beat the lone man, and slotted past the keeper. The keeper stupidly rushed out while Mashishi was just entering the box. He kept plodding at my man, who deftly turned past the netman, and put it home. We were a goal up with a man down!
Once the match resumed, we had an unlikely chance to double our advantage. During a corner, Jacare managed to beat Mouche for the header but he dented the post :( I wish Jones was in his place instead since he is so much more dominant in the air. After that attempt, it became the Real Madrid show again . . . Their efforts finally paid off in the 71st when attacking midfielder Montes got it past the excellent Traore with a gorgeous diving header. Real continue pounding on the door till regular time thankfully ended, especially since Real almost won it during stoppage.
Overtime was boring and tense, neither of us doing much and partly because I went full on defensive with an unsexy 5-2-1-1. The penalties were a dagger. After we beat Cagliari this must have been some kind of karmic balance. Mouche went first for Madrid and off-course eased it in. Aracil, who came on to replace Orr and change the formation skied it. Next, San Martin came for Madrid (he replaced Teixeira) and scored as well. Paulao, who was the subject of a transfer bid from Madrid, stepped up for us and scored. The next Real player, Xuxinha, who was perfect all game, muffed up his penalty, to make it 2 — 1. Mosaad came on to bring to 2 — 2. The Madrid goalscorer, Montes converted his and when I needed him the most, Hernandez Martinez choked with a tame effort that Amamoo, the Real keeper, saved. Bolte, another thorn in our side during this game took the last penalty for Madrid and won them their 25th Copa de Rey and our 13th runner-up medal.
Well, I'm disappointed but penalties are football's lottery. Nothing to do but buck up and try harder next season!
La Liga
Now we come to the big stage. Currently, we are sitting pretty on top: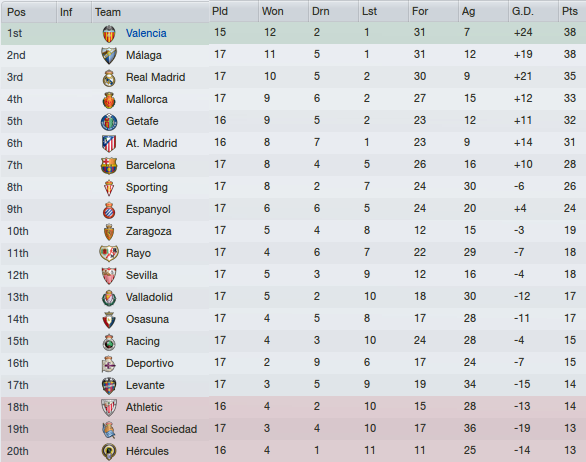 But I am acutely aware of how easily this can change. For those wondering, here is how my record up to the half looks:
Pretty darn great!
And here is how the next 10 games looked: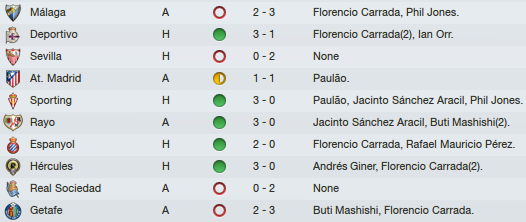 Not quite as good :/ The Sevilla and Atletico Madrid games were tough because we missing many players either from small injuries or internationals. The Real Sociedad game was quite a shocker. They won with 2 penalties. The first one was just wrong stemming from a supposedly poor challenge in the box. My player hardly even touched the other guy! After that, Jacare decided to stick his hand out and got red carded, while Sociedad converted their second penalty.
So after another 5 wins, draw, and 4 losses: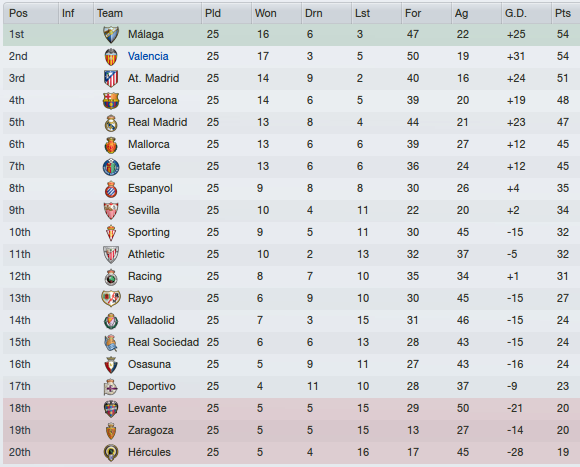 Despite our superior goal difference, by virtue of having been defeated in our one meeting of the season so far, Malaga have leapfrogged us :/ We need to dig deep and find it in ourselves to pull through!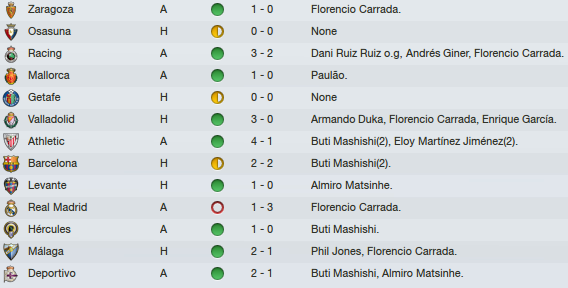 Our last 13 games were quite impressive. The mindless draw against Osasuna aside, we were pretty great. Real Madrid exacted their revenge by the same scoreline that we beat them by earlier in the season. So where did this run land us?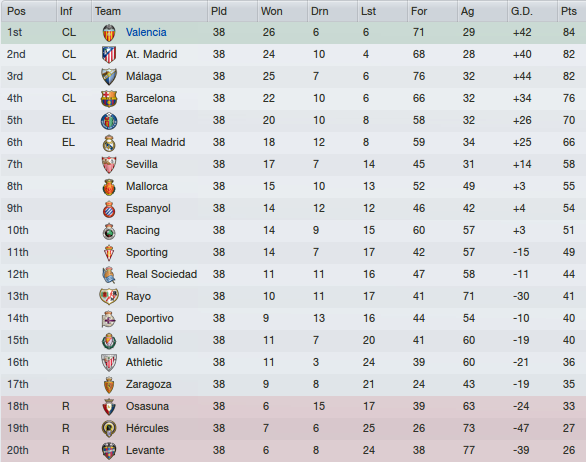 WE DID IT!!! VALENCIA ARE THE CHAMPIONS OF SPAIN!!! Valencia have had to wait 11 years for only their 7th La Liga. But it's finally here! I am so happy to have done it! After the draw at Osasuna, I was resigned to having to wait another season to give the league a go. But it's not over until its over and sure enough Malaga started to sputter near the end. After our loss to Real, we found ourselves tied on points because Malaga had 2 straight losses, once to Atletico Madrid. Going into the penultimate game that would decide it all, we were level on points but Malaga was still in first with Atletico hot on our heels. And we won! With the Mestalla roaring around us for a sell-out game we clinched the top spot going into the last game while Atletico won as well. For the final game all three of us had easier opponents, so a win for us meant the league. If we drew, however, while our competition won out we would have ended up in 3rd place because Atletico had both us and Malaga beat in head-to-head, while Malaga scored more goals against us than we on them. You can bet I had an eye out on their games while we played!
We took an early lead and I was relieved, especially since Malaga had gone 2 up before the break. Right before half-time, however, Deportivo hit back! It seems they wanted revenge after the Copa del Rey semis. Once the game resumed, Atletico scored to lead their opposition while Malaga added a third! At the 72nd minute we finally broke through! And I am completely serious when I say I hollered with happiness. I threw my entire team into defensive mode after that. I literally had 5 players as sweepers, 3 center backs, and 2 full backs. It was ugly and nerve-wracking, but we pull through to the finish line to win the league. And a good thing we won our game because Malaga finished the game 4 — 0, while Atletico managed 2 — 0. We pushed and were pushed up to the very end and victory has never tasted sweeter. I really think this was my hardest league victory in this entire challenge so far. And for such a stellar performance this season, we won some awards!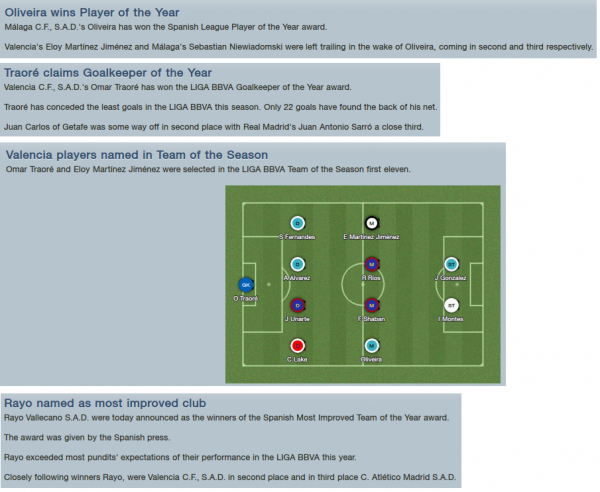 I am so pleased by Eloy Hernandez Martinez's contribution to the team. I am sure Espanyol are envious to have lost their former star. And it's great to see recognition for our stalwart man between the posts. Traore is creeping into the end of his prime so it's good to see him have a vintage season. For my part, I am still looking for a second manager of the year award, my only one so far coming at the end of the 2020 season with Cagliari. Oh well, I am more pleased with the club anyway!
And lastly, as is customary, the player ratings: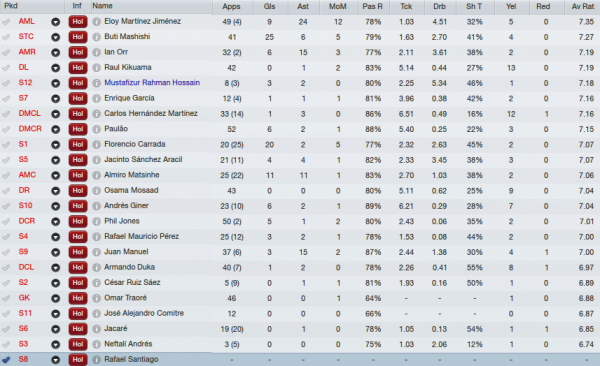 16 of my players were above 7, with Hernandez Martinez leading the way at 7.35, with 12 MoM's (11 in the league, giving him the most). He also has the most assists with a whopping 24 (21 in the league, also the most) while Orr has 15. Mashishi and Carrada top the scoring charts with 25 and 20, respectively. This team is extremely talented and I am quite happy to be staying another season. We will seal that elusive cup!
So that is all from me. I hope I have not bored you all with another long update. I tried to keep it short but too many exciting things were happening. Thank you so much for reading and for your support. I can't wait to read all your comments. Until next time!
P.S. I am so stoked for FM 13!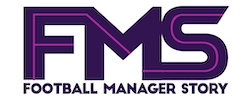 Subscribe to our Newsletter