Hello friends! I am happy to bring you the first half of my 4th season with Valencia! I felt that perhaps the posts were becoming too long and cumbersome so I will break them into 2 from now on.
A quick recap of last season; we came in 6th place in La Liga, made it to the finals of the Copa del Rey where we lost to Malaga, and we won the Champions League. Quite a strange season, wouldn't you say? Well this season I am hoping for bigger and better things, especially after the summer disappointment with England. My new players from last season, some of whom are truly world class have had some time to bed down and I should hopefully be a little more blessed on the injury side. On to the:
Pre-Season

Yeah, I wouldn't count ourselves as hot favorites to win, either. Not unless we carry on the amazing form from the end of last season, but my realistic expectation is we break the top 3.

Even with my expectations for the season, that is quite a hefty sum of money in the bank!

Well, would you look at that! It seems the Champions League winnings have greatly bolstered the club. Speaking of winning the Champions League:

Giants everywhere beware because the bats are coming for you! All silliness aside:

Great! Things are going splendidly. Transfer and squad time!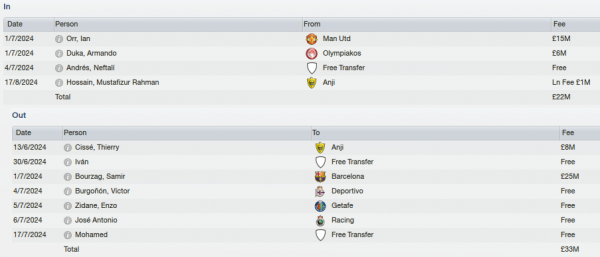 So first I want to talk about the players leaving. Thierry Cisse was extremely skilled and useful. He played CM. Sadly he kept whining about a lack of football and I had to let him go. I made quite a profit off of him, however, since I signed him as a free agent. Ivan, Victor Burgonon, Enzo Zidane, Jose Antonio, and Mohamed were players who had been loaned away for the past 2 seasons in attempts to get rid of them. I finally managed to off-load most of them, but Mohamed, at 32 and earning over £2mil a year refused to go anywhere. In the end, I ended up paying him about £4mil to leave — quite a nasty piece of business but we have money to spare (for now). And now the big transfer: Samir Bourzag. My crown jewel. He was a terror on the right side . . . when he was fit! That is why I let him go and for less than his release clause of £38mil. He is definitely one of the premier players in the world but he simply cannot stay healthy. He spent just about 40 weeks injured during his 3 year spell with me. That's a whole season! And he was turning 29 soon so his peak was near its end. And after paying Udinese £10mil to get him, I made quite the profit. This meant that I completely covered the cost of his replacement, Ian Orr. Orr was a loan signing from Manchester United, who greatly impressed. And he had plenty of opportunities to do so since Bourzag was constantly injured. This kid is WORLD CLASS. He played wonderfully his first season, and at only 22 years of age his brightest time is yet to come. With Cisse gone, I needed a new midfielder. Cue Armando Duka. The Greek international played an important part in his country's Euro campaign, which included beating my England team. He is 20 years old, very technically gifted, and can play anywhere from the central midfield and behind. He will also play center back a lot, I think, since I am reconsidering the skillfulness of my current crop. My next signing is Neftali Andres, who is going to be back up for Orr. But the lad can play ANYWHERE on the pitch (except keeper). He is going to my Johnny Evans. I could have signed a slightly better right winger, but Andres' utility called to me. My last signing is of one of my old players: Mustafizur Rahman Hossain. He was one of the Indian internationals I signed while I was in charge of Gladbach. It seems after I left he was sold to Anzhi Makhachkala, who are desperate to get rid of him. While I don't want to sign him full-time, I need him for this season because:

He was one of my top performers last season and a youngster with HUGE potential. And now an entire season has been stolen from him :( Since I will be out without him and his amazing influence for a while, Hossain is his emergency replacement. I hope his experience will make up for Santiago's dynamism.
So my team is:
GK: Omar Traore*, Jose Alejandro Comitre
WBR: Osama Mossad*, Jacinto Sanchez Aracil
DC: Phil Jones*, Jacare*, Rafael Mauricio Perez, Cesar Ruiz Saez
WBL: Raul Kikuama*, Enrique Garcia
DM: Paulao*, Carlos Hernandez Martinez*, Andres Giner, Armando Duka
AMR: Ian Orr*, Neftali Andres
CAM: Juan Manuel*, Almiro Matsinhe
AML: Eloy Martinez Jiminez*, Mustafizur Rahman Hossain
ST: Florencio Carrada*, Buti Mashishi
And I changed my formation again (surprise, surprise :P). After reading all your comments, I took that to heart and scaled back the midfield to something a little more basic: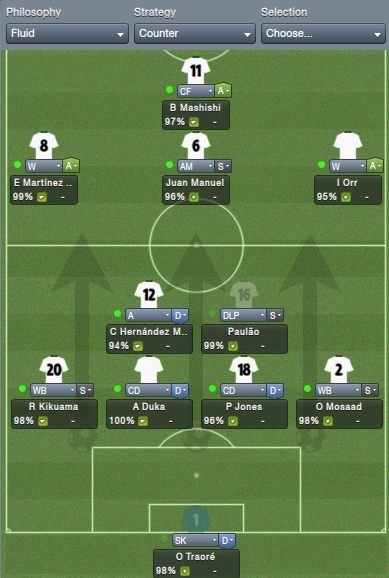 Defense is the same as before: sweeper keeper (defend), central defenders (defend), and wing backs (support). Two central defensive midfielders: anchor man (defend) and deep-lying playmaker (support). I changed the right and left midfielder to wingers from inside forwards, and both on attack duty. I changed the trequarista to an attacking midfielder (support). And put the complete forward on attack duty. In addition, I have switched the mentality from attacking to counter. My familiarity did not take as large of a hit as I expected, but I needed to schedule a few extra friendlies. And here is how they panned out:

The loss to Porto was expected since the team was still finding itself. I scheduled a friendly against a semi-pro team to help the club gain some confidence and cohesion. The loss against Gimnastic was annoying but I put it down to players still gelling. Overall, we had a slid pre-season, expect for the loss of Santiago in the penultimate game. I think my top performer in pre-season has to be Carrada who is banging in the goals. I think the new formation is doing the trick!
We had another important pre-season match:
UEFA Super Cup
We had to face my former club, Cagliari. This was not going to be an easy match . . .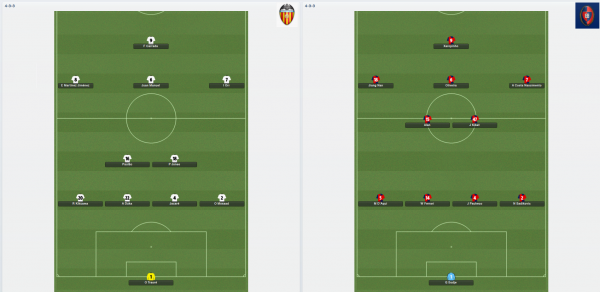 From my days, Cagliari still have Godwin Sodje in goal (he and Omar Traore always alternate for the African Goalkeeper of the Year award), Martin D'Aqui, Walter Ferrari, and Nadim Sadikovic in defense, Oliveira and Alisson Costa Noscimento in midfield, and off-course, the peerless Xaropinho spearheading the attack.
The game was quite a cracker. It came down to the keepers — rivals from the African continent. Both of them kept us in the game, but I am pleased to say that Sodje had to work a little harder.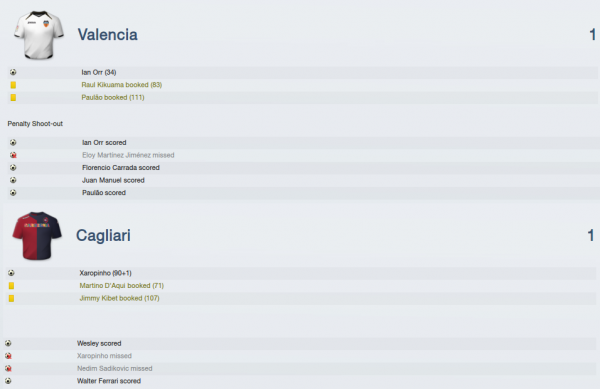 We won our first cup of the season! It had to come down to penalties but we pulled it off. We were the better team during regular time. We would continually cut through their defense thanks in great part to their sloppy passes but we lacked the incisiveness to make the best of our chances. Part of the problem was that my players kept shooting from distance, particularly Carrada. But the goal that Orr popped in was wonderful. We passed them to death in their box and managed to find him open. Martinez Jiminez passed it to him and he slotted it into a practically open net. We should have had a few more but Sodje was on his game. Cagliari gave us plenty of scares as well particularly from set pieces but Traore was up to the challenge. Off-course, it couldn't last forever and one of the corner finally went in during stoppage time. Extra was more of the same, but Cagliari pushed us much harder. In the end, the two botched penalties (sent well wide) gave us the trophy. Here are the stats: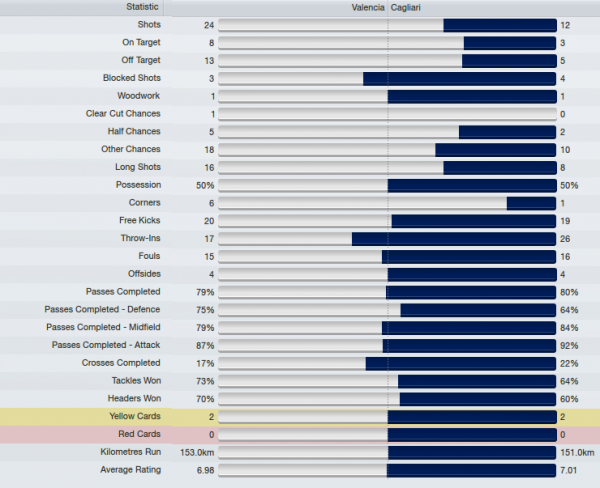 This is the second time I've raised this trophy! We've started our campaign on the right foot. Hopefully this is foreshadowing for what is to come?
La Liga
This is the best start I've ever had with Valencia! The only stains on our record during the first 10 games is the loss to At. Madrid and the draw with Mallorca. We were frankly lucky to have not lost by more to Atletico Madrid. We ended the game with 10 men due to injury and they were controlling us, sadly. The result against Mallorca was quite a shock. Time and again we crashed upon them but they managed to withstand our assault. Still, our start has been incredible. Particularly pleasing is the form of Buti Mashishi. In addition, I have been rotating the squad just a tad bit more often. I think the combination of my new stars gelling, the new formation, and slightly increased rotation is providing awesome results for us. But we haven't really faced any of the truly big dogs of the league, except for Atletico Madrid. We have yet to test ourselves against Real Madrid, Barcelona, Malaga, or Getafe. In any case, after the first 10 games: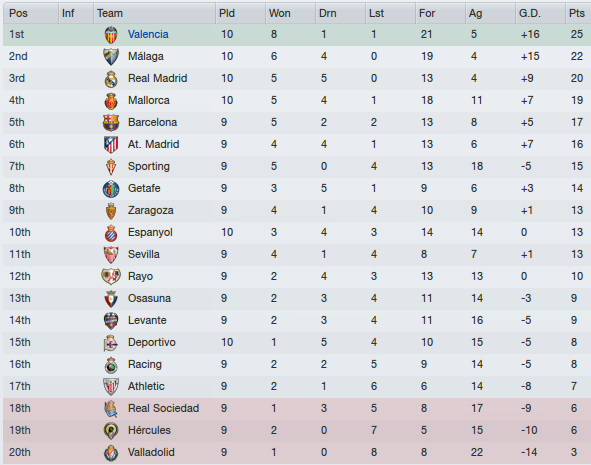 Hopefully we can hold onto that top spot!

This brings us to the halfway point of the season and we are on a 13 game unbeaten streak in the league. Our great form has continued and we have bested Real Madrid and stole points from Barcelona in the Nou Camp! Buti Mashishi has continued his terrific form and has effectively supplanted Carrada for now. Matsinhe is also making a push for Manuel's spot (he really wants an improved contract :D). Also, Orr has been doing a great job and Martinez Jiminez, who was Espanyol's best player when I bought him, has continued to shine with us. He has been the main creative engine for many goals. Also, take a look at the thrashing we gave the defending champions, Athletic Bilbao. Going into the January transfer window we firmly sit on top: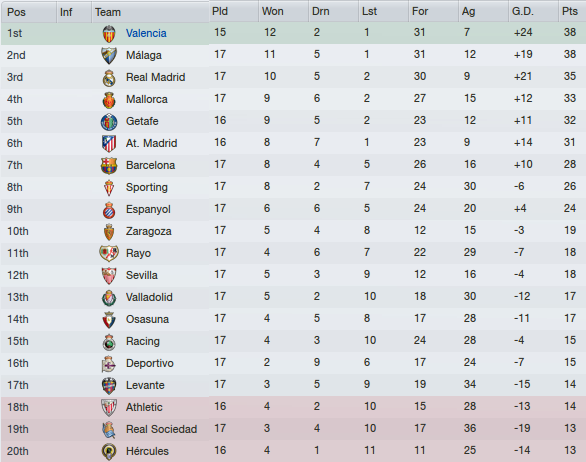 However, in a league as difficult as this, our position is far from secure. You will just have to wait for the update to see what happens!
Copa del Rey
As you can see on the table, we have two games in hand since we are in so many competitions. Not much going on here at the moment since as the finalists last we start late in the competition. But we easily trounced our opposition in the 4th round to book a place in the 5th against Sporting, whom we dispatched quite easily in league play.

Champions League
This was the competition we won last season. It was the second time I got to raise the trophy, the first time being with Cagliari, who won the Europa League last season. Can we defend our trophy?

We got an easy group stage draw. We just have to contend with A.C. Milan, who we beat last season. Milan retained the Serie A, by the way, with my Cagliari coming in second place. The Dutch team, sc Heerenveen, were runners-up in the Eredivisie and Standard are the current champions of the Belgian Pro League. Neither of them should prove too difficult (I hope!).

Hmm, that was more unpleasant than I expected. As you can see, Mashishi excels here as well. I wasn't too fazed by the loss to Milan, but the draw against sc Heereveen greatly concerned me. The double against Standard put some of my fears to rest. The scorelines are not representative of our dominance in those games. The win against A.C. Milan guarantees us passage into the knockout rounds of either European competition. It was a crucial win. For our rematch against the Ducth team, we needed a point to guarantee advancement to the knockout rounds of the Champions League, and we got just that. We should have won, but were robbed of a penalty ruling >=( Still, we made it, so I must be grateful for that.

Scary how close Heerenveen were to advancing over us. The draw in the knockout rounds has not been kind to us. We must play . . . Olympic Marseille. That's right, we are facing the team we beat in the finals of last season's Champions League. They are a scary strong team and perennial contenders. We definitely caught them during an off day last time. We might realistically be packing it home after the first knock-out round itself. The next update will let you know!
Club World Cup
This is a trophy I have never yet won because I left Cagliari for Valencia before I had a chance to compete for it.

This was too easy — there is little point in breaking down the matches. We steamrolled the opposition. And now we've completed a double of sorts!

I would have been very surprised if any other players apart from mine won these awards . . .
Conclusion
So I leave you at New Year's Day. We won one award: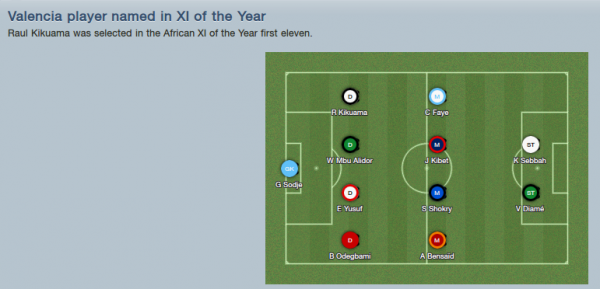 And here are the player ratings: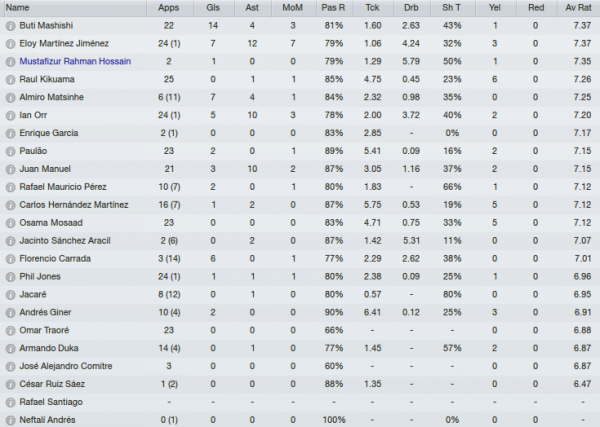 Sweet! 14 players breaking 7.00. Mashishi and Martinez Jiminez lead the way with 7.37. Mashishi has 14 goals and has replaced Carrada as starting striker for now and Martinez Jiminez has 12 assists, with Orr and Manuel contributing 10 of their own.
And on that joyful note, I end this post. We have won 2 trophies and are doing quite well in the league, while keeping our cup campaigns alive. As always, please give me your feedback!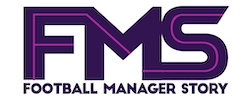 Subscribe to our Newsletter