Hello my friends! It is my pleasure to bring you the next episode in the Valencia leg of my journey. So last season was my first full season in charge at the Mestalla and I managed to guide the team to a 4th place finish. So let's have a look at this season!
Pre-Season
So we had a decent shake-up in personal, both playing and non-playing. Here's a look at my transfers and then my team for the season with updated profiles: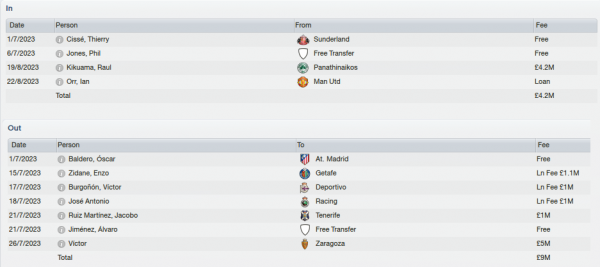 DC: Phil Jones*, Jacare*, Perez, Saez
DL: Raul Kikuama*, Garcia
MC: Visscher*,  Thierry Cisse
As usual, an asterisk indicates a starter. I am absolutely delighted with all my signings. Cisse is a direct replacement for Baldero, who hit the dreaded 30. Cisse is better as well. Matsinhe was brought in last season to replace Zidane. He will be a better player in the long-run and is extremely versatile. Phil Jones came in for Burgonon. Jones has been wanting to leave Manchester United for the last 5 seasons but I have not been able to afford his wages till now. I am still paying a lot for him but for a two season contract, I don't mind, especially as he is still world class and will bring some serious experience having won everything. Ivan was promoted to replace Jose Antonia. They are around the same skill level. Jacobo Ruiz Martinez was a youth prospect who couldn't cut it at the senior level and same with Alvaro Jiminez. Ian Orr is on loan from Manchester United to replace the departed Victor. Manchester United are seriously scary with the level of talent they have. Lastly, I managed to sign one of the best left backs in the world, Kikuama. Left back is one of our weaker positions, so I brought in Kikuama, who was beasting in the Greek Superleague. He was a steal at a little under £5mil.
Also, in terms of my formation I changed the MC to a BWM.
So other announcements:





In terms of seasonal goals, I hope to be make it to 3rd place, so I told the board:

As you can see, they gave me a pretty hefty budget as the football live streams revenue grew a lot, which I didn't really need to touch (after all the club is £217mil in debt). The club is pretty strong, so I am fairly of our ability to break the top 3.
La Liga: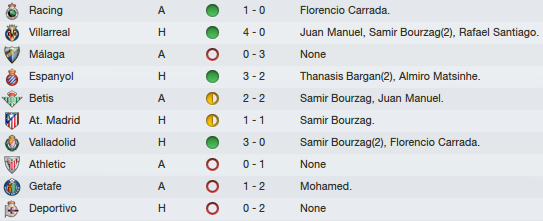 We didn't have the best of starts. The loss against Malaga was tough but they are a good team.  We managed to hold the defending Champions to a draw, however. In terms of our last 3 losses, Athletic and Getafe are really good teams, but the loss against Deportivo is a fluke. In all the statistics (except goals :P) we were the better team. Well, it's still only 10 games in so there is plenty of time to get better (or worse). Also, the injury parade started early this year, but I didn't like my moaning from the last post, so I will just mention the major injuries: Kikuama tore his hamstring in the game against Espanyol and will be out for 3 months :(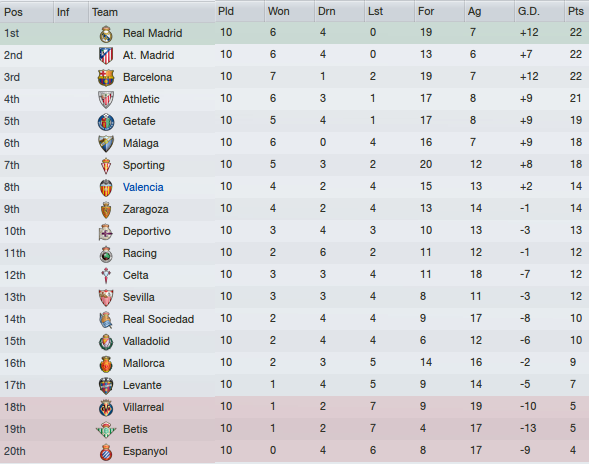 Ugh, already trailing the leaders by 8 points . . .

17 games done and we're at the halfway point. We're playing  slightly better, I think, but still too many poor results. My team talk after the Sporting loss seems to have helped. After four losses in a row, the team was in need of a pick-me up. I was actually expecting a loss to Barca, but the boys had a renewed spirit and pulled it off. Downside, though, Matsinhe is out for 4 months with a broken leg :( After we had that great streak, including holding back Real Madrid, the two draws, especially the awful one against Celta(!!!) left a bad taste in my mouth as we start January.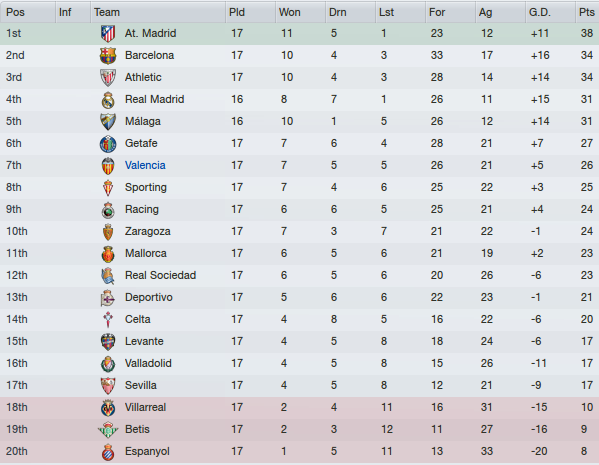 Blech! Now 12 points from the summit and 8 from my goal :( I decided change was needed so made some new signings!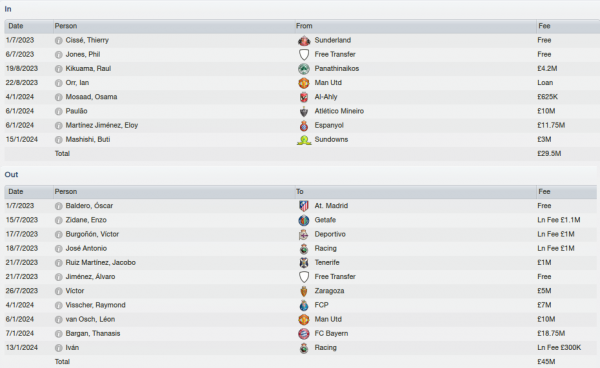 All right, all right. I'm not crazy selling 3 starters! Visscher was getting old so I decided to offload him and van Osch hit the dreaded 30 and United were paying good money. I didn't want to lose Bargan but Bayern wanted him. I should have gotten more for him, but too late now. I also sent Ivan on loan because he isn't doing very well. Now the players I brought in:
Buti Mashishi is a South African striker who can be just as good as Carrada. Carrada's recent form hasn't been that good and Ivan can't step up. Mashishi should hopefully do the trick and give Carrada some competition!
Osama Mosaad is a potentially world class right back. And he was available for under a million from Egyptian and African giants Al-Ahly. He will be van Osch's replacement.
Eloy Martinez Jimenez was Espanyol's best player and will be the replacement for Bargan. I think he is already as good and we paid quite a fee for him. I hope he will be as good for us as he was for his old team.
Paulao is my most exciting transfer. We had so much competition for the young Brazilian's signature and I was so relieved when he signed. he will be one of the best center midfielders in the world some day soon.
So quite a lot of changes but I hope the team will settle quickly — we need it! In terms of mid-season awards, Bourzag was runner-up for African Midfielder of the Year.

Still very mixed play. Racing was a shock loss while we managed to draw Malaga. And we lost to Espanyol despite taking their star. At. Madrid were too good for us, however. The team must need more time clicking. But, we had some awful injuries as well: in his first game, Jimenez broke his leg and will be out for 2 months. In our Betis win, Bourzag broke his foot and will be out for 3 months. And in our At. Madrid loss, Mashishi sprained something or another and will be out for 3 months.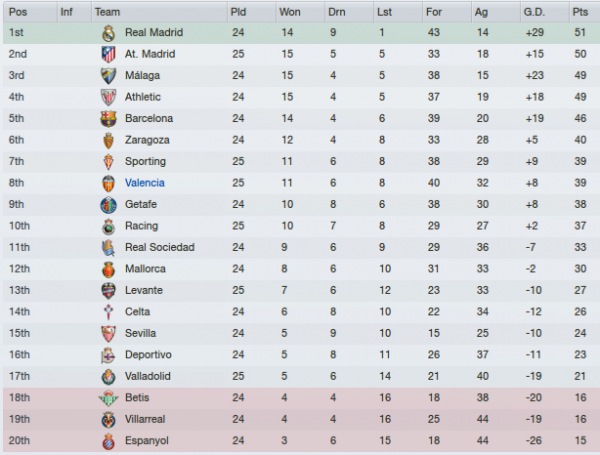 Well, we are just in a terrible place now. And the board is looking into my continued employment . . . We desperately need to do better and my signings are getting too hurt to have a chance at making an impact. Shout out to Rafael Santiago, though. The reigning young player has been having another awesome season, thank god.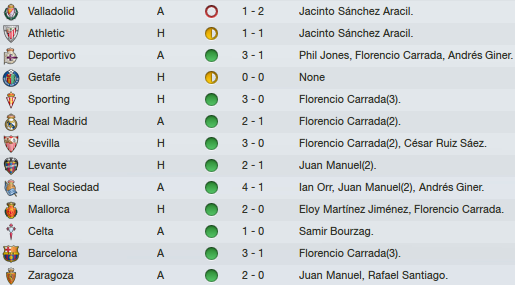 For the last 13 games, form dramatically picked. We had the annoying loss to Valladolid but after that we just went on an incredible tear, including wins over Barcelona and Real Madrid. Carrada recovered his form as well and Rafael Santiago continued to impress. The sharks are circling for his signature! Sadly, the damage was done earlier in the season: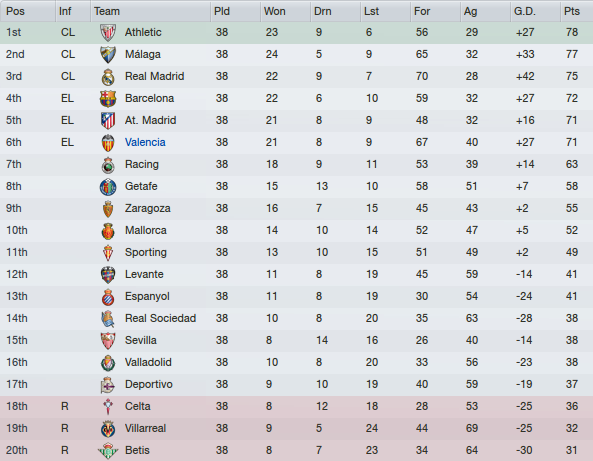 We should have been 5th, but I think in Spain head-to-head record supersedes goal difference in tie-breakers. A very disappointing season which promises an overhaul soon, partly because I guess I signed too many injury-prone players so I will definitely be getting rid of some of them.
End of season awards:
Rafael Santiago – Young Player of the Year
Samir Bourzag – Third Place, Player of the Year
Carrada, Bourzag, Traore – Subs on Team of the Year
Copa del Rey:

We cruised into the semi-finals of the competition, courtesy of an easy draw. We hit a stumbling block against Mallorca but trashed them at home, thanks heavily to Santiago. That means we made it to the finals! My first ever cup final in Spain!
We are facing Malaga in the final. Malaga have never won the cup, even in 12 years down the line, and have been in the final only twice. Valencia have won it 8 times and have lost it 11.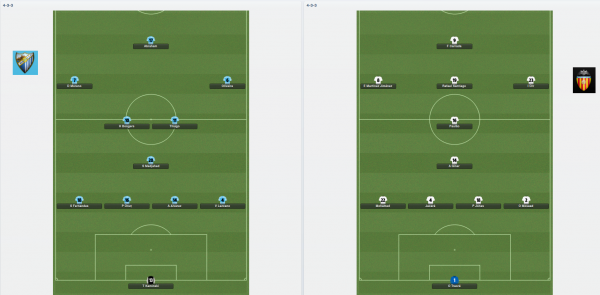 Neither of us are at full, full strength, but Malaga still have a solid and tough squad. Of particular concern is striker Oliveira.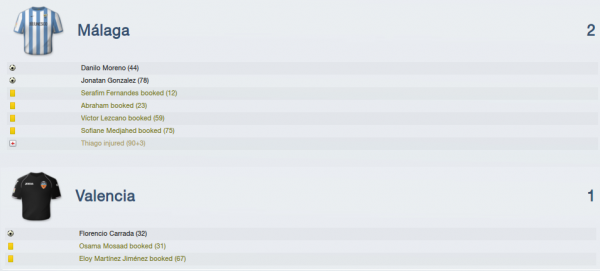 Well, looks like Malaga have added a 12th runner-up to their Copa del Rey tally. It was a very even game but Malaga were able to edge us out :( It really could have gone either way.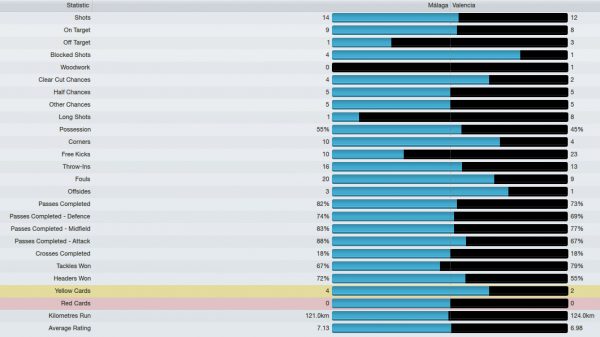 Still, I managed to reach my first cup final and that in itself is an accomplishment.
Champions League
The first step was winning our play-off.

We easily overcame the German powerhouse and thus made it to the group stages.

We got a tougher group. Bayern Munich are the defending champions and Olympiakos are not a walk-over, either.

14-1 odds, not terrible.

Luckily, qualification came easier than I expected. We even managed to beat Bayern Munich, though they avenged themselves at home by the same scoreline.

We just managed to take the top spot in the group over the defending champions! That meant we got a relatively lenient draw against Spartak Moscow :)

We pretty easily dispatched them. There was little doubt that we would advance. But our new opposition are much harder and have some serious pedigree in this competition: A.C. Milan. They last won the Champions League in 2018 and are the current Serie A champions (my Cagliari were runners-up).

After a slender defeat (although we played extremely defensively) I told the boys to just go an have fun in the second half. I was expecting us to draw but the lads decided they wanted it and we defeated the Rossoneri. This set-up another tough tie against Barcelona, who haven't won the Champions League since 2013.

Hope against all hope, Valencia are in the finals of the Champions League for the third time in their history (the previous two being 2000 and 2001). Our opponents are a European powerhouse: Olympic Marseilles. Marseilles regularly makes it to the later stages of the competition, having won it in 2022. They also have a monster left winger in Chiekh Faye, one of Europe's premier players.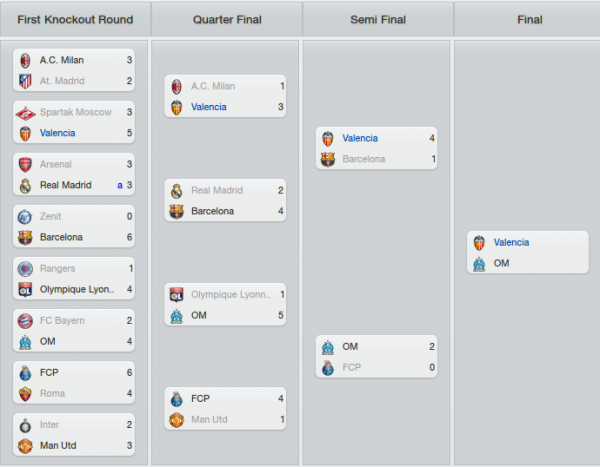 They overcome some tough opponents as well.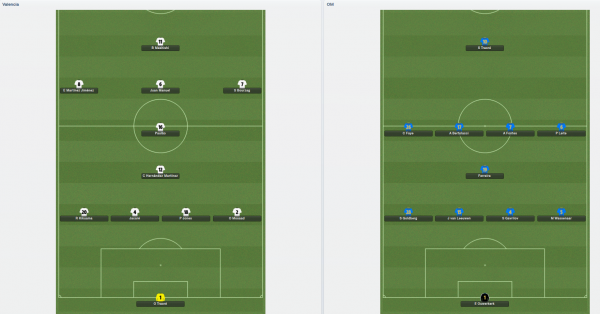 So I managed to field a full squad. This is almost my best starting 11. Carrada isn't up to 100% fitness so I gave Mashishi the start, but the Mexican is on my bench.

WE WON! VALENCIA CF ARE THE CHAMPIONS OF EUROPE! VALENCIA HAVE REACHED THE PROMISED LAND! 
Rafael Santiago and Carrada were the super-subs, ensuring us victory. After Marseille took the lead I thought we were done. But in the second half we stormed and scored 3 goals in under 10 minutes.
You guys have to checkout the highlights.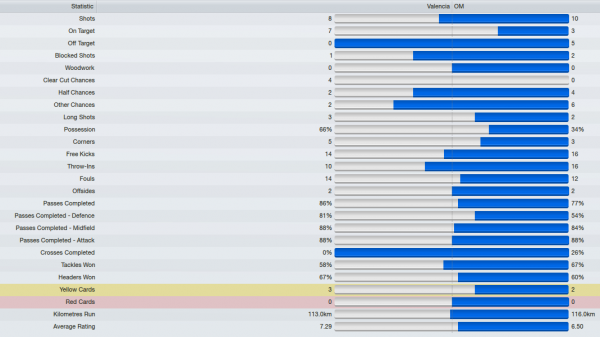 We did pretty darn well. For our efforts:

And now this accomplishment puts me in the history books!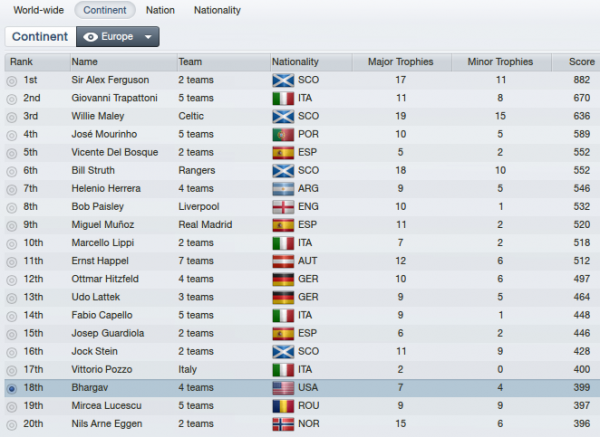 I'm still not on the World leaderboard yet, but this is a good start.
Lastly: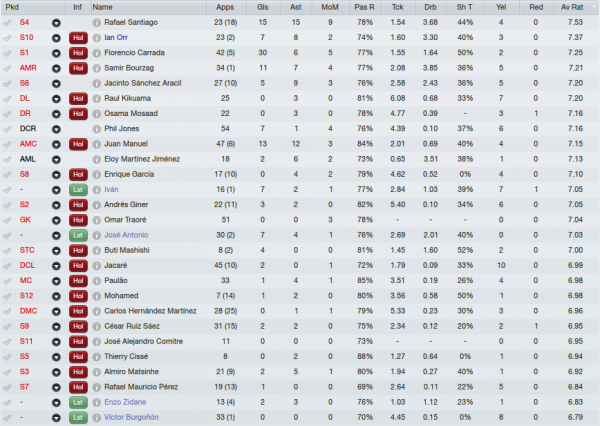 My wonderkid Rafael Santiago led the way with a rating of 7.53. In all, 16 players broke 7. Carrada was top scorer with 30 goals, and Santiago came in second with 15. Santiago also had 15 assists. The future is really bright for the kid.
So that's all for this update. I hope you enjoyed it. Next season will hopefully see some important squad changes that can lead to us challenging establishing ourselves as a top 3 team in Spain. And thanks to our crazy Champions League win we will get to compete in that competition again! My next update will come out sometime this week and will focus on my England career. Till then, I look forward to reading all your comments.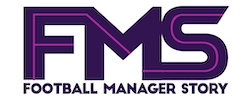 Subscribe to our Newsletter