Hello my friends! I am happy to bring you the next phase of my adventure. So here we are at my 11th season. I stand pretty much at the top of the world having won the UEFA Champions League with Cagliari Calcio from Italy. After that and winning the European Super Cup, I decided to call time on my time in Italy. My next stop on my European Pentagon Challenge is Spain and I chose to join Valencia Club de Fútbol! I am sure most of you are familiar with Valencia as they are frequently Spain's 3rd best team (and in terms of La Liga titles, they are 3rd). The team, known as Los Che, play in the imposing Estadio Mestalla; quite well known for its intimidating atmosphere. Since most of you are pretty fairly familiar with this team, I won't go into them too much more, but it is worth noting that they were a force in the 1940's and had some success in the early 2000's, having made it to the 2000 and 2001 editions of the Champions League Final, losing both.
Background:
So I missed most of the first half of the season because I was still with Cagliari. I didn't want to leave until the Club World Cup but when I got an offer in early November, I couldn't resist. So I joined Valencia on November 13th with the hopes of turning around the latter 2/3rds of the ailing season.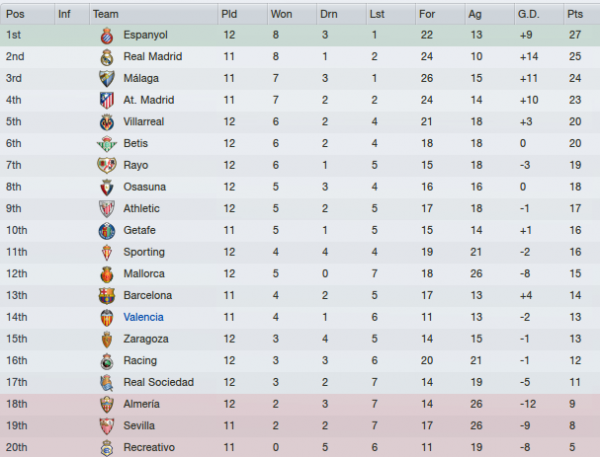 So we're mulling along in 14th place. Not exactly the best place to be. Barcelona are having a poor season as well. In fact, they approached me as well but I turned them down because I don't exactly have the fondest feelings (sorry Ana) for the team that's beaten my beloved Manchester United in two recent Champions League Finals =P
I forgot to take a picture of the starting finances but they weren't in good shape. I was £4 million in the hole. Part of that was due to the fact that we had a bloated, ageing roster. We had over 40 first team players and more than a quarter of them were at least 30 years old. On the bright side that meant I inherited an experiences and frankly, talented squad. There were just too many of them! That didn't affect my transfer budget too much, though, as I got a nice kitty of £12 million. Also, I was a little disappointed to find that my stadium could seat only 65,000 fans. In real life, Valencia are constructing the Nou Mestalla that is to hold 75,000 (although the project is in some jeopardy in recent times due to Valencia's on-going financial woes).
Now my squad:

So this is what I started with. Like I said, not bad. The squad is just too large, unwieldy, and old. Also, here is a screenshot of my tactics: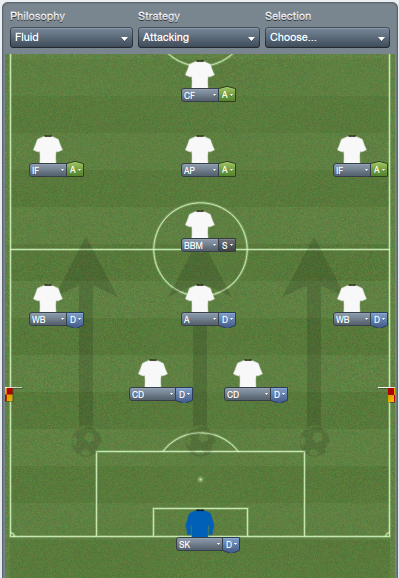 So it's the same formation I developed while at Cagliari. I think it combines offense and defense quite well. You might notice I changed the wingbacks from automatic to defensive. I often use them as support, however. I also switch quite often on how I use my CAM, switching from attack and support. In terms of set-pieces, I use Darren's Stoke settings.
Though this is jumping the gun a little, here is the squad I used after sending a lot of players packing during January. The players that are starting will have an asterisk after their name:
Keepers: Omar Traoré*, José Alejandro Comitre
Right Wingback: Léon von Osch*, Jacinto Sánchez Aracil
Central Defender: Jacaré*, Rafael Mauricio Pérez*, César Ruiz Sáez, Víctor Burgoñón
Left Wingback: Enrique García*, Mohamed
Defensive Midfielder: Carlos Hernández Martínez*, Andrés Giner
Central Midfielder: Raymond Visscher*, Óscar Baldero
Right Attacking Midfielder: Samir Bourzag*, Víctor
Central Attacking Midfielder: Juan Manuel*, Enzo Zidane
Left Attacking Midfielder: Thanasis Bargan*, Rafael Santiago
Striker: Vitaly Laptev*, José Antonio
So there is my 22-man core squad. Valencia also have a B team called Valencia Mestalla whose players I can call on in case I suffer a ton of injuries (which hopefully won't be the case), however, I already promoted their best players so I would really be scraping the barrel of talent. In terms of transfers, like I said I inherited a pretty solid squad. I only made 2 additions of Enzo Zidane, the son of Zinedine who was marginalized at Real Madrid so I managed to bag him for a paltry sum of £2 million, and Samir Bourzag, who I tried to sign during my time at Cagliari before settling for Valeev, for £10 million — far lower than his true value but he had demanded a move from Udinese so their hand was forced. Bourzag is hands down my best player.
Here is the list of players who left:

A ton of first team players, mostly during the January window, and the rest were youth and Mestalla players who had no future. A fringe few, like Leonardo Franzino (a player I once coached at Gladbach), requested transfers for various reasons, otherwise I would have kept them.
League
So 14th place. Let's take a look at how Valencia's form was before Unai Emery got sacked: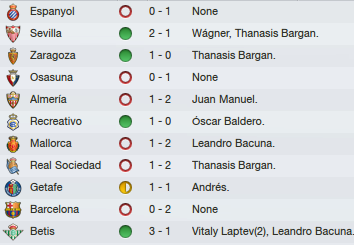 Wow. More than half were losses. OK, but the series is still salvageable. Let's take a look at how I did!
November

At Villarreal: Well my first two games weren't the best. Villarreal were a tough team in 5th place so I wasn't disappointed. The team is trying to gel under my unusual tactic so I couldn't expect instant results. Villarreal were the better team during the game as well so a draw was the best I could hope for.
Versus Racing: This was a game we should have won and we dominated. We got off to a dream start with Bargan scoring in the first minute thanks to an accurate long ball from Martinez. But after that we just couldn't convert. We came close a couple of times but couldn't take our chances. Things just became worse when Racing did the same to us in the 70th minute. They sent a long accurate bomb of a pass and our defense split open to give a Racing player free reign into our box.
December

At Rayo: They are a classy team right now punching heroically above their weight. It was an overall even affair and actually quite fun to watch. Rayo took the lead around 9′ but we equalized quickly at 12′ thanks to a sick individual effort from Laptev. But then Rayo responded quickly in-turn thanks to an error from Saez. It took until 77′ when van Osch received a low cross near the six-yard box from Manuel that we finally equalized thanks to a skillful left-footed volley, quite impressive from a right-footed RWB.
Versus Malaga: Finally a win! And even sweeter since it was against one of the best teams in the league. It was an even affair but my boys pulled it off. First, around the end of the first half Laptev shot from right on the edge of the box but the Malaga keeper parried it. Luckily, it fell to Aracil who finished it off. Laptev got one for himself 15 minutes later thanks to an assist from Bargan. I especially liked that goal because he pushed a Malaga player off of him to score. Despite the goal lead we were still shaky and somewhat uneven, with Malaga taking advantage of it in the 80th minute. Luckily it was too late for them to mount another serious challenge and I got to claim my first 3 points in Spain. This was followed by a solid win and performance against Sporting, a team that is slightly above us in the table, which bodes well.
January

At Athletic: They scored at 4 minutes, but we hit back to score 3 quick consecutive ones between 14′ and 25′. The game was never in too much danger after that, though we gave away a late one around 80′.
Versus Real Madrid: My first derby in Spain. According to the game, Real are my biggest rivals. They were also at the top of the table going into this game so it was nice to shave some points off of them in a game they dominated. They had 12 more shots than us. They could have won during stoppage time when Garcia pulled one of their players in the box but the Madrid player who stepped up muffed it and handed us the undeserved draw. I'll take it!
Versus Atletico Madrid: This was my first game where I had the finalized squad above and did they play well! We crushed them but sadly picked up 7 yellow cards . . .
Versus Espanyol: Another dominant performance aided by poor discipline from Espanyol that led to play most of the match with a man down and finish with two men down.
At Sevilla: It was an even match and Unai Emery's first return to the Mestalla. I was prepared for a loss until Laptev intercepted a poor pass near their box and punished them in stoppage time, securing us a point.
February

Versus Zaragoza: Statistically, we dominated. But watching the game was quite frustrating. We were so blunt in goalmouth, it was pathetic. If it wasn't for the own goal around 20′ (it was bad; a Zaragoza slid in front of his keeper to block a corner and put it in) we would have drawn. Having an extra man for the last 15′ still didn't help us score our own.
At Osasuna: An even game but we had the better chances and took them. It was also nice that my star man got his first league goal for us.
At Recreativo: The scoreline doesn't fairly reflect how well we did. We should have had another goal but it was wrongly ruled as off-sides.
Versus Almeria: My first league loss and against one of the worst teams in the league in front of our own fans. We were marginally better but it seems complacency crept into the squad and some players must have forgotten to bring their shooting boots.
Here is how the table looked after that last match: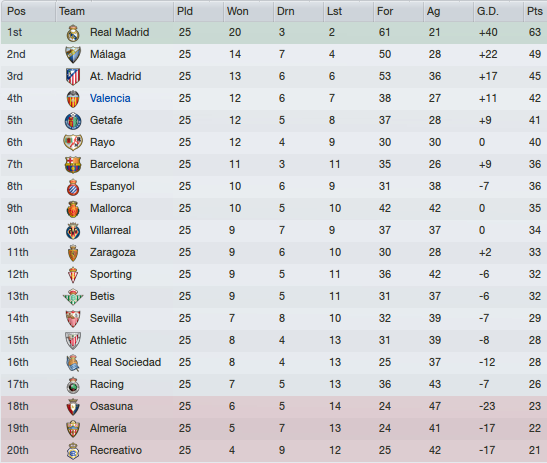 That 13 game unbeaten streak (8 wins and 5 draws) pushed us up 10 places. Currently we are in Champions League contention. And it looks pretty clear that Real Madrid are destined to win the title since they are running away with it. My only criticism of the team is that we are not scoring enough. Next transfer season I will try and fix that (perhaps with Xaropinho =P). I think maybe I need to change my CAM from attack to support. What do you guys think?
March

Versus Mallorca: Well, as you can see March was a tough month for us. But we started off brightly with a dominant win against Los Bermellones. The performance was capped off with Zidane's first goal for us.
At Getafe: Yeah, not too sure what happened there. The team just didn't show up to play and we got hammered. We conceded both goals with 5 minutes of each other, starting at 23′. After that we kind of just plodded along until in the second half Bargan came alive and put the whole team on his back. His herculean effort wasn't enough to salvage points, sadly.
Versus Real Sociedad: Though we had more of the ball, Sociedad were much more dangerous. They had the better chances. We almost couldn't get a draw until my substitute Santiago drifted across the face of goal from the left side and thundered it in.
At Real Madrid: Last time we faced them at home we took a point. But we couldn't contain Spain hottest team at the moment and they showed us why they're the best in the league. The scoreline only looked respectable thanks to Traore's immense effort between the sticks, stopping no less than 12 shots.
Versus Barcelona: Even when they are having a poor season Barcelona are dangerous. It was a plodding and boring game and Barcelona uncharacteristically let us have a lot of the ball but we couldn't do anything with it. Luckily for us, 34 year old Messi seems to have run out of some of the magic.
April

At Betis: Betis was the last team Valencia played before I took over. They won then but could only manage a draw now. We're looking a lot like Valencia at the start of the season now =( Also, Bargan is out for the rest of the reason after an injury from the Madrid game. It's good to see his back-up Santiago playing so well. He helped us respond quickly near the end of the game when we down.
At Racing: I would have been upset if we didn't do well against one of the worst teams in the league. We rightfully steamrolled over them and it was good to see Santiago bag another one. We are still not as clinical as I would like. We should have had another 2 goals.
Versus Villarreal: They were the first team we played after I came to the club. We drew then so I was quite pleased with this win, especially given our form of late. The was another great performance from the team and Santiago.
Versus Rayo: Rayo are a bogey team for us. We always seem to lose against them. We were the better team but gave away a penalty that sealed it for them.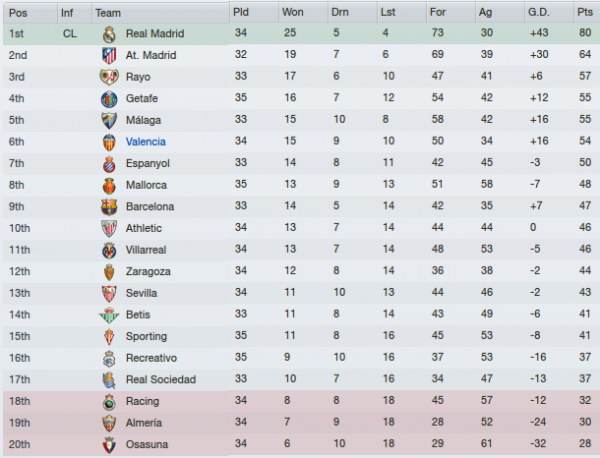 This was the table after the last game. Our poor form has dropped us 2 places. Champions League qualification is still a possibility but the Europa League looks a lot more likely now. Barcelona are still struggling and Emery has managed to keep Sevilla safe (I forgot to mention that they offered me a job as well). Real Madrid pretty much have the title wrapped up and Rayo are a shock at 3rd.
At Malaga: Malaga are one spot ahead of us and we needed to win all our remaining games to make it to the Champions League. Malaga are a tough team who cause us lots of grief. The first half was pure domination on our part and we were up 2 at the half. Immediately after the break Burgonon got sent off and conceded a penalty, which Traore saved! With a man down it was a much more even affair, but we got them on the counter twice. This led us to 4th place.
At Sporting: We followed up that magnificent performance with just the most pathetic performance against Sporting. We had 60% possession but couldn't do anything with it. Worse, we let them score. This left us in 5th but Malaga have a game in hand.
May

Versus Athletic: So the deal is we really needed to win our last games to have a hope of making it into the Champions League. Sadly, Athletic played a great game and the tiredness led to a goal flurry at the end. They scored at 71′, Martinez scored from a corner for us at 76′. Saez did the same at 81′ and I thought we might have it but they definitely fouled van Osch (and injured him for the last game) and had free reign to charge my goal and score. That last result put us in 6th and pretty much killed our Champions League hopes.
At Atletico Madrid: This team is doing quite well for itself and frankly this game doesn't matter too much. They secured second by quite a bit so a loss won't hurt them. Us winning won't put us in the Champions League and a loss won't take us out of the Europa League. I decided to give some back-ups a start and they entertained us enough to draw.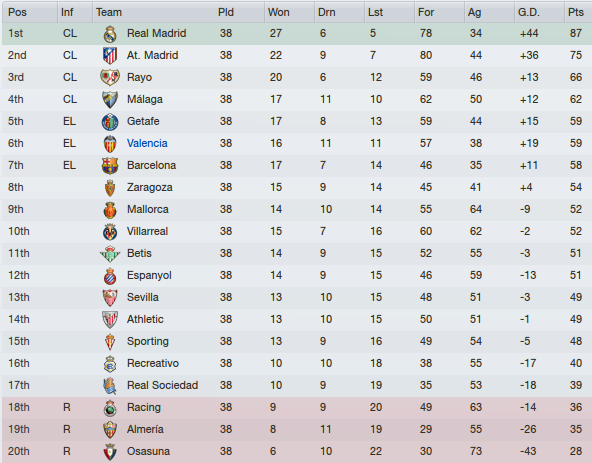 Not the most inspiring site. But readers will remember that my teams often have trouble closing out the season. Next season I can definitely see us make the Champions League, especially with some added firepower. We didn't really win any end of season accolades: Bourzag was 3rd on the assists chart with 13, Laptev was 6th in scoring with 16, but Traore won goalkeeper of the season! Good to know I have a competent man between the sticks.
Spanish Cup

Our first games in the Spanish Cup took place under Emery. I got to be the lucky guy who faced Rayo. Like I said, bogey team. They unceremoniously dumped us out of the competition and handed me my first loss.
Europa League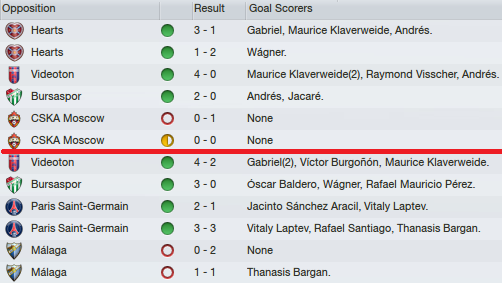 Games before the red line were under Emery. We were lucky to have an easy Group consisting of Videoton from Hungary, Bursaspor, and CSKA Moscow.

We qualified comfortable but first would have been nice. As you can see, the damage was done before I came and even the two wonderful wins didn't push us to the top of the group. When I saw that meant we drew PSG, I assumed the Europa League season was over. However, the team played with some true grit and we managed to pip them to the next round. Malaga are a tough team for us and wholly outplayed us in the first leg. I thought a extra-time might have been on the cards when we took an early lead in the return leg but it wasn't to be. So there ended the last competition.
To wrap up let's take a look at my player ratings: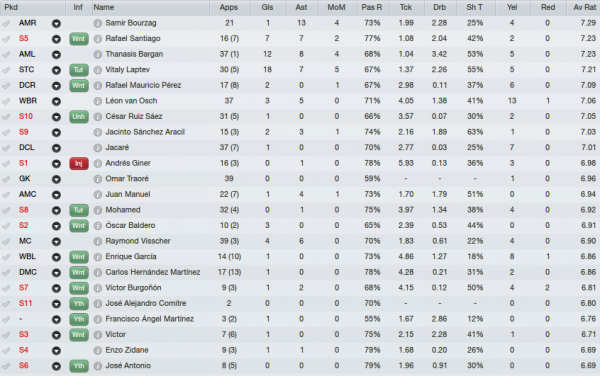 Not bad, 9 players above 7. Bourzag, my star man was the best player. He didn't contribute much in the way of goals scored himself but helped out by leading the assist chart with 13 and a second place 4 MoM performances. Laptev was my top scorer with 18 in all competitions, 7 assists, and 5 M0M performances. Bargan was another top player with 12 goals and 7 assists. Santiago is one player I must cultivate. 16 appearances led to 7 goals and 7 assists — a great stand-in for when Bargan was injured.
So that's all I have for now. Please leave me your comments and suggestions. I would love some advice with regards to my formation. I look forward to your guys' feedback!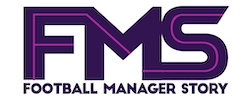 Subscribe to our Newsletter