Hello readers and a warm welcome back to another update of my Football Manager Story brought to you from a bright and sunny Southern Ontario, Canada. In the last report we saw Vancouver qualify for the NACL but also slip into a state on financial uncertainty….
June 2014
The first three games of June saw the return of Darlington Nagbe to the starting eleven after a long injury and he made an immediate impact scoring in all of them, though we did suffer our second defeat of the MLS season away to Real Salt Lake in a top of the table clash. Seattle didn't cause us too much of a problem as we maintained a 100% record in the Cascadia Cup.

Next was the arrival of Toronto at BC place whom we had just recently beaten in a dramatic penalty shoot-out to take the Canadian title. Mustapha Jarju got things going early on with a brilliant goal, running on the diagonal past three Toronto players before curling the ball into the net. His second before the interval put us in the driving seat with Hudson and Henry (former Toronto player) adding to the tally in the second half.

The following game was away to Columbus where poor passing and two own goals – that's four in the last three games sealed the victory for our hosts. We had no such trouble on the second leg of this three game road trip where Scott Sinclair tormented Colorado for 90 minutes and we really should have added more than the two goals that made the score-board.

So the month ended with us just a point behind Real Salt Lake but importantly we had a game in hand.

Trades & Transfers
The middle of the season provided a good opportunity to review the squad in alignment with our "Moneyball" program though prior to that we off-loaded the unsettled Adam Payne who had basically threatened to disrupt the squad. He was traded to SKC for a 2015 supplemental draft pick.
Defensively we had only one potential issue brewing that being Alain Rochat as his heading stats were beginning to fade from previous seasons so this could be possibly a good time to offer him to the European market where some interest had been shown before.

Offensively club captain Edinho was having a poor season though I think trading or selling him now could be bad for moral but is certainly something to keep an eye on. Castillejos is a worry and he think he's going to have less to offer over the remainder of the season so I'll put him out in the market and see what happens.

The scouting team – which I'd forgotten about had found this young American down in the Mexican Promotion League and joined us July 1st on a free transfer. Hernandez will be the number 3 striker with behind Jarju and Hudson.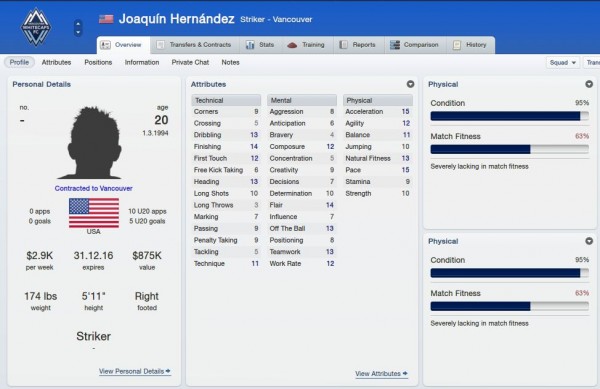 Having joined Vancouver around 18 months ago on a free Gonzalo Catillejos was sold to Argentine side Rosario Central for $400,000.00 of which 33% goes to the MLS. Still, that's not a bad profit.
AML Tenema Traore finally arrived from Africa after a year's wait which I hope will be worth it and we also picked up on a free Jordi Pablo who had been released by Villareal of Spain.
July 2014
July began with the final leg of our road trip at West Coast rivals LA Galaxy where we were immediately in trouble after the sending off of RB Steve Draper just 9 minutes in. Young defender Michael Rodriguez would go on to make a sterling performance in that role as part of a three man defence and at the other end Sinclair caused so much trouble setting up two goals in each half for strikers Hudson – with a great diving header and Jarju with an easy tap in.

Our first real set-back of the season came a few days after the LA game as Sinclair was injured in training. As he's been such an important part of this season's success it will be interesting to see how the team reacts.

The loss of Sinclair didn't seem to have too much effect on the team with newcomer Pablo setting up the opening goal for Jarju inside 2 minutes as we beat Chivas quite comfortably at home. After one games rest Nagbe got himself a handy little brace in a more challenging game away to SKC making that right wing slot a very competitive position amongst three players.

The summer also saw the World Cup in Brazil take place with the host nation getting eliminated by Cameroon in the second round who went on to thrash Spain but would then lose to England in the final led by Roberto Mancini who resigned from the role days later.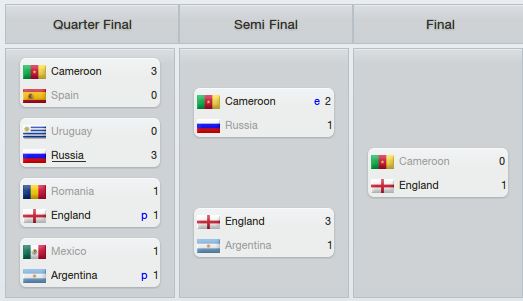 Possession maybe nine tenths of the law and in football it doesn't always mean you will get goals as was the case in Chicago where and solid defence frustrated us throughout the match resulting in a goalless draw.

NACL Champions League
We began qualification for the group stages by going one down inside 20 minutes at BC Place to Jamaican side Portmore United who held that lead until half time. A very stern team talk changed things immediately with two goals from Brazilian Tardelly in the space of eight minutes and a powerful header from a corner by Ike Opera – out first for some time from a set piece that sealed the victory.

August 2014
We stayed at home for our next MLS game which saw our drop in form continue as we struggled to make any impact in a 1-1 draw with Houston. A double injury blow was also a feature of this game with defender Ike Opara and Tardelly both now out for 5 weeks. The second leg of our NACL qualification match didn't go much better but we scraped through with another draw. Striker Tony Hudson became our next injury victim during the trip to Jamaica and he will be out for 5 weeks also.

The draw for the group stages looks extremely difficult as we find ourselves in Group D along with Philly and Toluca of Mexico – both strong teams. This could be the "Group of Death".

Back at BC Place we hosted Eastern Conference leaders Philadelphia and within twenty minutes Sinclair had ripped them apart, creating a penalty, an assist to Kramer's goal as well as being instrumental in reducing the visitors to ten men. Philly re-grouped and kept Edson busy between the sticks for the rest of the first half then after the interval Sinclair's pace set up goal number 3 for Nagbe and that was game, set and match.

Two wonderful goals by Sinclair marked our return to the East Coast as we ended DC United's 10 game unbeaten streak in front of their home fans though we were a more than lucky in front of our own thanks to a deflected shot by Galloway to beat Real Salt Lake with just 2 minutes left on the clock.

We finished up the summer in Carson California where Chivas USA totally outplayed us with the home side having 68% possession. Undoubtedly it was our worst MLS performance of the season and a late consolation goal by Gershon Koffie did nothing to calm to aftermath in the dressing room.

 Standings: Western Conference

Overall:

Trades & Transfers…part two
Central defender Alain Rochat refused to sign a new contract and was quickly snapped up by FC Luzern so he will return to his native homeland in January. A scouting trip to South America found Rafael Arboleda at Columbian side Millionarios and we snapped him up on a free as his contract is expiring in December.
I think he will be a good replacement for Edinho as the Brazilian midfielder seems to have gone through a dramatic drop in his stats.

 In the MLS "Weighted Lottery" Marc Pelosi was this season candidate having been released by Aberdeen so we threw our name into the draw and we won making our left flank very strong indeed along with Sinclair and Traore. Young Canadian left back Ermes Ferrari was waived to make way for Pelosi.
NACL
As expected our first two games in this season's group stages were tough encounters both of which were decide by a single goal and a first for Joaquin Hernandez in a Vancouver shirt.

So we top the table and with our next game against Marathon we could really put ourselves in the driving seat for a place in the quarter-finals.

Finances:
I'm sure these will improve at some point but it feels like we are on a slippery slope into a financial hole that will be very difficult to claw back out of. Hopefully some fabulously wealthy businesman will come along and wipe the debt off. Yeah right!

Fixtures:
The final two months of the season will start and finish with Cascadia Cup games and a very cramped schedule will also feature four NACL matches. Barring anything silly happening we should make the MLS Play-Offs for the fourth season running.

 Well, that's completes a rather full and busy update so thanks for taking the time to plough through it and I look forward to your comments.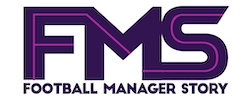 Subscribe to our Newsletter