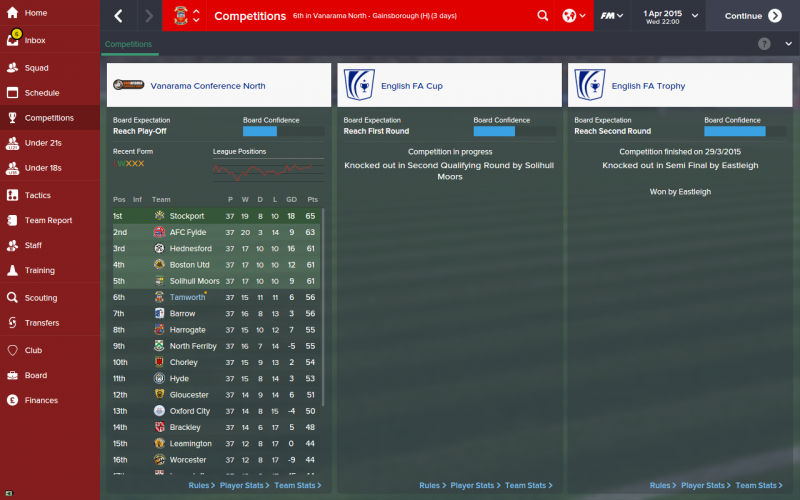 The season is starting to draw to a close. There's four games left, and we're still 5 points off the playoffs. I'm actually still 3 points away from saving my job. It's safe to say that things aren't that great. A slight shining light of the season has been that both Thornton and Mettham are being tipped as potential winners of the Player of the Season award.
4th April. A date that will be etched onto my memory forever. At home to Gainsborough who sit 22nd in the table. If ever there was a must win game, this was it. I hoped the players would turn in a good performance, unfortunately it wasn't to be. We could've played all day – none of my lads brought their shooting boots. The game finished 0-0 and possibly finished our hopes for making the play offs.
It wasn't the only thing that was finished. It turns out I hadn't managed to get the required 9 points needed to save my job, so with three games of the season remaining, the board took the decision to sack me.
I take slight solis in the fact that it's not just me getting sacked this week. Brentford sack Mark Warburton, and Roy Keane steps down as Villa caretaker manager.
I was keen to get back into football quickly. I know Tamworth hadn't gone that well, but I saw that Annan Athletic were looking for a new boss. I fire them an email with my CV. To my surprise, I get offered an interview less than two days after applying. I get in the car, and head up to Scotland to meet with Annan Chairman, Henry McClelland. I thought it was a fairly good interview. He wanted to know if the issues at Tamworth would be the sort of problems I'd be bringing up to Annan? I say no, of course not. I guess we'll have wait to see what he thinks.
In other managerial news, Huub Stevens takes over at Villa. Keith Hill bags the Brentford job.
Unfortunately the Annan interview wasn't successful. Despite being satisfied with my vision for the club, they appointed Steve Howard instead. Not a trouble, I thought. I'd keep my eye out for other vacancies of interest. One vacancy did catch my eye in May. Colin Cameron decided to step down from his role as player / manager at Berwick Rangers. Given its location on the Scottish borders, (an hour back to Newcastle and an hour up to Edinburgh) I decide to throw my hat into the ring. With almost the same speed as Annan, I get an invite to meet the Berwick board.
We have a great chat. I didn't even check my watch, but I'm sure we were talking for a good few hours. They even take me out for a bite to eat and a glass of wine. They seem lovely. Naturally when they offer me the chance to charge of the Scottish League 2 side, it doesn't take me too long to accept. I ring the wife and tell her that we're moving back up north. She tells me Aston Villa have been relegated from the Premier League.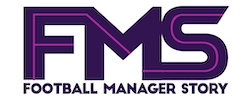 Subscribe to our Newsletter