Hello everyone and it's a pleasure to bring you another update of my Toronto FC Football Manager Story. The Reds finished up the spring session hitting a bad run of form mostly in part due to the loss of both my full backs through injury and morale had spiraled down to almost rock bottom…
June 2017
We started off the summer semester with two players gaining Canadian citizenship which freed up spots on the roster for additional international signings which is timely as a new transfer window will open up in just a few weeks.
With an international break upon us I arranged a fitness friendly and used the occasion to try out my asymmetrical "slant left" tactic (Vancouver / Sydney) which had been sat unused as the back-up tactic. The team adapted well to it and we came away with a 3-0 win over Up State New York side Rochester.
We kept with the same tactic for the second leg of the Canadian Championship, the first leg ending 0-0 in Montreal. New Canadian and right winger Edwards Acevedo broke the deadlock with a magical goal reminiscent of Maradona's 1986 goal against England. The celebration was quickly muted as Montreal equalized, though an own goal on the stroke of half time swung the pendulum back in our favor. David DiPlacido came out after the interval tormenting the Montreal back four and set up a goal for Ethan White to head home off a set piece and scored one himself from distance to put the result beyond any doubt.
So we lifted the Canadian Championship but more importantly secured a spot in the North American Champions League! We also receive $150k into our allocation (transfer) funds.

We stayed at home as we continued MLS action beating Philadelphia by a single goal followed by a disappointing draw with Colorado who did some rock solid defending.

Next up was New York where we took the lead after just 13 minutes through Richard Hunt who stuck his foot out to connect with the ball as it bounced around the penalty area. The remainder of the 1st half was quiet until just before the interval when Acevedo was sent off and as we regrouped New York equalized. From the kick off we pushed forward and within two minutes Harry Kane finally got his first goal of the season which may just save him from being traded. New York were reduced to ten men themselves in the second half which opened up enough space for substitute DiPlacido to operate in and his presence forced an own goal to kill the game off.

From the East coast we flew across the continent to Carson, California to take on the LA Galaxy and off the back of his first goal for the club Kane struck twice in the first half – both shots from outside the box with striker Richard Hunt adding a third for a comprehensive win. With the lads now fully comfortable in the slant left formation we hit pay-dirt again in our next outing at home to Houston bagging another three goals and keeping a blank sheet at the other end. We suddenly looked to be back on track again.

July 2017
Our Canada Day weekend game matched us at home to New England where we pulled off a fourth straight win thanks to a first class performance by midfielder Guillermo Cerna whose delicate passing set up yet another goal for Kane who himself is playing much better as an AMC. The second went to DiPlacido who practically broke the net with a vicious strike on the stroke of half time.

Two days later we lost Gershon Koffie and David DiPlacido for a month as both were called up to the Canada squad to participate in the Gold Cup with who were drawn with Honduras, Mexico and Guatemala. Veteran all-rounder Julian DeGuzman also announced his retirement at the end of the season though I may just waive him if the right replacement comes along early.
We then began a two game road trip starting with a very pedestrian like performance in Ohio where we saved a point against Columbus thanks to Cerna who scored his first ever goal for the club. Down in Texas it was the complete opposite as Harry Kane opened the scoring early, chipping the Dallas keeper from outside the box. Then a sensational 10 minutes by both back-up wingers – David Morgan who ripped apart the back four supplying three crosses for right winger Adam Jackman who finished each one them off in style. A second half own goal and a rare effort by Veerbeck completed the demolition.

On returning to BMO Field we easily dispatched of San Jose whose defence was no match for winger David Morgan who again put in an excellent 90 minutes creating a goal once more for Jackman and was instrumental in setting up Hunt who was brought down in the box and converted the penalty himself. Cerna added the insurance goal in the middle of the second half.

"MoneyBall"
With the international transfer window opening for a month (domestic ends in September) July provides a good time to take a look at the squad and determine if any changes should be made. The only real worry was age and on defence that was Ignaciao Boggino whose contract was also expiring.

To my surprise finding a replacement proved to be somewhat a difficult task but once I did Boggino was offered around the league and snapped up by Vancouver for a 3rd round 2018 draft pick – I can live with that.
Coming in then from Chilean side Nublense is Andreas Bianchi and at just 20 years this young Argentinian seems to fit the bill nicely as a long term investment even though I had to fork out $325,000.00 to get him.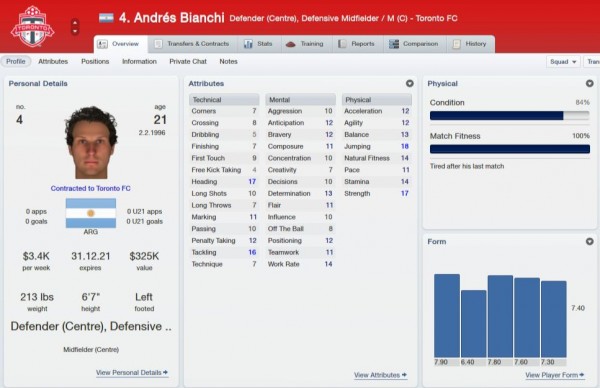 Offensively it was a similar picture in that I had a couple of aging players with contracts expiring but other than that I was pretty happy with the stats the front office guys had come up with. In the coming weeks though Holden would be sold to Colorado for $150,000.00 as the renewing of other player contracts meant I went over the allocation for senior players on the squad registration rules. I would keep DeGuzman as releasing him would be a blow to moral and encourage fan backlash. Best just let him retire gracefully.

Bianchi made his debut in our next game at home to Vancouver but it was David Morgan who stole the show as his first run down the left ended in a cross ball that DiPlacido headed home after just 55 seconds! A few minutes later and a perfectly taken corner by Morgan found the head of Bianchi who was looking like a great supporting act already. Such a quick fire start forced Vancouver into an early lockdown and we were desperately unlucky not to add to our tally though we did hand our visitors a very easy consolation goal off a set piece.

Heroics by goalkeeper Chris Seitz who pulled off a string of fine first half saves kept us in the game away to Sporting Kansas City. A stern half time talk produced the required outcome as we pounded our opponents goal scoring three second half goals. At BMO Field there was no such turnaround as we came up with one of our most drab efforts of the season in a shock loss to Portland to round out the month.

In Gold Cup action Canada crashed out in the group stage with winners Mexico going all the way to the final where they comprehensively beat the USA 3-1 at the Gillette Stadium. I kept my fingers crossed for an announcement about Canadian manager Nick DiSantis but it never came.

For the past month we had been trying to thrash out a deal to renew Harry Kane's contract as originally he would only sign for a year. Whilst going through that process we got gazumped by Cardiff City so Kane will be gone at the end of the season.

August 2017
We began our Champions League journey with a qualifying game at home to Nicaraguan side Diriangen FC who provided very little in the way of competition for us as we easily brushed them aside at BMO Field with our front men enjoying lots of space to operate in. Unfortunately left winger David Morgan who has been in superb form picked up a serious injury and will be gone for two months.

That wasn't the case on returning to MLS action as the Colorado defence was tighter than a drum and the game ended disappointingly for us in a 0-0 draw. With the senior team having already done the job at BMO Field I fielded mostly developmental (reserve) players in the second leg of our NACL qualifier in Nicaragua. They didn't let me down either as they romped home with a stunning assault on Diriangen scoring six and out-performing the more senior players to send us through to the group stages.

The draw for the group stage of the NACL was less than kind to us and we face a mammoth task of qualifying for the knock out stage as we've ended up with Mexican power-house Amercia.

Next up was the visit of Chivas USA and it was a case of just wide, just over the bar, off the line as a frustrating evening ended in a goalless draw. Should have kept the reserves in!

Group A NACL got underway as we took on New York at BMO Field and we went behind after just 15 minutes conceding from a short corner as our marking was totally insufficient. Minutes later some fancy foot-work by midfielder David Rubio ended with a through ball to DiPlacido who quickly made it 1-1. The go ahead goal came off an inch perfect corner by Cerna who found the head of defender Ethan White who directed the ball into the net with power. The reserves were doing fabulously just had they did in Nicaragua until 20 minutes from the end when once again horrific marking on a set piece allowed for the equalizer. A draw is not the end of the world but three points would have been nicer at home.

A dominant performance at home to Seattle saw us pick up another 3 points in the league though given our shots on target I was befuddled by how we managed to score just 2 goals and one of those was from substitute DeGuzman. Unfortunately the game ended on a sour note as right winger Edwards Acevedo tore his calf muscle and will be out for the rest of the season.

Essentially that meant an emergency dip into the transfer market and with the international window having just closed we had to look domestically and in truth there wasn't much on offer especially as I didn't want to spend any money. We pinned our hopes then on LA Galaxy reserve player Nate Murphy whose attributes are decent though from a "Moneyball" review not so good. Hopefully a change of scenery will bring a change of fortune.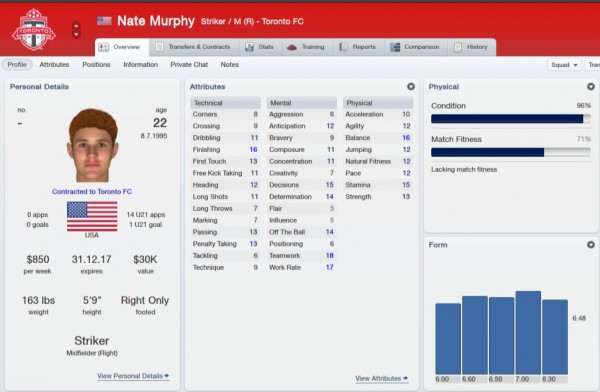 The summer came to a close in Costa Rica where we took on Saprissa in the second game of our NACL group. Having tied our opening game 2-2 we were looking for a win and got exactly that with Verbeek scoring a splendid goal from just outside the box and his replacement Adam Jackman supplied a perfect corner for Gunnar Nordstrand to head home. A late rally by the hosts afforded them a goal but we controlled the remaining minutes to secure the win.

So the win put's us second place in the group and we will be at home to America next.

In the MLS Standings we are far ahead of the nearest team DC United and reaching the play-offs doesn't really look in any doubt.

We lead the Supporters Shield standings by 5 points over Canadian rival Vancouver with LA and Portland pretty much adrift. Top spot here guarantees a place in the NACL next season.

Not too much to report on our finances which remain in the black and with no immediate worries.

Coming up we have 4 NACL games still to play and in the MLS we should have a comfortable run to the end of the regular season. My only concern is four games in a week at the end of October which could be a game-changer.

So, that round's out this update so thanks very much for taking the time to read it. Have a great weekend and enjoy the closing ceremonies of the Olympics which should be another spectacular show!
Will you be placing a bet on the football season this year, but are unsure which online bookmaker to head to, to make these bets? Come and check out the brilliant sportsbook at betting.betfair.com today!

Subscribe to our Newsletter