Greetings from Canada and I'm delighted to bring you yet another fresh episode of my Football Manager Story. Yes, I have done other stuff than play FM during this past week off work! In the last update the 2017 season had come to a close with Toronto FC winning the Eastern Conference, The Supporters Shield, The MLS Cup and the Canadian Championship so it had been quite a year. On top of that I had been appointed Head Coach of Canada following The Canucks disappointing 2018 World Cup qualifying display.
If you may recall Toronto had reached the quarter-finals of the North American Champions League and my intention is to stay with the club until this competition is over and then concentrate on Canada full time. Will you be placing bets on football matches this weekend? Get free bets.co.uk. 
November – December 2017
The first order of business following the end of the season was to review the squad and the only real changes I wanted to make was in defence, though I began searching for a player to replace Kane as well. Those highlighted in yellow would be leaving the club at the end of the year and the plan was to now move Bianchi up to the DMC slot from the back four to replace De Guzman who is retiring.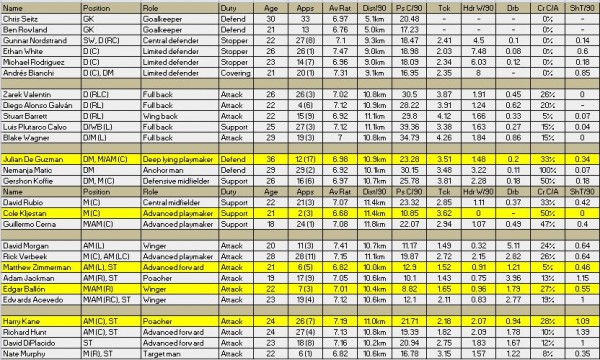 Filling the void created by Bianchi's positional move would be Doneil Henry whom I'm bringing back to Toronto after signing him for Vancouver but had been traded to FC Dallas for two seasons. I had a gut feeling for an extra right back so picked up veteran Sean Franklin for $40,000.00 from Philadelphia. Sean had been on the "Moneyball" shortlist for some time now.
Speaking of Moneyball – which is not a foolproof system for success, I've received a few emails about how to set it up. Basically, I start with the player search screen and then selected Custom followed by Customize Current View as shown below.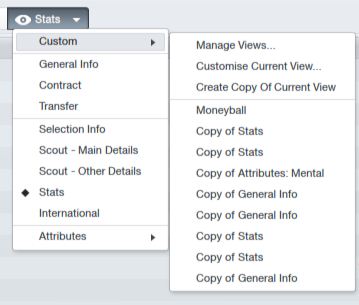 Having done that you are then given a choice of what you want to see on the player search screen and indeed the same can be done for your own squad. The process is to simply add or remove categories until you arrive at your final list and then of course give your list a name in this case Moneyball.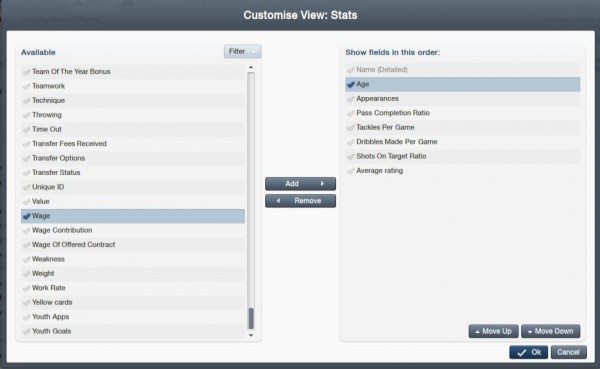 The example below then is how the customized view or Moneyball view looks for my game and having the salary showing next to the player stats really helps determine where you can get good value for money. Keep in mind though stats are wiped clean at the end of the season for the leagues you have loaded into your save so I've always tried to bring in a few players the moment the season is done.
Of course I have selected players purely on their attributes if the stats aren't available but have tried to avoid that as much as possible to keep consistent with the Moneyball theme introduced in the 2014 season.

***Tip: When offered players through media messages be sure to check out the team they are playing for as well simply because there could be some gems at bargain prices!
Hope this helps and so back to the story….
December saw the draw for the NACL Quarter-Finals and I was happy that lady luck was shining upon us as we drew the Puerto Rico Islanders which is probably the weakest team in the last eight. The games will begin in March through to the final in May.

As the final week of 2017 approached the board of directors announced a very nice Christmas present in the form of four new sponsorship deals which will see that income rise by around $400,000.00.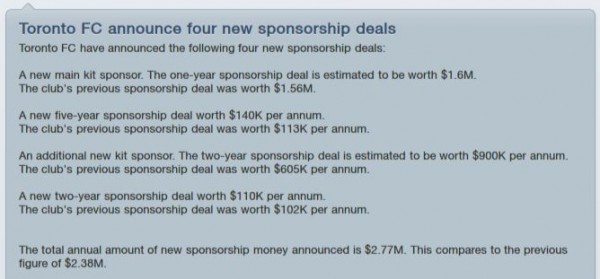 Also veteran player Julian De Guzman retired at the age of 36, his career spanning 20 years, 9 of those with Toronto FC. The year ended with the release of four players plus Harry Kane who joined Cardiff City.

Financially 2017 on a high thanks to great ticket sales and of course the previously mentioned sponsorship deals.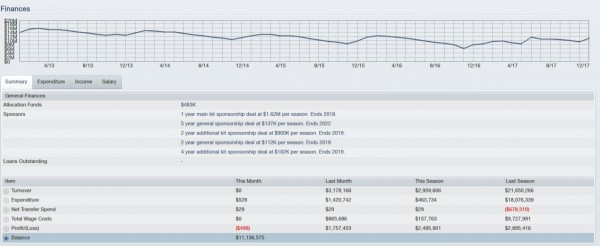 2018: January to March
Early in the New Year brought the MLS Draft and Supplemental Draft which I always look forward to as this is basically how domestic youngsters are brought into the team. This year however was a complete waste of time as we had traded our picks in previous seasons for other players and therefore our 1st pick was 53rd overall which was almost at the end of round three. We did select a couple of players as a matter of course but there's a good chance they will be waived so are not worth mentioning.
Once the international window opened we made moves on two players – neither were Moneyball signings.
AMC: Charles Aranguiz – Kane's replacement
Striker: Igor Andreev
Also we picked up American GK Mitch Hall who for some reason was waived by Philadelphia but looks like a great prospect for the future.
Aside from an early scare against Fort Lauderdale, pre-season went very much as planned and I was more than happy to see Nate Murphy bag himself some goals, that just may keep him in the squad as par for the course, I'd found myself with one more senior player than allowed before the registration deadline. A quandary for sure!

Pre Season Results:

In a rare move I had made a request to the board to upgrade the training facilities which they readily agreed to and then to my utter surprise I found out we were building a new stadium!! How did I miss that message back at the end of last year??

Still our overall finances appear to be in good shape so no pressing concerns.

Finally the regular season is upon us once more which will startat home to New England after our NACL Q/F match up with Puerto Rico. As announced earlier I will be resigning from Toronto as soon as the NACL is over somewhere within this list of fixtures.

** Authors note**
Coming soon, story continuation….Team Canada "See thee Rise".
Cheers everyone, have a great weekend, enjoy the start of the EPL and thanks for taking the time to read this update!

Subscribe to our Newsletter