Hello friends and a warm welcome back to my Football Manager Story which last time reviewed the pre-season activity but now it was down to the real business of defending the MLS title and trying to qualify for this season's North American Champions League.
March  – May 2017
Opening Day saw us head to Illinois where we came away from Toyota Park with all three points thanks to a perfectly placed header by defender Ethan White. Back at BMO Field a superb performance by right winger Adam Jackman saw the youngster (18) score two smashing goals on his 1st team debut as we over-ran Los Angeles.

My 300th game as a manager was in Toronto as we took on Columbus and opened the scoring inside 20 minutes through Richard Hunt which was made possible by a determined run into the box and a square ball by Cerna to set up the striker. We easily dominated the game but it wasn't until late in the second half that we added two further goals from set pieces which were both finished off by our central defenders.

Away to Houston we put in a carbon copy performance of the Columbus game which was highlighted by as superb curling shot into the roof of the net by left winger Rick Veerbeck. The trip from Texas back to BMO Field was well worth the long journey as we bagged another three points with two second half goals in front of our home fans against DC United.

On the other side of the world the team I had assembled in Sydney before leaving for Toronto had just been crowned A-League champions which was somewhat satisfying to see.

Veteran Julian DeGuzman opened the scoring just before the half hour to give us the lead over last season's beaten finalist Real Salt Lake in Utah. In another one-sided game it wasn't until the 58th minute that we doubled the lead with Richard Hunt converting from the spot after being tripped in the penalty area. Edwards Acevedo wrapped the game up with a stunning strike from the right side of the box to take away all three points.

Returning to Toronto we sprinted out to a three goal lead before half time with defender Ethan White heading in two smashing goals, both from corners. A brilliant through ball my David Rubio found winger Edwards Acevedo who beat the offside trap, rounded the keeper and tucked the ball home. An avalanche of goals looked likely until striker Richard Hunt got sent off before half time thus putting us on the back foot for the remainder of the game.

Our first opportunity to get into the NACL (the second being the Supporters Shield) meant eliminating Edmonton in the semi-finals of the Canadian Championship which we struggled to do but in the end managed it over two legs. The return of David DiPlacido drew roars from the fans and he acknowledgment them with a brace at BMO Field.

Qualifying for the final came at a price as we lost both starting full backs to injuries and will be out for several weeks.
Next up we were off to the West Coast to take on Vancouver, the team I had created into an MLS dynasty. The Whitecaps having just crashed out of the Canadian Championship to Montreal so were in no mood to lose again to a domestic team and after a fairly even first half they turned on the style following the interval with Mexican striker Carlos Fierro whom I'd signed on a free and now worth $2.3 million ran our defence ragged and chipped in with two goals himself. At the other end DiPlacido and substitute striker Kane failed to make any impact whatsoever though more worryingly is Kane's ability to make himself a known presence on the field this season. This defeat also brought to an end our 100% record.

It was off to Quebec next to face Montreal in the 1st leg of the Canadian Championship Final but a tired and uninventive starting eleven failed to make any serious threats to our opponent's goal leaving things unfortunately in the balance for the 2nd leg as Montreal have shown they are no pushovers.

To finish up the Spring Semester we returned to the West Coast this time to Portland and by the time the 90 minutes was up the condition of the team was all below 70% with morale ranging between poor and abysmal. In less than three weeks this team had done a complete 180 in terms of performance setting off alarm bells throughout the club…

Results Summary;

Eastern Conference;

Western Conference;

An oversight on my part as I hadn't realized we had a connection with Spurs so at the end of May received this very nice message to help our bank balance. Hopefully this will go on the June books as it;s not showing up on our ledger yet!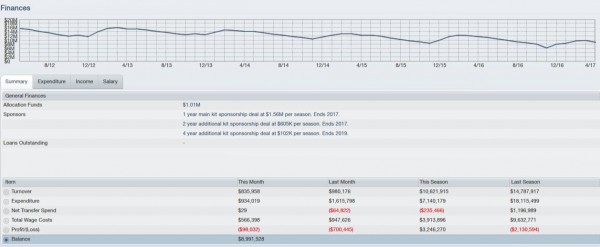 Okay friends, that's how things are in Canada and my apologies for the delay between updates. Endless 30c weather makes doing the easiest of things a chore including sitting at my PC!
Thanks for taking the time to read this and I look forward to your comments.

Subscribe to our Newsletter