Hello friends and welcome back to a fresh update of my Football Manager Story now featuring my home city and club, Toronto FC. My apologies for the long delay between posts but Toronto has suffered from heat waves, violent storms and my basement got flooded making for a very interesting past couple of weeks.
Last time out I made a dramatic move from Australia back to Canada taking "The Red's" into the play-offs and eventually winning the MLS Cup. Was that just a fluke or can Toronto repeat that performance this coming season?  First though the all-important off season and that's where this chapter of the story will take us….
November – December 2016
The transfer window immediately opened following the MLS Cup Final and we would probably end up being the most active team in the league. A first review of my squad revealed that approximately half of the registered players were over 29 years old with some serious aging veterans in the DMC area. The striker situation wasn't looking that much better either.

Financially the club was pretty sound with over $6,000,000.00 in the bank though on salaries we were way over budget and in fact were paying out on players who were no longer at the club having waived them during the season. With some contracts expiring at the end of the year this situation seemed perfect for my "Moneyball" system.

Moneyball:
First off I focused on the offence and having 5 strikers available that was at least three too many especially with a single forward tactic. The immediate concern was the fact that the two strikers highlighted below were making $36,000.00 per week between them yet their stats showed that they weren't producing the goods in front of goal compared to cheaper players. Both of these guys were on their way out. Also English striker Harry Kane is due to join the team in January and that will probably mean the departure of Cooper or Bunbury as well. Other than that we just need to bolster the flanks and midfield.

Defensively the main concern is the DMC area of which two out of three will go with long standing servant Julian De Guzman being allowed to stay until his contract is up next season. However, I'll need to find a new starter. Either Rusin or Boggino will go if a "younger model" can be found which the same can be said for the RB role as well as Jamie Peters stats aren't that impressive. The LB role is tricky as one player is out on loan whilst the other is in on loan from an African club so I'm not sure how that will develop.

So, before 2016 was over we actually did very well in offloading some of the unwanted players, mostly for future draft picks but I did trade striker Teal Bunbury (which means keeping Cooper) for an old Vancouver favorite Gershon Koffie which I was delighted about.

With the gap widening on the amount of salary available we quickly moved into the transfer market making what we felt were key positional signings all of which will be joining the team in January 2017.
Central Defender: Gunnar Nordstrand – Tromso
Defensive Midfielder: Nemanja Matic – previously at Sporting Lisbon and Chelsea and will be a Designated Player meaning the league will pick up some of his salary.
MC / AMC: Guillermo Cerna – La Serena (Chile)
Here are Cerna's "Moneyball" stats whose dribbling, heading and passing really stand out I feel.

Striker: Harry Kane – started career at Spurs.
Happy New Year – 2017!!
Financially January got off to a great start with the announcement of an increased sponsorship deal which meant a raise of over $300,000.00 and a tidy back balance of $7.5million.
Even better news on the player front as for some reason Vancouver released David DiPlacido and we pounced on that deal like my cat on a bowl of fresh Whiskas! DiPlacido did not hesitate to re-join his old club and I was delighted to beworking with him again.
One of the hardest roles to fill had been that of left back and in the end we did a deal with Houston trading midfielder Corben Bone for Blake Wagner. At 28 he's a little older than I would have liked but necessity outweighed age in this case.
2017 Superdraft:
Early January brings with it the draft process which I always enjoy immensely despite the fact that success means generally picking last in each of the three rounds and this year was no exception. It's interesting to see all the up and coming talent in one place but not so good to see them leave for your rivals!!
Still, there was room in the roster for a couple of developmental players as they are called and in the end we signed two – winger / forward Matthew Zimmerman and ironically a left back in Diego Alonso Galvan.
Another area of concern had been a back-up left winger and the day after the draft process we made a move for the # 11 draft pick David Morgan offering in exchange striker Jackson Martinez whose making $30,000 a week and is only worth $240,000 and veteran Kenny Cooper as he was no longer needed with the arrival of Di Placido. Portland quickly agreed to the terms and that greatly reduced my salary budget.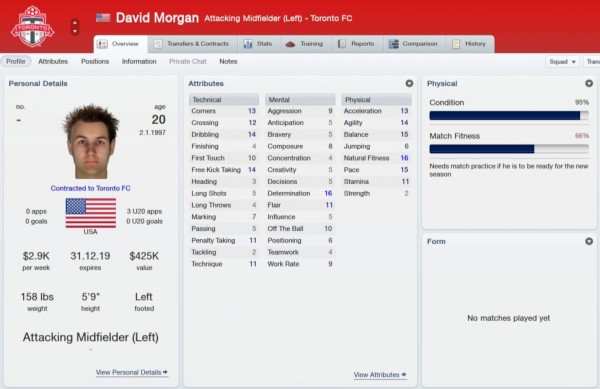 Salary Budget:
2016 Allocation: $65,475.00
2017 Allocation: $68,552.00
2017 Current: $50,411.00
The #1 draft pick from 2014 David Rubio had found himself on the waivers list having not quite lived up to all the media hype. I'd wanted him at Vancouver and having still faith in the youngster made him a Toronto FC player gazumping Philadelphia in the process.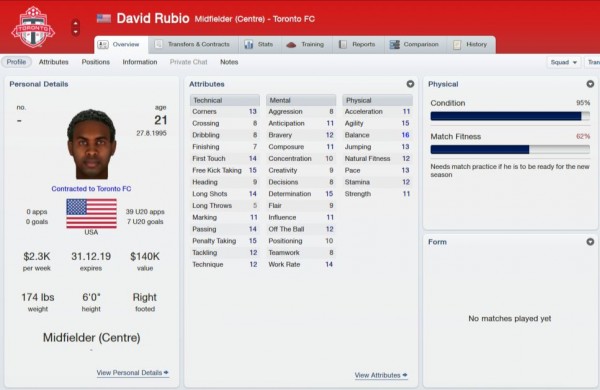 We signed two more players before the month ended exchanging RB Jamie Peters for Stuart Barrett from Vancouver and finally spent some allocation funds on American goalkeeper Jose White who will in fact be third string so will play in the reserves.
All in all it had been a very satisfying but busy month as we had been able to change the team in exactly the way we wanted, making a small profit at the same time and ending up $7,000.00 below the weekly salary cap. From a budget perspective it was Mission Accomplished but now could this revamped side perform on the field?

From a coaching perspective there is still some work to be done in this department but due to board restrictions there is very little room for additional coaches of quality so I'm remaining with those I brought in when I arrived.

February began with a huge set back as DiPlacido was injured whilst playing for Canada and his broken ankle will mean at least 4 months out of action. We started off pre-season with an impressive 9-0 win over Baltimore and ended up scoring for fun over the next six games with my other two strikers Hunt and Kane in fine form.

With the opening game away to Chicago just eight days away we do have a couple of injury worries but hopefully the depth of the squad will see us through.

No such worries with the bank balance as we have over $10million tucked away and with some good stewardship perhaps build the balance back towards the $16million that the club had some 5 years ago.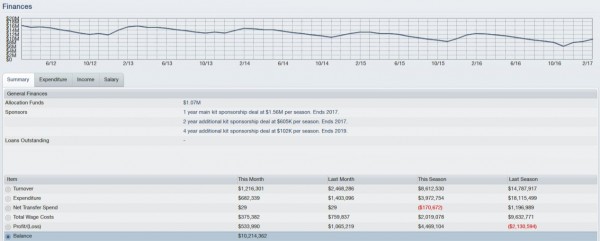 Finally, here's a look at our upcoming fixtures.

That completes the update for this time around so thanks very much for reading it and I look forward to your comments!

Subscribe to our Newsletter