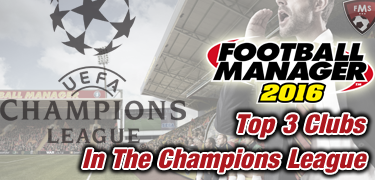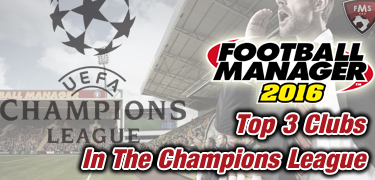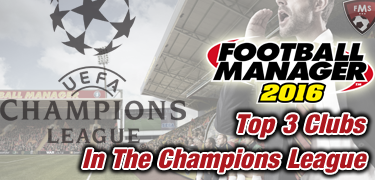 I'm back to build on the anticipation of Football Manager 2016. This time with the top three champions league clubs to manage in FM 2016, through my eyes at least.
You can now order FM 2016 through our long time partner DLGamer by clicking this link. But until then heres my best three Champions League clubs to manage in FM 2016. I am offering some variety and a little bit for everyone so hope you enjoy and get inspired.
Olympique Lyonais (France)
2014/15 progress: Europa League 3rd qualifying round
Appeal: A few world class players, plenty of pace and threat going forward. The dream of at least replicating the success of 2009/10 well and truly against the odds.
Stadium capacity: 40,494
Expected best players: Clement Grenier, Alexandre Lacazette and Matthieu Valbuena
Predicted financial status: Secure
Real Life Champions League odds: 200/1 (SkyBet)
Difficulty: Experienced players recommended with good tactical understanding.
Verdict: Lyon aren't even number one in their own country, so this is bound to be a challenge. However, in Lacazette and Grenier you have a spark and two of the best players in Europe. Your activity in the transfer market will be key, reinforcements in midfield are needed as there is a lack of strength in depth. OL struggled in the Europa League last season and only reached the quarter-finals the season before in Europes number two competition.
I think my memories of their 2010 Champions League semi-final spark interest, they have failed to go further in the clubs history. A great achievement after losing Benzema to Real Madrid as Pjanic, Lloris, Lisandro Lopez and co shone. You now have a fairly solid defence though in Rafael, Mbiwa, Kone and Jallet so theres a decent foundation to build a defensively stable tactic that packs a punch going forward.
2014/15 progress: Champions League runners up
Appeal: The chance to go one further than last season. Very strong squad with exciting strikeforce and one of the most exciting talents in Pogba.
Stadium capacity: 41,254
Expected best players: Paul Pogba, Mario Mandzukic, Paulo Dybala and Giorgio Chiellini
Predicted financial status: Rich
Real Life Champions League odds: 22/1 (SkyBet)
Difficulty: All welcome, vast flexible squad to manage.
Verdict: Two points draw my interest, the squad and the vast pool of potential tactics. You could go three at the back, three upfront, play wide, or pack the midfield. In Pogba you have a game winner, Dybala/Mandzukic a goal machine duo and one of the most stable defences in European Football. Not to mention the 'Old Ladies' buying power…you could add that extra quality to truly challenge Europes elite.
Juventus reached the semi-final in 2014, the final in 2015, so could you win it in 2016?

Club Atletico de Madrid (Spain)
2014/15 progress: Champions League quarter finalists
Appeal: If you can strengthen at the back a great squad. Creativity in midfield and an explosive front line.
Stadium capacity: 54,960
Expected best players: Luciano Vietto, Jackson Martinez, Antoine Griezmann and Koke
Predicted financial status: Rich
Real Life Champions League odds: 12/1 (SkyBet)
Difficulty: Open to all.
Verdict: I think trying to emulate Simeone's high pressing, aggressive tactics could be half the fun. But if thats not your style you have a classy set of players to tinker with. Vietto and Martinez are the style and powerhouse, Griezmann carries the ball while Koke offers a commanding presence in the middle. I do think a few reinforcements are required, a defender and maybe another strong midfielder but bar that the squad is set.
This is your chance to revenge the last gasp goal that cost Atletico in 2014/15 and progress further than last years quarter-final. This tenacious side have never won the Champions League and we all like making history. :)

Well those are my top three Champions League teams to manage in FM 2016. Now you have my favorite three, who will you manage. The underdog, the favourites or a club you have a soft spot for? I personally like the looks of Juventus, they seem a good balance between challenge and chance. Excited about the new game? Keep tabs on our new features post.

Subscribe to our Newsletter