Hello friends! It seems that for the time being I may be only the story writer (probably has something to do with the fact that I'm the worst at the game). Welcome to the last leg of my European Pentagon Challenge. Last season I led Valencia to a second place finish in La Liga and finally captured the Copa del Rey on my third time in the finals. Well, now I have bid farewell to Spain and make for the shores of England. My journey has seen me win through France, Germany, Italy, Spain and the Champions League. All that remains now is the World's most popular league and the Europa League (which I may just ignore, since I have won the Champions League).
I allowed my contract with Valencia to run out, leaving the club right before the transfer season. I am happy to say that for the immediate future Valencia will probably be performing quite well.



I have left Valencia with a strong squad so I hope they can quickly replace all the personnel who are lost. I am happy that where I go I will likely be able to bring along a few familiar faces. You are all probably wondering for which club I have signed. Well, you will have to wonder for just a big longer. During the summer, there were surprisingly no managerial openings, so I for the time being, I will take control of 14th place nation Russia! Russia are participating in the 2030 World Cup, hosted by Italy.
Apart from us, our group consists of number 1 Brazil, number 20 Australia, and number 88 Costa Rica. So apart from Costa Rica, quite a challenging group. There is not very much to report, so I will not beat around the bush: we were eliminated in the group stage.

We played pretty good football but that first game against Australia really cost us. It was quite even, but the Socceroos punished a lapse in concentration. Brazil easily swept us aside and Costa Rica were the whipping boys of the group. In the end, Brazil won the group with all 9 points, Australia followed with 6, we trailed with 3, and Costa Rica rounded out our foursome with 0. The tournament was eventually won by Brazil — they're 6th time — and Cagliari and Brazil captain Xaropinho won the Golden Ball and Golden Boot, to add to his enormous collection of personal awards, that includes 3 consecutive FIFA Player of the Year awards and Ballon d'Or's and the European Golden Boot. I have said it before and I will say it again, he is my greatest ever player. At 31 year old he has won everything there is to win and can see out his career as a proper legend.
After this pitiful showing in the World Cup, I resigned before Russia could have a chance to fire me. There were still no Premier League openings, so I decided to take charge of Italy for a period. They are in 16th place and are on the path to qualifying for the European Championship, another tournament I would like to win. There weren't any important matches yet, just a couple of friendlies against weaker nations, that we easily swept through. And then we finally began to see some managerial casualties.
The first Premier League manager to fall was Michael Laudrup of Chelsea. That was one of the teams on my list that I did not want to join (Manchester United, Manchester City, Liverpool, Arsenal, Chelsea, Newcastle). Jose Mourinho left Manchester United to take the once more lead the Blues. I off-course declined to apply to the vacancy at United, and Pep Guardiola left Barcelona to take the reins at Old Trafford. So the battle between the Special One and Pep will continue. Tottenham was the next team to fire their manager (some regen) so I was quick to hand in my application. Sadly, they denied me, opting to have Stale Solbakken, the manager of Wolverhampton in real life, at the helm of the Spurs. I was next hoping to take over Stoke, as they had been under performing and Tony Pulis (yes, he is still there) was on quite shaky ground. However, it seemed whenever it counted the most he was able to scrape the win and I was at want for a job. Finally, the position at Wigan opened up. Their manager, another regen, was fired and unlike Tottenham, they saw fit to invite me, one of the top 20 greatest managers of all time, to try my hand at saving the relegation threatened team.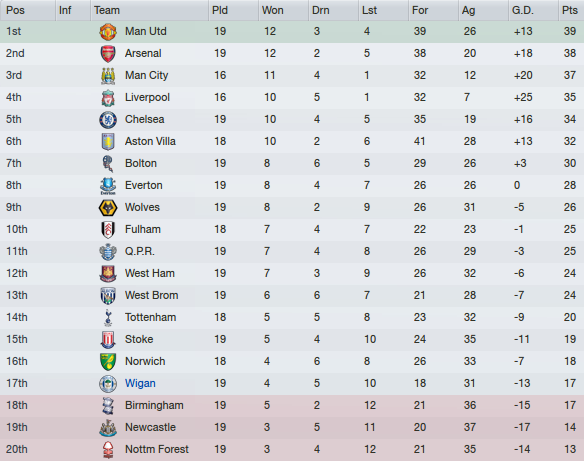 Exactly half the season is over and it is Christmas time. I have my work cut-out for me so I resigned from my post with Italy. Wigan are also out of the Carling Cup, having lost to Arsenal in the fourth round, but their FA Cup hopes are still alive.
I forgot to take a picture of their finances, but the team is in the black but a couple of million pounds. They still play in the DW stadium and have improved from where they are in real life today, to consistent mid-table security. Although currently they are adrift of the media prediction of 11th place. The team's training facilities are good but the youth facilities are terrible as are all the youth "prospects".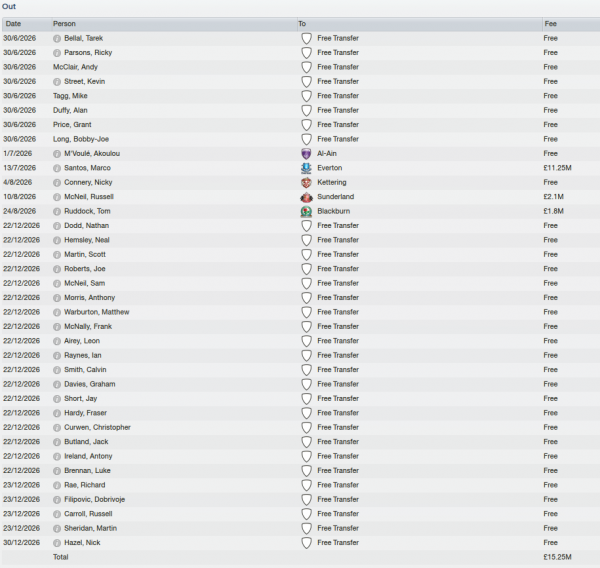 Starting with Nathan Dodd, you can see all the players I let go during the January transfer window. I cleared out the entire youth and reserve squad because they were all terrible. I also let go of Jack Butland. He is the back-up keeper and 34 years old and surprisingly on a steep decline, it seems. Wigan were paying him far too much so I thought it better if he left. I could not really bring anyone in because all the targets I have in mind are for Valencia. With the Latics I had a transfer budget of a measly £3 million, £500 thousand of which went towards releasing some of the deadwood players. So with £2.5 million and no prospects in mind, there was hardly anything I could do. Instead I focused on my backroom staff. I think I have assembled a pretty decent supporting cast, although I am a little sad because Liam Ridgewell is no longer my right hand man. Mourinho scooped him up during my unemployed stage and I will have to proceed withouth him. Of the remaining 8 staff members who left Valencia with me, 2 found employment elsewhere, 5 had excessively high wage demands, and only 1 ended up joining me.
Now let me briefly introduce you to the squad:

They are not that bad. I mean, a team that is supposed to finish 11th in the Premier League can't be that bad. So I have some workable talent. Here is the bad part, they are all old. Nine of my remaining 22 man squad are 30 or older at the time I joined (December 23rd). The rest are all around there as well. Only player is under 25. The average squad age is 28.
I hope you don't get attached to any of these players, because most of them will be leaving. Everyone 30 and older will be sent packing at the end of the season. Of those who are left, most of them want to leave as well. Most of them want to join bigger clubs. Everyone is unhappy and I have my work cut out for me during the off-season. You can see why I quit my Italy job.
So let's quickly run through the rest of the season (I accidentally deleted some of my screenshots so this will be shorter than normal):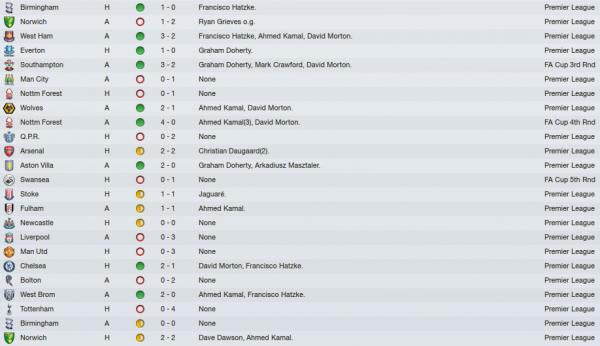 Trust me when I say that this looks much better than the start of the season. Much, much better. We made it to the 5th round of the FA Cup where we suffered a shock defeat at the hands of Championship side, Swansea :( That tournament was won by Man City. In the league we scraped around the relegation zone, although the good run we had at the beginning of my tenure saw us reach a season high 14th place. We even claimed a famous scalp in Chelsea and held Arsenal to a draw but little else good can be said for our season. The league really came down to the last day for us. The draw against Norwich was just enough to see us to safety.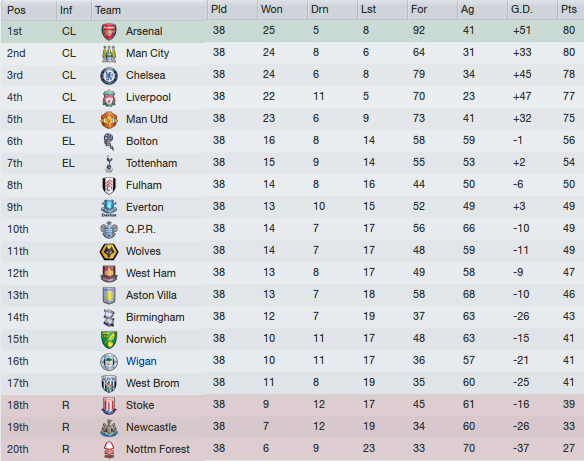 Pretty congested table. The top 5 were one cluster, with United suffering what would be one of the most famous breakdowns of momentum while the other 15 of us were in a real slugfest. I couldn't work any miracles but I was dealing with basically a mutiny on my hands. I plan to get rid of around 17 squad players (no joke) so next season Wigan will be a very new look team.
In Spain, Valencia once again were the runners-up of La Liga, with Real Madrid once again beating them to the top. Frustratingly enough, they also finished as runners-up in the Champions League, to rivals Malaga.
I hope you enjoyed this post. I look forward to all your comments and feedback and will be back soon with more news about my mission!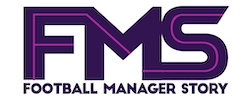 Subscribe to our Newsletter