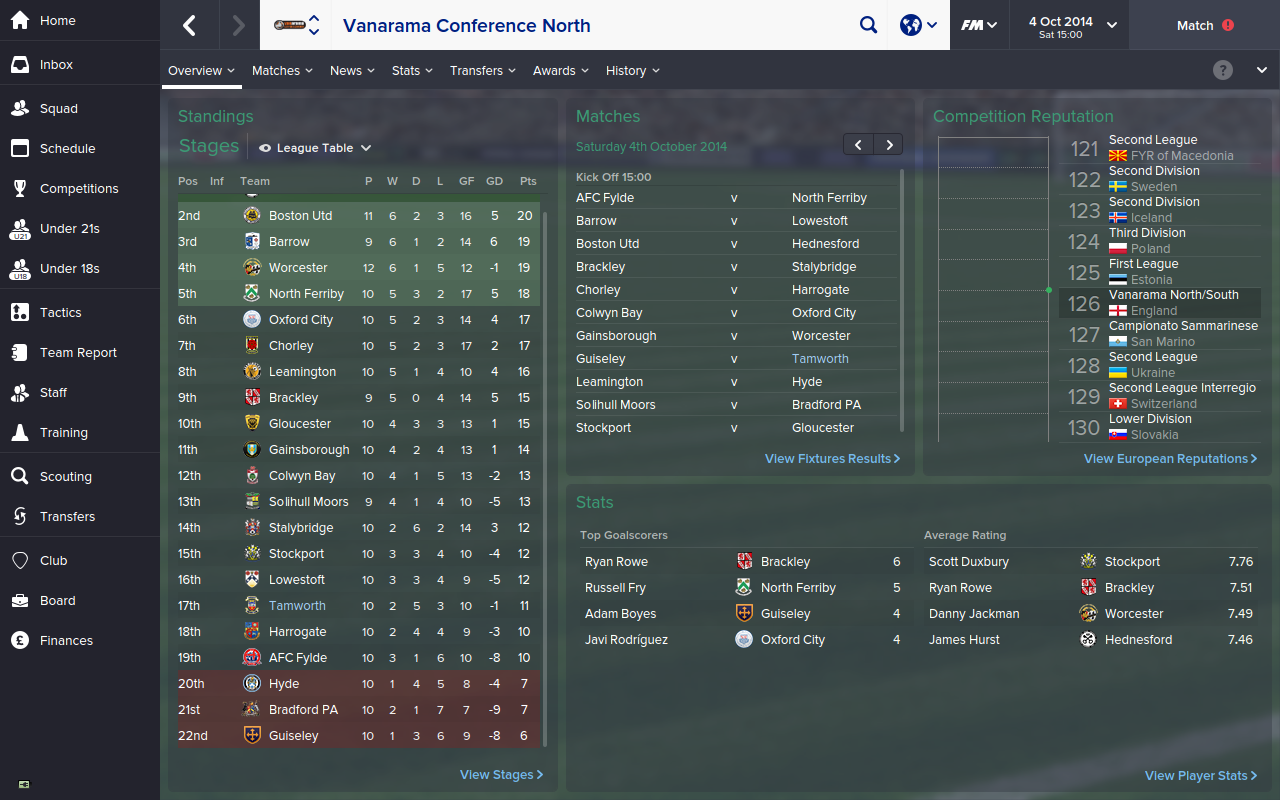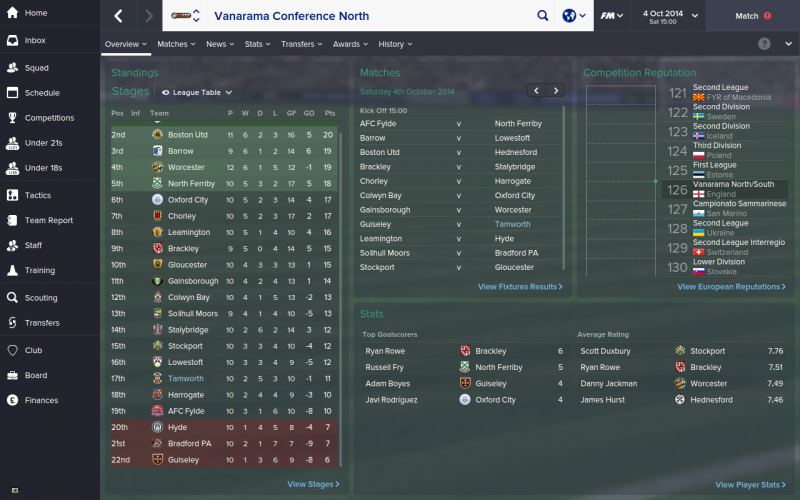 So having accepted the role of manager of Tamworth FC, it became apparent that I only had 2 days to prep the team for a trip to 22nd placed Guiseley.
Not a trouble. I'd met the lads, and despite their initial negative reactions to me trying to suggest that a mid-table finish was expected (they obviously believed the Chairman who reckoned the playoffs were viable), we got to work on implementing my philosophy onto the club. No more hoof ball. We're gonna keep it on the ground and pass the ball. We're gonna work on keeping it tight at the back, before springing counter attacks through Sean Thornton (a man both my assistant manager, and myself, had identified as the best player at the club). In fairness, it wasn't difficult to see that he was the best player. If the question was, 'who has two feet?' He'd also win that contest.
Training done. New tactics discussed. Coach loaded. Off to Yorkshire for my first day in the dugout. Time to dig the suit out. These guys need to know I mean business.
Within 7mins, we win a penalty which Thornton calmly places to the keepers left, giving us a goal head start. That lead lasts less than 20mins, as a defensive error leads to their equaliser.
Not to be panicked, 4 mins later, my lads go on the hunt again. Mettham cuts into the box, and is up-ended. I'm off out of my seat as the ref points to the spot. Up steps Thornton again. He sends the ball into the same corner as last time, and we take a 2-1 lead. That remains the score, and I claim my first win in charge. It's actually our first win in 7. The relief on the lads' faces is plain to see.
Keen to keep this momentum going, we look forward to our next match. At home to 17th placed AFC Fylde, who have won 3 on the bounce.
After a tense first half playing in front of our home fans, the second half springs to life on 50 mins. A corner is whipped in and Green gets above his marker to head us into the lead. 8 mins later, with the ball about 30 yards from goal, Thornton unleashes a thunderbolt which leaves the keeper with no chance. An absolute wonder strike. 2-0.
We could smell blood, and could sense Flyde were on the ropes. After a few missed chances, we get another corner on the hour. Preston this time gets the header in, 3-0. 73mins had passed when Mettham cuts the ball across the face of goal for Jackson to tap in to make it 4-0. The fans are delirious at this point. They can't believe what they're seeing.
However, despite cruising at 4-0, a lack of concentration 10 mins from time sees a ball played in from the right and tapped in at back post by Lloyd for what we felt was little more than a consolation. Flyde weren't finished there though, and we didn't learn from our mistake. 2 mins later, the ball is laid off in the box, before being roundly smashed in by Charnley 4-2. We hold on for the remaining 8 mins to make it two wins out of two.
With confidence flowing through the team, we faced a much tougher test away to Brackley. Brackley were sitting in 7th place, and with 4 wins out of 5 at home, this wasn't going to be easy. We go into the game in 11th, but a win could move us up to 5th.
3mins in, my lone striker Hibbert is forced off with an injury. I send on Connor Taylor as his replacement, and he makes an instant impact. 7mins Taylor runs onto Thorntons through ball, and tucks the ball into the net. 1-0
After 15mins, Brackley get a corner. We deal with the first ball by clearing it off the line, but its only cleared as far as Obhiambo, who strikes the balls cleanly past my flailing keeper to equalise. The game turns on 44mins. A foul in the area by my left back, Sleath leads to his second yellow card, which means he sees red. Penalty. Pearson steps up, and makes it 2-1 to the hosts. And then 60 seconds later, Obhiambo crosses from the right wing, but instead of finding a man in the box, he finds the top corner. My goalkeeper is visibly embarrassed to be beaten by such a freak goal.
At half time, I tell the lads they've been unlucky. It raises their spirits, but the damage has already been done, and we fall to a 3-1 defeat.
After the match, I receive confirmation from my medical staff, that Hibbert will be out for 3 months with strained knee ligaments. Brilliant.
With the Brackley result put firmly to the back of our minds, we turn our attentions to a home fixture against Lowestoft. They're currently 17th, and have lost 3 out of their last 5.
10mins into the match, and that man Thornton is at the centre of the action again. He feeds a ball into the box, Mettham cuts in behind the full back and scores to make it 1-0. On 41mins, my left winger, Jackson, takes a shot from distance. The shot is parried by their keeper, yet no-one notices Mettham following in, and he taps in to double our lead.
10mins into the second half, our lead is halved. They take a long throw, which leads to confusion in the box. Their striker gets his head to it first, and makes it 2-1. With a minute to go, we win a free kick. Thornton floats it into the box (personally I'd have preferred him to have just taken it into the corner). The ball ricochets around, before being held up by one of my players. He lays it back off in the box, as he's seen Thornton sprint into space. He taps in our 3rd, and we win the match 3-1.
4 games. 3 wins. 1 defeat. I'm happy with that. The players are starting to show signs of what they're capable of, as we move up from 17th to 9th.
There's also reason to celebrate in the camp, as Thornton wins the player of the month award.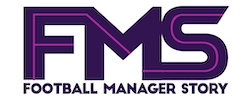 Subscribe to our Newsletter