Hello friends and welcome back to a brand new episode of my Football Manager Story. As you may recall from the last update I had resigned from Toronto FC after winning the North American Champions League for the second time so as to concentrate on my other role as Head Coach of Team Canada.
My goal then for Canada is attempt to qualify for the 2022 World Cup as the country had failed miserably in the previous qualification tournament which is when I took over with one game remaining in the round robin section.
** Authors note**
I'm not going to go through the whole squad highlighting each and every player as that's too time consuming but will hyperlink a player to a picture when perhaps that individual has made a key contribution to a game.
Before we get on with Team Canada I believe a reader asked about my standing in the Hall of Fame last time so here's a couple of screen shots.

As you can see I don't even know what position I am but suffice to say it's way down the list :)

June 2018
The first game of the year was away to Wales and had been organized before I took over. The Welsh with a fully fit Gareth Bale scored within 10 minutes thanks to the left wingers mesmerizing speed and continued to dominate the entire first half scoring again just before the interval through an horrendous own goal by Toronto FC keeper Chris Seitz who had won his first cap.
After the break we played much better but David DiPlacido looked awful on the Racecourse Ground and was substituted whilst Gershon Koffie missed two great chances that would have tied the game up. In the end it was defeat but not that surprising really.

Wales had actually qualified for the 2018 World Cup and would be runners-up in Group H behind Brazil, knocking out the USA in the process. In a closely contested final the Argentina came out eventual winners defeating Mexico in a penalty shoot-out.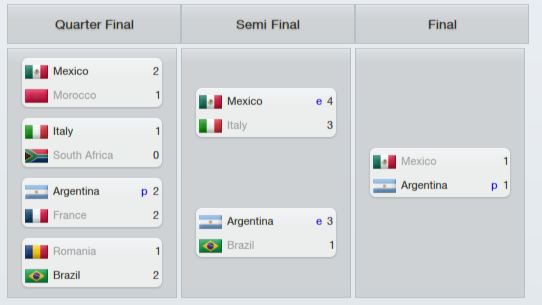 August 2018
Columbus crew players Tyler Celebrini and Jerome Lyall won their first caps as we took on Honduras in Montreal. With most of the team at a condition rating of 90% at kick off the speed of the Hondurans quickly made an impact on the game taking the lead after 26 minutes. The Central Americans stifled our attacks quite comfortably and in the end we only managed one shot on target and conceded a second late in the game.

After back to back defeats I needed cheering up and I got that in the form of an announcement that my favorite player signed during my club career Joshua Galloway was now eligible to play for Canada. This kid was one of my first "Moneyball" signings when I dragged him out of the FC Dallas reserve team and plunged him straight into the Vancouver first team and he's never looked back.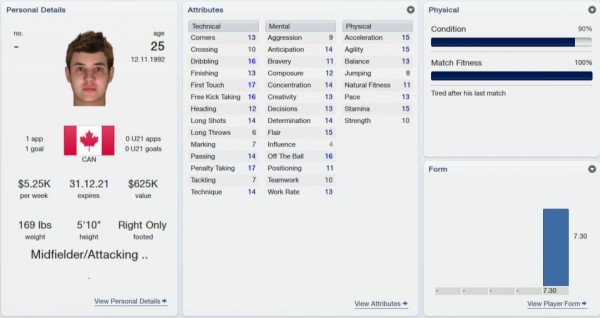 September 2018
With the visit of Panama for an international friendly I switched from my Toronto Slant Left tactic to my old Vancouver 4-5-1 formation with two MC's, Galloway being one of them alongside former team mate Gershon Koffie. Galloway ran the show and in a brilliant performance getting himself on the score-sheet after 35 minutes. This game was all about our midfield triangle (including DMC) and the new tactic seemed to work wonders and we could have scored more but in typical Canadian style just added a second so as to be polite enough not to upset the visitors.

Three days later we were in Finland where we got off to a terrible start after a fluffed goal kick by Edson fell straight to a Finnish striker and it was 1-0 after just 5 minutes. Finland tormented us for the entire first half as we slipped into a defensive mode and gave up another goal before half time and a third just after the hour mark. A desperate shout of "Get the ball forward" created a goal for David DiPlacido after the introduction of Adam Jackman on the right. That goal inspired Galloway who proceeded to score a sensational hat-trick in the final 20 minutes, the winning goal being a superb run from the half way line collecting a through ball and lobbing the stranded Finnish keeper for a brilliant come from behind win!

October 2018
A month later we hosted El Salvador in a game that was very low on entertainment but we did manage to secure a win making it three in a row, boosting morale considerably.

November 2018
Our first game at BMO Field for some time saw the visit of Mexico who were the World Cup runners up and gave me a first opportunity to review what we would be up against on our own quest to reach Qatar 2022. It didn't take long for the Mexicans to assert themselves on the game taking the lead after just 5 minutes through Javier Hernandez. However we knuckled down and worked hard to avoid a collapse and by the interval the score remained the same. Despite their speed and skill Mexico couldn't break us down and with 9 minutes reaming a rare free kick was floated into the Mexico area by Galloway that Tiebert pounced on and forced the ball across the line for a dramatic equalizer.

Our final game of 2018 was away to the US and with injuries to both David Edgar and Gershon Koffie sustained in the game against Mexico our hosts sprinted out to an early 2-0 lead exposing the lack of depth in our squad. With a mostly experimental side we didn't provide any real trouble for the Americans and the few opportunities that we had were finished poorly.

Domestically the Canadian dominance of the MLS finally came to an end with both Vancouver and Toronto losing their conference semi-final games and Los Angeles being crowned MLS Champions. Houston won the Supporters Shield going from 15th place last season to top the overall table and qualify for the NACL.

For 2019 we just have three games arranged so far and all within our geographical area and by the time those are done we would have met all the teams that were in the final qualifying phase for the World Cup.

So that completes the first Team Canada update so thanks very much for taking the time to read it. For those in the UK enjoy your Bank Holiday weekend, mine is next week in Canada.

Subscribe to our Newsletter