Hello everyone and it's a pleasure to bring you a fresh episode of my Football Manager Story – The Road to Qatar, as Team Canada begins their journey towards the 2022 World Cup. We finished the last installment on a sour note as the Canadians failed to score in any of their last three games in 2019 after a somewhat successful Gold Cup going out in the quarter-final stage.
As the year 2020 gets underway, gone is experimenting with younger players as most are just not up to international calibre and so I'll be recalling some of the more seasoned players as the year unfolds.
In terms of fixtures we only have summer games arranged so far as the year gets underway and all in the summer months. Hopefully we can get in a couple of spring games before then.

In fact the first six months of 2020 was just a waiting game as there were no dates available to arrange friendlies so it's just the away game in Guatemala before we jump right into World Cup Qualifiers.
**Authors note**
The above was totally boring, terrible game play and I never thought I'd get through it!!!
June 2020
Finally, our first game of the year and it was a thrilling one to with David DiPlacido coming on a sub and winning the game for us in dramtic style.

World Cup Qualifier: Third Phase, Group 1
Six days later and we opened our World cup campaign in Montreal against Surinam and we were unable to dominate possession as the visitors held onto the ball magnificently leaving us chasing it all around the park. With a bore draw on the cards the introduction of home town boy Alex Dos Santos spiced things up and soon enough he gave us the lead off a through ball by McIntosh. With three points seemingly in the bag a harmless looking cross by Surinam was turned into the net by defender Rodriguez for a disastrous end to the game.

World Cup Qualifier: Third Phase, Group 1
Next we were off to Costa Rica where both sides looked very nervous resulting in a first half with few chances and very little action to speak of. The course of the game changed midway through the second half as Dos Santos finally found some space and his shot was pushed away by the Costa Rican keeper straight into the path of Philippe Davies who smashed it into the net, 1-0. With confidence running high we seemed to have victory in the bag but then were stunned by three goals from distance in the last 10 minutes that has left the team deflated and demoralized and a uphill battle ahead of us.

Here's the table after the opening series of games.

In July the FIFA rankings were announced which made disappointing reading and truly hammered home my failings as an international manager. Under my tenure Canada had slipped below the top 100 mark, dropping an incredible thirty places in less than a year.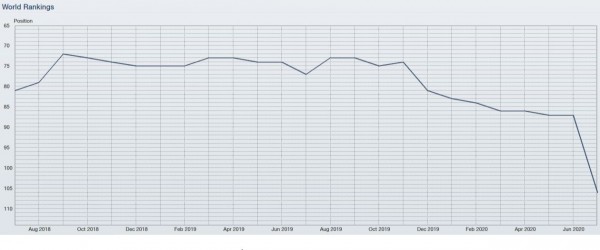 September 2012
Back in Montreal we had a very convincing win over Barbados putting the game to bed by half time as our forward line each bagging a goal. We then faced a long journey south to Surinam where a shot by Koffie from just outside the box gave us an early lead. We soon doubled our score with a great strike by DiPlacido, finishing off a through ball by Galloway. Just before half time Gustaffson was sent off, which launched the Surinam comeback scoring off the ensuing free kick and shockingly the equalizer came in the 95th minute as we capitulated under intense pressure.

Costa Rica made it 4 wins in a row securing a place in the next phase. We play them next at home and if we lose it will mean most likely a show down in Barbados.

October 2012
World Cup Qualifier: Third Phase, Group 1, Match-Day 5
The final matches of the third Phase were about to begin I would be without my starting DMC, Gustafsson who was now serving a two match ban. Additionally some of my 23 man squad had sustained injuries in MLS action. 24 hours before kick off I lost starting GK Edson.
Montreal once again provided the back drop for the visit of Costa Rica and they started where they left off last time pummeling our goal with long distance shots and eventually taking the lead on the half hour mark. However, we didn't slip into defensive mode and soon enough were rewarded with a goal as DiPlacido received a ball from Galloway in a crowded box, turned on a dime and his shot squeezed into the net 1-1!! After the break we continued with the pressure with Galloway conducting the attack and again his through ball this time to Tiebert who struck from a very acute angle under the diving Costa Rican goalkeeper and we were in the lead!!! The visitors couldn't find a way through our defence being marshalled by David Edgar and that gave us confidence to remain on the attack scoring a third goal for a remarkable win. With Barbados losing at home to Surinam that meant we had qualified for the fourth and final phase

So we were off to Barbados for the final game of the Third Phase where we were hit by inconsistency once more. Roared on by the home crowd and with nothing to play for but pride Barbados ripped through us like a hot knife through butter and by early in the second half we found ourselves 4-1 down, this after just beating Costa Rica for goodness sake!
** Authors note
In reality then I went and fed the cat, put the kettle on, 70 minutes gone still 4-1. Made all three substitutions and went to take a shower. Came back to discover that I had missed a dramatic last 20 minutes and we'd fought back for a 4-4 draw. Still I wasn't happy as we should not have conceded four goals!

Third Phase: Group 1 Final Table

With the third phase over and done with here are the teams who stand between us making it to Qatar in with the top three going through.


We kick things off in 2021 with a friendly on New Year's Day in Nicaragua then the real action begins in Honduras the following month. The qualifiers will finish up with an away game in the US and I wonder if it will all come down to those 90 minutes to decide who goes to Qatar?
Fixtures


So that's about it for this update other than a request from CsAtlantis for a look at  Junior Hoilett's profile which can be viewed by clicking here
Thanks a lot for the taking the time to read this.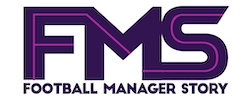 Subscribe to our Newsletter