Hello everyone and welcome back to the last ever episode of my Football Manager 2012 story. As you may remember this current save started 11 seasons ago as I took over the Vancouver Whitecaps of the MLS, had a short stint with Sydney FC and ended my domestic career with Toronto FC before taking over Team Canada who now have qualified for the 2022 World Cup. So we begin this last update at the end of 2021….
November 2021
Following the qualification to the World Cup we had two more games remaining on the international fixture list before the year was over. We travelled down to the islands for what should have been a straightforward outing but after comfortably beating Montserrat we crashed to St.Vincents, in what was a humiliating defeat.
That result underpins the whole problem with the Canadian side – inconsistency, which we've never been able to overcome.

As an aside here's how the MLS ended up in 2021 which is now dominated by American teams once more.

The beginning of December meant a trip to Qatar for the World Cup Finals draw which saw us in Pot # 4 and when all said and done we ended up Group E with a monumental task ahead of us.
All I can possibly hope for is maybe a draw against either Scotland or Ghana though I'm expecting crushing defeat at the hands of Brazil.

Next order of business was to arrange some pre-tournament friendlies which along with the backroom staff we managed to secure games with Peru, Ivory Coast and the Republic of Ireland which will give us a taste of each of the continents represented in our group. At the last minute Kuwait accepted an offer so we can get acclimatized to desert football.

2022: World Cup Year
The first few months of 2022 were relatively quiet until early April when I received the news that all international mangers dread and that was the news of an injury to star player Joshua Galloway who broke his ankle whilst playing for his club side.

This is a massive set-back to my World Cup plans.
May 2022
Pre-Tournament Friendlies
Our first game was in Montreal against Peru and after an early scare we took the lead through Giacomo Nardini whose curling shot form 25 yards out sweetly beat the keeper. Looking good for much of the second half we got caught out by a quickly taken free quick for Peru to equalize. Russ Tiebert could have won the game but missed from 7 yards out with just the keeper to beat.
No sooner had the game finished FIFA wanted my 23 man squad list so the 30 I had picked for friendlies had to be reduced.

**Bruno Gauss will play in the AMC (Inside Forward) position in a no forward offence.
My final home game in Canada saw us take a thrashing by an energetic and much more skilful Ivory Coast who deserved far more than the three goals they scored. Then ran us ragged for much of the game and we were lucky to get a consolation goal.

June 2022
Our first stop on route to Qatar was in Ireland where after conceding two early goals we fought back to tie the game up thanks to a brace by Russ Tiebert before half time. After the interval we totally fell apart with Ireland dominating possession and scoring four second half goals for a demoralizing defeat.
The last pre-tournament friendly was in Kuwait to get a taste of desert conditions which we found difficult as the heat was intense. We went ahead through a cracking shot by Edward Acevedo though Kuwait soon pulled one back. We snatched the win late in the game as Kuwait under much pressure scored an own goal.

World Cup Finals: Qatar 2022
Group E – Ghana
Khalifa International Stadium
It was a proud moment as we walked out onto the field representing Canada for the first time in nearly 40 years at the finals. A rousing rendition of our national anthem "Oh Canada" got the adrenaline pumping and away we went to kick off….
We put pressure on the Ghanaians early on with both Acevedo and Hoilett both going close. Ghana had their chances hitting the woodwork twice but for the most part their attacks were broken down by a fantastic effort from anchorman Gershon Koffie who would later get substituted having become totally exhausted.
Into the second half with the temperature at a tolerable 22C Ghana launched an attack but was broken down by right back Ian Moore who launched the ball forward to Hoilett whose quick thinking immediately squared the ball into the box and there was Verbeek to slide the ball home……1-0!!! Canada's first ever goal at a World Cup. We'd hardly finished celebrating as Ghana quickly stormed our left flank and it was 1-1 just like that. Andrew Straith would have a header cleared off the line in the 72nd minute but I was delighted that the lads had fought the way they did and got a point.

Next was the biggest game of my managerial career…..Brazil.
**Authors Note**
This may seem hard to believe but in all my time playing CM or FM I've never played against a major team such as Brazil, Argentina , Spain so some definite excitement for me.
Group E – Brazil
Lusail Iconic Stadium
Unexpectedly the Brazilians got off to a nervous start which gifted two early opportunities for Edwards Acevedo whose first shot went over the bar and the second slipped under the keeper and clipped the outside of the post. The Samba beat soon got into its rhythm and from a dead ball situation a curling free kick was bundled over the line by Sandro for the opening goal after 24 minutes. That lead was doubled before half time as Neymar beat four Canadians before placing his shot past the sprawling Edson to make it 2-0.
We gave a good account of ourselves in the second half stifling the Brazilian play but never managed to create anything ourselves. The game quickly fizzled out and a 2-0 defeat is nothing to be ashamed of against these world giants of football.

In the other game Ghana drew with Scotland which meant if we could beat the Scots in our last group game and Ghana either tie or lose to Brazil we'd be through to the last sixteen!

Group E – Scotland
Al-Khor Stadium
In the blistering heat Scotland got the game underway and for the opening 15 minutes caused all kinds of havoc with our defence with the best chance of a header going over the bar. Koffie and Lewis both made some surging runs forward but their end ball to either Acevedo or Hoilett was wasted by the front men. We picked up a couple of bookings before the half as Scotland pressured our end of the field with Makubuya pulling off some fine saves from the free kicks.
Early in the second half and another through ball to Hoilett though this time he rounded the keeper but missed an open goal hitting the side netting. The game then deteriorated into a midfield battle with neither side getting close to creating a solid chance. A slight change in tactic saw Verbeek move into the midfield for Cordon with Tiebert out on the left. Soon afterwards Verbeek made a darting run forward slipped the ball into the area to Hoilett who was brought down by McAllister…..PENALTY!!
Up steps Russell Tiebert and completely miss-kicks the ball which rolls harmlessly towards the Scottish keeper, the pressure obviously being too much for him. Although deflated by that miss we still managed to create chances and contain Scotland's attacks. With 90 minutes gone and into injury time we made one last desperate surge to the Scottish goal…
****
****
****
Verbeek moves forward, lays the ball out wide to Tiebert who easily beats the right back, reaches the byline and cuts back inside his pass finds Hoilett who is suddenly all alone and slides the ball under the diving keeper and …………..hits the inside of the post – the ball rebounding back into the safety of the arms of the Scottish keeper. The whistle blows and with Ghana getting a draw against Brazil our World Cup was over.
So near and yet so far, it was hard enough to console myself let alone the players. Back in the dressing room it was a case of what might have been but we could still hold our heads up high having qualified from our continental section and only losing to Brazil in the finals so there's no shame in that.
Final Group E Table

** Authors Note**
The reality of those three games  especially the Scottish one saw me on the edge of my seat, biting my nails and having forgot to take my high blood presure pills for two days I almost had a heart attack in my own living room but thankfully some Aspirin quickly acted as a blood thinner. Wow!
World Cup: Round 2
We would have probably been hammered by Portugal :)

Quarter Finals & Beyond
So Italy ended up winning the World Cup against Egypt, an African team finally making a final.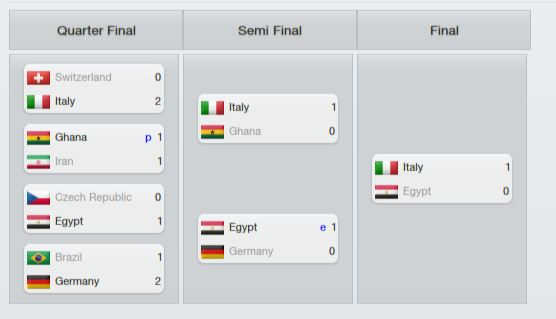 On returning back to Canada I handed in my resignation having achieved more than what I initially set out to do.

Kevin's CV Vancouver to Team Canada

A few days after resigning my position of Head Coach I also announced my retirement from football.
**Authors Note**
In fact I'm also annoucing my retirement from Football Manager and at least an active contributor to Football Manager Stories. As of now I don't have any plans on purchasing FM 2013 ( it's naughty to download a pirate copy) which means obviously no more stories. It's time to get back to the real world and the responsibilites that come when you reach 50. You will find out sooner or later :)
Thankyou one and all for your continuing support over what is nearly 3 years with FMS which started with Johnny inviting me as the first guest writer  having read my Swindon Town story which we transferred over to FMS. What a privilege to be the first.
As I was born in Wiltshire, Swindon had to be the first story so it's fitting then my last story is Team Canada where I've made my home for the last 20 years.
An honourable mention to Darren, Ana, Laxeyman, Sears, Lye and more recently Ziggy, Bhargav saltwater and CsAtlantis. Stromson, I know you are reading this from down in The State of Virginia. Sorry if I 've missed anyone…
Of course I couldn't end without mentioning Johnny Karp, Football Manager mentor, the voice of reason when my dad was dying of cancer and most of all a great friend even though there are thousands of miles between us.
I will still visit FMS and leave comments as well as visiting other sites too. If you want to keep in touch here are my email accounts. The work, that is the second one is the best bet.
And with that take care and God Bless
THE END
(or is it?)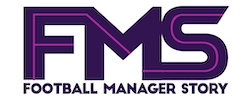 Subscribe to our Newsletter