Hello friends and welcome back to what could be the final installment for Football Manager 2012. With FM 2013 on the horizon it only now makes sense to wind down my current story which began in 2012 with the Vancouver Whitecaps and now continues with Canada's journey to reach Qatar 2022. Canada having qualified from the Third Phase of the Concacaf Region now has to face a "Battle Royale" with 5 other teams including Mexico, USA and Costa Rica.
January 2021
The year started with an international friendly on New Year's Day in Nicaragua and it looked like we had been partying too much conceding three goals in the opening 25 minutes and were incapable of producing anything ourselves other than a very late goal from defender Olazabal. Not the start we wanted to the year!

2021 was about to turn into a very busy year as the draw for the Gold Cup was made in the middle of the month which this time sees us in Group B along with hosts, the USA. We should be able to make the quarter-finals once more.

Revised Fixture List:

I will have to make some changes to the squad before next month's fixtures as left back Ashani McDermott at just 25 years old has decided to retire from football along with midfielder Jonathon Bourgault who is 32. Not critical losses but just adds a little pressure to the selection process. I'd also realized that several players who I'd chosen before and in the National Pool were currently unemployed so that meant some additional scouting.
February 2020
World Cup Qualifier: Honduras (A)
Our opening game of the fourth phase found us in Honduras in front of an energetic and passionate home crowd though after a very quiet opening 30 minutes on the field we took the lead through Hoilett as he finished off a delicate though ball by Davies. Shortly after the interval a breakaway by Hoilett spread the Honduran defence and Galloway was in enough space to finish off the cross, 2-0! Things were going great until once again we threw the game away in the last 10 minutes conceding two goals and so we had to settle for a draw.
Thankfully Mexico were the only team to win on the night so a good away point for us in the end.

Following the game David Edgar announced his retirement (darn) and just a couple of day's later right back Ian Moore broke his leg and will miss practically all the other games.
March 2020:
World Cup Qualifier: Mexico (H)
A packed BMO Field in Toronto was on to witness a valiant effort by the lads and if wasn't for the heroics of GK Edson the score would have been a lot more with Fierro and Hernandez running us ragged. We were very much outclassed by the 2018 World Cup runners –up and with some fearful passing and wayward shots we very much handed them the game.
World Cup Qualifier: Guatemala (H)
Four days later we travelled east up Highway 401 to Montreal where Joshua Galloway hit a corker of a free kick to give us the lead early in the second half but soon afterwards a mistake by left back Clark fashioned the equalizer for Guatemala . David DiPlacido missed a sitter two minutes from time so yet another draw.

So after three games we are already adrift in 5th place with surprisingly the USA last who once again sacked their Head Coach. Would I be next?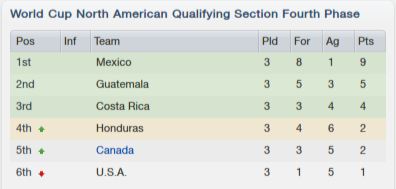 June 2020
As the previous month ended GK Chris Seitz decided to retire which just left me with one decent keeper that being Edson who I had signed for Vancouver all those years ago. Fingers crossed that he doesn't get any serious injuries in the MLS.
World Cup Qualifier: Costa Rica (A)
Down in the Caribbean we were at full strength as we took on Costa Rica but disappointing performances by DiPlacido, Hoilett and Galloway contributed to the way the home side were allowed to play and problems once more an error by the left back created the only goal of the game for the home side.

Back in Montreal it was a critical must win game against the USA and I was forced to make wholesale changes due to fatigue following the run around in the islands. Midfielder Philippe Davies got us off to a cracking start with a magical free kick with just three minutes on the clock then minutes later a thunderous shot by Dos Santos struck the underside of the bar and bounced not quite over the line. Despite an enthusiastic start we never did capitalize though somehow kept the lead for a much need three points.

At the halfway point of Phase Four the qualifying situation was looking pretty grim as our efforts had been pretty lousy to date and we must do better in the second half. We need to improve defensively as well as more is required up front.

We now had to switch gears and focus on the 2021 Gold Cup which was coming up. I was hoping to rest some of the players but no such luck as the CSA had booked pre Gold Cup friendlies with Australia and Bermuda.
My first trip back to Australia after leaving Sydney FC was a forgettable one as we conceded three goals in the opening 25 minutes and ended the game with just 9 men on the field as injuries piled up.
On the way back we stopped off at Bermuda where another disappointing effort resulted in a goalless draw, are you kidding me….

In my frustration with this team I made in error in the selection process for the Gold Cup squad which was due at the same time and forgot to name a reserve right back so I hope that doesn't come back to haunt me.
July 2021: Gold Cup
Our opening game of Group B was against Guadeloupe in Denver which after 30 minutes saw defender Rodriguez break his ribs, left back Chris Clark break his hip and Dos Santos scoring to give us the lead. I'd employed a 4-4-2 diamond formation finally giving up on my Vancouver / Toronto tactics which this team has never seemed to settle with. We doubled our lead in the second half with Rick Verbeek scoring his first ever goal for Canada having become a Canadian citizen.
Next stop was Motor City Stadium, Detroit where I switched to a 4-1-3-2 instead of a diamond formation that paid off with Galloway scoring the opening goal after 25 minutes. The US soon equalized with a super strike from Perry Kitchen who I spent years trying to sign when at Vancouver. Head's didn't drop and we continued to force our game upon the US and just before half time a catastrophic attempt to force an offside left Dos Santos unmarked and he drove home a through ball from Tiebert to put us in front. After the interval Galloway played a pivotal role along with Gustaffson to ensure we held onto the lead for an historic win.
The final game was against Cuba where we looked tired and ready for a break and I had to play several players out of position just to field a starting XI. A single goal by Vancouver forward Bruno Gauss would determine the outcome of the game and make it three wins in a row sending us into the quarter-finals.

Group B Standings:

The Quarter-Final game matched us up against a much stronger and fitter Jamaica and with the loss of Russ Tiebert through injury it was again a mish-mash formation that this time just wasn't up to the challenge and we crashed out as Jamaica over ran us in the second half.

Costa Rica would go on to win the Gold Cup beating Mexico in the final on penalties after a goalless 120 minutes and as usual the USA sacked their manager as they didn't win.
One of the bright spots of a tournament plagued by injuries was goalkeeper Chris Makubuya who made four decent appearances and defender Raiff Lewis from Queens Park who were both thrown into the fray.
Striker David DiPlacido will most likely be dropped from the squad from the remaining World cup qualifiers after a miserable tournament and he hasn't scored all year.
August 2021
We returned to World Cup qualifiers with mounting injuries as we lost both Gershon Koffie and Philippe Davies leaving a somewhat depleted squad to face Honduras in Montreal.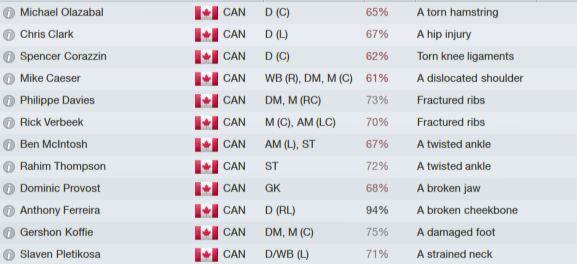 An evenly contested game in the Province of Quebec saw Honduras take the lead after 69 minutes after Galloway committed a foul just outside the box. He made up for his error with a superb free kick of his own minutes later in a game we really should have won but poor passing and finishing let us down once more.

September 2021
So with just four games remaining in the group we headed south to Mexico City…..
World Cup Qualifier 4th Phase: Mexico (A)
Over 100,000 Mexican fans were on hand to roar on their team and as we entered the Azteca Stadium where we were greeted by a sea of green and red with flares going off in all corners of the stands. The Mexicans feeling confident and quite rightly so initiated attack after attack with GK Edson whom I'd brought back flying around all over the goal area. Several shots hit the woodwork but somehow we made it through to half time without conceeding.
After the break the Mexicans came flying at us again and cheered on by their fans hit the woodwork once more but couldn't get the ball into the net. Not disheartened they continued the pressure but we responded magnificently with a superb rear-guard action by defenders Henry and Rodriguez and 18 year old Wayne Doolan, from the Toronto Academy team played like a seasoned professional at left back, he was the only fit one available from the national pool. Galloway was outstanding in midfield and by a miracle we managed to secure a point in Mexico.

World Cup Qualifier 4th Phase: Costa Rica (H)
After our heroics in Mexico we returned to Canada where we faced the second strongest team in the group, Costa Rica. It was a case of déjà vu as another onslaught of attacks kept us pinned back in our own half for much of the game with Edson playing the game of his life and frustrating the Costa Rican forwards. It was another goalless draw but we had been thrown a World Cup life-line.

With just two games left to play the table looks like this with Guatemala and the US as our upcoming opponents. I think I mentoned in my last update about wondering if qualification will come down to the US game and sure enough…

Defender Michael Rodrigues picked up in injury on his return to the MLS and will miss the last two games which is a huge setback. A week later Gustafsson was added to that injury list.
October 2021
It was time to make the most important decision of my managerial career and select the 23 players for our final games against Guatemala and the United States. With fingers shaking at the keyboard I typed in the names, emailed it off to FIFA and then realized I had not selected any strikers…..how foolish!!

World Cup Qualifier 4th Phase: Guatemala (A)
In front of a hostile crowd of 10,000 fans we soon gained the advantage as the home side were reduced to ten men early on. Trying to re-group Guatemala looked unsteady at the back and square ball along the back line was intercepted by Hoilett whose out-stretched leg toe-poked the ball home to give us the lead. That effort though resulted in an injury. We maintained the upper hand throughout the first half and doubled our lead with an own goal from a corner just before the interval.
Spurred on by a two goal lead we added a third with Edwards Acevedo finishing off a Rick Verbeek cross minutes into the second half. Complacency began to force it way into the team and Guatemala hit back with two goals which made for a nervous ending though we held on for a vital three points.

The win over Guatemala had propelled us into third place but a draw may not be good enough in our final game due to goal difference so we had to go for the win across the border in the State of New England.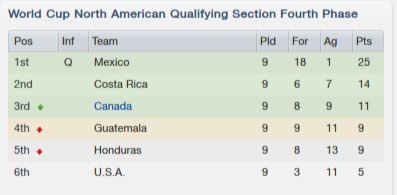 With additional injuries I was able to call in David DiPlacido so at least I had a striker to go up against the USA.
World Cup Qualifier 4th Phase: USA (A)
The final game of an incredibly long qualifying process ended with a match against our bitter rivals the Americans. We got off to the worst possible start as the most prolific striker in the MLS Fred Becker gave the home side the lead after just 11 minutes. Even with DiPlacido back in the team we were unable to make any headway in the first half and more and more it looked like our World Cup dream was over.
Fifteen minutes into the second half and I'd seen enough, off came DiPlacido and I moved Verbeek to a wide left striker (Complete Forward – Support) with Tiebert just behind him as the AML. That confused the heck out of the Americans and within minute's space opened up for Galloway in the middle and he finished off a through ball from Tiebert, chipping the GK to make it 1-1. With renewed confidence we surged forward and took the game to the US and a blistering run by Tiebert ended in a cross to what seemed to be nobody but out of the blue came Galloway…..GOALLLLLL. I was on the edge of my seat and leapt into the air (hitting my knee on the keyboard tray actually) I couldn't believe it, my best ever signing had come through for me again.
It wasn't quite over as a horrible mistake by Gershon Koffie right at the bitter end allowed the US to score an equalizer and the dream of making Qatar was over.

Or was it?
Guatemala had to play their final game in Costa Rica and only managed a draw.

That meant for the first time since 1986 Canada had qualified for the World Cup Finals!!!!

I could hardly contain myself as we celebrated our success into the night. It had been a long and drawn out battle and we had come through with some gutsy performances.
**Authors Note**
Up until this point my proudest achievement in CM or FM had been to take Cambridge United to the FA Cup Final for those who can remember that story but this goes beyond that as for the first ever time in all the years of playing this game I've reached the pinnacle of football, The World Cup.
Of course I have to be realistic as Canada will probably end up losing all three games in the group stage but nonetheless this is just a fabulous moment to savour.
Thanks for reading this update and see you next time for a World Cup special!!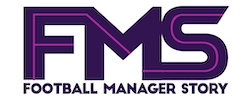 Subscribe to our Newsletter