Hello everyone and welcome back to a brand new update from my Sydney FC Football Manager Story. My first season in charge saw the team rise from being rank outsiders to win the A-League Grand Final over Adelaide. Trouble was on the horizon though as our financial situation was precarious.
May 2016
Immediately following the end of the season the board issued a transfer embargo as takeover talks began to surface…
The takeover was completed by mid-May and the new Chairman decided to keep me on in the manager's role. However that came at a price. Although most of the nearly $4million debt had been taken care of there was no money available for a transfer budget.

Unlike what I had been use to in the MLS with draft picks there's no such thing in Australia so I had to move quickly in order to strengthen the squad. Before that could happen I decided to have a bit of a clear out of players.
Reviewing their stats through my "moneyball" system there were many players that didn't seem to have much to offer going forward and as their contracts were almost up then releasing them was a no brainer.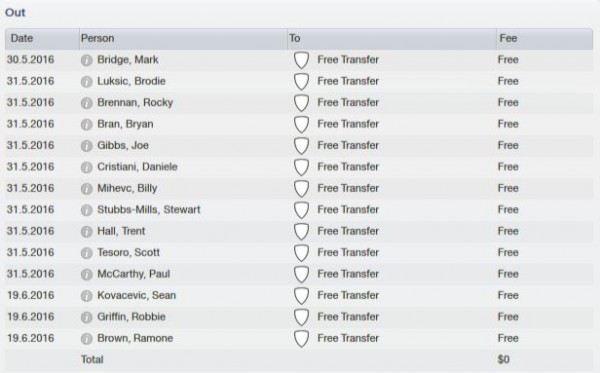 As for the new arrivals well things didn't go quite as expected simply because I forgot about the maximum of 5 internationals on the team – being used to 9 in the MLS, so consequently I ended up with players that are of no use to me.

Moneyball:
Only one "Moneyball" player to highlight and that would be defender David McEntegart who was let go by Brisbane. As you can see his tackling stats are above my current players and 4.52 for headers won per game are not that bad either. A good addition I feel as he can play anywhere along the back four.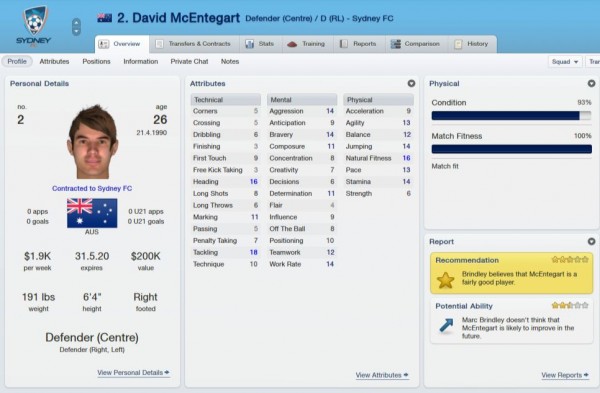 Joining McEntegart in defence is a young Vietnamese left back Do Quoc Cuong who I figure will be the immediate starter in that role.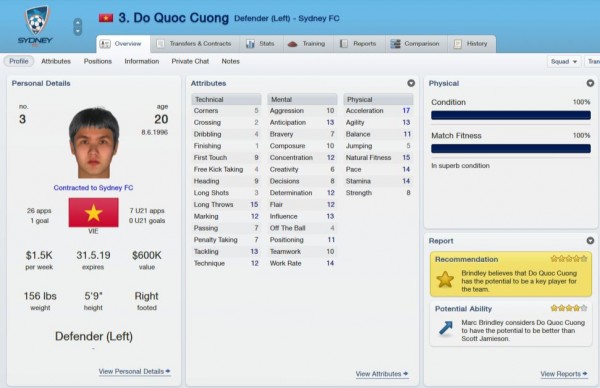 At the other end of the field I bolstered the front line with two strikers. Hans Quinteros from Chilean side Rangers and "Marquee" player Park Chu-Young, a South Korean international who still has a lot left in him especially for this league and will spearhead the front line this season.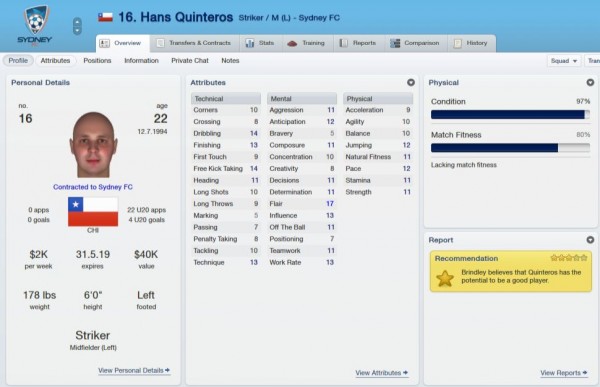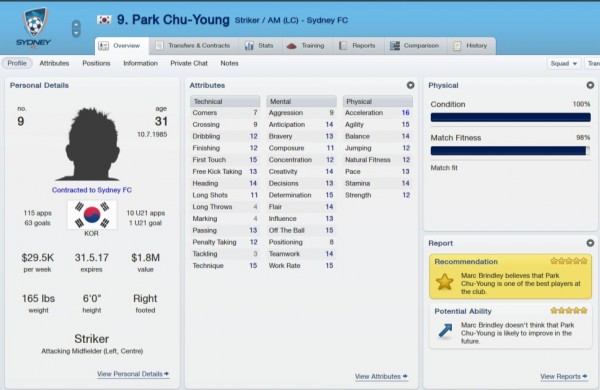 So with no money to do anything with that was basically it for the off season which was done and done very early on an thus led to a very long a drawn out winter, June to August which thankfully being in Australia is not all that bad compared to Canadian winters!
As there was not much going on in the front office I was happy therefore to see pre-season fixtures come around and all went exceedingly well admittedly against much weaker opposition though it's nice to see plenty of goals.

As with last season Sydney will take the field in a variation of my Vancouver 4-5-1 tactic – "Vancouver Slant Left" which looks sort of dis-jointed but in fact seems to cover all areas quite well. A good hard working DMC is critical for closing some obvious gaps and up front I've turned my lone striker into a Trequartista role which in pre-season appeared to work quite effectively pulling defenders away to create chances for others.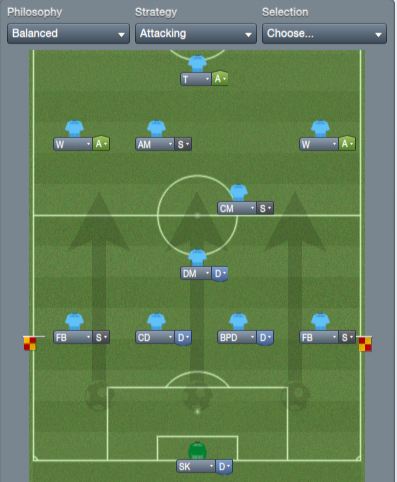 Here's a look at the squad broken up into Defensive and Offensive groups though probably the names are meaningless for most readers.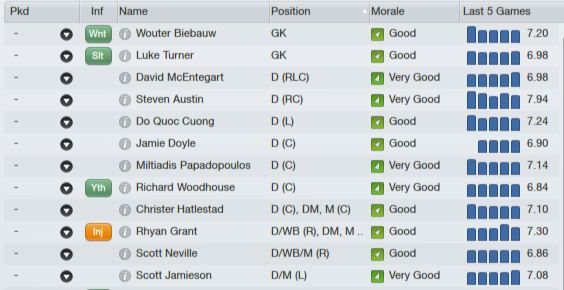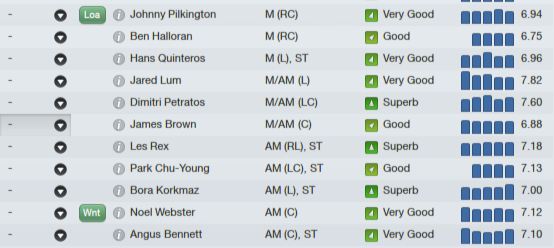 As we embark on the new season we've lost over another $2,000,000.00 since having the debt wiped clean. Money is literally draining out of our bank account and I have no idea why?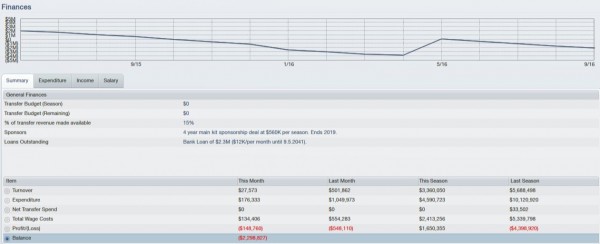 We opened the season with a good crowd of over 10,000 who were treated to a stunning hat-trick by our new forward Park-Chu-Young who lived up to all the pre-game hype as we cruised to a 4-0 victory over last season's second place team in the table.

Okay folks; that's where I'm leaving the story for now so thanks for reading and I look forward to your comments.

Subscribe to our Newsletter