Hello friends and welcome back to my latest update as I surge forward to complete my Southampton save and the final one of FM 2011. We had finished  2011 at the top of the table so could we hold onto that place going into the New Year?
January 2012:
We opened the New Year with a very sluggish start that saw youngster Alex Chamberlain grab his first goal of the season from close range and rescue a point for us against Barnsley.
Next up was our FA Cup Third Round tie at home to Newcastle and in front of a packed St Mary's stadium Tom Cleverely and Cedric Bakambu both hit the woodwork in a frantic opening 20 minutes that also saw GK Brian Murphy pull off two great saves from close range. Newcastle took the lead through a long range effort however new signing Paulinho Betanin evened things up with a thrilling run and a powerful strike into the corner of the net just before the interval. We poured on the pressure in the second half with Bakambu missing one chance after another, one an open goal, Newcastle then stole the game with a shot out of nowhere two minutes from the end to kill off our cup dreams. Bakambu's loan deal was immediately terminated after the game.

** New Signing**

Following our cup exit there was a flurry of transfer activity at St Mary's with three new players arriving and here they are, all of them attacking.
First up is Sodinha who will play on the right flank allowing Chamberlain to move into a striker role.

Edgar Cani was brought in on loan from Palermo until the end of the season to add some firepower up front which we have been sadly lacking.

Connor Wickham is another loan deal and given his low stamina I've earmarked him as my "last 20 minute guy" to hopefully rip through tiring defences!

Our next game was at home to Leeds and what a glorious day it was for our new signings and the fans alike with Cani, Betanin and Wickham all getting on the score-sheet as we tore apart Leeds in a stunning 4-1 victory.
When it comes to derby games it doesn't get any bigger than this on the south coast as we traveled to Fratton Park for a Saturday evening game against Portsmouth. Brazilain Paulinho Betanin struck gold just before half time with a fine run into the box which he finished with a low drive into the corner of the net. Portsmouth were reduced to 10 men but that didn't faze them with our defence taking on some serious attacking moves by the home side. Edgar Cani though settled the game with a sweeping shot into the net from a poorly cleared corner to the delight of our fans.
We finished off January with a home win against a determined Millwall side who had been reduced to 10 men early in the second half. A single goal by Jose Fonte deciding the outcome.
Before the transfer window closed I brought in one more player to take over from the fast fading Dean Hammond and Kevin Das Nevis. I found Sakari Mattila in Italian side Bellinzona and I think he will fit nicely in the midfield.

Here then is the complete transfer picture for the season which also saw Guly do Prado leave the club.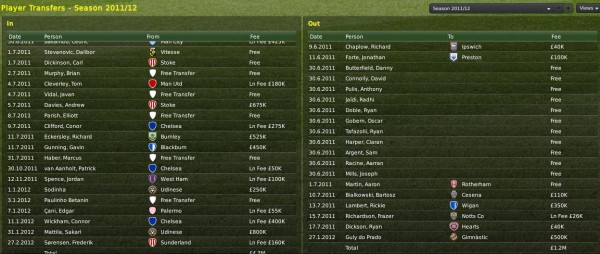 ** I know, so much for a consolidated report as I promised in my last update**
February 2012:
The month started off with a performance as about as impressive as the snow that fell throughout the game away to Preston where we failed in front of goal and succumbed to a single goal scored in the first half. We were equally as non- combative in a 0-0 draw at home to Leicester after which we were steam-rolled at the DW Stadium by a rampant Wigan side.
It was a totally one-sided game at St Mary's as we entertained Sheffield United and despite 65% possession and 14 shots we could only manage one goal and a scrambled effort across the line it was too by Betanin.

The last game of the month was away to Middlesbrough which saw us go a goal down, conceding from a corner in the 28th minute. A superb strike on the half volley by Puncheon brought us back into the match just before the interval and that set us up for a second half in which we mounted several attacks on the opposition goal. We finally broke through as Cani struck the go ahead goal from inside the six yard box as he met a Puncheon cross from the left flank. That was enough to secure a surprising win and end an otherwise dismal month on a high note.

League Table:
Our inconsistent form cost us top spot with Birmingham creating a six point lead over us. The battle could be for second place now?

Fixtures:
Eleven games of the season remain (unles we got to the play-offs) and three of those are against promotion challengers and all in row too; Blackpool, Coventry and then Birmingham. It's going to be a tough finish to the season and Football Manager 2011!!
Thanks for dropping by and taking the time to read this update.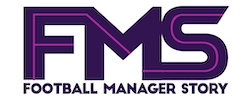 Subscribe to our Newsletter