Hello friends and it's a great feeling to bring you the inaugral update from my new club Sydney FC of the Hyundai A-League. We will pick the story up in January 2016 which is about half way through the season with The Sky Blues finding themselves towards the bottom end of the ten team table. We will go right on through to the end to see how things played out for Sydney so my apologies in advance for a longer than normal post.
Current Standings:

Post season action contains Major and Minor semi-Finals as well as a Final Series. I'm not sure what all that is but I'll deal with it as the season progresses.

I've arrived in Sydney with an upcoming transfer window though the rules that govern this situation are going to make things interesting as I can't by players from other teams in the league? There's only one league in the game so getting "other" Aussie players of quality could be challenging!

"Moneyball" Down Under
As with Vancouver I'll be implementing my Moneyball system with Sydney, using stats as the main driver for recruiting new players and scout reports as secondary. Squad registration looks somewhat similar to the MLS though the maximum squad size is only 23 players as opposed to 30. However, it looks like I can use Under 20 players who don't have to be registered and Sydney do have an abundance of those.

Finances:
Well I don't like the look of this though I've been in this situation with Vancouver so hopefully I can turn things around here as well.
**Those of you who know me well realize I'm a bit of a budget freak both in real life and in the game so I focus on the finances quite a bit.

Facilities:
The stadium itself holds just over 45,000 so that's twice as many as with Vancouver but with an average attendance of just over 8,000 this season there's a lot to do to fill this puppy up!
Behind the scenes some improvements could be made also but with money tight and bad results on the field upgrading is not a priority right now. Winning and bringing revenue into the club is.

***Authors Note
I won't bore you with endless screen shots of players but will highlight individuals that have an impact on the story. Just click on the names you see underlined.
January 2016
Our first game of 2016 saw us take a flight to New Zealand where after a very tentative first half we quickly took the lead through a well worked goal by AMR Scott Tesoro. Immediately Wellington pegged us back as a nervous looking back four conceded an own goal but redeemed themselves as a long searching pass found Tesoro who clinched the win with three minutes to spare.

That defensive error against Wellington was further highlighted in two back to back losses at the Sydney Football stadium as my Vancouver 4-5-1 tactic was proving difficult to embed in the Sydney framework.

My philosophy for the past few seasons had been to build from the back and when offered Belgium GK Wouter Biebauw by Anderlecht I snatched him up – the transfer window having opened mid-January. Australian free agent Scott Neville added some much needed steel to the right back area and so we were good to go at home to the Brisbane Roar
A slight change in the tactic moving one MC into a more attacking position and a slightly off-centre anchor man seemed to transform the team into a more cohesive unit. The arrival of James Brown, also a free agent did wonders to our passing game and that set things up for a very nice victory to end the month.

February 2016
February began away to Melbourne's other team The Victory who were topping the table. A fantastic start saw two goals in the opening 6 minutes both masterminded by Brown whose shot deflected off a Melbourne defender for an own goal and the second a superb pass setting up AML Jared Lum. The lead held until half time after which Melbourne took over scoring two second half goals and we were lucky to hold on for a point.

We followed up that draw with two tidy back to back wins over Perth, who had turned me down and Gold Coast United, with midfielder Joel Chianese player a starring role in both including a cracking long range shot to secure the 2-1 win over GCU.

Chianese though wanted an improved contract elevating him to "Marquee player" status which we could not simply afford and we already had the maximum one Marquee in defender Bryan Bran. Therefore we had to put him on the market and he was sold to Lillestrom for $180,000.00
A short month ended with a trip to league leaders Adelaide who dominated possession yet we held firm securing a valuable point to keep us in the play-off picture.

Standings:
So with four games left to play we have to hold on to 5th place the best we can with Brisbane who have a game in hand are right on our tails.

March 2016
A come from behind win over Central Coast set the tone for the end of the regular season as we won three out of our four remaining games including a crucial victory over Melbourne Hearts that secured a place in the Hyundai Final Series. After a bit of struggle in January we've found our footing and roles to be comfortable in and that's produced results.

Final Standings:
Notice Perth Glory didn't make post season action :)

Hyundai Minor Series Semi-Final
We had home field advantage going into the semi-final which we took full advantage of as midfielder James Brown hit the back of the net after just 8 minutes. We struggled to capitalize on that good start and even though we pegged Brisbane back a second goal was found wanting. That soon changed after the interval with stunning curling free kick from Petratos but Brisbane pulled one back minutes later through a give-away pass by our left back. We weren't shaken and 15 minutes later Brown hit his second from distance that was out-done by DMC Christer Hatlestad who hit his first of the season from 35 yards out to seal the deal and send us through to the final.

Hyundai Minor Series Final
The final matched us up away to the Central Coast Mariners but after 3 minutes we had the ball in the back of the net with Brown driving the ball in hard  and low for the opening goal. An horrific back pass by RB Scott Neville allowed created the equalizer for the home side but he redeemed himself with a long searching ball that found striker Angus Bennett who beat the offside trap and smashed home the go ahead goal.
The second half was end to end stuff but Central Coast finally found a way through to get the equalizer and send the game to extra time. Midfielder Evan Karanikos gained the lead once more for us with yer another goal from distance before GK Biebauw bundled the ball into his own net from a very harmless looking cross to make it 3-3 and so penalties. With the shoot –out tied at three a piece Central Coast missed their second and final penalty and up stepped James Brown to coolly strike the ball home to send us through to the Preliminary Final.


Adelaide United beat Melbourne Victory over two legs in the Major Final (1st v 2nd) and so go through to the Grand Final. We now have to beat Melbourne in order to make the Grand Final. Wow, complicated.
Hyundai Preliminary Final
A fantastic crowd of over 37,000 (our best of the season) witnessed a great performance that stifled the Melbourne attack whilst at the other end goals from Brown and Petratos either side of half time ensured passage into the Grand Final and knocking out last seasons winners. Unfortunately Hatlestad will miss the final having got sent off and that could prove crucial as he's been a solid anchorman.

Hyundai Grand Final
It was off to the Grand Final which was being held in Adelaide so a huge advantage for our opponents. The early battles favored Adelaide as they took control over the midfield and created several chances mostly from long range but kept GK Wouter Biebauw busy enough. Our first real opportunity came from a corner, Petratos spotting Brown unmarked at the edge of the area and his cross met Brown perfectly and he drove the ball home for the opening goal.
We were still celebrating when from the kick off five passes made it 1-1 just like that. Fortunately our heads didn't drop and we searched for the go ahead goal before half time but in never came. We controlled most of the ball for the second half though Adelaide came up with the better chances but the deadlock couldn't be broken and into extra time we went.
Six minutes in and a corner – Brown swings the ball into the box and youngster Richard Woodhouse rises above the pack and heads home our first goal from a corner all season and that would turn out to be the winning goal to. After a campaign that looked to be falling apart back in January we had turned things around and had won the Grand Final.

The victory meant we had qualified for next seasons Champions League. Nice compliment by the media as well.

Finances:
After the euphoria of winning the Grand Final was over the reality of running a club brought us all back down to earth. Despite being awarded $42,500.00 we continue to lose money on a steady basis. I guess I shouldn't expect any transfer budget next season?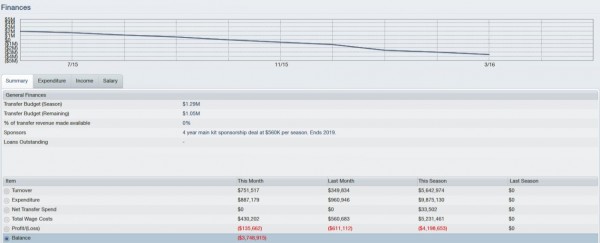 Lack of funding also meant our Facilities were downgraded by the league which along with the finances means this job is a huge undertaking to get the off-field problems sorted out.
Well that's where I'll leave things off for this season. Thanks a lot for taking the time to read this extra- long post and have a great weekend!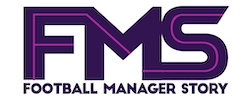 Subscribe to our Newsletter