Hello friends, welcome back to my Football Manager 2012 journey as Viitorul Constanta try to clinch the Champions League for the second time in a row. The first half of the season was almost perfect as we grabbed the UEFA Super Cup and the Club World Championship, the only two pieces of silverware that were missing from our trophy cabinet. We also had a regular unbeaten streak on the domestic front while we did well in Europe too since we finished atop the Champions League group.
As you remember we were drawn against Arsenal for the first knockout round, a pretty tough opponent but we progressed thanks to a decent first leg away and a brilliant second leg in which we demolished the Gunners 3-0 courtesy of a Rastislav Benko brace.

Benko and Dramane Sow did the damage in the quarter finals too, against FC Porto. The tie was quite difficult though as we got beaten 1-0 away but we managed to make things right at home.

The semi finals saw us taking on Inter and I must say that I was quite worried before the first leg because I had five players missing through injuries or suspensions. We managed to get a heroic goalless draw in Italy but we made a mistake in the second leg which allowed Inter to score an early goal. Sow made it all square at half time and then… Well, then the African striker taught them a lesson of football as he completed a hat-trick and we won 5-1!

And our opponent in the final was… Oh no, Real Madrid again! They were coming from a tough semi final against Juventus, after breezing past Chelsea and Europa League holders Sporting Lisbon.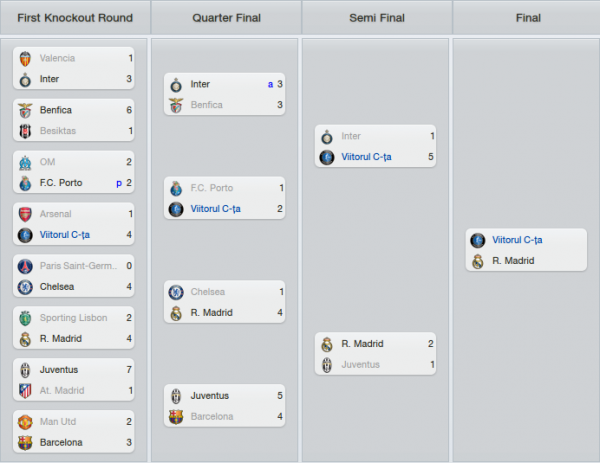 And that means I had to prepare for another clash with my friend Jose, who surely hates me, as the T-Shirt says :) This time he had his mind-games going before the game, I refused to comment on his statement.

Our history against Real Madrid was showing a slight advantage for us after last season's final but history doesn't win games…

Viitorul vs Real Madrid (Champions League Final)
Starting Line Up: Nicolas Salva – Tomislav Djurdjek, Xavier Dumont, Fabian Caporale, Sebastien Verdier – Hennie Paauwe, Mike Broadhead, Yasen Zlatinski – Rastislav Benko, Manoel, Dramane Sow
I had two players missing due to injuries, Alin Dicher and Michiel Aarts, and I had also decided to make two changes in the starting line up compared to my regular best eleven: Caporale instead of Georgica Dicu and Manoel instead of Juan Cruz Argenti. Both choices were based on form, the two replacements were in much better shape and had better morale compared to their competitors.
Real Madrid had the better start at the Luzhniki Stadium in Moscow and they came close after 10 minutes on a corner kick when their towering centre back smashed a corner kick header against the crossbar. The remainder of the first half was even and hard-fought but we had a slight advantage in terms of statistics at the end of the opening 45 minutes: 3-2 for shots on target and 7-2 for corners.
Football is played for goals though and our opponents came close again on 57 minutes following another corner kick, the drill was almost identical: header, crossbar, cleared… We carved out the first (and last) clear cut chance of the game seven minutes later, also on a corner kick, as Benko gathered the ball outside the penalty area after the corner kick cross had been cleared, then weaved inside the box and took his chance at the near post but the goalkeeper denied him. Our hopes received a severe blow just four minutes after that chance though: we gave the ball away on the right flank and we were swiftly punished by the Real winger who advanced and crossed perfectly for the opening goal.
I made some changes in an attempt to force a comeback but it didn't happen, we were unable to create more than a few additional corner kicks…
Match Highlights:click here to watch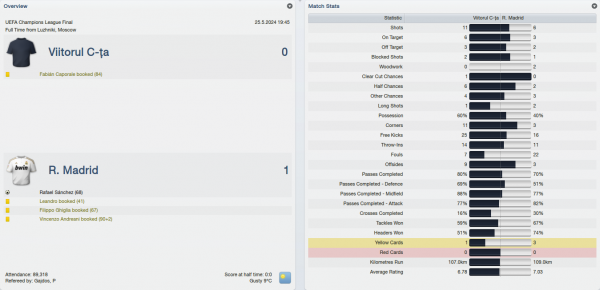 Mourinho won this time but I did move a bit forward in the world-wide hall of fame, ranked 10th now :) Catch you later, Jose, we'll surely meet again ;)

And now the boring domestic affairs… Well, the Romanian Cup final wasn't that boring, mainly because almost all my first team players were away on international duty on the day! We still managed to win it though, even if it took a nervy penalty shoot-out…

As for the league, needless to say that we won it again… But I wasn't too pleased with the results, we won no less than two games in the second half of the season and that's a bit below our standards.

Despite those results there still was considerable daylight between us and the second placed team, I guess they should give some sort of a title to the runner-up from now on.

The player statistics show a fantastic season for veteran Manoel, he bagged 27 goals in 21 starts a brilliant ratio. Fabian Caporale established himself as my second choice defender behind Xavier Dumont but Michiel Aarts was taken out of the competition by a long-term injury. Last but not least, young Scottish striker Richard Hendry is finding a place alongside our legendary strikers but there might still be a lot more to come from the lad.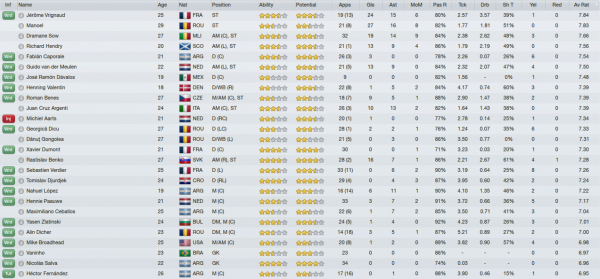 I saved the best news for last… I wasn't hoping for a reputation increase after losing the final but… Here it is! Continental!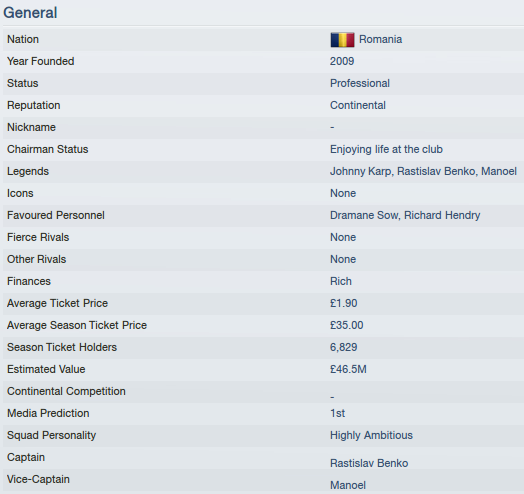 Suddenly I feel that the 26 million pounds in the bank might not be enough since we might be able to attract interest from a bunch of world class players now!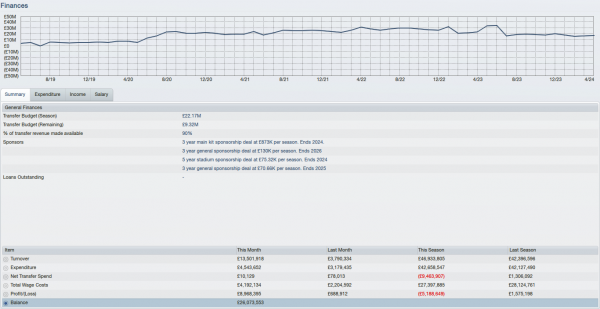 That's about it folks, thanks a lot for taking the time to read this. I do feel pretty bad about losing the Champions League final but given the set of players that I have and comparing them to the Real Madrid squad, I'd say it's a miracle that we won it last season :) Anyway, looking forward to hearing your thoughts.
P.S.: Do check out our forum, we have a new software installed and a new design in place. It's still work in progress, so any suggestions are welcome.

Subscribe to our Newsletter