Hello folks and welcome back to my Football Manager 2012 story! Sorry for keeping you waiting a bit for this update but I've been quite busy with less exciting stuff lately. A quick recap of the situation before moving on to the actual update: we were 2nd at the end of March 2014 in Liga 1, 2 points behind leaders U Cluj with 10 games remaining but also with a pretty bad injury crisis to deal with. We also had the Romanian Cup semi final to look forward to in the last two months of the season.
The first game in April was the first leg of the Romanian Cup semi final tie against FC Brasov, a Liga 2 side. With that and our injury crisis in mind I decided to rest all the important players for that game. The result was a goalless draw, a decent one considering that we were going to play the second leg at home.
After that good rest I was hoping that the players were prepared for the upcoming tough match as we were travelling to face 4th placed Rapid Bucharest. It also was my 100th game in management so I was hoping for a good result to celebrate that landmark.
Rapid vs Viitorul (Liga 1)
Starting Line Up: Octavian Ormenisan – Ionut Peteleu, Alvaro Casanova, Ionut Putanu, Tshepo Tshabalala – Dejan Danicic, Mihai Onicas, Nenad Grumic – Joabe, Marius Albu, Denis Alibec
The crowd witnessed a lively start to the game with a few shots on both ends but it was Rapid who took the lead thanks to an unfortunate own goal. That mishap affected my lads and Rapid took control of the game but we came close to scoring against the run of play on 26 minutes when Dejan Danicic received the ball in a good position inside the penalty area but was denied by the goalkeeper. Nine minutes later I had to watch the physio in action again, Ionut Peteleu had to leave the field on a stretcher…
I switched to the attacking version of my tactic at half time in an attempt to turn things around but we were hit by bad luck again on 56 minutes when substitute left back Florin Krajcar put another one past our own keeper. The game was as good as over and Rapid made sure of that on a counter attack, it ended 3-0 as we couldn't even score a consolation goal although Joabe did have a pretty good late chance. A poor performance overall and injured Peteleu was going to be out for three weeks…
Match highlights: click here to watch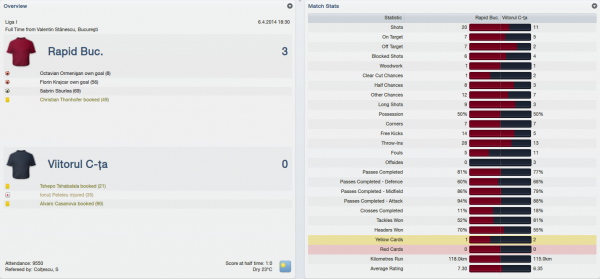 The next game was another disappointment as we were held to a goalless draw at 15th placed Gloria Bistrita, the situation was quite worrying as we failed to score in three consecutive games and moved down in third place.
We had to turn things around but the next game wasn't looking as a good opportunity as we were welcoming strong 5th placed Pandurii.
Viitorul vs Pandurii (Liga 1)
Starting Line Up: Octavian Ormenisan – Alvaro Casanova, Timur Peniu, Ionut Putanu, Florin Krajcar – Corado Carstoiu, Mihai Onicas, Nenad Grumic – Joabe, Marius Albu, Denis Alibec
The lads seemed to be determined to change our fortunes though and we nearly broke the deadlock just 2 minutes into the game when a sensational shot by Mihai Onicas from way out rattled the crossbar. We were dominating quite clearly and the goal finally came on 13 minutes when Marius Albu somehow managed to push one into the back of the net. He could have added another one to his tally on 24 minutes but his volley bounced back off the crossbar. The first half ended without any more goals although the team played really well for a change.
Pandurii started the second half with a more positive approach and they could have levelled the score on 53 minutes when they wasted a pretty big chance. Then we managed to restore our domination but Joabe failed to score on a great chance on 62 minutes and then Alibec wasted another good opportunity. Luckily Pandurii were unable to punish us for the missed chances and we grabbed the three points. There was no celebration though because we had yet another injury to worry about after the game: Timur Peniu out for 3 weeks!
Match highlights: click here to watch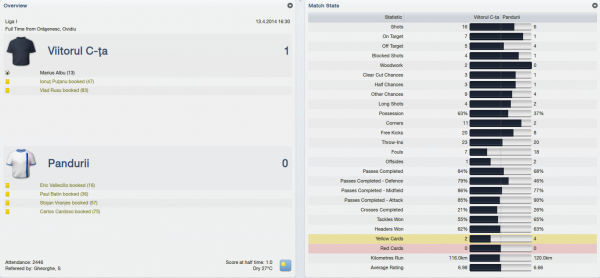 The second leg of the Romanian Cup match against FC Brasov was coming up and I was quite confident. The game seemed to go our way as we totally dominated it before Zarko Markovic finally scored the opening goal but then disaster struck when we least expected it: Brasov were awarded a rather dubious penalty kick and they scored to advance on away goals! You can imagine my frustration as our opponents had just one shot on target and that was a penalty kick! We blew a huge chance to reach the Romanian Cup final and that really was endangering our hopes of playing Europa League football next season…
Fortunately we had an easy league match coming up and we managed to bounce back by beating 15th placed Ceahlaul. The second goal was a beauty, click here to watch it.
The last match of the month was a crucial one as we were facing 5th placed FC Timisoara at home, we needed a win to remain in the top three.
Viitorul vs FC Timisoara (Liga 1)
Starting Line Up: Octavian Ormenisan – Alvaro Casanova, Ionut Putanu, Zarko Markovic, Florin Krajcar – Corado Carstoiu, Mihai Onicas, Nenad Grumic – Joabe, Manoel, Marius Albu
We got off to a bright start this time, an excellent move on 8 minutes saw Brazilian striker Manoel playing a perfect through pass for Nenad Grumic who powered home. Our joy was short-lived though as Timisoara managed to make it all square after just seven minutes when my defenders failed to clear the ball after a good save from goalie Octavian Ormenisan. The lads played a pretty good first half but our defence was totally dormant and Timisoara could have scored again just before the break.
The second half saw a beautiful open game with both sides trying to attack but unfortunately only Timisoara succeeded in converting that into a goal. They were better than us overall so we had to admit defeat and worry about yet another bad injury: Zarko Markovic's season was over as he was going to be out for two months…
Match highlights: click here to watch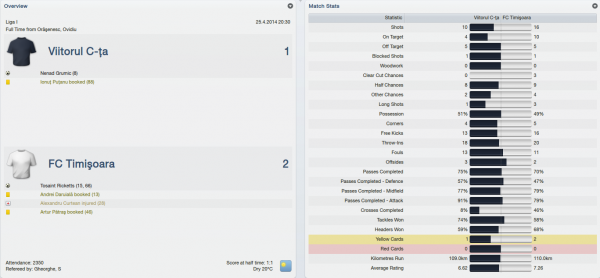 The poor run saw us moving further down in 4th place, the title race seemed over for us but now we were also fearing for the Europa League qualification… Three Romanian teams qualify for the Europa League, the winner of the Cup plus two more. CFR Cluj were going to play the Cup final against FC Brasov and if CFR were not going to win it then our 4th place wasn't going to be good enough for Europe!

There were five more games to play and our situation was uncertain: in theory we still had a chance to win the title but we also had the unwanted chance to miss out on the Europa League qualification. The fixtures set was not too difficult as we were going to meet only teams from the lower half of the table except leaders U Cluj in the penultimate match of the season.
I guess you're curious to see how it ended… Well, the answer is in the next page!
Go to the next page to read the rest of the story.

Subscribe to our Newsletter