Hello friends, I'm happily writing a new episode of my Football Manager 2012 story on a bright spring day in Bucharest. Well, the episode won't be as happy, but I hope you will enjoy it nonetheless. As you remember, last season we made another clean sweep on the domestic front, won the title by a landslide margin and lifted the Romanian Cup again without breaking a sweat. On the more important front, the European one, we managed to win our Champions League group against all odds but then we got knocked out by Bayern Munich in the first round.  This episode will cover our summer of preparations for a new attempt to conquer the Champions League, with some good news and some pretty bad ones.
Good news first, I hear you say? OK, good news first :) The board decided to keep investing into the youth and training facilities, I think we have the best ones in the nation at the moment and, after these improvements are completed, our training facilities will be just as good as those you can find at any big European club.

Then I have to proudly report that the Romanian First League (Liga 1) is still moving up the European rankings ladder, that's entirely good news even though the other Romanian teams are not helping us much with this effort.

Moreover, we moved up quite a few places in the European Club Rankings again, we're on the brink of the top 20 and I believe that if we move inside that top 20 we might have a good chance of being seeded second instead of third in the Champions League group draws.

Our efforts preserved Romania's European qualification places and I hope that the other teams will give us a hand in increasing those numbers.

And that's where the good news come to an end. Now let's go for some so-so news: the initial budgets were not too impressive…

… and neither were the expectations budgets, even though the board got used to winning the title every season.

The bookmakers think that Rapid Bucharest might mount a real title challenge this season, I really hope that they are right because we need a strong domestic rival for a change.

And now, the bad news… I lost five of my first team players this summer, that's the bad news. OK, one of them was going to be sold anyway, and that's goalkeeper Alberto Maciel. The other four were sold because they were unwilling to extend their contracts that were going to run out in 2021, so I had no other choice than to cash in. We received quite a bit of money, that's good, but we lost Hernan Prestia, Hernan Arangio, Steven Khumalo and Zezinho. Those are were big names for the club, especially the likes of Arangio or Zezinho, but I had little or no choice.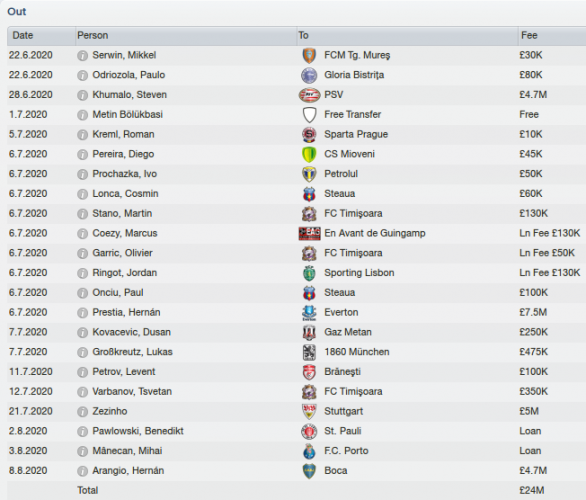 The even worse news is that I failed to find good enough replacements for all of those lads. Don't get me wrong, there are quite a few good players on my shortlist but the best ones are not interested in joining our club at the moment and the other ones… well, the other ones are not good enough to spend loads of money on them. So I bought only two first team players, both of them strikers: Peter Guba, a quick and talented lad, and Guido van der Meulen, a young and very talented Dutch player.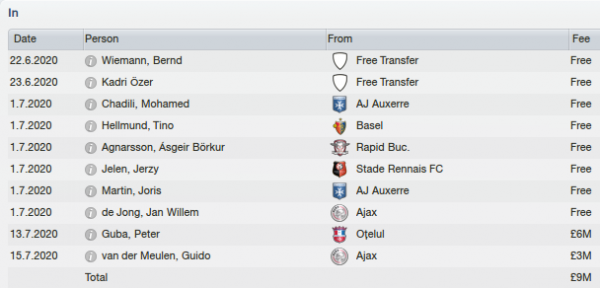 As for the other replacements, I decided to go for in-house names and I promoted the following players from the under 19 team: Vaninho and Tomas Held, both goalkeepers, and Gabriel Neacsa, a Romanian midfielder. The two goalies are good and I think they can become even better, while Neacsa will be forced into the first team, mostly because there is a real shortage of good Romanian players and he's the one showing the most potential in his generation.
Here's how the squad looks, you can click the names to view the player profiles:
Goalkeepers: Tomas Held, Vaninho
Right backs: Ali Amara, Darko Andric
Left backs: Danut Gongolea, Sebastien Verdier
Centre backs: Georgica Dicu, Xavier Dumont, Juan Belencoso, Sammy Mbarga
Central midfielders: Hector Fernandez, Markus Winkler, Yasen Zlatinski, Joaozinho, Christian Kaufmann, Roman Benes, Gabriel Neacsa
Strikers: Rastislav Benko, Daniel Mazzoni, Manoel, Dramane Sow, Peter Guba, Guido van der Meulen
The bad news are over now, the pre-season and early season results were pretty good. We lifted the Romanian Super Cup again, no worries there, and we also smashed Benfica in a friendly. Then we recorded two consecutive draws in the Liga 1 but I'm not too worried about that, we were quite unlucky on both occasions.

The Champions League group stage draw was not necessarily good news, but not bad either considering we were seeded third. I admit that I would have preferred another second seed instead of FC Porto but I guess we can put up a fight for the second place in the group.

We have met FC Porto before twice, also in the Champions League group stage, and we clinched a 0-0 away draw and lost 2-1 at home, that was back in 2017. As for the other two teams, we'll be facing them for the first time. The schedule doesn't look too good either, especially because we'll have to play the decisive last game away at FC Porto.

The Champions League odds are unchanged as far as we are concerned, we were 40-1 last season as well. However, it's not good to see that Man United are among the top favourites…

But the post ends with good news, our financial situation is secure and I intend to save some money for next summer when I'm planning a few important signings. Well, if those players will be interested that is…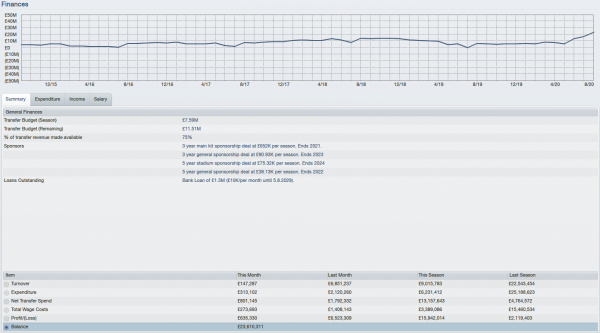 That's all for now my friends, I guess this will most likely be a transition season because the squad does look a bit weaker than it was last season due to those five players leaving. But who knows, maybe it will turn out better? Your thoughts are expected in the comments section, as always.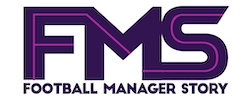 Subscribe to our Newsletter