Hello folks, warm greetings from freezing Bucharest! It's mighty cold here these days with snow storms and the whole shebang but fortunately that didn't affect my internet connection so I have a fresh episode of my Football Manager 2012 story for you to enjoy! As you might remember my Viitorul Constanta had a very good first half of the season, especially in Europe where we managed to snatch no less than eight points and finish third in our Champions League group, a position that granted us access into the knockout rounds of the Europa League. As far as the domestic stage was concerned we had little to no problems as we continued to dominate the Romanian top flight.
The most important news of the winter break is that the board decided to spare some cash and boost my transfer budget but not by much unfortunately. However, I managed to sell a few players for a total of 1.5 million pounds with the most notable transfer out being youngster Stefan Huza who left the club for a nice transfer fee: 1 million pounds to Viking. I spent the money on two players:
– a striker – Olexiy Romanchuk, bought for a bargain fee of 20,000 pounds from a small Ukrainian club.
– a central midfielder – Hector Fernandez, bought for a hefty 2 million pounds from Godoy Cruz. Unfortunately I was unable to complete the transfer before the Europa League squad registration deadline so I was unable to register him for that competition but he should become an essential player next season.
The winter friendlies went fairly well as we won all but one but I was pleased to see the lads scoring for fun in most of those games.
The serious business began with the first leg of the Europa League first knockout round, a trip to Ibrox where we were going to face Rangers. They had finished third in a Champions League group, just like we had, but the main difference was that they managed to clinch that third spot with just two points compared to our eight!
Rangers vs Viitorul (Europa League 1st Rnd Leg 1)
Starting Line Up: Hernan Prestia – Ionut Peteleu, Juan Belencoso, Georgica Dicu, Mory Kante – Christian Kaufmann, Joaozinho, Nenad Grumic – Rastislav Benko, Manoel, Daniel Mazzoni
The best area of their squad appeared to be the middle of the pitch where they had a nice duo composed of John Fleck and Josh McEachran. My lads seemed stronger though, we dominated the opening minutes of the game and could have broken the deadlock in the 10th minute through Benko but his shot was saved by the goalie. The domination continued and we finally found the back of the net on 28 minutes when Angolan midfielder Joaozinho curled in one of his trademark free kick shots, from the edge of the area straight into the top corner!  That beautiful goal gave us a well-deserved advantage at half time and I was quietly optimistic at the interval.
The Rangers reacted after the break though and they came very close on 50 minutes when we were rescued by the crossbar. My boys were still playing well though and Manoel could have doubled our advantage three minutes later but his placed shot bounced clear off the post. Then the Brazilian striker got injured and I replaced him with new signing Olexiy Romanchuk. Despite playing well it was another dead ball situation that brought us a goal: Joaozinho was the taker again but this time he crossed for Georgica Dicu who fired into the roof of the net! Four minutes later substitute Romanchuk played a great pass for Benko but the striker failed to find a way past the keeper when one-0n-one. Then the game cooled off a bit, we seemed safely in control but unfortunately a moment of madness let the Rangers back in deep into injury time: substitute midfielder Silviu Pana made a rash tackle inside the penalty area and the Rangers pulled one back from the spot. That goal kept the tie interesting, we had to be careful in the second leg.
Match Highlights: click here to watch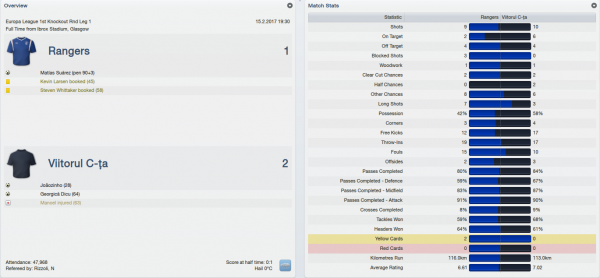 Viitorul vs Rangers (Europa League 1st Rnd Leg 2)
Starting Line Up: Hernan Prestia – Ionut Peteleu, Juan Belencoso, Georgica Dicu, Mory Kante – Christian Kaufmann, Joaozinho, Nenad Grumic – Rastislav Benko, Manoel, Daniel Mazzoni
We needed to make sure of keeping a clean sheet in the second leg and that's exactly what we did in the first half, the game was comfortably boring. Moreover, we managed to score just before the interval when Nenad Grumic set up Manoel who found the back of the net with a cool finish. Things seemed to be going our way at that point but the Rangers fought back after the break and managed to make it all square at the hour mark with a well-deserved goal. Fortunately my players regained control of the match after the equaliser and we could have wrapped things up in the 72nd minute when substitute Olexiy Romanchuk squandered a huge chance. There was nothing to worry about though, we kept possession very well and had a comfortable match finale.
Match Highlights: click here to watch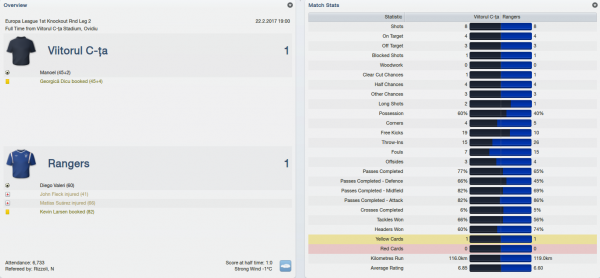 We were going to face Turkish side Fenerbahce in the second round as they breezed past Sparta Prague in the previous round, 4-1 on aggregate. We were just one step away from the quarter finals, this was becoming quite exciting…
Viitorul vs Fenerbahce (Europa League 2nd Rnd Leg 1)
Starting Line Up: Xaropinho – Ionut Peteleu, Juan Belencoso, Ionut Putanu, Mory Kante – Christian Kaufmann, Nenad Grumic, Silviu Pana – Rodolfo Oliver, Rastislav Benko, Daniel Mazzoni
Unfortunately we had a few important absences to deal with: Georgica Dicu was suspended while Hernan Prestia, Lubomir Cerny and Manoel were all injured. As for Fenerbahce, their squad looked strong overall with a star player in midfield: former Bayern Munich and Real Madrid man Hamit Altintop. We had good possession in the opening half hour but we were unable to create any decent chances while Fenerbahce came close to punishing us on a counter attack on 36 minutes when goalie Xaropinho pulled off a very nice save. Things changed slightly after the break as my lads started showing a bit more determination and we were rewarded with a very lucky goal two minutes after the restart: substitute left back Danut Gongolea sent in a good powerful cross and fortunately it was fumbled into the net by one of the Turkish defenders. I was expecting to see more after that goal but nothing happened, the game was totally boring until eight minutes from time when Juan Belencoso picked up his second yellow card of the game and left us with 10 men for the final minutes. Fenerbahce were unable to capitalize on that advantage, they didn't even seem to try to be honest, so we clinched a good but lucky first leg win.
Match Highlights: click here to watch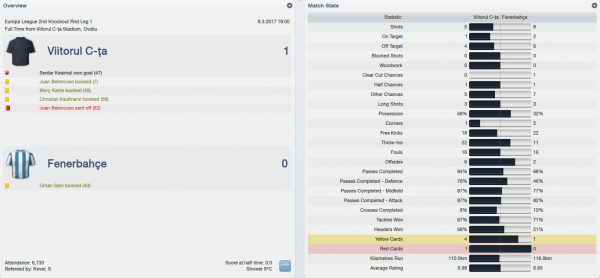 Fenerbahce vs Viitorul (Europa League 2nd Rnd Leg 2)
Starting Line Up: Hernan Prestia – Ionut Peteleu, Ionut Putanu, Georgica Dicu, Danut Gongolea – Christian Kaufmann, Joaozinho, Nenad Grumic – Rodolfo Oliver, Rastislav Benko, Daniel Mazzoni
The second leg brought two more absences in our ranks due to red and yellow cards, Mory Kante and Juan Belencoso were suspended while Manoel and Lubomir Cerny were still injured. We had Prestia back between the sticks though and Dicu back at the heart of the defence and the team started the game well, we were playing better than we had done in the first leg and we nearly scored a very important goal on 19 minutes but Benko wasted a very good chance. The home side swiftly punished us for that just four minutes later on their first real attacking move of the game, my defence was rather slow to react and the game was all square on aggregate. Then Fenerbahce took control of the game and nearly scored again on 41 minutes when Hernan Prestia kept the score intact with a very good save.
The second half didn't bring any differences, the home side was still in control but we managed to keep things quiet until the 75th minute when Prestia pulled off another good save to keep us in the game. The match went into extra times, both teams looked exhausted but we had a good chance to nail that decisive goal on 110 minutes when substitute Olexiy Romanchuk came close with a header that was diverted behind by the goalkeeper. Then things got worse for us as Gongolea got injured and with no substitutions left we had to face the last minutes of the game with a numerical disadvantage. Fenerbahce looked to take advantage of the situation and started pressing forward but my men survived to push the game into the penalty shoot-out…
A Fenerbahce player took the first penalty and scored, then Rodolfo Oliver stepped up and scored, then another Fenerbahce player scored, then Daniel Mazzoni hit the post! Then the third Fenerbahce player scored and then… Joaozinho hit the post… The fourth Fenerbahce player scored and it was all over, a bitter pill to swallow but the end of a proud European campaign overall.
Match Highlights: click here to watch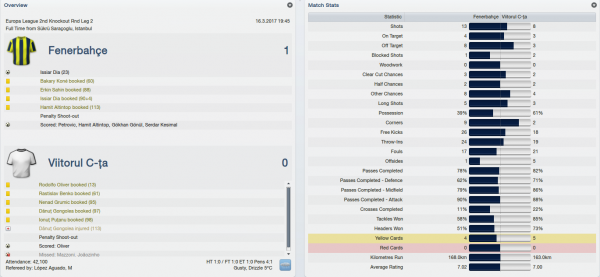 With Europe out of the way you might wonder if we managed to grab our fourth consecutive Liga 1 title, right? Well, I won't create any suspense this time because there was none: we clinched the title with five games to spare after a tremendous winning streak. In fact, we went the whole second half of the season unbeaten but the players got a bit complacent after clinching the title and we recorded a few draws in the last games of the season.

We won the title by a very big margin but we didn't improve last season's total as we earned 84 points compared to last season's 86. We improved other numbers though: 78 goals scored compared to 73 last season and just 12 goals conceded, half of last season's 24!

Last but not least we had the Romanian Cup, we wanted to get our third trophy in a row. The semi final was a pleasure cruise as we thumped Branesti 7-1 on aggregate…
… but the final was expected to be a bit more difficult as we were about to face Rapid Bucharest.
Rapid vs Viitorul (Romanian Cup Final)
Starting Line Up: Hernan Prestia – Lubomir Cerny, Juan Belencoso, Georgica Dicu, Mory Kante – Christian Kaufmann, Hector Fernandez, Nenad Grumic – Rodolfo Oliver, Rastislav Benko, Daniel Mazzoni
We could have gained an advantage before the first minute of play was over, Benko had a close range free kick header just 50 seconds into the match but somehow he directed that over the bar. The domination was quite clear, we were piling on the pressure but the breakthrough was nowhere to be seen. Then Daniel Mazzoni got injured but fortunately substitute Manoel made an instant impact as he was brought down inside the penalty area and Rastislav Benko coolly converted from the spot. Benko had yet another chance three minutes before the break but he fired just wide from a good position. And then we got punished just as we were preparing to head to the dressing room, Rapid scored on a corner kick as their first shot of the match found the back of the net…
Our domination continued after the interval and we finally got back in front two minutes after the hour mark when a cross from Kante was volleyed home by Oliver. Rapid came close to making it all square again just five minutes later when former Viitorul striker Denis Alibec hit the crossbar from a free kick but we seemed in control of the match. That was just an illusion though, Rapid found the equaliser on 89 minutes when my goalkeeper and defenders were caught sleeping by a desperate cross into the box from way out.
The game went into extra time and then to the penalty shoot-out, the second of our season… This time we did a lot better though, eight pairs of penalty kicks were taken but my lads kept cool and won the third consecutive double…
Match Highlights: click here to watch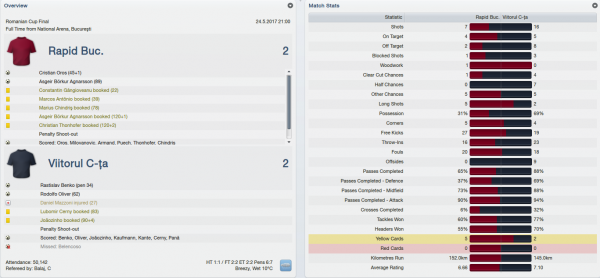 That concludes a successful season overall, our domination of Romanian football is quite clear now and we're starting to make a name for ourselves in Europe as well. Rastislav Benko and Manoel have been on fire this season as they bagged 27 goals apiece, Georgica Dicu and Juan Belencoso are forming a solid pair at the heart of the defence while midfielder Joaozinho is becoming an important asset. I think that we don't need any major changes in the squad for next season but I will surely try to bring in a few quality youngsters to enhance the team.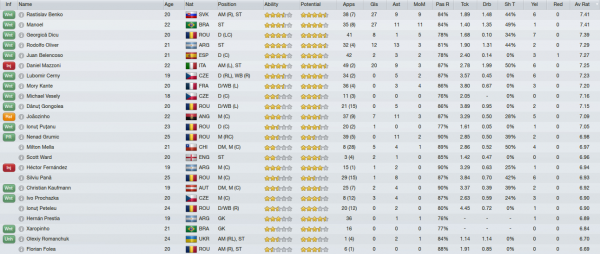 The club's financial status is still solid with little over 7 million pounds in the bank, things should be quite exciting next summer as I hope I'll be given a decent transfer budget to play with.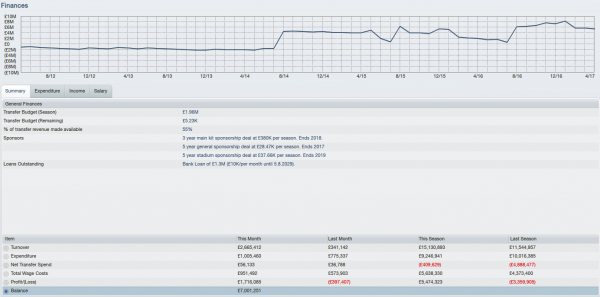 That's all I had to report for now, thanks a lot for reading and for your support.

Subscribe to our Newsletter