Here we go folks, it's been quite a long time since the last episode of my FM 2012 story so I apologise for keeping you waiting. Some of you might not remember where the previous update left us so here's a very quick recap: my Viitorul Constanta recorded six straight defeats in the Champions League group stage but that left us with around 4.5 million pounds in the bank, we were second in the Liga 1 table but just one point behind leaders Rapid Bucharest and we were through to the semi finals of the Romanian Cup. And I was waiting…
… waiting for a transfer budget, obviously. The winter transfer window opens on January 28th in Romania and I believed that I was going to receive some news from the board telling me that I have some extra money for transfers. I waited until January 15th, the message didn't come. Then I decided to ask for the money myself but the answer was a definite no! The chairman explained that our squad is good enough to challenge for the title and although I agree I can't say I'm not disappointed. So there you go, that's the meaning of the post title: I'm still waiting for a frickin transfer budget.
No money doesn't necessarily mean no transfers though, I was able to sell a couple of players and use that money to buy a couple. Here are the details:
Players Out
Constantin Grecu (210K), Madalin Crenganis (100K)
Players In
Milton Mella (free), Silviu Pana (250K), Vasilica Asan (promoted from youth team)
You know that I was keen on bringing in a couple of midfielders and I guess I achieved that with Mella and Pana joining the team while Asan is a Viitorul trainee that will be a backup for the more famous strikers for now.
The winter friendlies went pretty well, we won all but the last one but that game against AEK was a bit strange since we conceded both goals during stoppage time. The team played pretty well throughout those friendlies as well but I had no reason to be happy and that's because of… injuries:
– Milton Mella got injured against Sigma Olomouc – 6 to 8 weeks
– Manoel got injured against Maribor – 3 weeks
– Mihai Onicas got injured against Padova – 4 to 5 weeks
– Ionut Peteleu got injured against AEK – 2 months
– Juan Belencoso got injured in training after the AEK match – 4 to 5 weeks

We had a tough match right away as we were receiving the visit of 4th placed FC Timisoara, I have to say that I was quite worried given all the injuries.
Viitorul vs FC Timisoara (Liga 1)
Starting Line Up: Octavian Ormenisan – Alvaro Casanova, Edward Motha, Ionut Putanu, Tshepo Tshabalala – Dejan Danicic, Alexandru Lazar, Nenad Grumic – Liviu Ganea, Joabe, Raul Rusescu
My worries were almost totally gone after a few minutes though, the team got off to an excellent start and Liviu Ganea broke the deadlock by taking advantage of a mix-up in the opposition defence. He could have scored his second of the game on 16 minutes when Tshepo Tshabalala found him with a good cross but the striker's header hit the crossbar. Ganea had yet another chance on 35 minutes when a fine move freed him inside the penalty area but the goalkeeper denied him. The goal did come a few second later though, Joabe was brought down inside the penalty area and midfielder Dejan Danicic coolly converted from the spot. The perfect first half was wrapped up during stoppage time when Ionut Putanu smashed in a corner kick header to make it 3-0.
The second half didn't seem to bring a different game and we could have extended our lead after just three minutes when substitute Silviu Pana was denied by a great save on a counter attack. Timisoara had their first and last clear cut chance of the game one minute later but they did grab a late consolation goal. We had the three points though and since leaders Rapid were held to a goalless draw we leapfrogged them at the top of the table.
Match highlights: click here to watch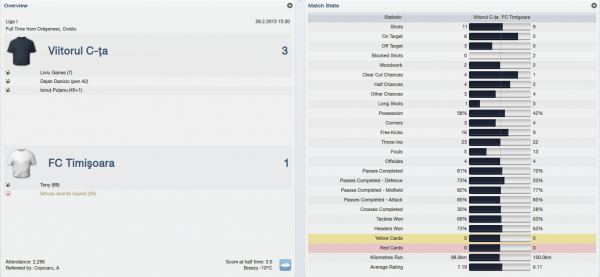 Unfortunately we were unable to repeat that good performance in the next game, away at 8th placed Otelul, and barely clinched a point thanks to an injury time equaliser scored by Raul Rusescu and assisted by new signing Silviu Pana. But we were unstoppable at home and we proved that with a scoring spree against 9th placed Vaslui, we bagged six goals and let in just one. However, playing away seemed a lot more difficult as we produced another disappointing display to record a 1-1 draw at 5th placed U Cluj.

Those two draws moved us back into second place, 1 point behind Rapid, the exact same situation we had before the winter break. We had the chance to prove ourselves though as our next match was at home against Rapid themselves.
Viitorul vs Rapid Bucharest (Liga 1)
Starting Line Up: Octavian Ormenisan – Alvaro Casanova, Edward Motha, Ionut Putanu, Tshepo Tshabalala – Dejan Danicic, Alexandru Lazar, Nenad Grumic – Liviu Ganea, Joabe, Raul Rusescu
We enjoyed a good spell of domination at the beginning of the game but it was fruitless until the 27th minute when we nearly got lucky: a fluke cross from Alvaro Casanova put the opposition goalkeeper in difficulty but Raul Rusescu was unable to convert from just a few yards out. Rapid defended well until half time though and it seemed that we didn't have enough creativity to get past their fortress.
The game continued in a similar fashion after the break and our first chance after the restart was two minutes before the hour mark when Joabe created a chance inside the penalty area for Liviu Ganea but the latter was denied by the upright. The crowd finally had something to celebrate just one minute later when playmaker Alexandru Lazar took things into his own hands and smashed one in from inside the penalty area. There was no reply from Rapid while we kept pushing for another goal. The former leaders held out for a narrow defeat but that wasn't enough for them to remain in pole position.
Match highlights:click here to watch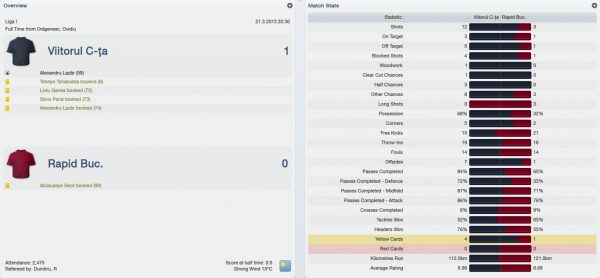 We are first at the end of March but the situation at the top of the table is explosive to say the least: three teams tied on 50 points and three other teams within 5 points! I guess this will be one hell of a title race!

We have 11 more games to play plus the two legs of the Romanian Cup semi final against Dinamo. I really want to win the cup this season but the league is a lot more important so, if the situation will require that, I might rest a few players in the cup and focus on the league.

We still have some injuries to deal with but thankfully most of my players recovered and will probably play a big part in the last two months of the season. Denis Alibec is still leading the goalscorer rankings but Liviu Ganea is breathing down his neck while new midfielder Silviu Pana did very well so far as he provided three assists in only two games as a starter.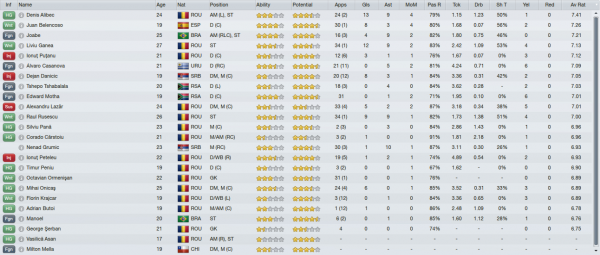 That's about it for now my friends, I wish you all and your families a Happy New Year and a sensational 2012! And thanks a lot for reading this long overdue update ;)

Subscribe to our Newsletter