The time has come to wrap up my Football Manager 2012 story, this is the last episode of a 15-season journey that has taken Viitorul Constanta from the Romanian Second League to the top of the European charts. As you remember from the previous episode we were on course for another good season, at least domestically, as we were dominating the league once again. But I also wanted some more Champions League glory…
Well, that wasn't the case, unfortunately. We went past Sevilla in the first round but then we got FC Bayern and they really outplayed us in both legs, something I haven't seen in quite a while. It seems that Bayern had managed to assemble a pretty good team as they went all the way to the final where they got defeated by Inter. I guess it's a disappointing exit but you can't win them all, especially with a Romanian club…

The same can not be said about the Romanian Cup, we won that once again even though we had a pretty tough time in the second leg of the semi final.

As for the league, you remember that I wanted to win all 34 games after getting straight victories in the opening 18 matches… Well, that didn't happen either as we were held to a draw in the very first match after the winter break. Then we went on to win the remaining 15 matches though.

We won the league one last time and by a landslide margin, with a goal scoring ratio just above 3.5 goals per match.

It was a sensational season for Manoel, the legendary striker bagged 30 goals in 34 appearances and also provided 24 assists. Jed Mitchel-King also did a great job with his 30 goals while veteran Rastislav Benko also contributed 21 goals.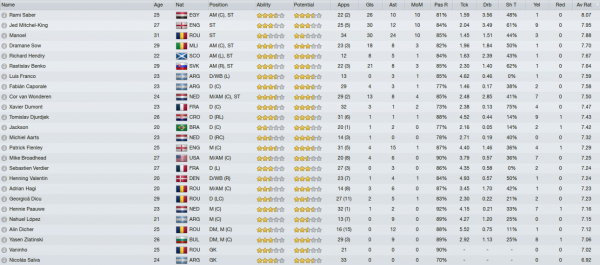 However, all those numbers don't matter when you don't win the Champions League, so we moved back into second spot in the European club rankings.

There was just one challenge remaining in my career: getting Manoel to score at least 50 goals for the national team. He had 48 at the end of 2025 and I'm pleased to report that he managed to hit the target in each of the two friendly games that Romania had in 2026. :)

Manoel is by far the best player this club ever had. The overall best eleven shows that he has a massive record: 240 goals in 383 appearances for the club, by far the man with the most apps and goals for the club.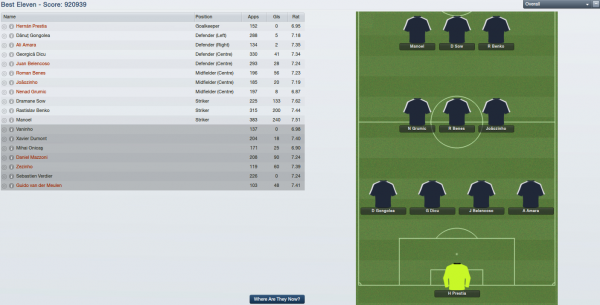 In my view five players were absolutely essential to the club's progress:
Manoel – joined the club on a free transfer from Santos

Rastislav Benko – joined the club for a measly 350K

Dramane Sow – joined the club on a free transfer

Georgica Dicu – one of my most expensive early signings, 3.5 mil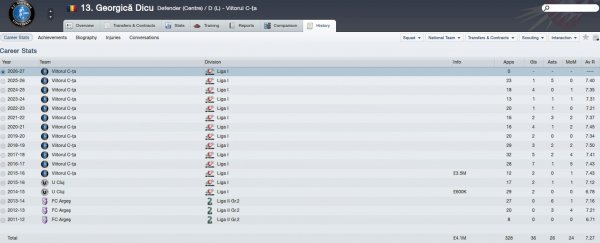 Benko and Manoel are also listed in the club information panel as legend, along with myself :)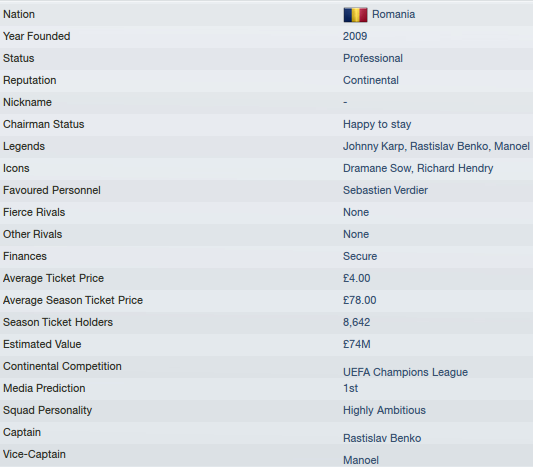 Strangely my manager profile shows that I prefer a 4-4-2 formation. I don't know where they got that, since I have always used the 4-3-3 tactic in this game.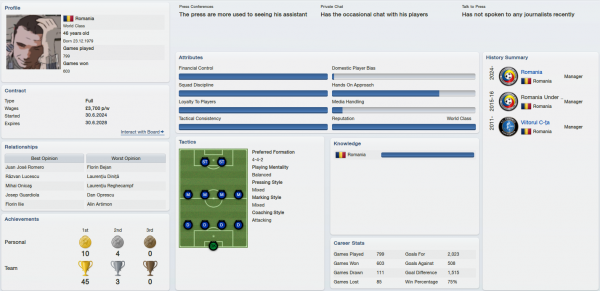 And now a bit of history, the past winners of all the competitions in which we have taken part:
Romanian First League – won 13 in a row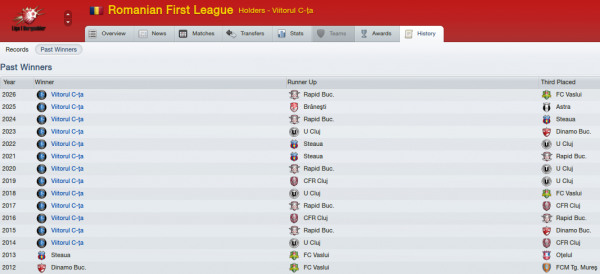 Romanian Cup – won 12 in a row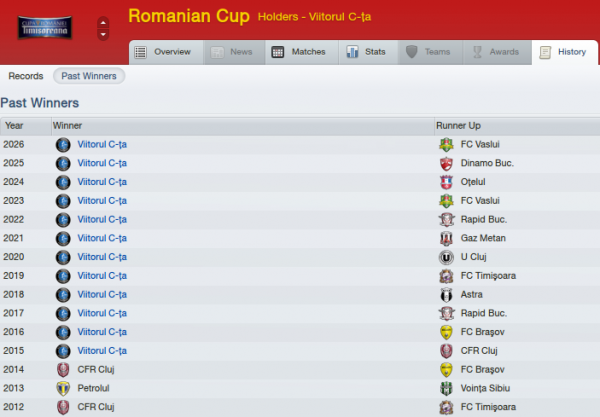 Romanian Super Cup – won 13 in a row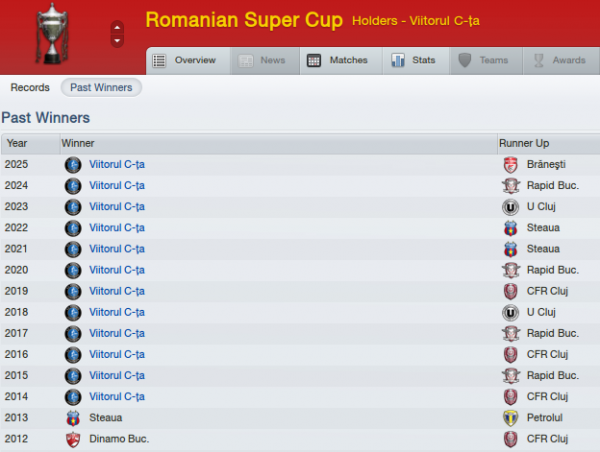 Europa League – won in 2018, runners-up in 2021

Champions League – won in 2023 and 2025, runners-up in 2024

UEFA Super Cup – won in 2023 and 2025, runners-up in 2018

Club World Championship – won in 2023 and 2025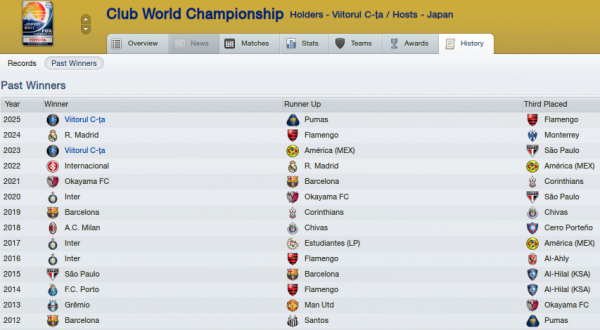 There you have it, 15 seasons and 26 days, 11 hours and 13 minutes of actual game play. Thanks a lot for following this journey, I have enjoyed it very much and I hope you liked it at least as much as I did. If you have any screen shot requests, don't be afraid to ask :)
Moreover, if you want to have a bit of fun with my save before FM 2013, you can download it from here and see the mighty Viitorul in action on your PC :)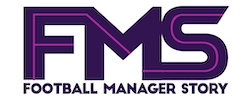 Subscribe to our Newsletter