Hello friends, here's a new episode of my Football Manager 2012 story! As you might remember I claimed the second Champions League trophy with Viitorul Constanta last season, a confirmation of how far the club went since the start of the career. I had no goals left to achieve but I still wanted to make this team even stronger, so I did snatch a few more pretty good players.
But before showcasing the new signings, I have to reveal a stunning piece of news: we are the top club in Europe, at least according to the coefficient rankings! I still can't believe that!


Here's how the top 10 looks like, with all the big names behind us! I should print this picture, frame it and hang it on my wall :)

The good news pushed the chairman to empty his pockets into the club's coffers, I guess he got quite a tidy sum from dividends during the last few season, since we constantly made a profit.

Almost all that money went into the transfer budget, just shy of 16.5 million pounds.

I really didn't need more to be honest. Three important players joined the club for a total of 9.75 million while a good few left for almost 15 million (not all the names are included in the screen shot below, because one of the first team players was sold in June, before the start of the new season).

The first one who left was midfielder Hector Fernandez, a faithful servant to the club. He wanted a new challenge in his career and I respected that. Fernandez joined Aston Villa for 5.5 million pounds. His replacement is even better though, it's the England international I was talking about in the last post: Patrick Flenley, a tireless and gifted midfielder that Manchester United sold for just 8 million!
Then it was another faithful servant who wanted to leave, left back Danut Gongolea, and I let him go for 4.1 million to Werder Bremen. The replacement was free as I decided to promote Brazilian centre back Jackson from the under 19 team, with Georgica Dicu set to provide cover on the left flank.
The third big name that left the club was Maximiliano Ceballos, the midfielder was sold for 4.6 million pounds to Napoli. The replacement is also a freebie, another player from the under 19 team. This one is quite special for two reasons: he came at the club through the youth intake a few seasons ago and he bears a legendary name – Adrian Hagi. No, he's not Gheorghe Hagi's son, at least in real life that is. Hagi does have a son, named Ianis, and he does play in the Viitorul Constanta youth teams (he's 14 years old now I think).
The last first team player to join the club was Rami Saber, a very talented striker who came in on a free transfer from Sion.
With all these moves, my 24-man squad for the season looks like this (click on the names to view the profiles):
Goalkeepers: Nicolas Salva, Vaninho
Right backs: Tomislav Djurdjek, Henning Valentin
Left backs: Sebastien Verdier, Georgica Dicu
Centre backs: Xavier Dumont, Fabian Caporale, Michiel Aarts, Jackson
Central midfielders: Yasen Zlatinski, Hennie Paauwe, Patrick Flenley, Alin Dicher, Mike Broadhead, Nahuel Lopez, Adrian Hagi
Strikers: Manoel, Jed Mitchel-King, Rastislav Benko, Dramane Sow, Richard Hendry, Cor van Wonderen, Rami Saber
Looks stronger than last season in my view, but that's not a guarantee of better results.
Which brings us to… that's right, the results!
Super Cups
The season kicked off with the Romanian Super Cup, which we won comfortably once again. A month later we played the European Super Cup against Europa League holders Valencia and it went even better, we beat them 5-0 with Mitchel-King bagging no less than four!


Romanian Cup
The Romanian Cup campaign was a festival of goals so far, at least in the first game. That one saw legend Manoel scoring a record seven goals!

Romanian First Division
The league campaign was even more exciting (or boring, depends how you look at it): we won all 18 games so far, with some interesting score lines in the process.

The league table leaves no room for doubt, we'll be winning another title. However, FC Vaslui are doing a pretty good job in second place. And last but not least, I'd like to win all the 34 league matches this season as we've never achieved that before.

Champions League
All good news so far but that can't be said about our Champions League campaign. We started with a defeat against Arsenal, which we then avenged with a solid 3-0 win, but we finished second in the group due to an unbelievable goalless draw at Rapid Wien in the last match.
However, finishing second was not as bad as I had thought: the likes of Real Madrid and Inter Milan also finished second in their groups, so we avoided them and got Sevilla in the first knockout round! I guess my players knew something about it, at least that's a reasonable explanation to all the missed chances against Rapid Wien in that last match :)

Club World Championship
The last competition of the year was quite delightful, we claimed another trophy after cruising past a Japanese team in the semi finals and totally hammering Mexican side Pumas in the final.

The player stats show that new striker Rami Saber had a great first half of his first season with us, scoring no less than 15 in 11 appearances. Manoel and Jed-Mitchel King seem to have set up a goal scoring contest between them but so far it's the 31-year old Brazilian-born who's winning. It's quite incredible to be honest, as he seems to be at the peak of his career. Not only that he scored 23 goals in 20 appearances so far but he also provided 16 assists, that's outstanding by any standards.
Youngster Adrian Hagi was quite unfortunate as he picked up a heavy knock which kept him out of contention for a few months, but he seems to have recovered well as he contributed a goal and three assists in 9 appearances (6 in the starting eleven).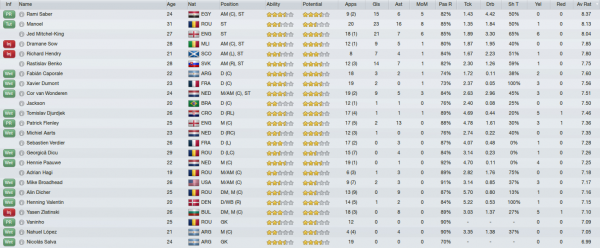 Romanian National Team
Now comes the part that hurts, the Romanian National Team and its quest to reach the first World Cup finals since 1998. We had suffered two home defeats in the first part of the campaign, against Belgium and Germany, so our chances to qualify were not that great before the last games of the campaign.
However, those chances received a significant boost after the away game in Belgium in June, the lads produced a stunning display and we won 3-1. Manoel was awesome, of course, he bagged a brace. At the end of that match day Belgium were sharing the top spot in the group with Germany, both on 13 points, we were third with 12 points while Sweden were down in 4th place with 8 points.
We followed up on that win with two friendly victories, a comfy one against Kevin's Canada and a scrappy one against Albania.

The following official matches, both in September, went better than I had hoped: we got the three points against Armenia at home before clinching a massive 3-0 victory in Sweden! Manoel scored three in those two matches, legend! Moreover, Belgium suffered two setbacks: a 2-0 defeat in Germany and a shocking 1-1 draw in Armenia!
The table was like this: 1. Germany – 19 | 2. Romania – 18 | 3. Belgium – 14 | 4. Sweden – 11. So we had the second place pretty much in the bag and an outside chance at finishing top of the group.

That was just a theoretical chance though as Germany gave us no chance on their home turf, they beat us 2-0 and didn't even seem to make a real effort. However, we concluded the campaign with a spectacular 7-1 win against Moldova, as we fought back after conceding an early goal.

Those results left us in second place, which meant we had another hurdle to get past before reaching the World Cup: a play-off tie against Czech Republic, who finished second behind England in their group. Needless to say that we were the underdogs…

I was really hoping to pull through but that was just a sweet illusion. We had a bad first leg and lost 2-0 and then never seemed capable of turning that around at home. The only player who seemed up to the task was Manoel but you can't win such big games with just one player…

The FA didn't seem too upset but I wanted to resign.

And I was going to resign when this popped up: Manoel announced his retirement from the national team!

You see, he has 60 appearances and 48 goals for Romania and I just couldn't let him do that before reaching 50 goals! So I decided to talk to him and I managed to change his mind!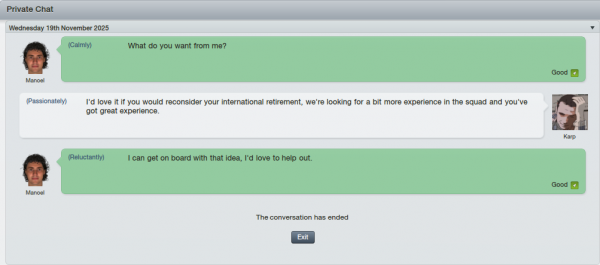 That also changed my decision, I forgot all about the resignation and I decided to stay until Manoel reaches that landmark.
That's about all I had to report, thanks a lot for taking the time to read this.
P.S.: I decided that this will be my last FM 2012 season, mostly because I want to focus on preparing all the FM 2013 news for you and also on setting up various things on the website for the launch of the new game.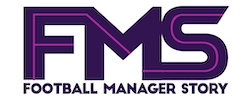 Subscribe to our Newsletter