Hello folks, it's time for a new episode of my Football Manager 2012 story! And I hope you will enjoy it as I will be taking a short break after this post, around two weeks, but I'll tell you more about that later. As you remember I took over the Romanian national team in the summer of 2024 and that was just one of the big events of the summer as Viitorul Constanta splashed the cash on the most expensive signing ever, a striker from Arsenal. We remained unbeaten through the first half of the season but that was just a small step towards a bigger goal: winning the Romanian league and cup again and taking another shot at the Champions League.
With little cash left after the summer spending spree I decided not to make any new signings during the winter break. Moreover, I decided to sell one of my first team players: Guido van der Meulen was sold for 5 million pounds to Shakhtar Donetsk. The lad is talented but he pissed me off during the first half of the season as he bagged two red cards for violent behaviour. And I decided that I don't need somebody like that in my team.
This time I decided to save the best for last, so the episode starts with a quick round-up of the domestic competitions. The last 16 league games of the season were not much different from the first 18, we went through them unbeaten and conceded just two goals in the process. Unfortunately we were unable to win them all as we were held to an unlikely draw at some point.

The final league table says it all, we are by far the best team in the nation and it seems that's not going to change soon.

The Romanian Cup was equally "challenging", we breezed through the last three games to retain the trophy once again and claim the domestic double.

Now let's move on to the really interesting stuff: the Champions League. We were pitched against French teams in the first two knockout rounds but I am happy to report that we sorted out both ties in the first leg by claiming rather clear away wins. We did have some bad news though as star striker Jed Mitchel-King picked up an unfortunate injury at the beginning of April, a dislocated shoulder, and he was unavailable for the very important last two months of the season.

Mitchel-King's injury was a big blow but despite that we managed to claim a very good 2-0 win against Inter in the first leg of the semi final, mostly thanks to Cor van Wonderen and Dramane Sow who swiftly stepped up to fill in for the injured England star. However, I have to admit that the second leg was quite a thriller, Inter pushed us all the way and they really could have won the game with a bit of luck. We did have our chances on counter attacks though and the final goalless score line was quite a lie considering how the game unfolded.

So, we were through to the final and you are probably wonder whether I was given another chance to face my friend Jose Mourinho. Well, not this time! Real Madrid were eliminated in the first knockout round by a resolute FC Bayern who then got smashed by Inter. We were going to meet Chelsea instead, a team that cruised through the quarter and semi finals.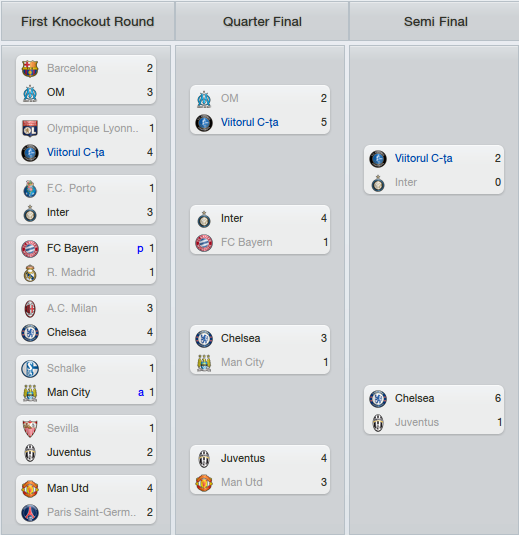 We didn't have a very good tradition against Chelsea, in fact we had a pretty bad one. We had only met them twice, back in 2014, and we got beaten 2-0 each time. More than ten years had passed until then though, ten years which saw our club rise through the European ranks.

David Moyes was the manager at Stamford Bridge, while Chelsea's team featured a number of quality regens but no familiar faces. On the other hand, I had two absences in my team, both quite important: Jed Mitchel-King, who had just resumed light training, and Mike Broadhead, who was suspended.
Viitorul vs Chelsea (Champions League Final)
Starting Line Up: Nicolas Salva – Tomislav Djurdjek, Xavier Dumont, Fabian Caporale, Sebastien Verdier, Hennie Paauwe, Maximiliano Ceballos, Yasen Zlatinski – Cor van Wonderen, Manoel, Dramane Sow
The game at Stadio Olimpico in Rome was strangely quiet until the 28th minute when Chelsea managed to create the first chance through one of their strikers, luckily my goalie was up to the task and diverted the ball behind with a solid save. Chelsea were playing a pretty rough game and the referee booked two of their players before half time. Apart from that, there's not much to say about the first half, except the fact that we had our first shot on target in the 44th minute. Quite disappointing.
I made two changes at half time, with Rastislav Benko coming in for Manoel and Alin Dicher for Ceballos in midfield. Those substitutions seemed to have made a bit of a difference and we came close to breaking the deadlock on 53 minutes when Caporale's corner kick header rattled the crossbar. Ten minutes later we managed to create another good chance, this time striker van Wonderen played the ball past a defender before firing wide from inside the penalty area. Chelsea were holding firm in defence though and we were unable to find a breach in their defence before the end of regular time. However, we had a slight advantage before extra time as one of Chelsea's central midfielders got sent off after picking up a thoroughly deserved yellow card.
Considering the numerical advantage, I made another two changes before the start of the extra 30 minutes: Nahuel Lopez replaced Zlatinski and I switched to the attacking version of my Barcelona tactic. The lads started pouring forward, Chelsea had their backs against the wall but luck was on their side as Benko was denied by the crossbar on two occasions, on 102 and 109 minutes. We had a goal disallowed on 115 minutes due to a disputed offside call but things could have gone a lot worse on 118 minutes when Chelsea created a huge chance inside our penalty area. Our goalie did a great job once again though and the match went to the dreaded penalty shoot-out…
Match Highlights before the penalty shoot-out:click here to watch
Hennie Paauwe was the first man to step up to the penalty spot and he scored! The first Chelsea player fired wide so our confidence received a big boost.
Rastislav Benko, my preferred penalty kick taker, stepped up… and fired wide! I really wasn't expecting that. The second Chelsea player scored so it was 1-1.
Cor van Wonderen was the next in line for us… and his kick was saved! The situation was taking a turn for the worse but fortunately the third Chelsea taker rattled the crossbar! Still 1-1.
Nahuel Lopez stepped up next, I sent him in at the beginning of extra time for his penalty taking ability, and he didn't disappoint me, he smashed home! Loud cheers were signalled in my apartment after the fourth Chelsea penalty kick, their lad blazed it over the bar! 2-1.
Alin Dicher stepped up with the Champions League trophy on the tip of his boot… and he blasted it straight into the top corner! Get in there!
Penalty shoot-out video: click here to watch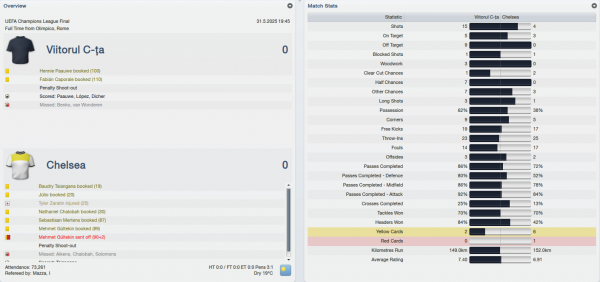 And guess what, the win puts me just ahead of Jose Mourinho in the world-wide hall of fame!  :) Trapattoni, you're next! Although I have to say that I prefer old Giovanni to Jose, even though they do share some similar traits.

This achievement wouldn't have been possible without my amazing set of players, starting with Jed Mitchel-King who was unfortunate enough to miss the crucial last two months of the season. But the other strikers stepped up and bagged the goals we needed. A special word is due for legendary Manoel, a fantastic player that was the club top goalscorer of the season at the age of 30! I have already extended his contract and I will keep him at the club until he decides to retire, the club owes him at least that much.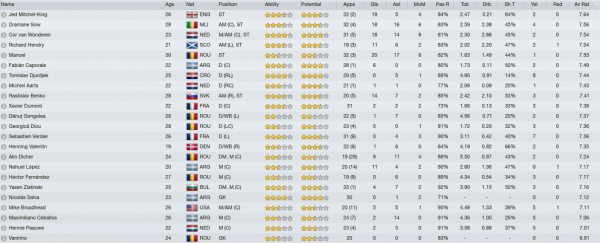 I don't intend to make many changes in the squad next summer, I already have a very strong team. I do have a target though, another England international! This time we're talking about a central midfielder from Manchester United, he's very good and he wants to join Viitorul! Unfortunately I don't have the money to get him yet, as the club only has 11 million in the bank and Man United are willing to let him go for around 15 million.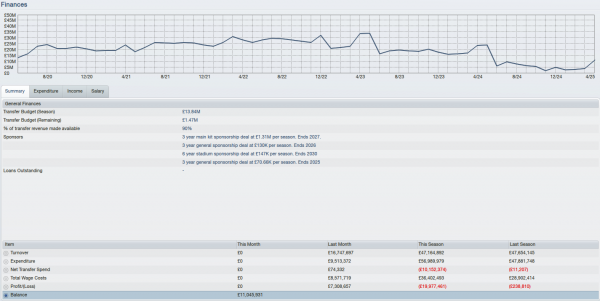 A quick word about the national team before wrapping up. We started the year with a comfortable friendly win against Australia but then we lost the match that mattered the most, at home against Germany. Brazilian-born Manoel did his part and scored the goal that put us ahead at half time but my team was unable to resist a superior Germany after the break. Their task was facilitated by a couple of unfortunate injuries, both my first choice centre backs picked up knocks before the game so I had to improvise a backup defence that was way inferior to my first choice defensive line.

That defeat leaves us in a precarious situation, even though we are just one point behind Germany. I am pessimistic though because Germany are the best team in the group, I've experienced their might first hand, so I guess we'll be fighting for that second spot with Belgium and Sweden. And Belgium have four points on us…

We have three crucial games coming up, all of them away from home: Belgium, Sweden, Germany. I think that we'll have to win at least two of those three to qualify and that seems quite unlikely. I don't give up until it's done though, we'll give it our best shot.

That's about all for now, thanks a lot for reading. I will be away for a couple of weeks starting Sunday, August 26, as I will try to spend a quiet holiday away from my country and everything else. I'll be in Croatia if you want to meet me :) That said, I will probably be unable to reply to your comments and emails during that period, but I trust Darren to take care of you until my return.
But you can start commenting and emailing now, I'll still be around until Sunday :)

Subscribe to our Newsletter