Hello friends and welcome to a particularly exciting episode of my Football Manager 2012 story. I say it's quite exciting because of two major events that happened in the first half of my 14th season in charge of Viitorul Constanta, you will find out all the details in a bit. Until then, let's see how our change of reputation to "continental" affected our summer.
First of all, we moved up to third place in the European club rankings and that is a major achievement. Imagine this: only Real Madrid and Internazionale Milano are ahead of Viitorul Constanta in these rankings. I still can't believe that :)

The Romanian top flight also had a slight increase in the European rankings, I guess we could do a lot better in there with another strong club in Liga 1. Unfortunately we are the only strong enough club in there, at least until now.

And now, the first big news of the summer: the Romanian FA sacked the national team coach after a rather poor display at the 2024 European Championship, I applied for the job and I got it! This is something that I really wanted at this point in my career.

However, the FA seem more optimistic and demanding than me. Their expectation, minimum expectation, is to finish second in the World Cup Qualifying group. That doesn't sound too bad, but here are the names of the teams in our group: Germany, Belgium, Sweden, Armenia, Moldova, Andorra. OK, we can go past the last three easily, but the top three will surely be hard to beat. Secondly, Romania's last qualification to a World Cup tournament was in… 1998!

We'll return to the national team later to see how my first games in charge went, now let's move back to the club. As you know I was hoping to bring in at least a couple world class players this summer, given the reputation increase. The board gave me a pretty good transfer budget, no complaints, but I had to get more money for the players I wanted to sign.

That is why I decided to sell quite a few players from the Under 19s team, most of them were lads whose potential was not good enough to help us at this level. I also let go three first team players for quite a bit of money: midfielder Roman Benes (9.5 million pounds – Tottenham) and strikers Juan Cruz Argenti (6.25 million – Schalke) and Jerome Vrignaud (5.75 million – Werder Bremen).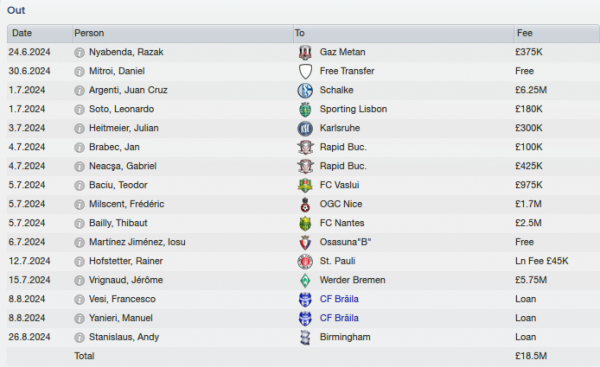 And now… the incoming lads. Just three this time: first there was a 15-year old Danish prospect, nothing spectacular there. Then I got a replacement for one of the two strikers, a talented and lightning-fast Dutch forward: Cor van Wonderen (click the name to view his profile).
And last but definitely not least… the biggest signing yet. He's an England international, he was a first team player at Arsenal, I paid no less than 26.5 million pounds for him… Ladies and gentlemen, enter Jed Mitchel-King!
He has scored a few goals against us in the Champions League, he always tormented my defenders, and I've always wanted to sign him. That was just a dream until this summer, probably due to the club reputation. By the way, he scored an awesome goal at the European Championship against Romania: click here to watch

So, with these new players, I have a pretty strong 24-man squad for the season:
Goalkeepers: Nicolas Salva, Vaninho
Right Backs: Tomislav Djurdjek, Henning Valentin
Left Backs: Sebastien Verdier, Danut Gongolea
Centre Backs: Xavier Dumont, Georgica Dicu, Fabian Caporale, Michiel Aarts
Central Midfielders: Hennie Paauwe, Yasen Zlatinski, Maximiliano Ceballos, Alin Dicher, Mike Broadhead, Hector Fernandez
Strikers: Jed Mitchel-King, Dramane Sow, Rastislav Benko, Manoel, Cor van Wonderen, Richard Hendry, Guido van der Meulen
That said, let's move on to the results. We kicked off the season with another Romanian Super Cup win, I can't remember how many of these we have won. Then we hammered most of our league competitors but some complacency in December ruined our 100% record. As you can see, Jed Mitchel-King's name appears quite often in the goal scorers section :)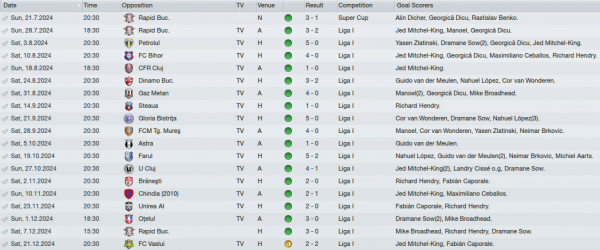 The league table after 18 matches shows that we will probably win another title, but that was never in doubt, at least in my mind.

The Romanian Cup run was not as easy as I would have wanted, as we needed a penalty shoot-out to advance to the semi finals. That was, once again, due to sheer complacency.

We showed no complacency and little mercy in the Champions League though, we won the group quite comfortably with only AC Milan being able to hold us to a draw. Once again, notice Jed Mitchel-King's name in the goal scorers column :)

The lad scored no less than 17 goals so far, a pretty good contribution for a new signing. All of my strikers did well up to this point, except Rastislav Benko, who had a serious injury at the start of the season and then struggled to get back into his usual shape. I hope he will bounce back after the winter break.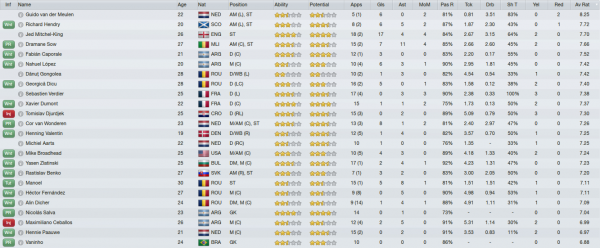 And now let's return to my national team job, I was thrown straight into the action as my debut game was against Belgium in the World Cup Quals. Unfortunately that game didn't go too well, we lost 2-1 even though a draw seemed the fair result. The problem was that the team was not very familiar with the tactics, as I switched the national team to the Barcelona tactic that I have been using at the club.
Things gradually improved after that match though as we beat Armenia 3-0 away and then clinched a very important 1-0 home win against Sweden. However, we were close to getting stunned in Moldova but Manoel (who else?) clinched the three points for us with a late goal.

Belgium seem the strongest until now, as they defeated both us and Germany but were held to a draw by Sweden. Germany also recorded a draw against Sweden, and that leaves us in second place after four games. There's still a long way to go though and we haven't faced Germany yet…

That's about it for now folks, I hope you have enjoyed this episode. I am quite happy to have finally signed a big-name player, it was quite a costly acquisition but it represents a landmark in the club history. No Romanian club has ever managed to sign an England international so I guess you understand why I say this was a historic moment. We'll see if that will win us any big trophies though…
Thanks a lot for reading, looking forward to your feedback.

Subscribe to our Newsletter